U.S. Forest Service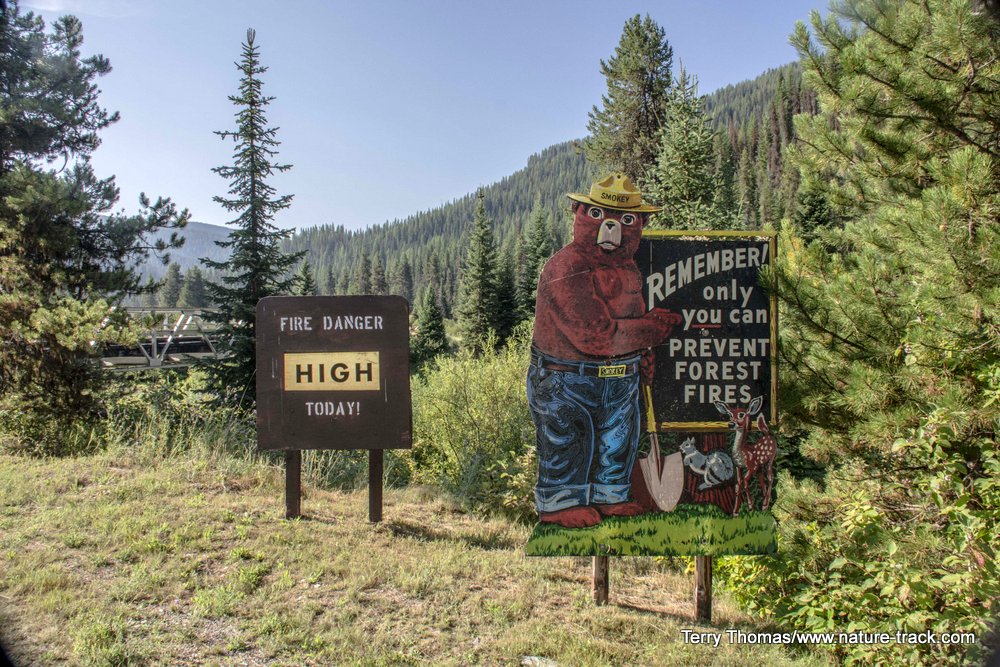 Fire prevention and firefighting are just two of many responsibilities the Forest Service must accomplish on the 193 million acres that it manages.
---
Real history is always messy and that is the case with the efforts to protect our nation's forests. It started with legislation called The Forest Reserve Act of 1881, following about 20 years of concerns and debate over exploitive logging. It was intended to protect areas as forest reserves and was to be managed by the Department of the Interior. In 1905, the reserves became the responsibility of the new Bureau of Forestry, headed by Gifford Pinchot. Pinchot successfully lobbied to have not only the agency name changed to the U.S. Forest Service and for forest reserves to be called national forests, but to also reorganize it under the Department of Agriculture, in keeping with his conviction that forests could and should be managed sustainably.
By 1907, timber interests had grown tired of dealing with the new agency, and successfully lobbied Congress to cap the number of Forest Service acres in the Western states (Idaho, Washington, Oregon, Wyoming, Montana and Colorado) to those already so designated when the bill was signed into law. In a period of about two weeks, President Theodore Roosevelt, working closely with Pinchot, set aside an additional 16 million acres in the six Western states before Roosevelt signed the bill on March 4, 1907. And that is how the national forests came to be.
Today, the U.S. Forest Service manages 193 million acres and serves as one of the largest public playgrounds in the world for people who love to recreate outdoors. There are 154 national forests each with four to six ranger districts (totaling 600), and 20 national grasslands.
These are impressive numbers and I thought about them as we traveled through Montana, Idaho and Washington over the past several weeks. We crossed through a lot of national forests, many back-to-back, and I reflected on just what the national forest system means to me personally and perhaps to the nation.
The Forest Service website states that their mission is: "To sustain the health, diversity, and productivity of the Nation's forests and grasslands to meet the needs of present and future generations."  When I was in college many years ago, this was called multiple use (Multiple-Use Sustained-Yield Act of 1960, Public Law 86-517) and the Federal land management agencies are all supposed to practice it.
Multiple use essentially meant that more than one use could occur on properties without conflict. You could have logging, grazing, camping and wildlife habitat all occurring in the same area, although perhaps not on the exact same acres. No one would be completely satisfied or dissatisfied.
While the five major renewable resources of timber, range, water, recreation and wildlife are supposed to have equal footing, over the years, the Forest Service has been accused, and perhaps rightly so at times, of currying favor with extractive industries such as timber, grazing and mining over other facets of the multiple use doctrine. In my opinion, these days, recreation, water, and wildlife are getting better traction.
Recreationally, a Forest Service Ranger District can be a busy place. Throughout the system, the Forest Service manages: 158,000 miles of trails, 4,300 campgrounds, 277,000 heritage sites, 9,100 miles of scenic by-ways, 14,000 cabin lots, and 122 ski resorts.
Habitat wise, the system includes: 7.2 million acres of wetlands, 36.6 million acres of wilderness, 400,000 acres of lakes, 57,000 miles of streams (remember, the circumference of the Earth is about 24,000 miles), and 5,000 miles of wild and scenic rivers.
According to the report, U.S. Forest Service National Visitor Use Monitoring Survey Results, National Summary Report Data collected FY 2017 through FY 2021, all of this is quite a boost to the economy. "Annual spending by recreation visitors in areas near national forests and grasslands was about $10 billion in FY2019. Visitors who live more than 50 miles from a forest or grassland account for about half of that total. As visitor spending ripples through the U.S. economy, over $12 billion is reflected in the nation's gross domestic product and sustains about 154,000 full- and parttime jobs."
In 1907, President Theodore Roosevelt declared: "The conservation of natural resources is the fundamental problem. Unless we solve that problem, it will avail us little to solve all others," and that his administration had been trying, "to substitute a planned and orderly development of our resources in place of a haphazard striving for immediate profit." While I may not agree with everything that the U.S. Forest Service does locally or nationally, I will be forever grateful for public land, that this system was put in place, and that there are people trying hard to ensure that sustainable conservation and multiple use will live on for my distant posterity.
---
Help Idaho Wildlife
When we traveled across the state in October 2017, most of the vehicles we saw using the wildlife management areas did not have wildlife plates. Buying wildlife plates is a great way for non-hunters and hunters alike to support wildlife-based recreation like birding.
C'mon folks, let's help Idaho's wildlife by proudly buying and displaying a wildlife license plate on each of our vehicles! 
See below for information on Idaho plates. Most states have wildlife plates so if you live outside Idaho, check with your state's wildlife department or vehicle licensing division for availability of state wildlife plates where you live. 
And tell them that you heard about it from Nature-track.com!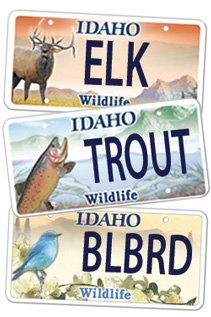 Wildlife License Plates
Idaho Wildlife license plates provide essential funding that benefits the great diversity of native plants and wildlife that are not hunted, fished or trapped—over 10,000 species or 98% of Idaho's species diversity. Game species that share the same habitats (such as elk, deer, antelope, sage-grouse, salmon, trout) also benefit from these specialty plates.
No state tax dollars are provided for wildlife diversity, conservation education and recreation programs. Neither are any revenues from the sale of hunting or fishing licenses spent on nongame species. Instead, these species depend on direct donations, federal grants, fundraising initiatives—and the Idaho Wildlife license plates.
Both my vehicles have Bluebird Plates. I prefer the bluebird because the nongame program gets 70 percent of the money from bluebird plates, but only 60 percent of the money from elk and trout plates - 10 percent of the money from elk plates supports wildlife disease monitoring and testing programs (to benefit the livestock industry) and 10 percent from cutthroat plates supports non-motorized boat access.
Incidentally, in 2014, the Idaho Legislature denied the Department of Fish and Game the ability to add new plates or even to change the name of the elk and cutthroat plates (very specific) to wildlife and fish plates, a move that would have allowed for changing images occasionally and generating more revenue. It would seem that they believe that we Idahoans don't want a well funded wildlife program. Go figure.