Jewel Cave National Monument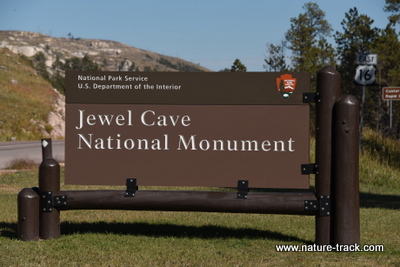 After we left Devils Tower, we headed to Wind Cave National Park. On our way though, we wanted to stop at Jewel Cave National Monument in the heart of Black Hills, about 35 miles northwest of Wind Cave National Park in South Dakota. The last time we had been there had been October 2013 during the federal government shutdown named Sequestration and the Monument was closed.
It took us several hours to get to Jewel Cave from Devils Tower. We went southeast on Highway 16 through Upton and Newcastle, Wyoming, then east on Highway 16 to Jewel Cave NM, which is about half way between Newcastle and Custer, South Dakota.
There is no entrance fee for the park but everyone pays to see the cave. We paid our $12 each and joined an afternoon tour. The only tour being offered after Labor Day was the scenic tour.  However, there are several others, including the natural entrance tour and an adventure tour that has you crawling through thin places, getting dirty and having a good time for about six hours.
Our tour guide was Bobbi Schmidt, a bubbly NPS volunteer who clearly loved the cave and telling people about it. She told us about many of the cave formations, the most important of which was a six in thick layer of the calcium carbonate called calcite that had the first explorers so excited. This layer was deposited millions of years ago when the area above the cave was covered by an inland sea. Sediments and the bodies of sea creatures formed this layer.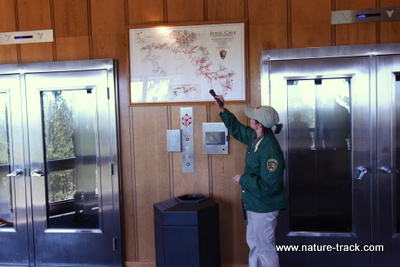 Tour Guide Bobbi Schmidt shows a map of the cave outside the elevators that took us down 200 feet.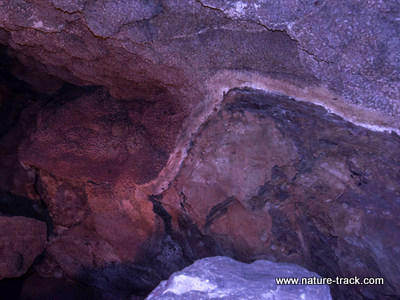 The six inch thick layer of calcium carbonate or calcite can be seen in this photograph. This layer covers many of the walls and ceilings in Jewel Cave.
The cave also has gypsum formations, frostworks—delicate formations that form where there is a lot of air movement and cave "bacon" or draperies. Draperies are wavy pieces that really do resemble draperies and bacon. Some are 20 feet long.
Jewel Cave was discovered in 1900 when a couple of cowboy brothers named Frank and Albert Michaud heard wind and saw bushes moving on a calm day in Hell Canyon. When they investigated, they found a small hole where a wind blew out of the earth. Since this was on the heels the gold rush in the Black Hills, they were pretty excited about the prospects of finding gold in the cave. When they explored, they discovered sparkling calcium carbonate deposits and mistook them for quartz, a mineral usually associated with gold deposits.
 Even after they discovered their error, they realized that there was still gold in that cave, it was just in the form of tourism, not ore. They began hauling tourists up there and giving tours of the cave as far as they had explored it. Since this cave has almost 180 miles of tunnels discovered to date, that was a pretty big deal.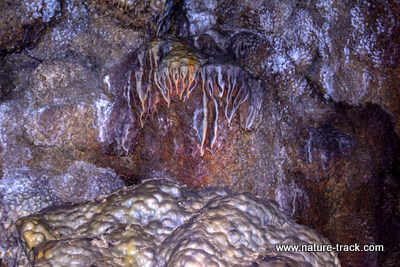 Today, the tours are along aluminum steps, some 700 of them, mostly down. An elevator takes you to the first level and lights are installed all along the path. It isn't much like the days of old where visitors would have to scramble on hands and knees, crawl through holes and take five or six hours to cover the same area, all by candlelight.
Jewel Cave is considered one of the longest caves in the world, so long that it is still being explored. Still, there are over 170 miles of explored cave. Airflow studies indicated that 95 percent of the cave is still unexplored.
Don't be confused like I was though. The length is the total length of all the tunnels, not just the length of the main tunnel.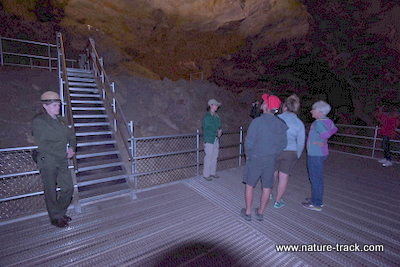 This next part is for photographers.
I found photographing in the cave while on tour to be somewhat frustrating. We moved quickly past a lot of really cool stuff, stopping only in larger areas. On this tour I did not take my larger flash, a mistake I corrected in Wind Cave. I took only my 28-300 mm lens and wished I had taken the wide-angle 12-24 mm as well.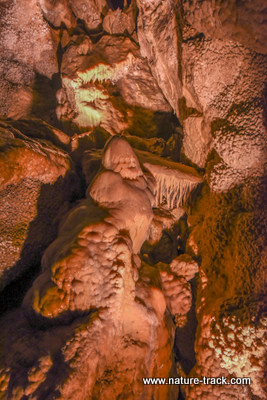 Toward the end of the 1.5-hour tour I finally started to get the hang of cave photography. For starters, include people if you can. It adds a perspective and lets you know what you are looking at. Second, don't worry too much about dark areas. So long as you look at your histogram and you are not clipping off the left side, you can fix the darker areas during editing. In fact, the darker areas were easier to photograph.
The hardest situations were where there where lights shining on a feature because there would be a huge variation in the highlights and shadows. Sometimes I couldn't even get close to what I wanted even after editing and using HDR was out of the question because everything was handheld.
 I used an ISO of 1000 and used on-camera flash a lot. The only other suggestion I have is to shoot a lot of images. It is really hard to see what is turning out and what is not by chimping (looking at your images on the camera screen) so just try a lot of stuff. If your camera has a bracket function, you might try it.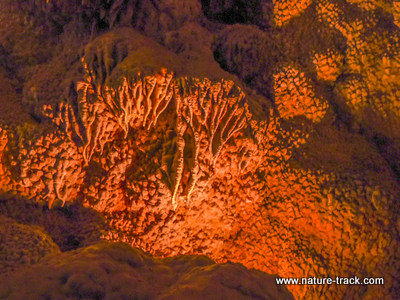 Finally, along with food and drink, tripods, monopods and camera bags are not allowed in the cave. The cave is actually pretty fragile and people tend to bang things like these into the sides.
The Park Service works pretty hard to preserve the integrity of the cave and still allow thousands of visitors each year to see it. In fact, they told us that under one of the expanded aluminum platforms they have positioned cloths and each year they remove over 100 pounds of clothing lint, hair and other stuff brought in on shoes and clothes.
 If you have the time when you visit South Dakota, or if caves really interest you, by all means, spend some time at Jewel Cave National Monument. It isn't on my list of favorite places to go, but it was worth the time we spent.