Jasper National Park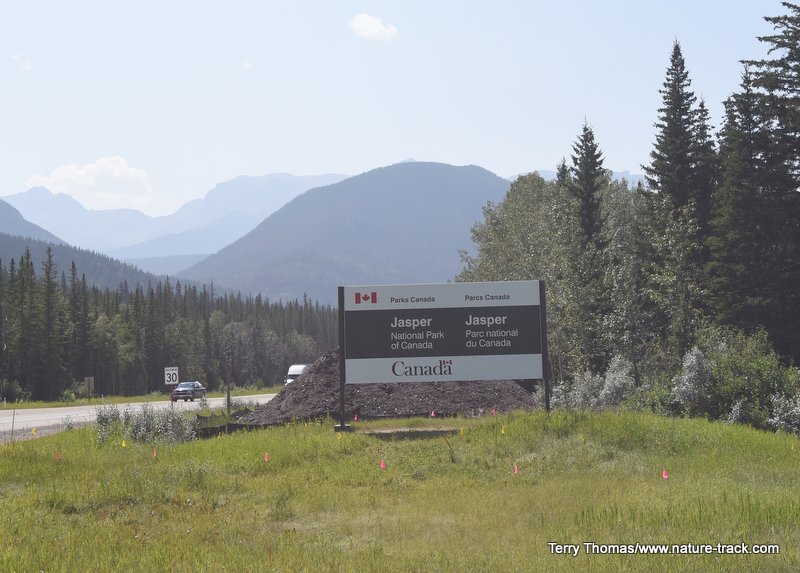 At the northern end of the Canadian Rockies parks sits the town of Jasper, Alberta. Surrounding it is Jasper National Park, the largest and possibly the most beautiful of the big four: Banff, Kootenay, Yoho and Jasper National Parks. Of course, all are wonderful, but Jasper seems to have a special magic, possibly created in part by the John Denver song, Rocky Mountain Suite, which starts out with, "Up in a meadow in Jasper, Alberta, two men and four ponies on a long lonesome ride". Those lyrics always captivated me as a youth and likely pre-disposed me to favorably regard Jasper.
The town of Jasper is crowded, but it is nothing like Banff. If you looked, you could find parking, sidewalks weren't elbow to elbow and the visitor center had only a short wait for information.
With that said, camping was still a challenge. The only campground at Jasper, Snaring Creek north of town, was always full. Thank goodness they had an overflow campground about half a mile up the road. This was actually a fine place to camp and it is huge. You should always be able to find a place. It does cost the same as the campground though and the only amenities are an outhouse and trash bins, but it was far better than nothing.
Snaring Creek overflow camping.
If you are coming from the south, Jasper NP actually starts on the Icefields Parkway, between the Saskatchewan River Crossing (don't buy gas there if you can help it—it was 80 cents per liter more there than at Lake Louise) and Centre Icefield near Sunwapta Pass. I think the first stop would be Bridal Veil Falls which is cool, but the hidden slot canyon at the north end of the parking lot is way better. You can make some great photographs here using a slow shutter speed.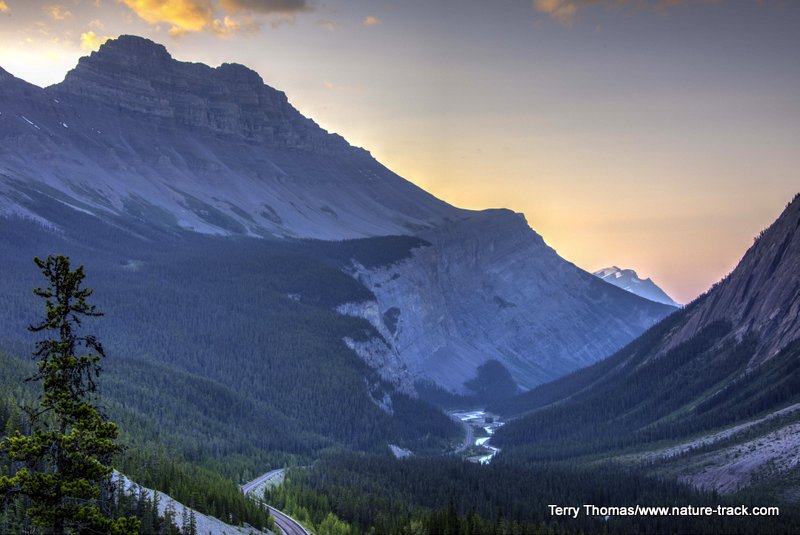 Looking south from Sunwapta Pas.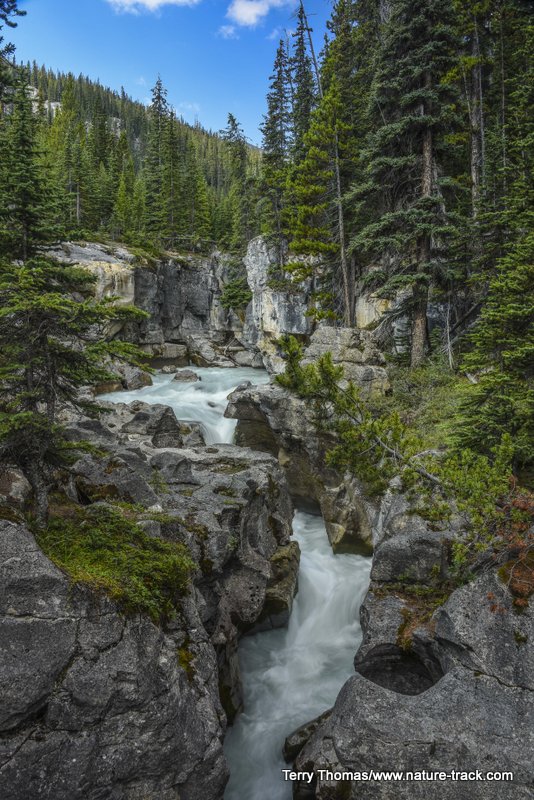 Bridal Veil Falls on the left, hidden slot canyon on the right.
The Centre Icefield is a large building with a restaurant, viewing decks and shops. It sits on the glacial moraine. The glacier would have covered it in 1840, but is now several kilometers distant. It is also the place where you can sign up for the glacier tour and the skywalk both of which I will talk about in a minute.
There is camping about a half mile south but it is for tents only. RVs can stay in the parking lot on the north side for under $20 per night but it is literally a parking lot with stalls and everything. There is plenty of room but it isn't aesthetically pleasing. With no other options though, we were grateful they allowed camping there at all. I can't imagine Yellowstone NP allowing overflow camping at Old Faithful.
The Centre is directly across from the Athabasca Glacier, one of many that comes off the huge Columbia Icefield. You can drive to the foot of it, but if you want to walk on the glacier, you must pay for the privilege and ride on one of the huge snow buses (6-wheel drive and originally made in Burley, Idaho). The cost for the glacier tour and to walk on the glass-floored Skywalk was about $100 Canadian each. These sell out fast so get in line early or purchase on-line.
The glacier tour was fun, but I am not sure it was worth the cost. You get to spend about 15 minutes on the glacier before getting back on the buggy/bus. We drank some freshly melted glacier water, took a few photos and then it was back on board.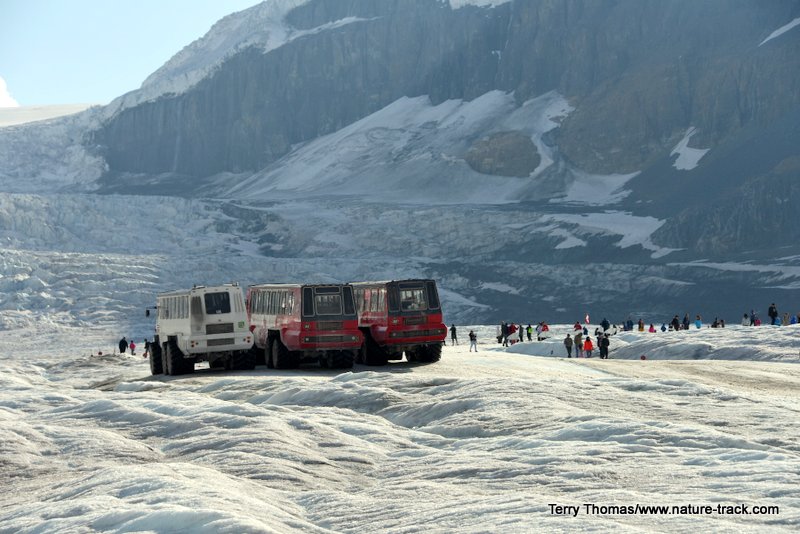 Athabasca Glacier coach tour.
As soon as we arrived back at Centre, we boarded another bus to ride to the Skywalk. This was an interesting deal with a self-guided audio tour that coordinated with displays along the walk. Stepping out onto the glass floor was, actually, a little spooky the first time. You don't see the glass, your focus is on the ground far below. The only thing I would change on this tour is that we were on the last one and could not stay very long. Earlier tours could catch a bus anytime they wanted to go back but we only had 30 minutes or so.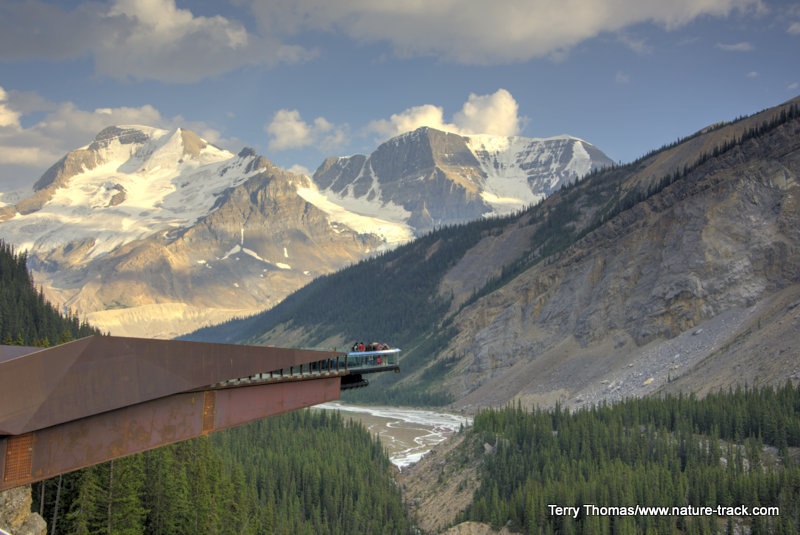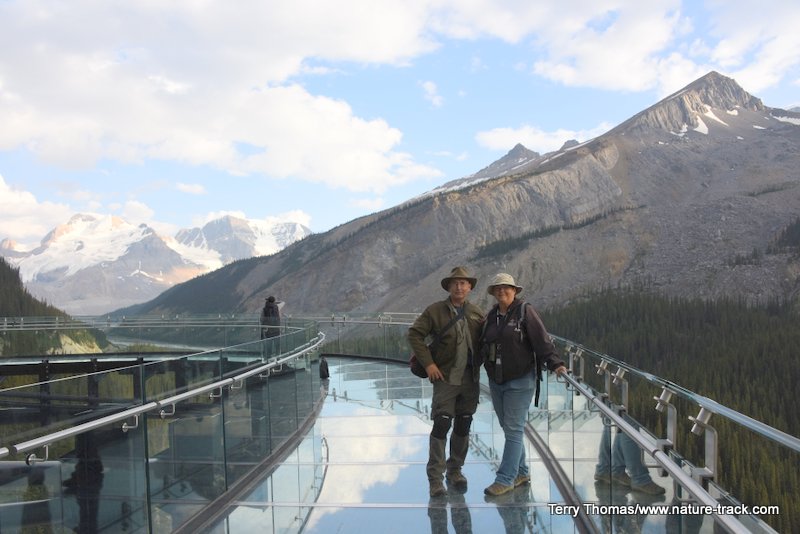 The Athabasca Skywalk.
The road from Centre to Jasper was an awesome drive but we couldn't stop often with the trailer. We did stop at Tangle Creek Falls just below the SkyWalk though and were glad we did. This is one of the coolest waterfalls I have ever seen. We were there at late morning and there were a lot of people climbing on and around the falls, but it was still stunning.
Tangle Creek Falls.
Between Centre and Jasper there are at least two campgrounds that accept RVs, but I believe both of them had a size limit of 25 feet maximum, which ruled us out. We didn't go back south after arriving at Jasper so we missed much of what there was to see in that stretch.
At Jasper (town) we took a drive up to Pyramid Lake. Of course, there was a lodge and restaurant there. They were pretty though and if you want to rent a canoe, they would be worth a little time.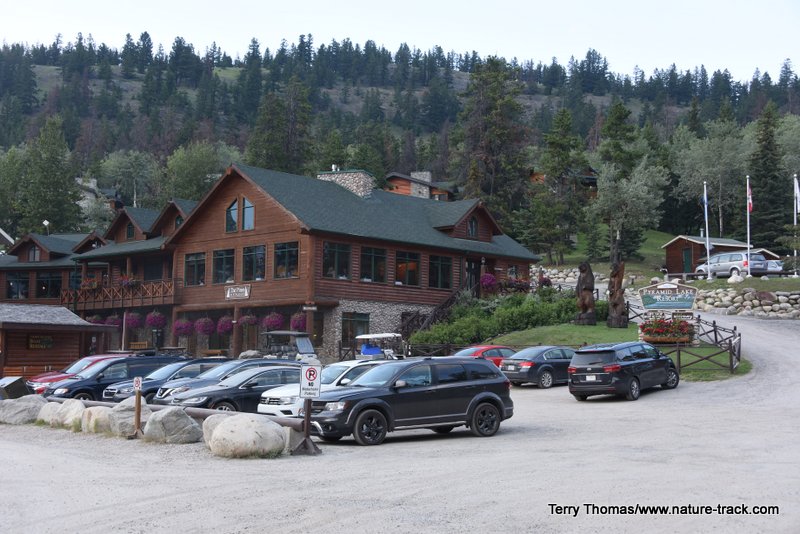 Pyramid Lake Lodge.
Our big reason for staying in Jasper was to get to Maligne (pronounced Maleen) Lake and see Spirit Island. As it turns out, Spirit Island is about 20 km from the inevitable lodge. We could have paddled it in our inflatable kayak but were told it was 4.5 hours one way and we didn't have that kind of time or energy. We laid down yet more cash ($75) to catch a ride on a 30-passenger boat. It was a pleasant ride and the setting of Spirit Island was awesome but we only got to spend about 20 minutes there.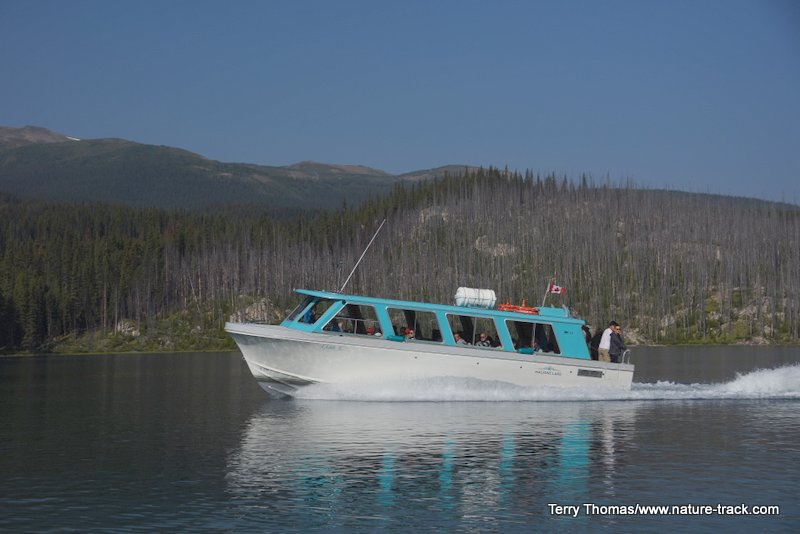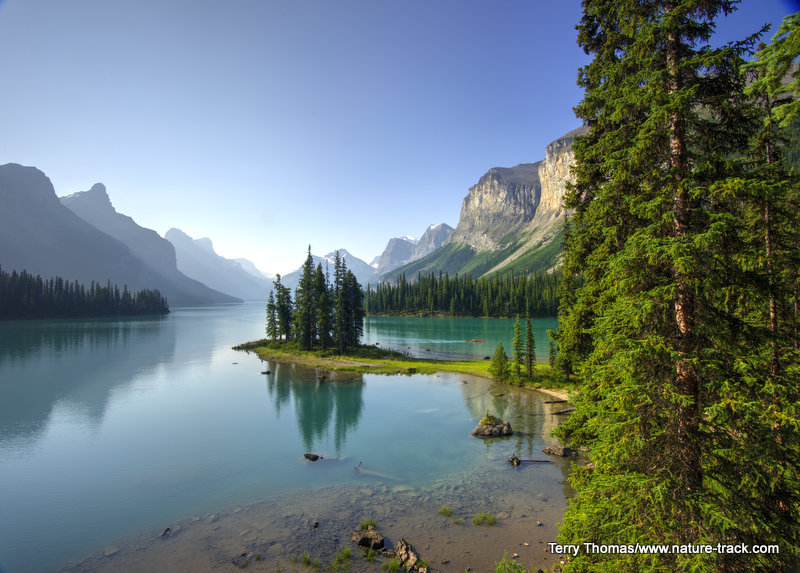 Maligne Creek, Maligne boat ride and Spirit Island on Maligne Lake.
On the drive out, we saw a small band of bighorn sheep and down by town we saw half a dozen elk and a couple of rams. Finally, we saw a little wildlife.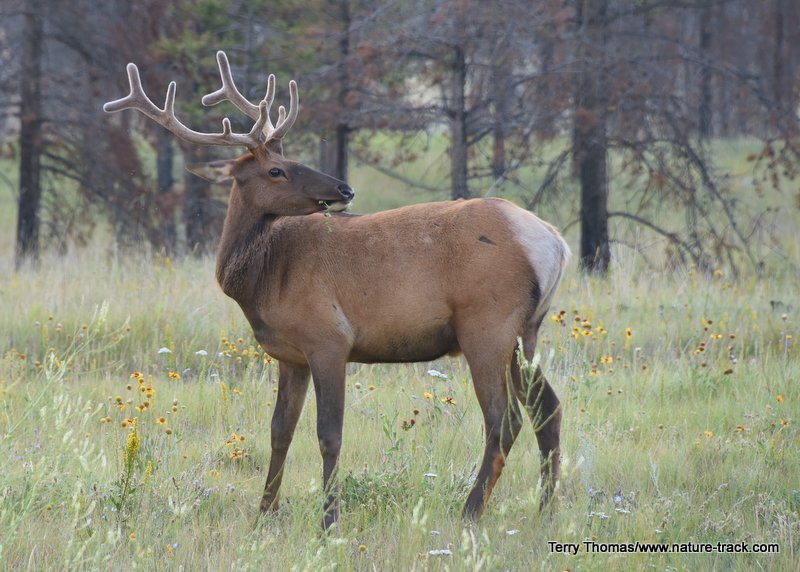 If I had to choose between Jasper and Banff, Jasper would win because of the better accommodations and  smaller crowds. Both are stunningly beautiful and both want your money. All of it if they can get it.