Rabbits and Hares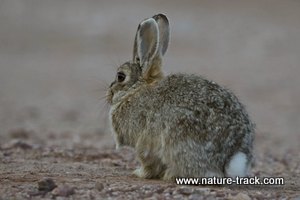 Side by side, it is easy to see some of the differences between rabbits like this mountain cottontail (left) and hares such as this black-tailed jackrabbit (right).
       Last week's fresh blanket of snow created a wildlife lover's paradise. We ventured out when it was less than 12 hours old and read stories already written on its surface. Heart-shaped deer tracks wandered among the sagebrush. The pittering tracks of tiny rodents dotted the top of the snow. The silent wing prints of an owl marked where it had swept down and snatched a hapless victim.
          But most obvious though, were the numerous trails, resting areas (called forms) and feeding sites of what seemed to be hundreds of rabbits. We saw several as well; cottontails sunning on the lava mounds and black-tailed jackrabbits bounding out from under shrubs and racing off like greyhounds.
          It was easy to see some obvious differences between the "bunnies" and the jacks. Size alone was enough. The jacks are 3-4 times larger than the cottontails. Jackrabbits have much longer legs and larger feet which allow speedy sprints in a more upright style. They also have huge antenna-like ears while rabbit ears are no longer than the rabbit's head.
         Cottontails and jackrabbits are both members of the family Leporidae, along with 52 other species. It is a family that naturally spans all continents except for Australia and Antarctica (although Australia is now overrun with exotic rabbits). As leporids, they are vegetarian, have small extra upper incisor teeth behind the primary incisors, are active year-round and are highly productive: up to four litters of 4-6 young per year.
          However, cottontails are rabbits and, despite their names, black-tailed and white-tailed jackrabbits are hares (as is the snowshoe hare) and that is a big difference. Even on a genetic level hares and rabbits are distinct. Hares have 48 chromosomes and rabbits only 44.
           Internet searches about rabbits and hares can be misleading, at least regarding our local rabbit species. Many sources will tell you that rabbits are social, forming colonies where one male does most of the breeding. They will also point out that rabbits dig communal warrens or burrows while hares are loners that shun underground habitation and depend upon speed for escape.
          Generally these facts are correct but our mountain cottontail rabbit is neither social nor fossorial. It will take advantage of cracks and holes though and is commonly found on mounded lava where both are in abundance. Population concentrations are more likely due to habitat features than friendly ties.
          The only other rabbit native to Idaho, the pygmy rabbit, does dig burrows but is not social in the sense of forming communal warrens.
          Rabbits and hares differ most in the strategies they use in having young. A hare has a gestation of about 42 days. Newborn hares, called leverets, are fully developed at birth—furred with open eyes—while newborn rabbits, born after just 30 days and called kittens or kits, are naked and defenseless at birth. They require 4-5 weeks before they can move about independently.
           Rabbits and hares are easy to see this time of year. If you are lucky you may even see them side by side and will readily observe the differences between the two.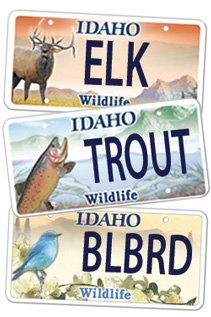 Wildlife License Plates
Idaho Wildlife license plates provide essential funding that benefits the great diversity of native plants and wildlife that are not hunted, fished or trapped—over 10,000 species or 98% of Idaho's species diversity. Game species that share the same habitats (such as elk, deer, antelope, sage-grouse, salmon, trout) also benefit from these specialty plates.
No state tax dollars are provided for wildlife diversity, conservation education and recreation programs. Neither are any revenues from the sale of hunting or fishing licenses spent on nongame species. Instead, these species depend on direct donations, federal grants, fundraising initiatives—and the Idaho Wildlife license plates.
Both my vehicles have Bluebird Plates. I prefer the bluebird because the nongame program gets 70 percent of the money from bluebird plates, but only 60 percent of the money from elk and trout plates - 10 percent of the money from elk plates supports wildlife disease monitoring and testing programs (to benefit the livestock industry) and 10 percent from cutthroat plates supports non-motorized boat access.
Incidentally, in 2014, the Idaho Legislature denied the Department of Fish and Game the ability to add new plates or even to change the name of the elk and cutthroat plates (very specific) to wildlife and fish plates, a move that would have allowed for changing images occasionally and generating more revenue. It would seem that they believe that we Idahoans don't want a well funded wildlife program. Go figure.