We Live in a Great Place!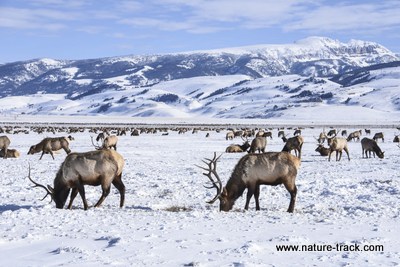 In one day-long trip we saw five big game species: these elk at the National Elk Refuge, pronghorn antelope, mule deer, bighorn sheep and mountain goats. Where else in the west can you do that?
---
We live in such a wonderful area that our family opted for a stay-cation to welcome in the new year. Last Thursday we left home early on an excursion to the National Elk Refuge to ride the horse-drawn sleigh out to see the elk. Shortly after turning up Highway 31 in Swan Valley, we prematurely accomplished one objective of the trip: we wanted to show the kids lots of elk, and there they were, just off the road.
After braving the slick roads over Teton Pass, we caravanned through Jackson. Instead of turning toward Grand Teton Park though, we continued east on Broadway, passing the hospital and turning left at a large sign proclaiming that we had arrived at the National Elk Refuge.
This snow-covered gravel road led us on the east side of Miller Butte, exactly opposite of where we would take the sleigh to see the elk. At the south end of the hill, a dozen bighorn sheep browsed and as soon as we stopped for a better look, made for our vehicles. Within a minute or two, our kids were up close and personal with bighorn ewes, lambs and rams as they literally licked the salt off our cars.
We drove north along the length of the hill and saw perhaps 50 sheep in all, along with a group of pronghorn antelope. Elk watched us from far to the west and south.
The temperature climbed out of negative numbers when the sun bathed the road and clear blue skies added to the magical time. Finally, though, it was time to head to the visitor center and prepare for the purpose of our visit—the sleigh ride amongst the elk.
We saw mule deer on the west side of the highway as the bus shuttled us from the visitor center to the sleighs, then we were there.  As we huddled under blankets, our sleigh driver, Dave, gave us a few words of caution and with a slap of the reins we were off, gliding across the snow with Teton Park on our left and several thousand elk in front of us. Miller Butte provided the eastern backdrop.
Numerous nearby bulls pawed at the snow, using their front hooves like brooms to expose the grass beneath. Dave explained that these elk were currently living on natural forage grown on about 5,000 acres of irrigated pasture. Supplemental feeding wouldn't start until the natural forage was gone or winter conditions made digging for dinner impossible.
The horses pulled us through the elk and we stopped several times for photos and so Dave could explain more about the operation. The ride took only an hour, but for most of the family, this was the closest they had ever been to live elk in mind-boggling numbers.
We decided to drive down the Snake River to return home. As we neared Alpine, Wyoming, I mentioned that I often see mountain goats in the area. The words were hardly spoken when I braked to avoid a goat almost in the middle of the road. In all, perhaps 10 goats licked salt from the road and another 10-15 browsed on the hill.
In all, we had shown our kids five big game species in the course of a day. I thought about that all the way home, grateful to live in a place so rich in wildlife. As we enter a new year, it is my hope that we never take that for granted.
---
---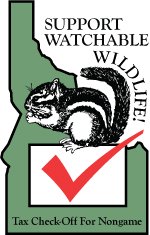 Donate part of your tax return to support wildlife in Idaho!
On the second page of the Idaho Individual Tax form 40 you have the opportunity to donate to the "Nongame Wildlife Conservation Fund".
Check-off this box on your next return or ask your tax preparer to mark the Nongame check-off on your behalf.
If you are not from Idaho, check with your own state wildlife agency about how you can help. Many states have a similar program.
---
Help Idaho Wildlife
Sadly, when we traveled across the state in October, most of the vehicles we saw using the wildlife management areas did not have wildlife plates.
C'mon folks, let's help Idaho's wildlife by proudly buying and displaying a wildlife license plate on each of our vehicles! 
See below for information on Idaho plates. Most states have wildlife plates so if you live outside Idaho, check with your state's wildlife department or vehicle licensing division for availability of state wildlife plates where you live. 
---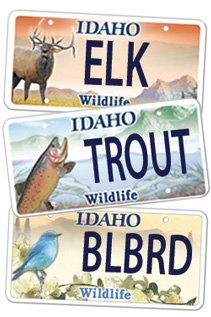 ---
Wildlife License Plates
Idaho Wildlife license plates provide essential funding that benefits the great diversity of native plants and wildlife that are not hunted, fished or trapped—over 10,000 species or 98% of Idaho's species diversity. Game species that share the same habitats (such as elk, deer, antelope, sage-grouse, salmon, trout) also benefit from these specialty plates.
No state tax dollars are provided for wildlife diversity, conservation education and recreation programs. Neither are any revenues from the sale of hunting or fishing licenses spent on nongame species. Instead, these species depend on direct donations, federal grants, fundraising initiatives—and the Idaho Wildlife license plates.
Both my vehicles have Bluebird Plates. I prefer the bluebird because the nongame program gets 70 percent of the money from bluebird plates, but only 60 percent of the money from elk and trout plates - 10 percent of the money from elk plates supports wildlife disease monitoring and testing programs (to benefit the livestock industry) and 10 percent from cutthroat plates supports non-motorized boat access.
Incidentally, in 2014, the Idaho Legislature denied the Department of Fish and Game the ability to add new plates or even to change the name of the elk and cutthroat plates (very specific) to wildlife and fish plates, a move that would have allowed for changing images occasionally and generating more revenue. It would seem that they believe that we Idahoans don't want a well funded wildlife program. Go figure.