Funding Wildlife Diversity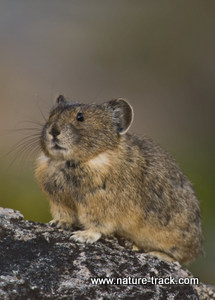 Funding to manage a whole host of nongame species such as this pika, comes largely from voluntary donations.
Getting an accurate count of the number of wildlife species in Idaho is not as straightforward as one might think. There are hundreds of species of birds, for instance, but depending on which source you choose to look at, the count can vary considerably. For instance, there are a surprising number of unusual bird species that make Idaho home for only a short period during their migrations. Should they be counted as Idaho species or not? 
I looked to the Idaho Comprehensive Wildlife Conservation Strategy (now called the Statewide Wildlife Action Plan) as an authority source to determine how many species and subspecies of wildlife Idaho claims. Barring a miscount, the CWCS considers Idaho to be home, at least for a time, to 392 bird species, 33 reptile and amphibian species, 113 mammal species and 82 fish species.
These numbers include migrants and intentionally introduced species such as ring-necked pheasant and starlings. There are also thousands of other species of bi-valves (such as the Western pearlshell), crustaceans, snails, insects, spiders and more, all essential in maintaining this machine we call nature.
Idaho offers a wide variety of species for hunting, fishing and trapping experiences and funds these activities through the sale of hunting and fishing licenses and federal excise taxes on equipment such as ammunition.  
Many more species though are considered protected nongame and are not consumptively pursued. In Idaho, their management is not funded through license and tag sales or the federal Pittman-Robertson or Dingle-Johnson Acts.
Funding for the management of the hundreds of species of wildlife classified as protected nongame wildlife comes from several sources. The State Wildlife Grant from the U.S. Fish and Wildlife Service is an important source. All other funds come from voluntary contributions such as the Idaho Non-game Conservation Fund a.k.a. the Non-game Tax Check-off, wildlife license plate sales and donations. No general state tax dollars are used to fund any wildlife programs other than the new wolf control board.
Maintaining Idaho's wildlife heritage as habitat continues to shrink and the human footprint swells is an ever increasing challenge. It takes funding to meet the future head on and ensure wildlife for generations to come.
Protecting our wildlife heritage is the responsibility of every Idahoan. So, I challenge all Idahoans to the following this year:
1.       Donate a part of your state tax refund to the Nongame Wildlife Conservation Fund (Idaho Individual Tax form 40 page 2). If you already donate, I challenge you to double your contribution.
2.       Buy a wildlife license plate. Fewer than three percent of Idahoans have a wildlife plate. There is plenty of room for improvement. Each plate generates up to $24.50 for wildlife.
3.       Make a tax deductible donation to the Wildlife Diversity program at the Department of Fish and Game through the Idaho Fish and Wildlife Foundation.
In 75 years, Idaho celebrates its 200th anniversary. At that momentous time, will we rejoice in a vibrant natural heritage or mourn its loss? The answer depends in part on the generosity of our generation.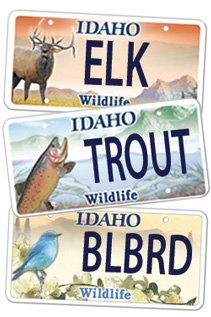 Wildlife License Plates
Idaho Wildlife license plates provide essential funding that benefits the great diversity of native plants and wildlife that are not hunted, fished or trapped—over 10,000 species or 98% of Idaho's species diversity. Game species that share the same habitats (such as elk, deer, antelope, sage-grouse, salmon, trout) also benefit from these specialty plates.
No state tax dollars are provided for wildlife diversity, conservation education and recreation programs. Neither are any revenues from the sale of hunting or fishing licenses spent on nongame species. Instead, these species depend on direct donations, federal grants, fundraising initiatives—and the Idaho Wildlife license plates.
Both my vehicles have Bluebird Plates. I prefer the bluebird because the nongame program gets 70 percent of the money from bluebird plates, but only 60 percent of the money from elk and trout plates - 10 percent of the money from elk plates supports wildlife disease monitoring and testing programs (to benefit the livestock industry) and 10 percent from cutthroat plates supports non-motorized boat access.
Incidentally, in 2014, the Idaho Legislature denied the Department of Fish and Game the ability to add new plates or even to change the name of the elk and cutthroat plates (very specific) to wildlife and fish plates, a move that would have allowed for changing images occasionally and generating more revenue. It would seem that they believe that we Idahoans don't want a well funded wildlife program. Go figure.