Suet Results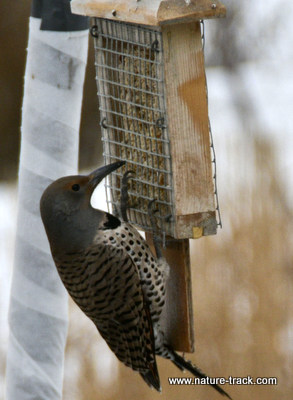 All my backyard birds love the suet, but woodpeckers, like this flicker, seemed extra happy to help themselves to the new bounty.
---
When I made my first suet blocks, I wasn't sure they'd be any more popular than the commercial ones. Once birds discovered the homemade ones though, they completely abandoned the commercial blocks. Mine disappeared at an alarming rate and I was soon cooking up a new batch.
I followed the recipe the first time. The second time though, I made some modifications.  First, I didn't have peanuts and cracked corn so I didn't put them in. I added extra sunflower seeds to make up for them and ran the sunflowers through a pulse or two in my blender to chop them up a bit. Also, I was out of raisins so I substituted frozen blueberries and used about twice as many. I also put these through the processor for a burst or two. Since I save egg shells and grind them up for my garden, I added a couple of tablespoons along with two tablespoons of sand for grit. I realized that the eggshells would be more important in the spring during egg-laying, but I didn't think they would hurt during the winter.
I can report that, if possible, the second suet batch was even more popular with the birds. Everything I put out disappeared quickly. Every species of bird at my feeder with the exception of the collared doves has had a go at the suet blocks. The downy woodpeckers have become daily visitors as have the neighborhood redbreasted nuthatches and a pair of northern flickers. Personally, I think the blueberries are what made the difference.
My subsequent efforts of suet block making have followed the recipe as a guideline but have been based largely on what I have available. If I have more ingredients, I put them in. For instance, with the latest batch, I added extra sunflowers, peanuts, raisins, blueberries and cracked corn. I use commercial peanut butter if I don't have fresh ground peanuts on hand.
I have found a couple of issues with my suet blocks. First, their rapid consumption requires me to make a batch a week and that can get a little spendy. Their swift disappearance these days is exacerbated due to the fact that starlings and magpies discovered them and visit daily. They monopolize the suet and pretty much eat it all.
I finally got to the point where I stopped putting the suet out until the magpies and starlings lost interest and went elsewhere. This isn't the best strategy as it deprives the other birds. I would like to find a way to exclude these two very intelligent species while still letting all other birds have unlimited access. If anyone has any ideas, let me know.
Warm temperatures may also be an issue. I have found that these blocks will stand up to temperatures above 50 degrees F. but I suspect they'll melt under summer heat. I may have to switch back to commercial ones when spring arrives or play more with this recipe. What I do know is that the birds will use them as long as I continue to hang them in the trees.
Homemade suet blocks have proven to be effective in attracting more birds to my feeders. I also feel that they are really beneficial to the birds that hang around for the winter. Try it and let me know what you think.
---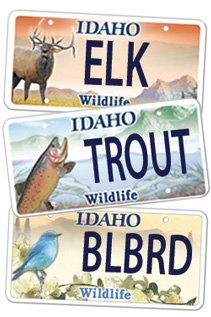 Wildlife License Plates
Idaho Wildlife license plates provide essential funding that benefits the great diversity of native plants and wildlife that are not hunted, fished or trapped—over 10,000 species or 98% of Idaho's species diversity. Game species that share the same habitats (such as elk, deer, antelope, sage-grouse, salmon, trout) also benefit from these specialty plates.
No state tax dollars are provided for wildlife diversity, conservation education and recreation programs. Neither are any revenues from the sale of hunting or fishing licenses spent on nongame species. Instead, these species depend on direct donations, federal grants, fundraising initiatives—and the Idaho Wildlife license plates.
Both my vehicles have Bluebird Plates. I prefer the bluebird because the nongame program gets 70 percent of the money from bluebird plates, but only 60 percent of the money from elk and trout plates - 10 percent of the money from elk plates supports wildlife disease monitoring and testing programs (to benefit the livestock industry) and 10 percent from cutthroat plates supports non-motorized boat access.
Incidentally, in 2014, the Idaho Legislature denied the Department of Fish and Game the ability to add new plates or even to change the name of the elk and cutthroat plates (very specific) to wildlife and fish plates, a move that would have allowed for changing images occasionally and generating more revenue. It would seem that they believe that we Idahoans don't want a well funded wildlife program. Go figure.