Fish and Wildlife Management in Idaho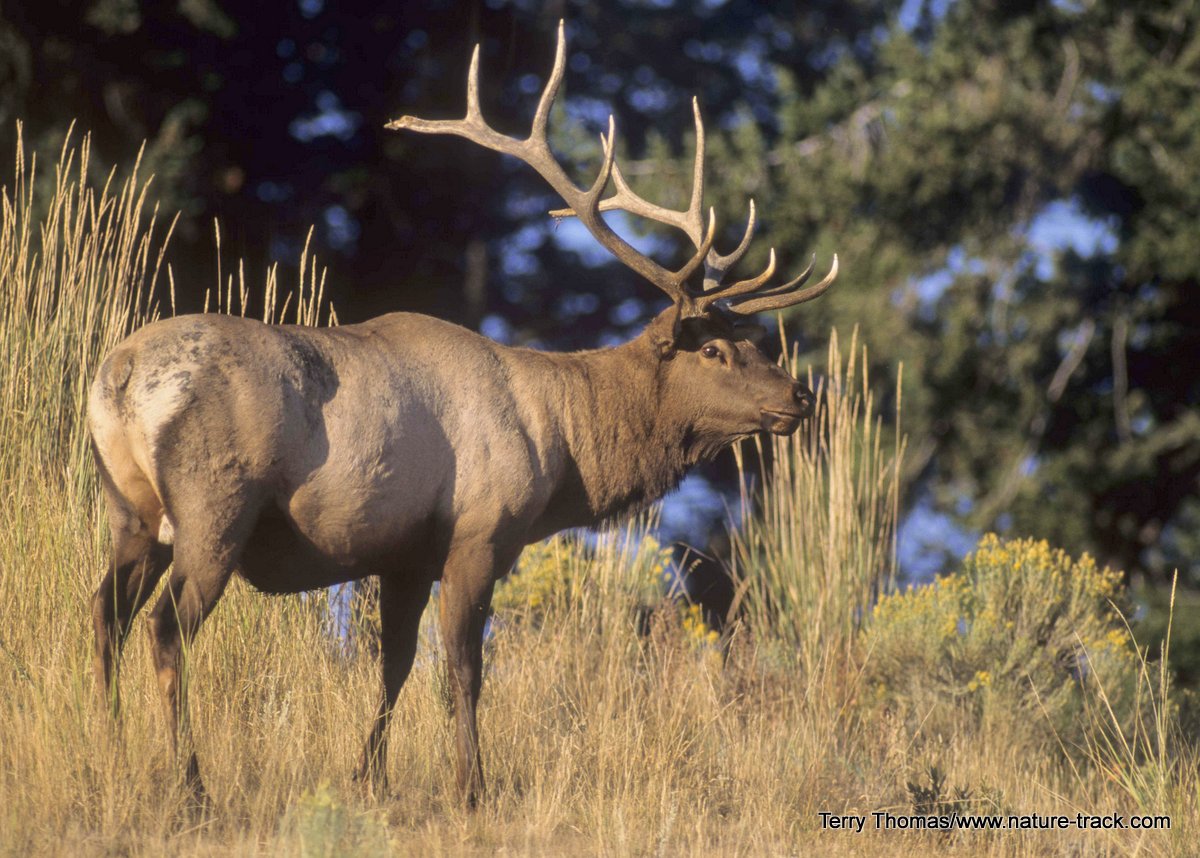 Managing wildlife for hunting, fishing and trapping is a priority for Idaho Department of Fish and Game. 
---
After a lengthy discussion with my son regarding my former employer and how wildlife is managed in Idaho, it occurred to me that this might be a topic of interest to anyone who enjoys wildlife and the outdoors. So, I thought I would share just a little of how wildlife and wildlife-based recreation are managed in Idaho.
Idaho Code 36-103a gives the specific direction for how wildlife is to be managed and this is the mission statement for Idaho Department of Fish and Game (IDFG), the agency charged with carrying out this directive: "All wildlife, including all wild animals, wild birds, and fish, within the state of Idaho, is hereby declared to be the property of the state of Idaho. It shall be preserved, protected, perpetuated, and managed. It shall be only captured or taken at such times or places, under such conditions, or by such means, or in such manner, as will preserve, protect, and perpetuate such wildlife, and provide for the citizens of this state and, as by law permitted to others, continued supplies of such wildlife for hunting, fishing and trapping."
The Department of Fish and Game answers to the Fish and Game Commission, a board of seven volunteer citizens, one from each IDFG region and all advocates for wildlife. These commissioners are appointed by the governor and approved by the Senate. They serve a four-year term and may serve two consecutive terms. No more than four commissioners may be from the same political party. "The Commission's purpose is to implement the wildlife policy of the state consistent with the provisions of state law (IDFG website)."
The director of IDFG serves as secretary to the Commission and is chosen by them. He is not elected or politically appointed, an important point and part of the reason for the citizen initiative of 1938 that established the current system.
The Department provides information and recommendations to the Commission regarding hunting, fishing and trapping seasons, budgets and more, but it is the Commission that actually adopts or rejects these recommendations. They hold a minimum of four annual meetings across the state to consider public opinion, but may hold more meetings as needed. You can find their schedule on the IDFG website at: idfg.idaho.gov.
Most of the commission meetings are open to the public and the public is encouraged to attend. There is always a portion of the meetings dedicated to letting the Commission hear from the public. This is where your voice can be heard by the decision makers.
Other ways to participate in Idaho fish and wildlife management include: attending regional big game meetings (usually held mid-winter every other year now that they use big game regulations for two years), participating in mail-in or email surveys and attending/commenting on long-term management plans. Well-supported ideas are always given attention.
The Department is funded in a number of ways including resident license sales (about 15% of the budget), nonresident licenses (about 26% of the budget) and a variety of federal and non-federal (such as wildlife license plates) funding sources, for a total budget of about $128 million (2020) and 569 classified professional employees.  Many people still do not realize that IDFG does not receive any general funds from State tax dollars.
People often confuse Idaho Department of Fish and Game with the U.S. Fish and Wildlife Service. The Fish and Wildlife Service is a federal agency tasked with, among many other things, overseeing endangered species. Once a species becomes listed, this agency has the final say. Until that point, all wildlife is, as stated before, the property of the state and managed by Idaho Department of Fish and Game.
That is just a thumbnail of the process. If you would like to learn a lot more on this subject, visit the Idaho Department of Fish and Game website.
---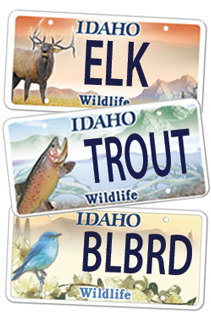 Help Idaho Wildlife
When we traveled across the state in October 2017, most of the vehicles we saw using the wildlife management areas did not have wildlife plates. Buying wildlife plates is a great way for non-hunters and hunters alike to support wildlife-based recreation like birding.
C'mon folks, let's help Idaho's wildlife by proudly buying and displaying a wildlife license plate on each of our vehicles! 
See below for information on Idaho plates. Most states have wildlife plates so if you live outside Idaho, check with your state's wildlife department or vehicle licensing division for availability of state wildlife plates where you live. 
And tell them that you heard about it from Nature-track.com!
Wildlife License Plates
Idaho Wildlife license plates provide essential funding that benefits the great diversity of native plants and wildlife that are not hunted, fished or trapped—over 10,000 species or 98% of Idaho's species diversity. Game species that share the same habitats (such as elk, deer, antelope, sage-grouse, salmon, trout) also benefit from these specialty plates.
No state tax dollars are provided for wildlife diversity, conservation education and recreation programs. Neither are any revenues from the sale of hunting or fishing licenses spent on nongame species. Instead, these species depend on direct donations, federal grants, fundraising initiatives—and the Idaho Wildlife license plates.
Both my vehicles have Bluebird Plates. I prefer the bluebird because the nongame program gets 70 percent of the money from bluebird plates, but only 60 percent of the money from elk and trout plates - 10 percent of the money from elk plates supports wildlife disease monitoring and testing programs (to benefit the livestock industry) and 10 percent from cutthroat plates supports non-motorized boat access.
Incidentally, in 2014, the Idaho Legislature denied the Department of Fish and Game the ability to add new plates or even to change the name of the elk and cutthroat plates (very specific) to wildlife and fish plates, a move that would have allowed for changing images occasionally and generating more revenue. It would seem that they believe that we Idahoans don't want a well funded wildlife program. Go figure.