Yesterday, Today and Tomorrow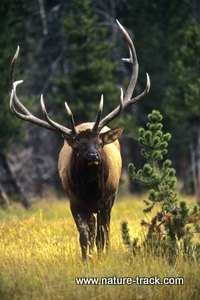 The wide distribution and large numbers of elk in Idaho shouldn't be taken for granted. Elk were once almost completely eliminated from the state and were re-established over a 25-year period with transplants from Yellowstone National Park.
I have a three-ring binder at my office that shows the current distribution of elk, bighorn sheep, mule deer, mountain goats, moose and white-tailed deer as compared to the range of these species in 1935. Without exception, every species flourishes in far more places in Idaho now than 75 years ago. Not only are they found in more places, but there are more of them.
Protection of big game species in Idaho began before the Civil War ended, but it was almost a story of too little too late. Subsistence and market hunting had nearly eliminated many big game species from the state by then.
They needed more than protection and the return to the current levels we enjoy today was not an accident. Elk transplants from Yellowstone National Park began in 1915 with a program that extended into the World War II era. Mountain goat transplants began in 1961, bighorn sheep were returned to the Owyhees in 1965 and so on.
During the same time, hunters also benefitted as exotic game birds such as gray partridge, chukars, turkeys, bobwhite quail, California quail and pheasant were established in the state through transplant programs. Idaho is also one of the few places in the West where native sharp-tailed grouse still thrive.
Fish followed suit, with brook, rainbow and brown trout joining our only native trout, the cutthroat. Kokanee salmon, large and smallmouth bass, walleye, pike, yellow perch, crappie and other non-native fish were transplanted into reservoirs, providing a wonderful diversity for anglers.
Species have also oscillated, growing exponentially at first, and then ebbing as habitat changed. For instance, wild pheasant populations grew from a few transplanted birds in the 1880s to an all-time high harvest of 757,000 birds in 1964. Since then, populations have steadily declined as urban sprawl and changing farming practices have reduced their habitat.
There have been failures too. Notably absent from the list of recovered big game are two of the most iconic of Idaho animals: bison and woodland caribou. Helter-skelter human development has left no room for these species. Woodland caribou still barely hold on in the northernmost tip of Idaho, but today, bison are not even welcome within our borders.
Despite our best efforts, some species still declined during our watch. A daisy chain of power generation dams on the Columbia, Snake, Salmon and Clearwater rivers blocked steelhead and salmon migrations. The belated lesson is that despite all the mitigations humans can devise --barging, fish ladders, springtime flow augmentation, hatcheries -- nothing replaces wild habitat and free-flowing rivers. Unlike most big game, 50 years of restoration work has not returned salmon and steelhead to anything remotely resembling their former glory.
Overall, Idahoans have done a good job of restoring wildlife, protecting habitat and providing a robust hunting and fishing economy. Because of these past efforts, in many ways, we are living in the good old days for wildlife. In 2014, let's renew our commitment to wild things so the challenges of the next hundred years don't erase our progress to date.