Mother's Milk and Nursing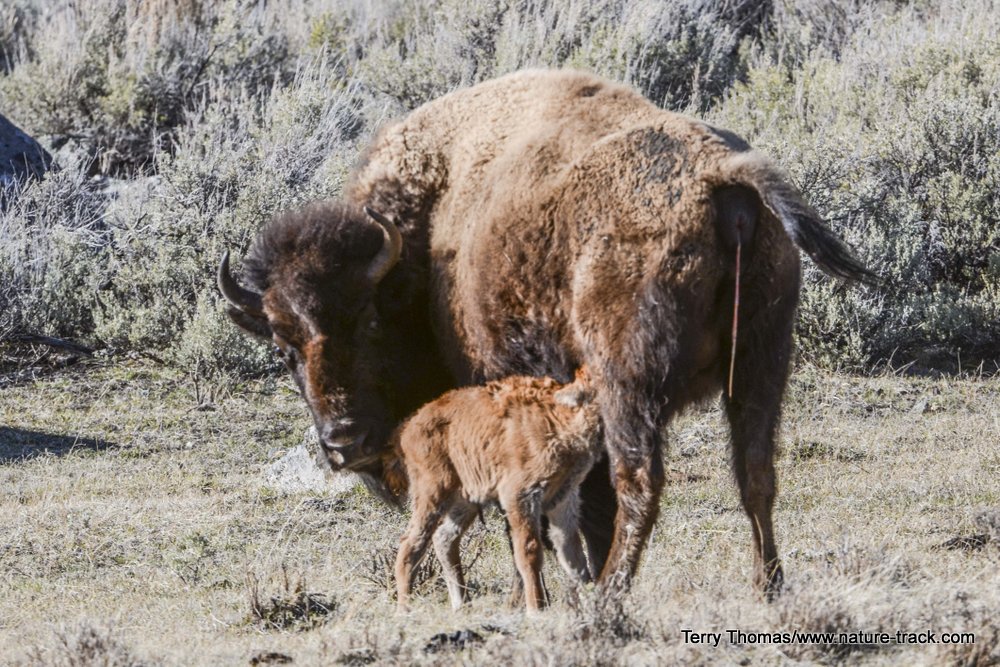 This newborn bison calf is getting his first taste of mother's milk, the early milk, called colostrum, that will help provide essential growth nutrients and immunity to some illnesses.
---
At birth, a blue whale calf weighs as much as an adult elephant. It will grow at a phenomenal rate, gaining around 10 pounds an hour or 250 pounds a day. This is possible because of its mother, whose five-foot long and 250 pound mammary glands can each produce 50 gallons of milk a day. This milk is 35-50 percent milk fat and around 15 percent protein.
Milk delivery to the calf is complicated by being under water. The mother's nipples are protected in folds of skin called mammary slits and the calf must stimulate the folds for them to release the nipple, which is then encircled by the calf's tongue. Then, rather than the calf suckling in the normal sense, the mother ejects the milk, which has a consistency like toothpaste, into the calf's mouth. Thus, the mother, not the calf, determines how much milk will be fed.
Nursing is part of being a mammal. While it is vastly the realm of the females of the species, male lactation is not unheard of. Dayak fruit bat males and Bismarck masked flying fox males both lactate and assist in nursing the young. Male lactation is also occasionally seen in male goats of some species.
For newborn mammals, milk starts out as colostrum, or early milk. This milk is noticeably different from the later milk. It is rich in essential amino acids and other growth factors and natural antimicrobials and a wide range of immunoglobulins, conveying immunity to some infections from mother to young.
Milk is easily digested by newborn animals. I well remember changing poopy diapers on new babies. While not as disgusting as later bowel movements, I still found it gut-wrenching. Young okapi, an only recently discovered (1901) animal that looks like a cross between a zebra and a giraffe, have something I wish my kids would have emulated. For about their first month of life, they can completely metabolize their mother's milk, producing no waste. Thirty days poop free—what a blessing that would have been!
There is a lot of variability in nursing. In marsupials such as kangaroos, the infant is born very early, and is about the size of a lima bean. It crawls from the birth canal unerringly to a nipple where it latches on. The nipple swells in its mouth so it cannot let go accidentally, something that would kill it. It stays attached for months, the nipple growing along with the infant.
While the hooded seal has the shortest nursing period of all mammals at four days, orangutans set the record in the opposite direction. A mother may nurse her baby for up to seven years, although the average is shorter. Other primates have long nursing periods too: chimpanzees wean at about 48 months and gorillas wean at 52 months.
Nipple placement is also variable. Many mammals such as elk, deer, cattle, goats, squirrels and more keep their nipples between the hind legs. Dogs and cats tend to have nipples from hind quarters up to the front quarters. Elephants, like humans, have them near their front legs (arms in humans).
Humans are unique in one way. Of the 5,000-6,000 species of mammals on the planet, human mothers are the only ones to have permanent breasts. All other species develop temporary breasts during ovulation or nursing. After the conclusion of nursing, the breasts shrink back to an unobtrusive size.
---
Help Idaho Wildlife
When we traveled across the state in October 2017, most of the vehicles we saw using the wildlife management areas did not have wildlife plates. Buying wildlife plates is a great way for non-hunters and hunters alike to support wildlife-based recreation like birding.
C'mon folks, let's help Idaho's wildlife by proudly buying and displaying a wildlife license plate on each of our vehicles! 
See below for information on Idaho plates. Most states have wildlife plates so if you live outside Idaho, check with your state's wildlife department or vehicle licensing division for availability of state wildlife plates where you live. 
And tell them that you heard about it from Nature-track.com!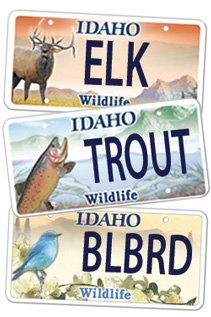 Wildlife License Plates
Idaho Wildlife license plates provide essential funding that benefits the great diversity of native plants and wildlife that are not hunted, fished or trapped—over 10,000 species or 98% of Idaho's species diversity. Game species that share the same habitats (such as elk, deer, antelope, sage-grouse, salmon, trout) also benefit from these specialty plates.
No state tax dollars are provided for wildlife diversity, conservation education and recreation programs. Neither are any revenues from the sale of hunting or fishing licenses spent on nongame species. Instead, these species depend on direct donations, federal grants, fundraising initiatives—and the Idaho Wildlife license plates.
Both my vehicles have Bluebird Plates. I prefer the bluebird because the nongame program gets 70 percent of the money from bluebird plates, but only 60 percent of the money from elk and trout plates - 10 percent of the money from elk plates supports wildlife disease monitoring and testing programs (to benefit the livestock industry) and 10 percent from cutthroat plates supports non-motorized boat access.
Incidentally, in 2014, the Idaho Legislature denied the Department of Fish and Game the ability to add new plates or even to change the name of the elk and cutthroat plates (very specific) to wildlife and fish plates, a move that would have allowed for changing images occasionally and generating more revenue. It would seem that they believe that we Idahoans don't want a well funded wildlife program. Go figure.