Fossil Butte National Monument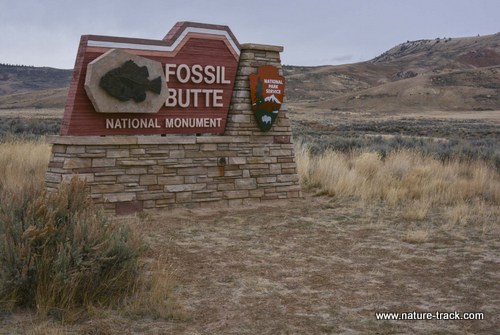 The summer crowds at the big-name national parks were tremendous this year. The 100-year celebration of the Park Service seemed to really draw visitors and most parks set new visitation records. That has left me looking for out-of-the-way parks and monuments that don't get visitors in the millions.
We found just such a monument several weeks ago when we visited Fossil Butte National Monument in southwest Wyoming. This 8,000 acre monument had only 19,000 visitors during this centennial year. According to the folks at the visitor center, the most visited time was Fourth of July week. Even then, they reported that it really wasn't crowded. During the peak summer season Fossil Butte NM averages only 100 visitors a day. That is my kind of place.
One of the benefits of going to an out-of-the-way park or monument is that you get a lot more personal attention at the visitor center. In some of the other parks this year we waited in line for 15 minutes or more to speak to a park ranger. If you thought of another question, you had to wait in line again. At Fossil Butte NM we were the only ones in the visitor center and the chief interpreter, Marcia Fagnant, gave us a personal tour once we had watched the 15-minute introductory video. We were some of the last people to be privileged to benefit from Marcia's 28 years at Fossil Butte as she retired at the end of the week we were there. Her young replacement, Amanda Wilson, was trying hard to glean from Marcia as well.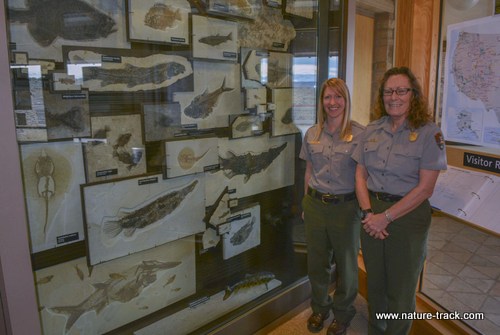 Marcia Fagnant, right, stands with her protege, Amanda Wilson near one of the displays.
So, how do you get to Fossil Butte NM? From wherever you are, you need to get to Kemmerer, Wyoming or close to it. From Idaho Falls we went to Soda Springs, Montpelier and then south on Highway 30 through Cokeville, Wyoming. We turned east on Highway 30 and went 14 miles to Fossil then followed the signs to the monument. We returned via Cokeville, Afton and Alpine, Wyoming and along Palisades. It was about 3hours and 15 minutes either way.
Coming from Salt Lake City, Utah, it is even shorter. Take I-80 to Evanston, Wyoming. Twelve miles east of Evanston, take Highway 189 to Kemmerer. At Kemmerer, go west on Highway 30 to Fossil and follow the signs. You can also take Highway 89/16 from Evanston to Woodruff and Randolph, Utah and then head east on Highway 30 to Fossil.
So, besides no crowds, what is the attraction to Fossil Butte? Well, the name definitely gives it away. Fossil Butte National Monument is all about fossils. But this isn't just a regular fossil bed where a scientific dig might find something and might not. At Fossil Butte, researchers are almost guaranteed to find fossils.
In the map on the right, Fossil Butte National Monument is a small polygon between the large yellow areas (actually at the bottom of the upper one). The yellow areas are the current extent of the remaining lake sediments.
Fossil Butte was once the bottom of a large lake, 60 miles long by 40 miles wide (an estimated 930 square miles at its maximum extent), named Fossil Lake. Had we been around to name it 52 million years ago, we might have called it something else because the name Fossil Lake only has meaning in a modern context.
Fossil Lake persisted for about two million years. During that time, it advanced and retreated repeatedly across the landscape creating huge sediment beds far larger than the current monument boundary. There are an estimated 500 square miles of sediment beds remaining today.
These beds added layers of new sediment routinely both from fine material washing in and from calcium carbonate precipitating out of the water column and falling like a constant rain on the bottom. These created a layering not unlike pages in a book.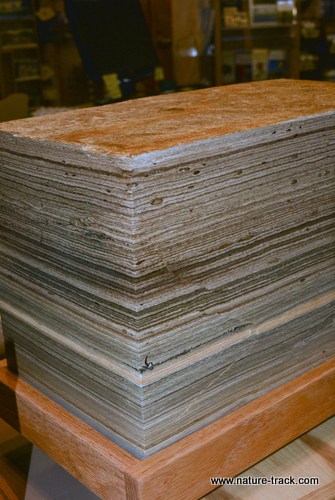 This is a section of limestone removed from the 18 inch layer so rich in fossils. The layers of sediment look like the pages of a book and better yet, nearly every page tells a story in fossils. 
Animals that died or were entrapped in the sediments were quickly covered and preserved. These sediments eventually consolidated into laminated limestone to form what is now known as the Green River Formation. Fossil Butte itself, a tan-colored butte at the south end of the monument, is capped with a 200-300-foot-thick segment of this formation.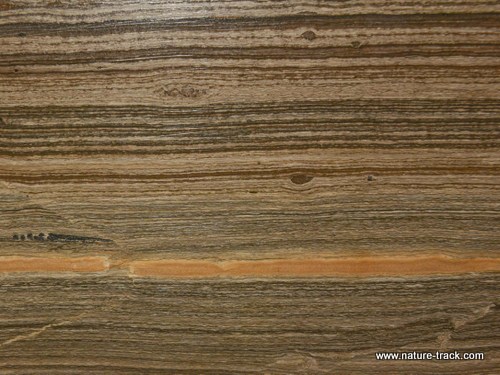 In  the lower left corner, just above the yellow layer, is a black mark that is a fish fossil.
The Green River Formation holds the equivalent of a fossil aquarium. To discover fossils, all paleontologists need do is wedge apart individual layers of sediment and there they find some of the best-preserved specimens in the world. There is one layer in particular, known as the 18-inch layer, that is incredibly rich in fossils.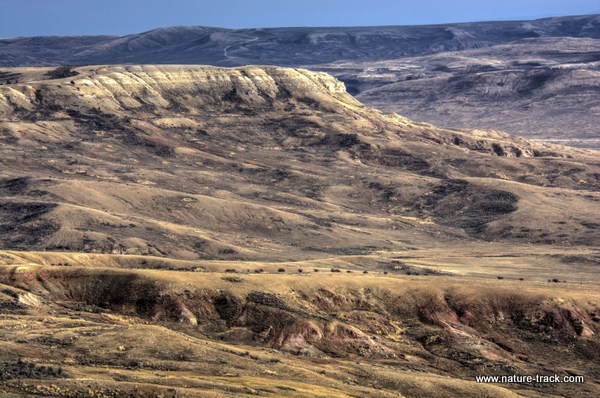 The Green River Formation is easily identifiable on top of Fossil Butte.
The bulk of the specimens are fish, 20 different varieties, but there are other fossils as well. Most of the mammal fossils are found in nearby layers of another formation, the reddish Wasatch Formation, which is underneath the Green River Formation. Between the two formations, they have found 377 species including mammals, crocodiles, turtles, snakes, snails, birds, insects and a wide variety of plant life including seeds. These are so well preserved that scales, teeth, fine bones, skin and leaf-vein patterns are often easily recognizable.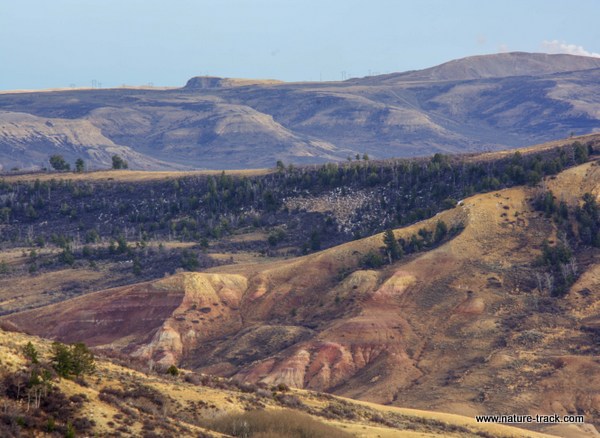 The Wasatch Formation is the reddish belt of rock running across this image.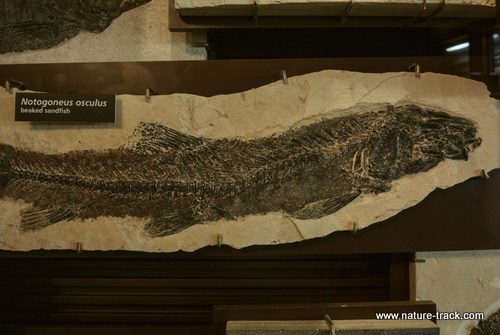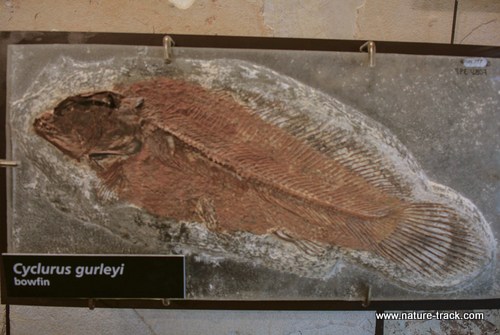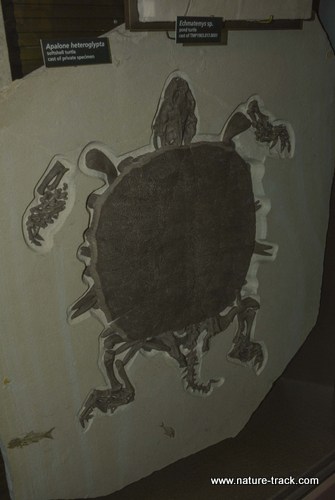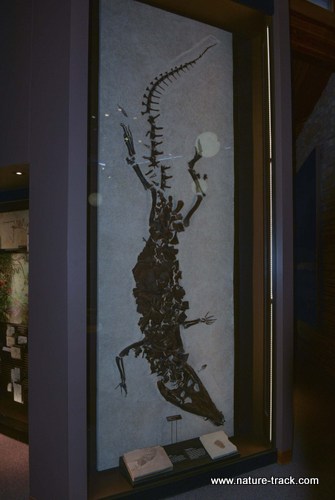 The quality of the specimens alone makes this monument unique. They are considered the best-preserved fossils in the world. On top of that, is the quantity of fossils. Since the 1800's when the area first caught the attention of visitors, over a million fossils have been removed from the Butte and the surrounding area. It is estimated that billions of fossils remain to be discovered. That is a lot of fossils.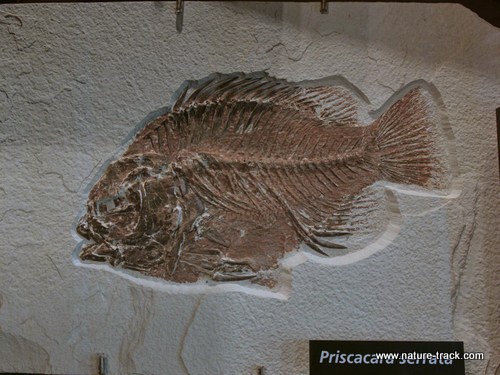 The detail in some fossils is exquisite, looking more like art than a fossil.
Even better, there are so many fossils found together that paleontologists can visualize quite clearly what the flora and fauna of a given time really was like. They can see what plants lined the shores, who was eating who and what species of animals and plants co-existed. The opportunity to re-create an ancient ecosystem is awesome.
And all that was just what we learned at the visitor center. When we stepped outside we immediately saw modern and living wildlife. Around 800 elk grazed on the slopes of Fossil Butte. We could hear the bulls bugling although they were more than a mile distant. Pronghorn antelope were numerous and much closer and as we drove up to the top of the scenic drive, we found mule deer. Moose are also reported to live in the area. Sage-grouse may be found on leks during the spring and a full complement of songbirds utilize the sagebrush and aspen habitats.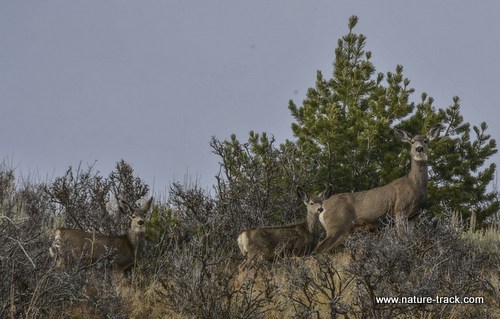 The scenic road is about five miles long and climbs to the top of the mesa to the north of the visitor center. It offers great views of Fossil Butte and the surrounding area. I could tell that this would have been even better if we had caught the aspen groves still in autumn leaf, during winter snows and even during spring green-up. I would like to go back in all seasons.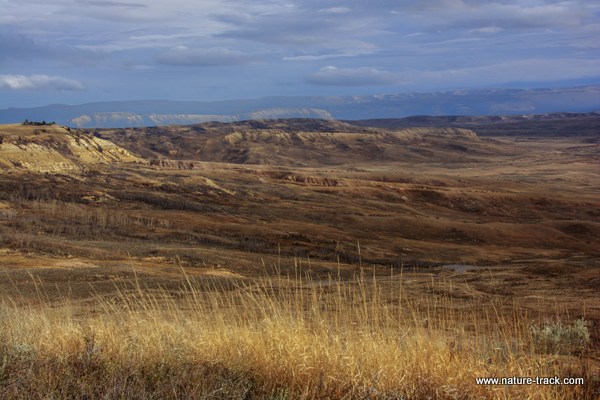 There is also a picnic area on the scenic drive with a 1.4-mile-long nature trail. Beyond the picnic area, the road turns to gravel. Although it had snowed recently and the road was wet, we had no trouble in our sedan. However, if the road had been more recently wet, I would not have taken it in a car. It is also not suitable for trailers.
There is no camping in the Monument. However, we saw signs advertising an RV park nearby and there is also public land where dispersed camping is allowed. Kemmerer is only about 25 minutes away as well.
The Monument does allow paleontologists to work a small "dig" on Fossil Butte and there are times when the public is allowed to go watch. You have to check with the Visitor Center to find out when.
You can hike to a historic quarry on the south end of Fossil Butte. It is a 2.5 mile round trip.
As I looked at the fossils on display, I couldn't help but want one. They have reproductions for sale at the Visitor Center but I didn't want a reproduction, I want the real thing. That isn't possible inside the monument. However, and this is a pretty big however, there are at least five private quarries in the area where you can actually dig for your own fossils. This isn't an inexpensive activity. I checked the website on one reported to be less expensive and it is $75/four hours, $100/eight-hour day per person and they don't accept credit cards. However, if you buy a fossil or two at some of the area shops, you will likely pay that much and I would prefer to find my own. Below is the contact information for the area quarries:
Pisces Prehistoric   www.piscesprehistoric.com
Promise Land Fossils  307-877-3641
Tynsky's Fossil Fish Inc.  307-877-6885
Ulrich's Fossil Quarry  307-877-6466
Warfield fossils   www.fossilsafari.com
Wyoming Fossils  www.wyomingfossils.com
 NOTE: THESE ARE NOT LIVE LINKS. COPY AND PASTE THE ADDRESS INTO YOUR BROWSER.
Most of these quarries are only open seasonally. Memorial Day to Labor Day seems to be the most common season, but several may be open longer.
We are absolutely going to spend more time in the Fossil Butte area. I want to see the monument in different seasons, hike the trails and quarry my own fossils. I would like to spend more time in the Visitor Center as well as there is a lot to read and see. Best of all, I don't anticipate crowds being an issue.