Florida Travels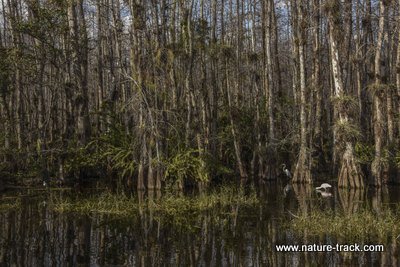 ---
For the past several weeks Cathy and I have been spending our time exploring Florida. In our first two visits there we concentrated on the Everglades and areas more southerly. This time we wanted to branch out a little and see some of the area around Tampa, which is about half way up the Gulf Coast side of the peninsula. This post is about getting to Florida. If you are not a seasoned traveler, you might find some useful information here.
We debated driving to Florida so we could take our camping equipment. We estimated it would take a solid three days of driving (Google Maps says 35 hours) each way and would cost about $240 each way to drive about 2400 miles (4800 round trip). I finally prevailed on my adventurous wife though, convincing her that we wanted to spend or time seeing Florida, not driving to and from there. Cathy got busy and scored some great prices on airfare through www.airfarewatchdog.com for Southwest Airlines that made flying actually cheaper than driving if you don't factor in the rental car.
We found that Southwest has a couple of advantages that we really liked. First, they don't charge for checked baggage. Second, not only do they not charge for checked baggage, but each person is allowed two free checked bags. We checked three bags on the out trip and checked four bags on the return trip. Third, Southwest is the only airline I have ever flown on without assigned seating. It is open seating and you load onto the plane based on a letter and number on your ticket. Our Letters/numbers were always B or C with high numbers meaning that 60 people in the A group load before the B group gets started and if you are in the C group, all the choice seats are gone.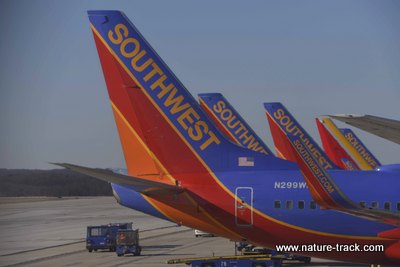 Even with that said though, I was still able to select my preferred seat at a window and I really liked that, especially on the flight out which was during the day. If my window is clean and unscratched, I really enjoy the views from 30,000 feet and the photography opportunities it presents.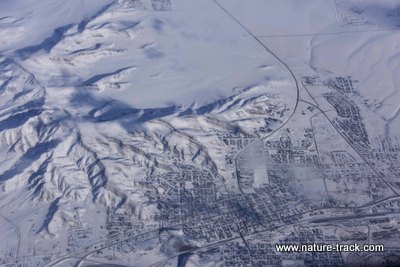 For the first several hours of the flight, whenever we could see the ground it was blanketed in snow.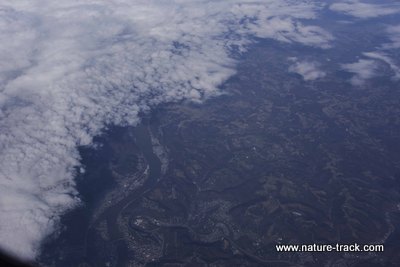 Somewhere east of the Mississippi River, we finally broke away from the cloud layer and the snow.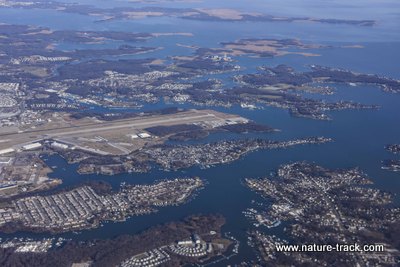 We had a great view of Baltimore and Chesapeake Bay as we landed in Baltimore.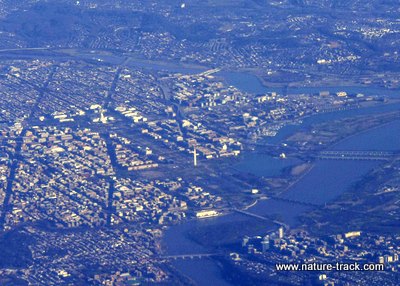 As we left Baltimore, we were treated to a late afternoon view of Washington, DC. The Washington Monument is that tall spire in the middle of the frame. The National Mall runs toward the upper left corner of the frame with the Capitol Building at the upper end.
Partly because of the ability to take extra luggage, we decided that we were going to camp several nights while on this trip. We took our tent, stove (no fuel though, it is not allowed on the plane. Neither are matches, lighters or even Sterno, even in checked luggage. Also, no aerosols are allowed, even in checked luggage), cooking kit and a few other items for camping. We also placed an order at a Walmart in Tampa for an in expensive air mattress, sleeping bag (we used it like a blanket), camp chairs, pillows and a foam ice chest. All of this was waiting for us when we arrived. This was actually quite inexpensive, about $40, and worked very well for us.
The time change between Salt Lake City, our departure gate, and Tampa, Florida is two hours. That means that we automatically lost two hours in our day. Combined with the two hour check-in time (it was actually far less, Southwest was very efficient, but I would rather spend an extra hour sitting than be just a minute late), a short lay-over in Baltimore, Maryland, and at least six and a half hours of actual flight time, the flight there was an all-day deal. We touched down in Tampa after the sun had set and accomplished nothing more than getting to our room and finding dinner that night.
We did rent a Ford Fusion which had a surprisingly large trunk. For two weeks, we paid Alamo $550. We have had better rates, but I didn't think this was outrageous, especially with unlimited miles (we ended up driving 1600 miles). We did not pay for the extra insurance and I was the only one who could drive. It was $10/day more for Cathy to be able to drive.  We can both drive, but she is the better navigator and besides, we wanted to save the $140 for the 14 days. Alamo would have been happy to rent us a GPS unit for $5/day, but we used our cell phones instead. 
It is actually pretty easy to get to Florida. It is a long day, but it still beats a three day drive. In my next posts I will describe some of the areas we visited.