The NIMBY Principle
Everyplace is someone's favorite place, their "backyard".
---
It was a bit of a bitter pill to swallow when the road entering my favorite elk hunting canyon in Island Park was closed in the name of grizzly bear habitat over 20 years ago. I still occasionally hunt the area, but an extra mile uphill is a lot these days and my visits have become far fewer.
While I didn't officially oppose the closure of that road, I did my share of grumbling. Why did it have to be THAT road? Professionally I understood, personally I struggled. I realized that just because I appreciated the science behind the decision, I was still human and didn't like the change.
Many other roads were closed at that same time, for the same reason. I didn't disagree with the need to close any of them because they weren't important to me personally. I was suffering from what scientists call the NIMBY principle. That stands for Not in My BackYard.
NIMBY can be a good thing. Nothing unites people faster than a threat to something they hold dear. There are increasing examples of neighborhoods fighting to take back their streets from the gangs and drug dealers and their rallying cry is basically, Not in My Backyard!
Something similar might happen in Eastern Idaho if the proposal to build the Black Canyon Dam on the South Fork (about mid-way between Palisades Dam and Heise) ever surfaced back into serious consideration.
But NIMBY goes further than that. As in my situation with the road closure, we may recognize that the proposal is important, we may even support it—until some of the consequences become personal. Then we chafe under the "heavy-handed" governmental messing around in OUR rice bowl.
A classic example of this is with controlled wildland fire. Fire has been shown to be an integral part of maintaining habitat in optimal condition. This is particularly true with our aspen stands and with reducing wildfires but extends to winter ranges, conifer stands, sagebrush habitats and even cottonwood forest riparian habitats. But, fire changes things and that is the struggle.
I recall one instance where the Bureau of Land Management wanted to remove junipers from a hillside near Idaho Falls using controlled fire. The area is deer winter range and the junipers far exceeded historical levels when natural wildfires kept them at bay making it less useful for the deer. Now the junipers were thick enough that a wildfire could be devastating, destroying habitat and houses and putting human lives at risk. In the end though, the BLM did nothing. In a classic case of NIMBY, local residents didn't want their viewshed blackened even for a short time.
Most recently, I saw an editorial in a local paper urging residents to comment on a Forest Service proposal to treat thousands of acres, largely with controlled fire, in Island Park in order to try and stimulate aspen groves. The thrust of the editorial was that people needed to make sure that their favorite hunting ground, ATV road or berry-picking patch wasn't going to be impacted.
The rub is that every place is someone's favorite place. I suspect that if everyone got together and listed their favorite spots, most public land would be covered and management that ultimately benefits habitat and users would be thwarted.
There are environmental organizations that believe that humans should take a hands-off approach to all land management and let things happen as they will. In my opinion, this is naive, as we have already monkeyed with most systems to the point where they will never function properly. Nor will we allow natural events to threaten human life and property. Management must occur as best we can do it and sometimes that requires a personal sacrifice, even in our own backyards.
---
Help Idaho Wildlife
When we traveled across the state in October 2017, most of the vehicles we saw using the wildlife management areas did not have wildlife plates.
C'mon folks, let's help Idaho's wildlife by proudly buying and displaying a wildlife license plate on each of our vehicles! 
See below for information on Idaho plates. Most states have wildlife plates so if you live outside Idaho, check with your state's wildlife department or vehicle licensing division for availability of state wildlife plates where you live.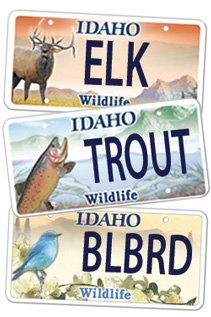 Wildlife License Plates
Idaho Wildlife license plates provide essential funding that benefits the great diversity of native plants and wildlife that are not hunted, fished or trapped—over 10,000 species or 98% of Idaho's species diversity. Game species that share the same habitats (such as elk, deer, antelope, sage-grouse, salmon, trout) also benefit from these specialty plates.
No state tax dollars are provided for wildlife diversity, conservation education and recreation programs. Neither are any revenues from the sale of hunting or fishing licenses spent on nongame species. Instead, these species depend on direct donations, federal grants, fundraising initiatives—and the Idaho Wildlife license plates.
Both my vehicles have Bluebird Plates. I prefer the bluebird because the nongame program gets 70 percent of the money from bluebird plates, but only 60 percent of the money from elk and trout plates - 10 percent of the money from elk plates supports wildlife disease monitoring and testing programs (to benefit the livestock industry) and 10 percent from cutthroat plates supports non-motorized boat access.
Incidentally, in 2014, the Idaho Legislature denied the Department of Fish and Game the ability to add new plates or even to change the name of the elk and cutthroat plates (very specific) to wildlife and fish plates, a move that would have allowed for changing images occasionally and generating more revenue. It would seem that they believe that we Idahoans don't want a well funded wildlife program. Go figure.