Being Evergreen in Winter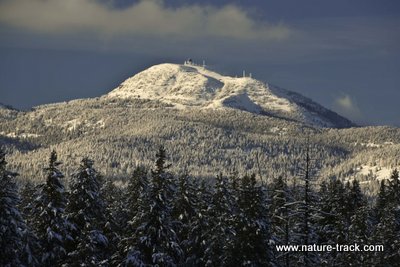 Even when evergreen trees aren't covered with snow, little photosynthesis may  occur during the winter. There is still an advantage to being evergreen though.
---
In the economy of nature, there are only winners. Substandard designs and survival strategies are constantly tested but never pass the greatest test of all: time. Successful designs and strategies fill the voids, sometimes being reinvented multiple times in different places through convergent evolution.
In the colder climates of the world, two types of strategies dominate the tree world. When winter comes, the choice is to be deciduous and lose your leaves annually or to be evergreen. There are exceptions, but the vast majority of trees fall into these two categories.
There are evergreen broadleafed shrubs such as sagebrush, holly, and ceanothus that hold onto leaves through the winter as well. Evergreen trees though are almost always cone bearing trees referred to as conifers. These include the firs, pines, cedars and spruces. There are also the berry producing junipers which are not conifers but are evergreen.
Being evergreen would seem to be a clearly superior strategy for life in climates where winter dominates the landscape up to half the year. Most deciduous trees must enter a state of dormancy once leaves succumb to dropping autumn temperatures and daylight. They won't begin to grow and produce again until they regrow leaves and their photosynthetic ability the next spring.
Evergreen trees never lose all their leaves (needles are modified leaves) at once. They do routinely replace them but at any given point the tree essentially has a full complement of needles. With leaves in place they should be able to photosynthesize all winter long. There is evidence that many conifers, particularly in more moderate climates, can take advantage of winter warm spells and quickly rev up some photosynthesis for brief periods.
 Among conifers at higher elevations, leaf photosynthesis in winter seems to be a rarity. In Bristlecone pines in California at an elevation of about 10,000 feet, there was minimal photosynthesis and energy loss far exceeded the little gained through photosynthesis. In fact, it was calculated that it took 117 hours of summer photosynthesis to balance the winter losses of energy. Similar studies of Austrian pines in Europe also indicate that photosynthesis all but shuts down during the coldest winter months.
Needles also exacerbate the problem of desiccation or drying out that occurs throughout the winter. Why then, maintain needles all winter? Why not drop them as the larch tree does?
Even if photosynthesis does not significantly occur in the winter, it does one important thing: it extends the photosynthetic season.  In autumn evergreen trees can still be cranking out energy long after deciduous trees have dropped their leaves and they  allow the photosynthetic machinery to restart up to two months earlier in the spring.
Revving up photosynthesis early is a decided advantage. In nature, whether plant or animal, survival is all about being able to gather more resources than are lost to the elements. Having several extra months on each end of the growing season more than balances out the costs of being evergreen. It is a strategy that has proven itself through time.
---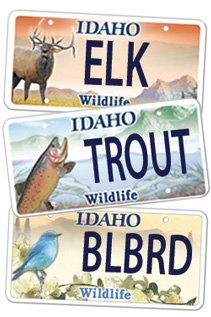 Wildlife License Plates
Idaho Wildlife license plates provide essential funding that benefits the great diversity of native plants and wildlife that are not hunted, fished or trapped—over 10,000 species or 98% of Idaho's species diversity. Game species that share the same habitats (such as elk, deer, antelope, sage-grouse, salmon, trout) also benefit from these specialty plates.
No state tax dollars are provided for wildlife diversity, conservation education and recreation programs. Neither are any revenues from the sale of hunting or fishing licenses spent on nongame species. Instead, these species depend on direct donations, federal grants, fundraising initiatives—and the Idaho Wildlife license plates.
Both my vehicles have Bluebird Plates. I prefer the bluebird because the nongame program gets 70 percent of the money from bluebird plates, but only 60 percent of the money from elk and trout plates - 10 percent of the money from elk plates supports wildlife disease monitoring and testing programs (to benefit the livestock industry) and 10 percent from cutthroat plates supports non-motorized boat access.
Incidentally, in 2014, the Idaho Legislature denied the Department of Fish and Game the ability to add new plates or even to change the name of the elk and cutthroat plates (very specific) to wildlife and fish plates, a move that would have allowed for changing images occasionally and generating more revenue. It would seem that they believe that we Idahoans don't want a well funded wildlife program. Go figure.