National Natural Landmarks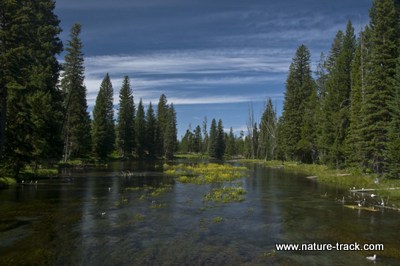 Big Springs is a seven acre National Natural Landmark in Fremont County that, "is the only first-magnitude spring in the country that issues forth from rhyolitic lava flows." 
I love calendars. Not the kind with cars or even beautiful women, but rather calendars that display the wonders of nature. Animals or scenics, it doesn't matter, and I have been known to save calendars for years just because I loved the photos.
Most recently I picked up calendars celebrating National Natural Landmarks. The calendars were full of photographs of amazing landscapes and features, none of which I recognized. That fact got me curious about the National Natural Landmark program administered by the National Park Service.
According to the National Park Service, this program is intended to, "recognize and encourage the conservation of sites that contain outstanding biological and geological features composing the nation's natural landscape, regardless of landownership type."
This program isn't a haphazard hodgepodge of randomly selected landscapes nor is it just a collection of pretty places. Each Landmark is selected because it is a quality representative of a major or unique biotic community or geologic feature.
Although the program is administered by the National Park Service, National Natural Landmarks may be owned by any number of entities, including private landowners. The designation doesn't necessarily change land use and participation is voluntary.
The National Natural Landmarks program started in 1962 and has continued to this day. Secretary of Interior Sally Jewel dedicated the most recent one, Albany Pine Bush in New York, just last July. To date there are 597 National Natural Landmarks throughout the United States, American Samoa, Guam, Puerto Rico and the U.S. Virgin Islands. With 36 National Natural Landmarks, California has the most and there are only two states, Delaware and Louisiana, that don't have any.
But what does a National Natural Landmark really look like? Well, if you live in Idaho Falls, all you have to do is look to the north about 20 miles or south about 16 miles to see two of Idaho's 11 designated National Natural Landmarks. Both the North Menan Butte (designated in 1980) and Hell's Half Acre Lava Flow (designated in 1976) are National Natural Landmarks. Others include: Big Southern Butte, Big Springs, the Great Rift System, Cassia Silent City of Rocks, Niagara Springs, Hagerman Fauna Sites, Crater Rings, Sheep Rock and Hobo Cedar Grove Botanical Area.
It should be noted that designation as a National Natural Landmark offers no official protection to the area. It doesn't change ownership or necessarily management. It is solely recognition of an area's, "outstanding condition, illustrative value, rarity, diversity, and value to science and education."
I have been to seven of the eleven National Natural Landmarks in Idaho and I can attest that each one is well deserving of its status as a special place.
I have two National Natural Landmark calendars on my wall. One displays the current month and the other the upcoming month. I applaud my cleverness, but really it is just a chance to admire the images longer. And it helps me realize that I now have almost 600 new sites to include in my travel plans.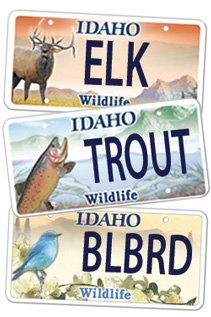 Wildlife License Plates
Idaho Wildlife license plates provide essential funding that benefits the great diversity of native plants and wildlife that are not hunted, fished or trapped—over 10,000 species or 98% of Idaho's species diversity. Game species that share the same habitats (such as elk, deer, antelope, sage-grouse, salmon, trout) also benefit from these specialty plates.
No state tax dollars are provided for wildlife diversity, conservation education and recreation programs. Neither are any revenues from the sale of hunting or fishing licenses spent on nongame species. Instead, these species depend on direct donations, federal grants, fundraising initiatives—and the Idaho Wildlife license plates.
Both my vehicles have Bluebird Plates. I prefer the bluebird because the nongame program gets 70 percent of the money from bluebird plates, but only 60 percent of the money from elk and trout plates - 10 percent of the money from elk plates supports wildlife disease monitoring and testing programs (to benefit the livestock industry) and 10 percent from cutthroat plates supports non-motorized boat access.
Incidentally, in 2014, the Idaho Legislature denied the Department of Fish and Game the ability to add new plates or even to change the name of the elk and cutthroat plates (very specific) to wildlife and fish plates, a move that would have allowed for changing images occasionally and generating more revenue. It would seem that they believe that we Idahoans don't want a well funded wildlife program. Go figure.