Hagerman Bird Festival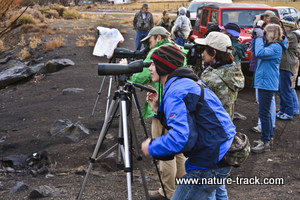 Bird enthusiasts line up on a birding excursion on the Snake River last weekend to watch herons, ducks and geese. The Hagerman Bird Festival was the first multi-day birding festival in Idaho. By all measures the sold-out event was a wildly successful venture that is repeatable in the Upper Snake Region.
We enjoyed our birding trip to Hagerman in Magic Valley so much last year that it was an easy decision to attend the first-ever bird festival held there last weekend. We wondered, however, how successful it could be in a small community like Hagerman.
Our first inkling that this event was going to be a triumph was at registration. We procrastinated until two weeks before the festival. When we registered, we discovered that most of the scheduled activities -- such as an after dark owl prowl, birding behind closed gates on private land and a riverboat ride on the Snake River -- were full and the festival was near its capacity of 150. We signed up for available classes and one of only a few excursions still open. From there, we hoped cancellations would create spaces.
We enjoyed every minute, and at the end of the festival, we filled out a survey rating the activities. One question asked, what was your favorite part of the festival?
Being with experts who could really help us improve our skills, seeing a varied thrush and being in a place with such incredible variety were all highlights, but my favorite part was the people. Community support was tremendous and it gave me hope to see so many people enthused about and appreciative of nature. Many of our conversations centered on how birders could more fully participate in wildlife conservation.
I don't know how much revenue the festival generated for the local economy, but it definitely introduced people to the area.  Birders came from as far away as Missouri, Kansas and Salt Lake City specifically for this event.
Before you dismiss bird-watching and birders as quirky, nerdy and inconsequential in real business, realize that bird-watching is a big deal nationwide and communities that embrace birding find a readymade clientele eager to visit and spend money.
The conclusion for a survey conducted by the U.S Fish and Wildlife Service in 2011 supports this idea.
"This report presented information on the participation and expenditure patterns of 47 million birders in 2011," the report said. "Trip-related and equipment-related expenditures associated with birding generated nearly $107 billion in total industry output, 666,000 jobs and $13 billion in local, state and federal tax revenue. This impact was distributed across local, state and national economies."
Incidentally, Idaho ranks seventh in the nation, with 27 percent of our citizens enjoying birding.
Earlier this fall, an exotic warbler found its way to Market Lake Wildlife Management Area near Roberts. Word quickly spread in the well organized birding community. "Chasers," birders willing to travel great distances, descended on our communities, stayed in motels and RV parks, bought food in restaurants and fueled their vehicles, providing an economic boost to local businesses. 
Birding draws visitors, improves local economies, promotes conservation and even harbors the potential for the creation of a new state park near Roberts tailored for birders. Frankly, I can't see a downside to birding. Is the Upper Snake area ready for its own bird festival?