---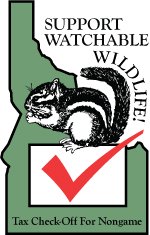 TAX DAY is coming! Here is a chance to do something good with a bit of your tax return and make the day less painful.
Donate part of your tax return to support wildlife in Idaho!
On the second page of the Idaho Individual Tax form 40 you have the opportunity to donate to the "Nongame Wildlife Conservation Fund".
Check-off this box on your next return or ask your tax preparer to mark the Nongame check-off on your behalf.
If you are not from Idaho, check with your own state wildlife agency about how you can help. Many states have a similar program.
---
Help Idaho Wildlife
When we traveled across the state in October 2017, most of the vehicles we saw using the wildlife management areas did not have wildlife plates.
C'mon folks, let's help Idaho's wildlife by proudly buying and displaying a wildlife license plate on each of our vehicles! 
See below for information on Idaho plates. Most states have wildlife plates so if you live outside Idaho, check with your state's wildlife department or vehicle licensing division for availability of state wildlife plates where you live.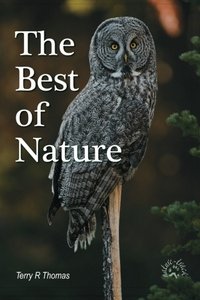 "WOW. What a phenomenal piece you wrote. You are amazing." Jennifer Jackson
That is embarrassing but actually a fairly typical response to my nature essays. Since The Best of Nature is created from the very best of 16 years of these nature essays published weekly in the Idaho Falls Post Register (online readership 70,000), it is a fine read. It covers a wide variety of topics including humorous glimpses of nature, philosophy, natural history, and conservation. Readers praise the style, breadth of subject matter and my ability to communicate complex and emotional topics in a relaxed and understandable manner.
Everyone can find something to love in this book. From teenagers to octogenarians, from the coffee shop to the school room, these nature essays are widely read and enjoyed.
Some of the essays here are my personal favorites, others seemed to strike a chord with readers. Most have an important message or lesson that will resonate with you. They are written with a goal to simultaneously entertain and educate about the wonderful workings of nature. Some will make you laugh out loud and others will bring a tear to the eye and warm your heart.
Readers Write:
"You hit a home run with your article on, Big Questions in Nature. It should be required reading for everyone who has lost touch with nature...great job!" Joe Chapman
"We enjoyed your column, Bloom Where Planted. Some of the best writing yet. The Post Register is fortunate to have your weekly columns." Lou Griffin.
To read more and to order a copy, click here or get the Kindle version 
Copies are also available at:
Post Register
Barnes and Noble in Idaho Falls
Perfect Light Photo Supply
Museum of Idaho
Valley Books, Jackson Wyoming
Avocet Corner Bookstore, Bear River National Wildlife Refuge, Brigham City, Utah
Craters of the Moon National Monument Bookstore, Arco, Idaho