Everglades National Park and Big Cypress Preserve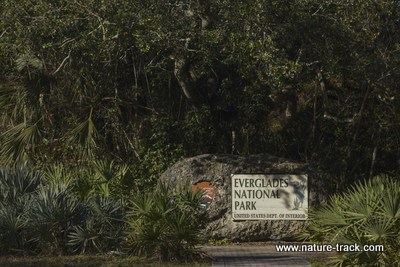 From Myakka River State Park, we headed south and east toward the Everglades. We really didn't think this part of the trip through very well as it is a fairly long drive from Sarasota to Homestead. I wouldn't combine the two in a future trip. If we want to go to southern Florida, we'll fly into Fort Lauderdale and concentrate on the south end of things.
 Regardless, we arrived at Shark Valley on the north side off Highway 41 with a couple of hours of daylight to spare. Shark Valley is one of our favorite places to go in the park. It has a long paved road out to an observation tower with a shuttle ride, but we chose to just walk along the road and look for birds in the canal that follows the road. We found plenty to shoot, including lots of 'gators and a purple gallinule. Cars must vacate the parking lot by 6 p.m. which we made with minutes to spare.
We came back to Shark Valley a week later but on a Sunday and found that the entire parking lot was full and people were parked on Highway 41 and walking in. We didn't even try to go. It is definitely not a place to go on the weekend if crowds aren't your thing.
To access the remainder of the Everglades we had to go to Homestead and then head west. You will enter the park near the Ernest Coe Visitor Center. Just a few miles down the road is a turn-off to Royal Palms, the Anhinga Trail and the famous car-eating black vultures. That last part is no joke. When we visited about seven years ago, vultures caused over $300 damage to our rental car when they ate the rubber seals around the doors. Now, to the great frustration of the vultures, the Park Service provides blue tarps and bungee cords to cover your car with.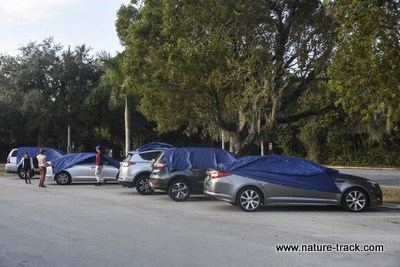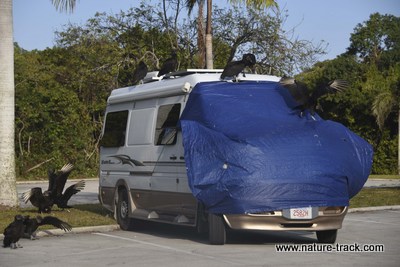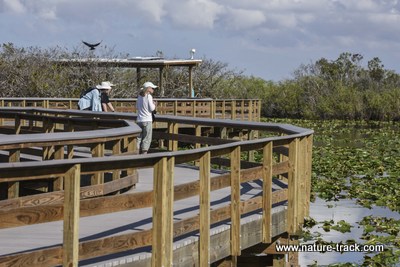 Anhinga Trail is a great place to see and photograph wildlife, particularly birds and 'gators. It is pretty easy to photograph the vultures, anhingas, egrets, herons and gallinules. You may even see limpkins, rails and bitterns. There are a lot of songbirds, but the best time for them is March and April.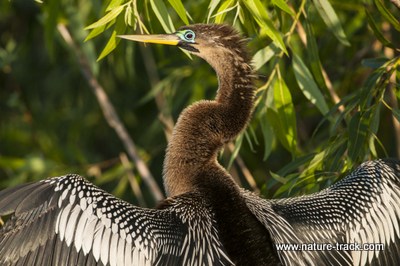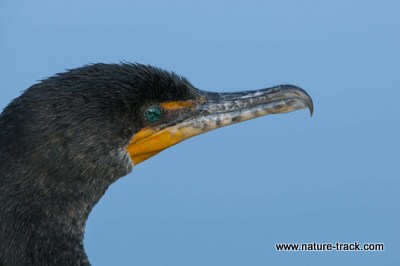 The anhinga, top, and the cormorant are sometimes confused, but all you need to remember is that the cormorant has the hooked beak while the anhinga's is straight.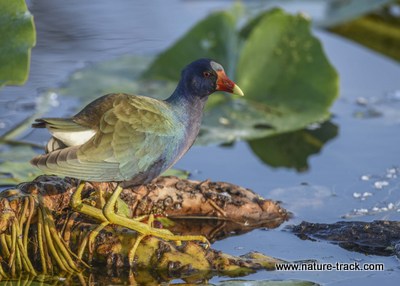 I think the purple gallinule is one of the prettiest birds in the marsh. We saw several in Everglades.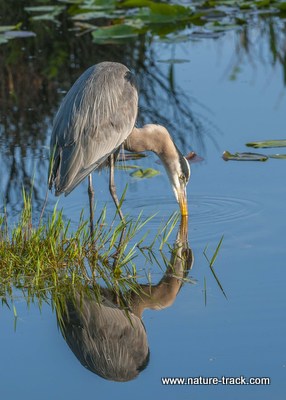 The campground is a few miles further down the highway toward Flamingo. It is a nice campground and they have added showers to the tent only section just last year. We stayed there two nights and the shower was very welcome. The cost is only $20 but it is first come first serve with no reservations. We arrived at 0800 on a Friday morning and although the sign said the campground was full, we cruised through and found a site already vacated. The campground full sign was up by about noon every day we were there.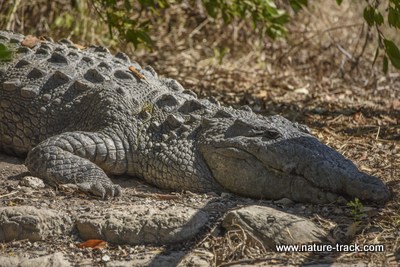 Flamingo is a fun place to go and is one of the few places where you can actually see an American crocodile.
Flamingo is at the end of the road, about 38 miles from the visitor center, but there are several nice walks to take before you get there. Pa-hay-okee and Mahogany Hammock are two.  Parotis Pond is also a great place to watch a fly-in of birds coming to roost for the evening. Mrazek Pond is also a good place for wading birds.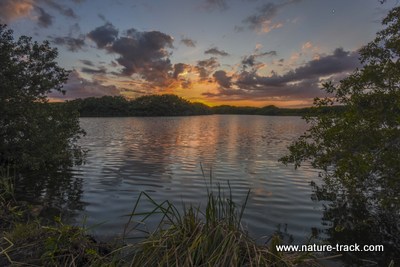 Parotis Pond sunset. A lot of waterbirds spend the night in the trees surrounding this pond. No boating is allowed during the nesting season.
And although we have never tried them, there are several canoe trails that look like they would be a lot of fun. Canoes can be rented at Flamingo and it appears that they may transport them to some of the canoe trails.
Flamingo is worth the visit. You get some great ocean views, you can take a 2-hour boat ride if you want to pay for it, and there are several hikes worth taking, notably, one around Eco Pond. But mostly, Flamingo gives you the chance to see a really big American crocodile and manatees. We saw both on our short trip there.
It is interesting to realize that the highest point in Everglades National Park is only nine feet above sea level. In that nine feet are nine different ecosystems that all function together to form this unique and wonderful place.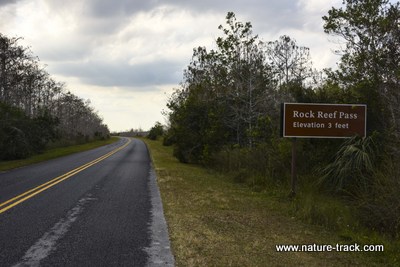 You won't get a nosebleed going over Rock Reef Pass.
On the day that we tried to go to Shark Valley and found it too crowded, we decided to probe into Big Cypress Preserve instead. Just a few miles west of Shark Valley is a turnoff called the Loop Road which takes you through Big Cypress for about 20 miles. We had taken this road years ago and it was very rough. This time however, the road condition was much better.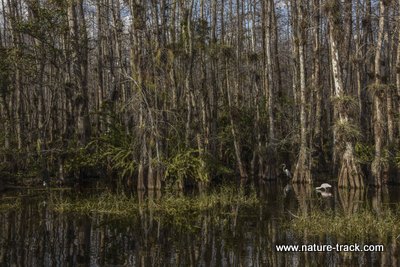 Since this road runs mostly north and south, about every 100 yards there is a culvert to allow water to pass under the road. These also created openings where you could look for wildlife and even get a few scenics.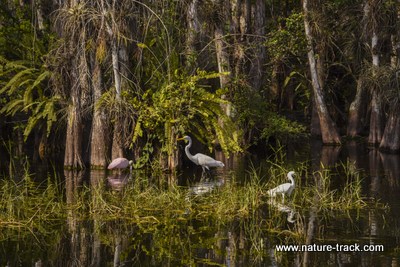 After driving this road for its entire length and stopping at virtually every crossing, we decided that this is a much underrated area. Some of our best photography came from there and it was a great way to while away a Sunday afternoon. Next time I go there, I plan to spend at least a day, maybe two, working this area.
With that said, there are several campgrounds in the Big Cypress Preserve. Two, Pinecrest and Mitchell Landing, are on the east end of the Loop Road before the pavement ends. Pinecrest was closed, but Mitchell Landing was open and empty except for the camp hosts. It doesn't have a lot of services—a pit toilet and picnic tables—but the location was great.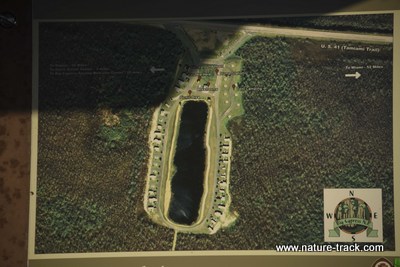 Midway Campground in Big Cypress is built around a nice pond. It is very close to the west end of the Loop Road making it a convenient place to base from.
On Highway 41, between the two ends of the Loop Road, are two very nice campgrounds—Midway and Monument Lake. These are both quite popular with the RV crowd so reservations are required. Midway has a section for tent campers but I don't know how popular they are. There is one other campground in this area, Burns Lake, but we didn't look at it. The map show it as a lesser service camp so I wouldn't count on any more than what Mitchell Landing has.
Big Cypress is likely way underutilized by visitors as it just isn't as well known as the Everglades. However, it appears that it is a great place to explore, especially with a canoe or other boat. I hope we get the opportunity to get back down to Florida for an extended stay. Our canoe will be our constant companion.