Devils Tower National Monument
If you remember the 1976 movie, Close Encounters of the Third Kind, directed by Steven Spielberg and starring Richard Dreyfuss, then you have already been introduced to Devils Tower. In the movie, this iconic landmark becomes the site where aliens make contact with humans.
Even if Close Encounters is you very favorite movie and you have seen it 100s of times, you still need to go to Devils Tower. It is truly a unique place, one that will leave an impression on you for a lifetime if you let it.
We left Lander and headed for Devils Tower via Highway 20 through Riverton, Shoshoni, Thermopolis and  Worland, then on to Tensleep and Buffalo via Highway 16 over Cloud Peak Skyway and Powder River Pass. We overnighted for two nights at a nice Forest Service campground called South Fork. It was spendy at $18/night but it was also one of the nicer campgrounds we have stayed in. Cathy says it is her all-time favorite. I won't go that far but it was nice.
The Cloud Peak Skyway is long and steep, with half a dozen 8 percent or better grades on the east side. We averaged about 6.0 miles per gallon towing the trailer up there and I wasn't pushing it at all. There are probably better ways to get to Devils Tower (like going through Casper) but we really wanted to spend a little time getting to know this country so it was worth it.
From Buffalo, we jumped on I-90 clear to Moorcroft, stopping in Gillette for the cheapest gas of the trip so far: $2.059 in Gillette. We also dumped our holding tanks and took on fresh water at the Flying J there for a tidy sum of $10. Probably won't do that again unless we are desperate.
At Moorcroft, we took Highway 14 northeast to Carlisle Junction where we turned north onto Highway 24 and cruised into Devils Tower. There is a KOA just outside the gate, but it was $49/night (they do show Close Encounters nightly) so we opted for the campground inside the Monument. This campground was just $12/night and has flush toilets and the sites were pretty level and easily accessible with a trailer. It was not hard to get a site if you arrived by midafternoon.  It came close to filling each evening but I don't think it ever did fill. That is one of the benefits of traveling in the fall. However, this campground closes on October 30.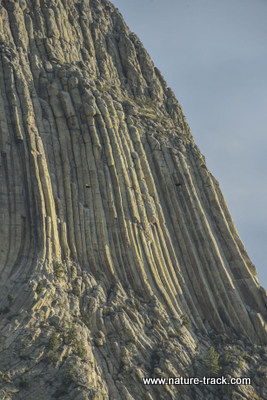 Scientists disagree on how the tower formed. There are three different theories that are hard to explain in layman's terms, especially since I am a layman geologist myself. My personal favorite though is that there was once a volcano here and Devils Tower is the hardened core or plug, if you will, of solidified magma. Then the rest of the volcano eroded away, leaving this core/plug of columnar basalt. I can visualize that happening, but the others are not so easy to imagine.
Since this was our first visit here, we were both surprised to find that Devils Tower is among ponderosa pine forests and rolling hills. We both had the mental image of it being out in sagebrush covered plains. It is by far the tallest thing on the horizon in most directions though and we could see it long before we reached it.
Our first two days were a bit blustery and cold. We did the hike around the monument on a paved 1.3 mile trail. It was really neat to be able to see the entire thing from every angle.  On the backside, you can even see remnants of the ladder used by the climbers who made the first ascent. You can also see some pieces of columns that have fallen off the Tower and get an appreciation for just how big these columns are.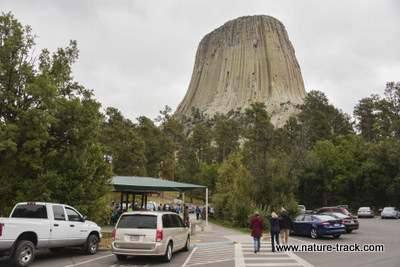 Climbing is a big deal on the tower and we could see several groups scaling up it. To see human figures on the tower really helped to give the thing perspective. It really is huge. However, the Native Americans in the area consider the Tower sacred and don't approve of the climbing. The NPS has reached a compromise where climbers are asked to voluntarily respect the month of June as a no-climb month.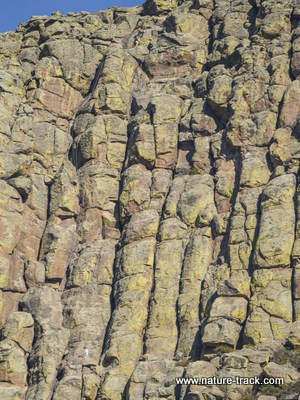 Find the climbers in this photo to get a feel for the immensity of the Tower. Look for the guy dressed in a white shirt in the lower left corner and another climber just left of center at the top.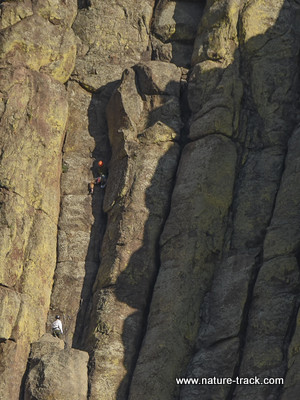 Same climbers, but on a different pitch.
Native American prayer cloths adorn many trees near the Tower. 
We talked to the rangers at the visitor center and found out that about one million visitors enjoy the monument each year. We found that fascinating. In our short visit in the middle of September, we saw license plates from 43 different states! I think everyone traveling to Yellowstone must stop there for at least an hour or two.
Some of the license plates we saw in the visitor center parking lot.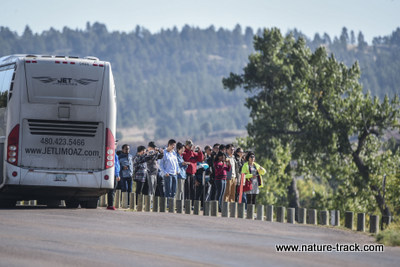 Busloads of tourists weren't really all that common, at least when we were there in September. 
Although the Monument has both white-tailed and mule deer, we only saw white-tailed deer but they were abundant. We saw them everywhere, including in the campground. We also saw a large flock of turkeys. In addition, there is a black-tailed prairie dog town just inside the main gate (before you get to the campground). This is about the first place you encounter prairie dogs on your journey east. The prairie dogs were a lot of fun to photograph and watch.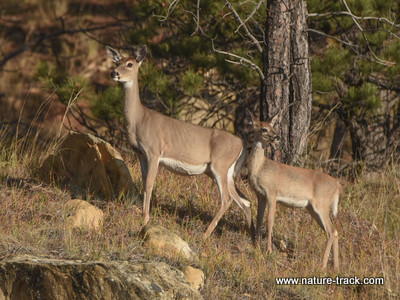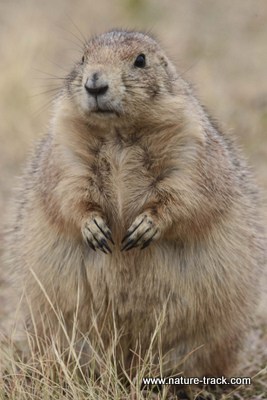 We took a drive down to Hulett, about 12 miles away and saw some good views of the Tower from that angle. On our last morning, we got a beautiful sunrise and photographed it with the Tower over the Campstool Ranch, a working ranch since 1892. Campstool Ranch was literally loaded with white-tailed deer (we counted over 100 including a dozen or more bucks) and turkeys. It was truly amazing to see them bedded in the alfalfa fields in the middle of the day.
Sunrise over Campstool Ranch.
We also took a drive up Lytle Creek, just south of the Campstool Ranch. We could have gone all the way east to Sundance, WY on this road if we had had the time. It was a pretty drive and a good way to spend a rainy evening.
The Late evening view from about three miles up Lytle Creek.
I really identify with color photography and rarely do anything in black and white. I just think the world looks better in color, I guess. But Devils Tower is an exception. Its bold shape really begged for a little BW treatment. In addition, with the cloudy skies for much of our visit, black and white really saved the day on some photos.
I would like to return to Devils Tower in several different seasons. I would like to be there when the fall colors are changing and then again when the white-tail deer are rutting in November and yet again when the turkeys are mating in the spring and just after the young prairie dogs begin emerging from the burrows.