Denali National Park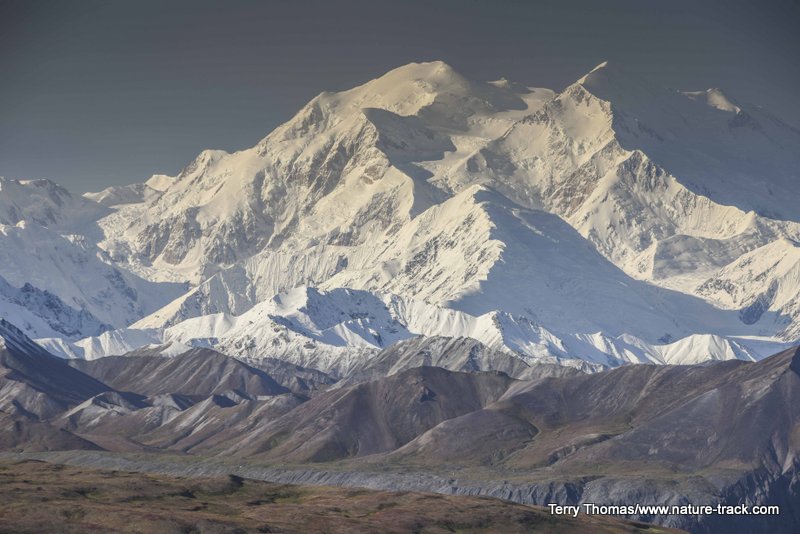 ---
Denali! Just the word bespeaks adventure, grandeur, wilderness and greatness. This national park lives up to all of these monikers and more. It is six million acres full of wildlife, scenery and history, as well as the Great One, Denali, the mountain that dwarfs all others in the spectacular Alaska Range and the namesake of the park. If that isn't enough, there is also a Denali State Park, another 375,000 acres to play on.
We left our visit to Denali to the end of our Alaska trip, hoping to capture some good weather and fall colors. We planned on spending eight nights (you must stay a minimum of three nights) camped at Teklanika Campground, which is about 15 miles past where personal vehicles normally drive. This requires reservations that typically should be made months in advance, but it was well worth it. Then you can purchase a bus pass that lets you ride from the campground all the way to the end of the road as often as you like for $35. The only caveat is that you can't go any further back than the campground either.
The other caveat of Teklanika Campground is that you cannot move your vehicle once you get to camp. Oh, and even though you have a reservation (www.reservedenali.com or call 1-800-622-7275), the sites are all first come first serve. You get to select the site that you like the best. There are about 65 sites to choose from, with 10 to 15 available each morning. There were always sites that were not filled at night despite the fact that all were reserved. Someone told us that some people reserve a spot just in case they want to go. If they don't go, they just eat the fee. That may make sense economically, but it is certainly unfair to others who would really like to camp there.
We spent one night camped at 146-site Riley Creek Campground adjacent to the main visitor center near the entrance to the park as our reservations at Teklanika didn't start until the following day. This is a fine campground, but even in September it wasn't easy to get a spot. It wasn't that spots weren't available on a first come first serve basis (I am told that all sites in this campground are reservable), it was just a little difficult to find a space where we could back our trailer. Lots of people camp here and ride the bus all the way to Wonder Lake each day.
The Denali Visitor Center near the Riley Creek Campground is worth a visit before you enter the park.
The other four park campgrounds are Savage River, a small campground at about milepost 12, Sanctuary campground at mp 22, Igloo CG at mp 32 and Wonder Lake at mp 86. Savage River allows RVs, but my recollection is that the sites are small and our modest-sized trailer wouldn't have fit. The other three campgrounds are tent only and you must ride the bus to get there (or bike). All have reservable sites. 
A word about the bus system is in order. Anyone can drive their personal vehicle as far as Savage River, about 15 miles in. If you want to go further, you must buy a shuttle bus pass on a green bus. You can buy one that goes as far as the Eielson Visitor Center, further on to Wonder Lake or clear to the end of the road at Kantishna. I would recommend getting a pass to Kantishna as you can get off and on any bus with this pass.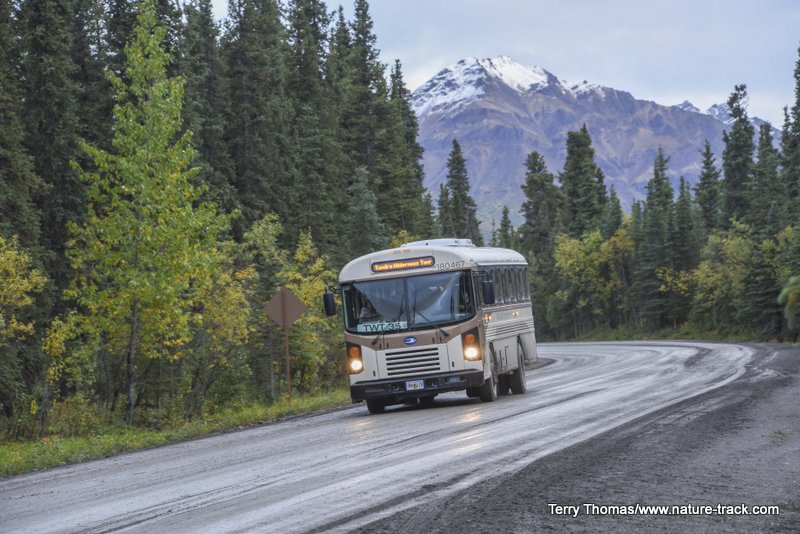 This is a Tundra Wilderness Tour bus. It is not the green park bus that you can get on and off of.
That is the beauty and the challenge of the bus system. You can literally get on or off anywhere you want to. With that said though, we noticed that people seldom got on or off except at designated stops. If you have a lot of gear like I did, it is a bit of a chore getting on and off. Also, we rode several buses where people tried to get on but the bus was full. In fact, there was one time when the driver told the people that the next several buses behind us were also full. That gave them a wait of one to two hours or more.
So, the bus system is really cool in theory, but doesn't work quite as well as reported. 
The buses do make regular stops at Polychrome Pass, Toklat River (the first bathroom stop), Eielson Visitor Center (usually half an hour), Wonder Lake and Kantishna. They will also stop for any wildlife spotted.  Our first driver, Kat, gave us a non-stop history/geology commentary as she drove the 92 miles (3.5 hours) to Kantishna and I was looking forward to getting other perspectives from other drivers. Didn't happen. She was the only one who took much of an interest in us passengers. Mike was considered the wildlife guru, and he did spot wildlife, but he was a grump.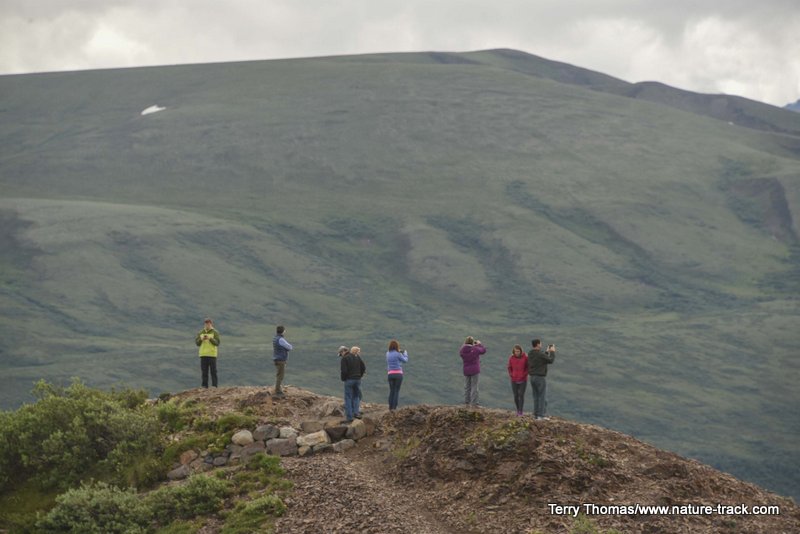 Polychrome Pass.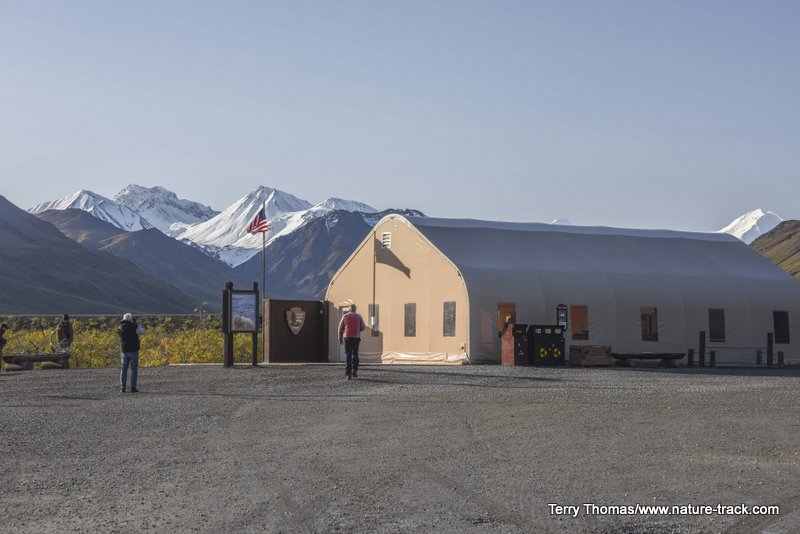 Toklat River Station. After Teklanika, this is the next bathroom stop.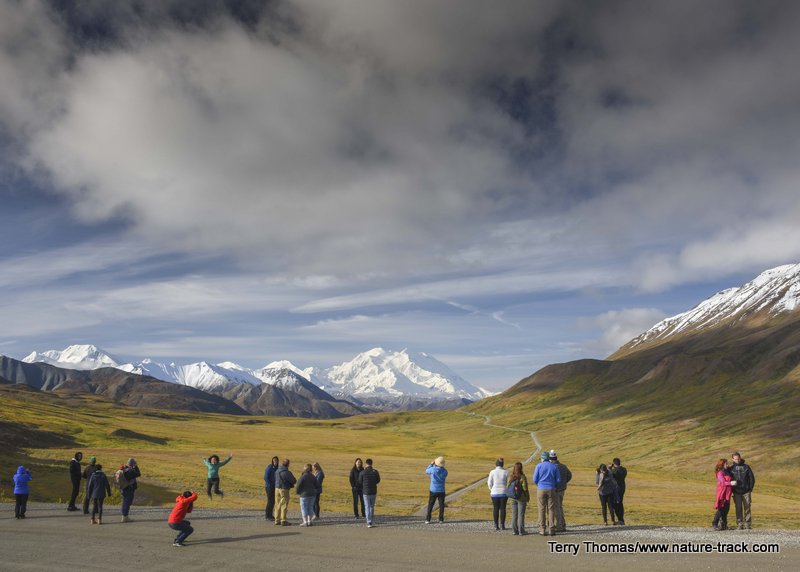 This is the first place along the unpaved portion of the Park Road where you might have a chance to see Denali.Buses will stop here if the mountain presents herself. It is still about 60 miles away. You are never closer than about 20 miles from The Great One.
You don't have to get back on your own bus if you find something of interest. You can catch the next bus that has room for you. 
You can also opt to take a bus tour with one of several other companies operating in the park. These tours vary in length, but you don't get on and off at will. If the bus is any color but green, it is a tour bus.
Because of the rainy nature of Alaska as well as the fact that Denali is so big it creates its own weather, it is said that only 30 percent of the visitors to the park actually get to see at least part of the Great One. If you are one of them, you become an honorary member of the 30 Percenter Club.  About ten percent of visitors actually get to see the complete, unobscured mountain.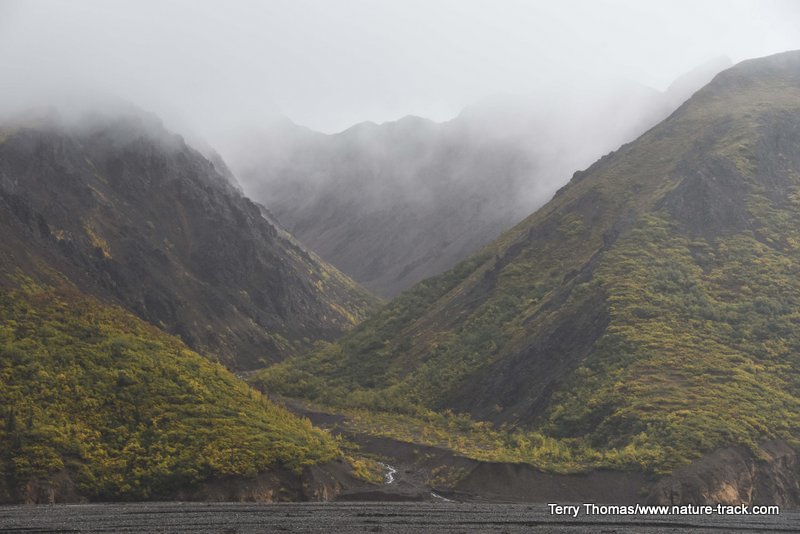 Rain is a reality in Denali. It was rainy/stormy/cloudy about half the time.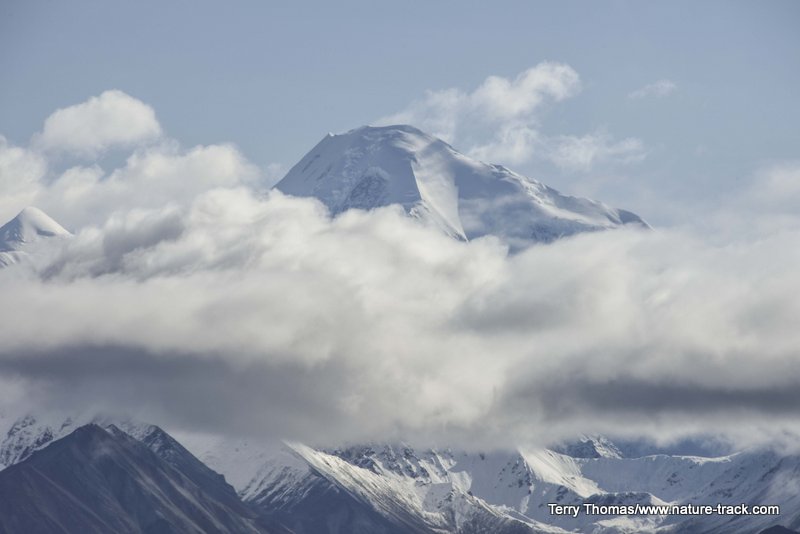 A partial view of the mountain is better than none at all and qualifies you for the 30 Percenter Club.
We were determined to see it this time because during our visit in 2016, low clouds covered all of the Alaska Range. That is why we planned to stay eight nights. We probably could have seen all that we really wanted to see in 3-4 days if the weather had been right. However, weather in Alaska is fickle and we anticipated having to deal with a lot of rain. We weren't disappointed. We ended up seeing Denali on three different days of the nine days we were there and rode the bus a total of five times to Kantishna or Wonder Lake.
Wildlife:  During our time in Denali we saw caribou, moose, grizzly bears, black bears, Dall sheep, wolves, ptarmigan, snowshoe hares, red squirrels and Arctic ground squirrels. There were a few songbirds around the campground as well.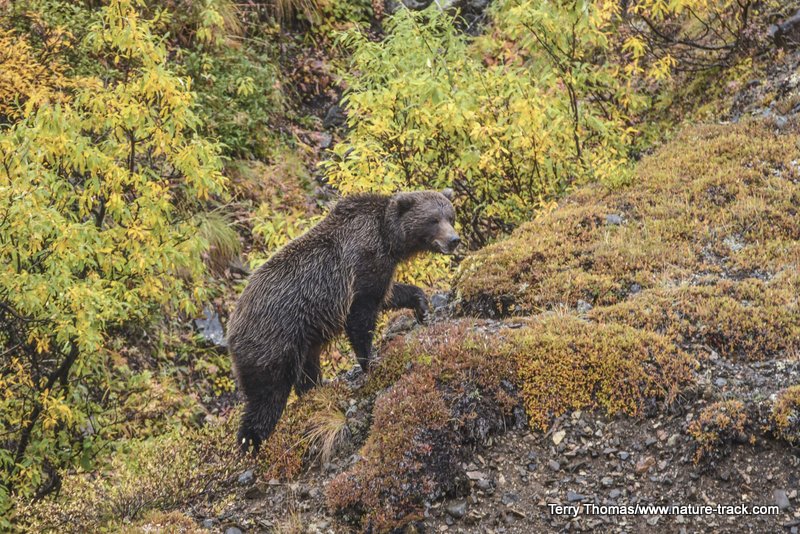 This big boy crossed the road right in front of our bus and gave us quite a show.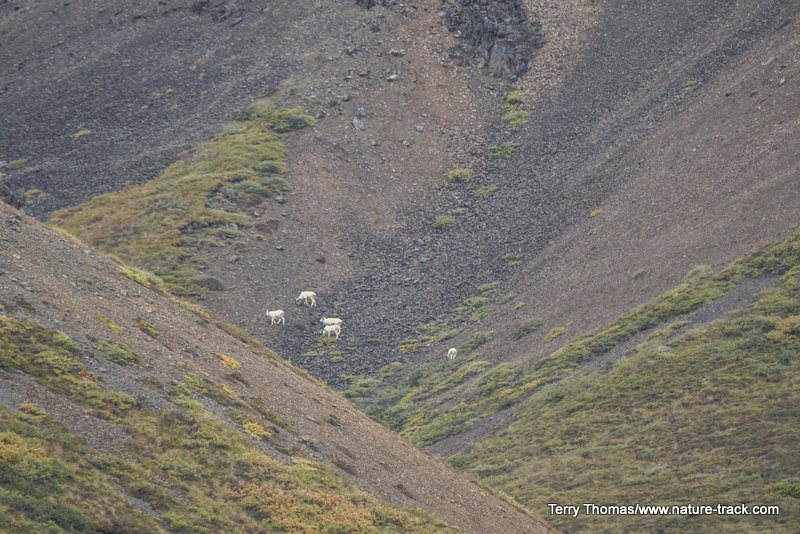 This was our usual view of Dall sheep. They were high on the slopes. 
Some days were much better than others. And animals were where we saw them. Other than the ground squirrels, they sightings were pretty unpredictable even for self-proclaimed experts like bus driver Mike. My regret with wildlife is that I didn't get off the bus when we saw something. I don't think I would have gotten off in front of a grizzly, but for the other species I should have. I would have gotten better photos.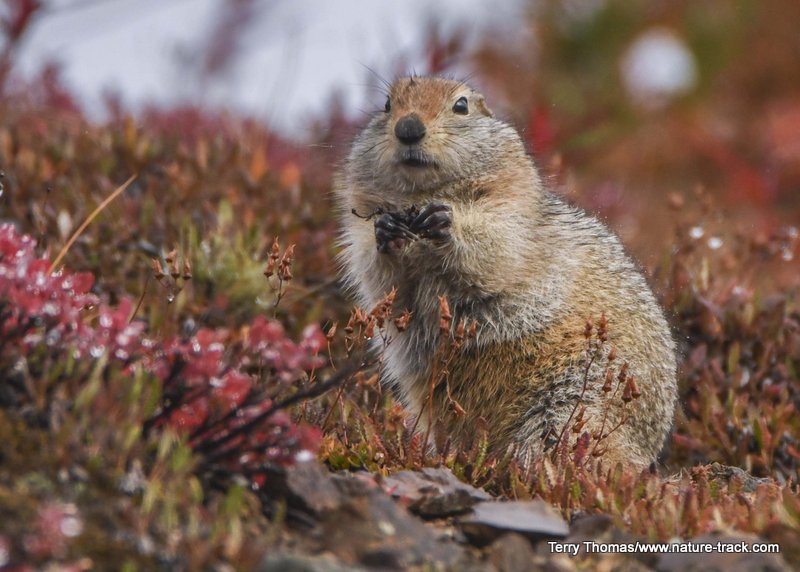 Arctic ground squirrels were plentiful at the bus stops and visitor center. They were fun to watch and photograph.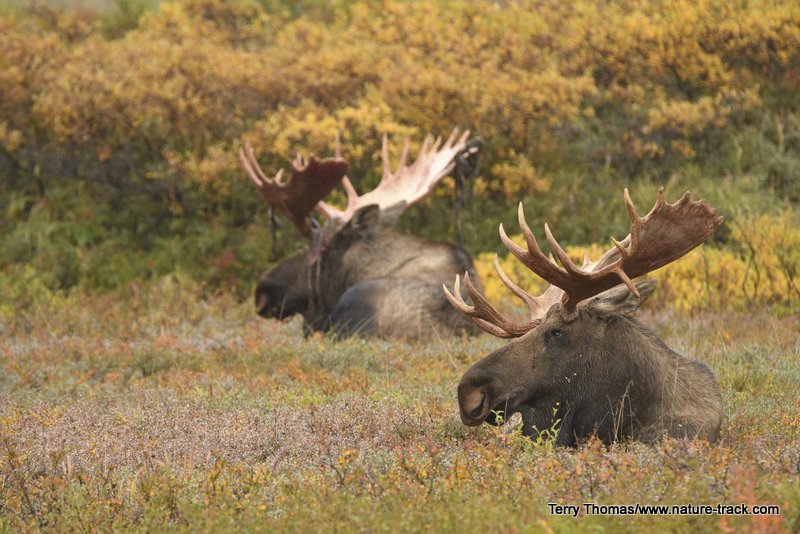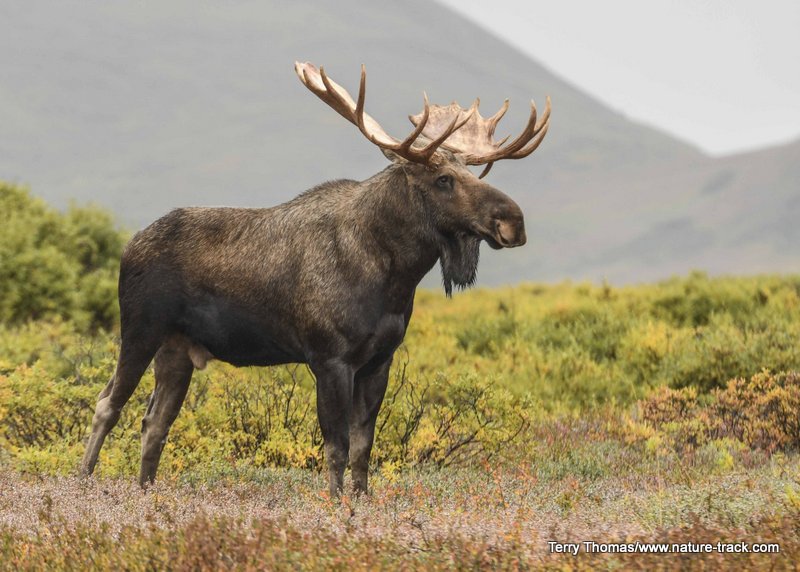 Alaska moose are huge, at least a foot taller than our Shiras moose.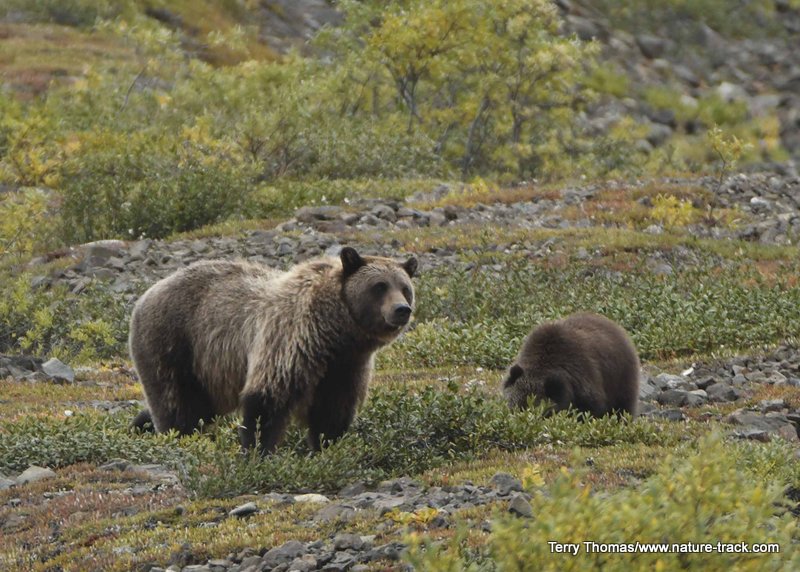 Grizzlies were probably the most common big game animals we saw, one to four or five a day.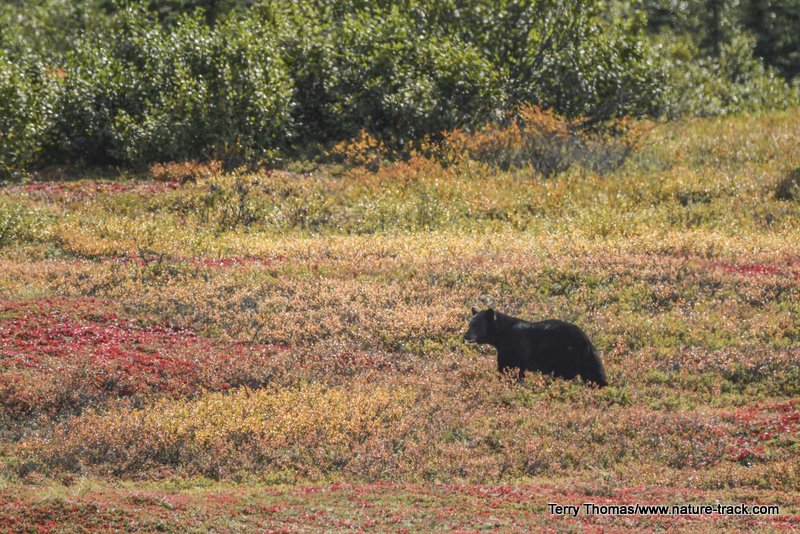 Black bears are actually a pretty rare sight in Denali, so we felt fortunate to see this one on two different days.
We took a walk one rainy day down along the Teklanika River fifty yards from our camp. We found dozens of fresh (as in earlier that morning) bear digs (not sure what they were looking for) and moose and caribou tracks. Wildlife is all around you, but you have to pay attention. 
When we walked up the Teklanika River from camp, we found plenty of wildlife sign. If we had perched our chairs on the edge of the river and just watched every day, we would have likely seen plenty of wildlife.
There is an iconic Ansel Adams photograph of Denali shimmerng in Reflection Pond just above Wonder Lake. If you want that photograph, you need to camp at Wonder Lake and walk the two miles up to Reflection Pond early in the morning or late in the evening when the wind has stilled. Alternatively, you might get lucky if you catch the very first bus to Kantishna and get off at Reflection Pond. Sometimes the bus gets there early enough to beat the wind.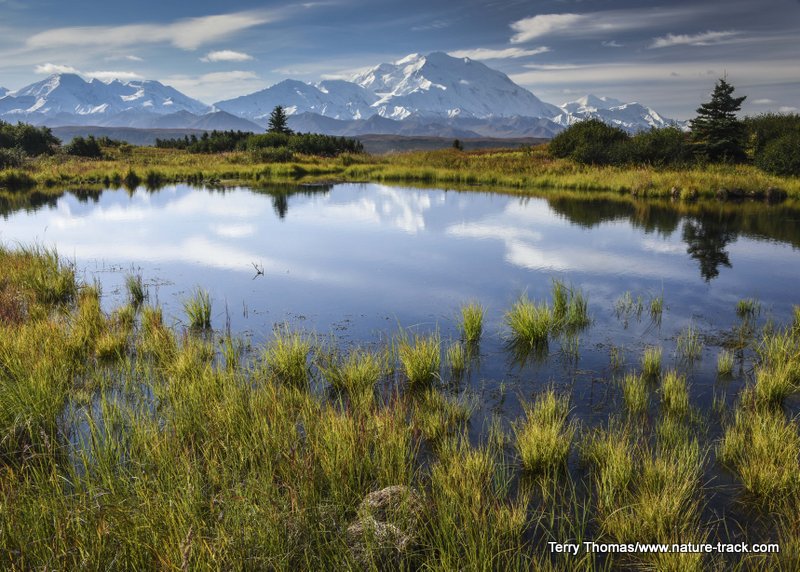 As for photos of Wonder Lake with a Denali reflection, the only place I can see where you might get a photo like that is on the peninsula near where the buses turn around at the lakeshore. 
If you want reflections of Denali in Wonder Lake, try the east side where the peninsula is. You may be able to move further north, but that low hill will eventually become a problem.
Denali is managed as a trail-less park. I had never heard of this. In fact, it seems that most parks are pretty militant about making sure you stay on trails. There are a few hiking trails in the front country of Denali NP, notably Horseshoe Lake and Savage River. There is another short trail to the top of a ridge across from Eielson Visitor Center. Mostly though, cross-country travel is the only way to get to anyplace in the back country as there are no trails. If you are going to go hiking off the road, you had better have some decent navigation skills.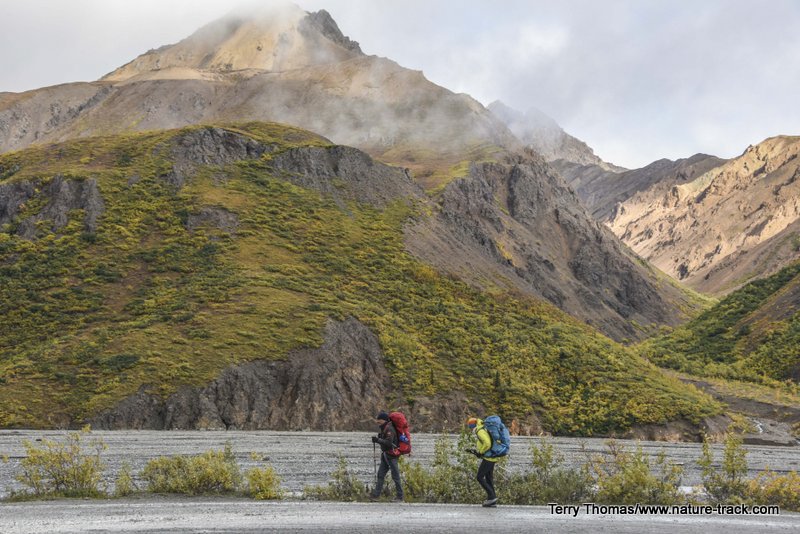 Backpackers head out from Toklat. 
We took a short hike from Reflection Pond out to an overlook above Wonder Lake. This was mostly on a user-created trail though. We did little brush busting as it isn't Cathy's favorite thing to do.
Once you leave Riley Creek Store, there are no services inside the park. You cannot buy gas, groceries or even a bottle of water or pop. You must be completely self-sufficient for the period of time you plan to be there. Also, cell service dies before you get to Savage Creek. You won't have service again until you leave the park.
The Eielson Visitor Center at mp 66, is well worth spending some time at. There are great views of the mountain (weather permitting), a cool diorama and several other displays worth looking at. Outside, there are several sets of caribou antlers still on the skull that you can use to frame the mountain with. There are several short hikes and flush toilets. You can also fill a water bottle here, but there are no vending machines. The visitor center also posts daily weather reports which are useful, but not necessarily accurate.
There is way more to Denali National Park than just the Great One. It is chock full of incredible scenery. We were really glad that we got to see it in autumn colors. It was simply spectacular as the images below try to convey.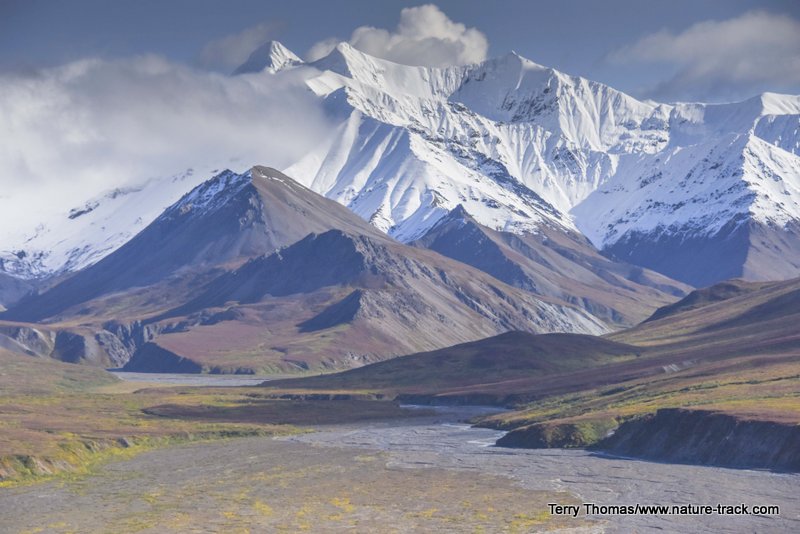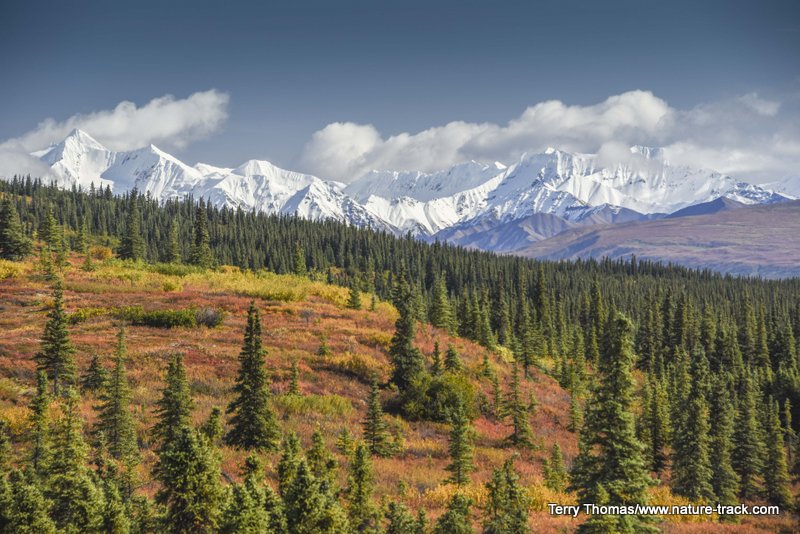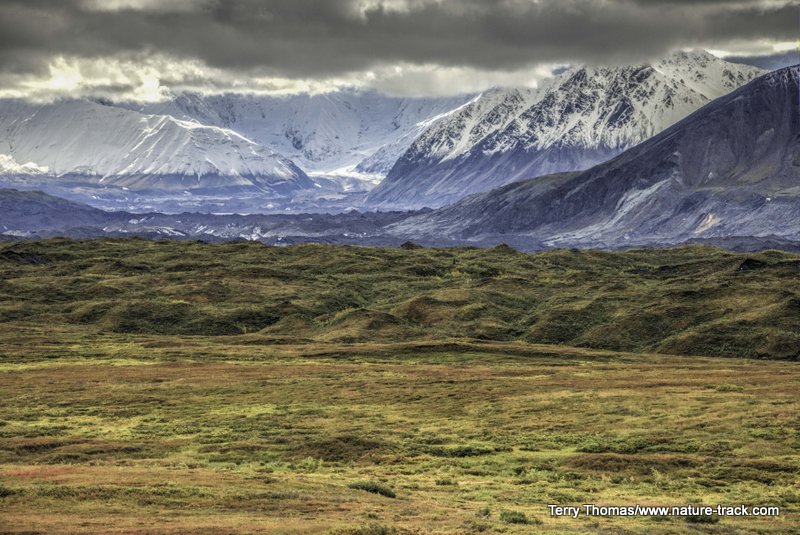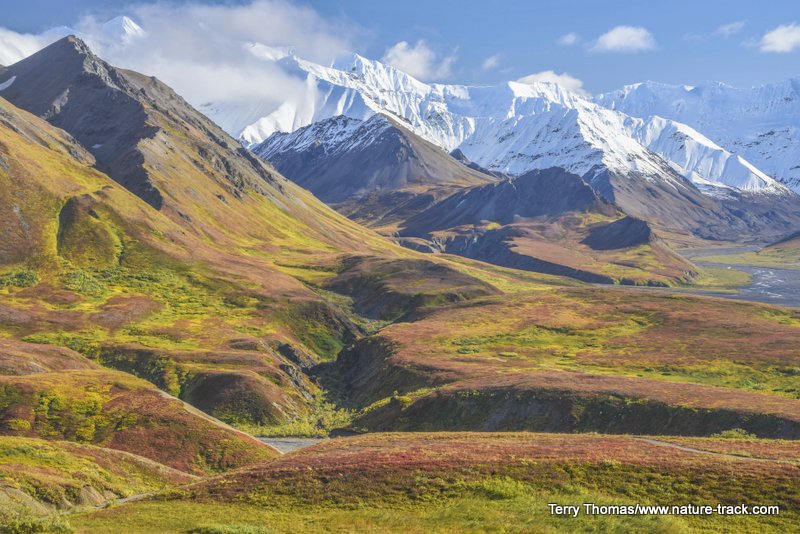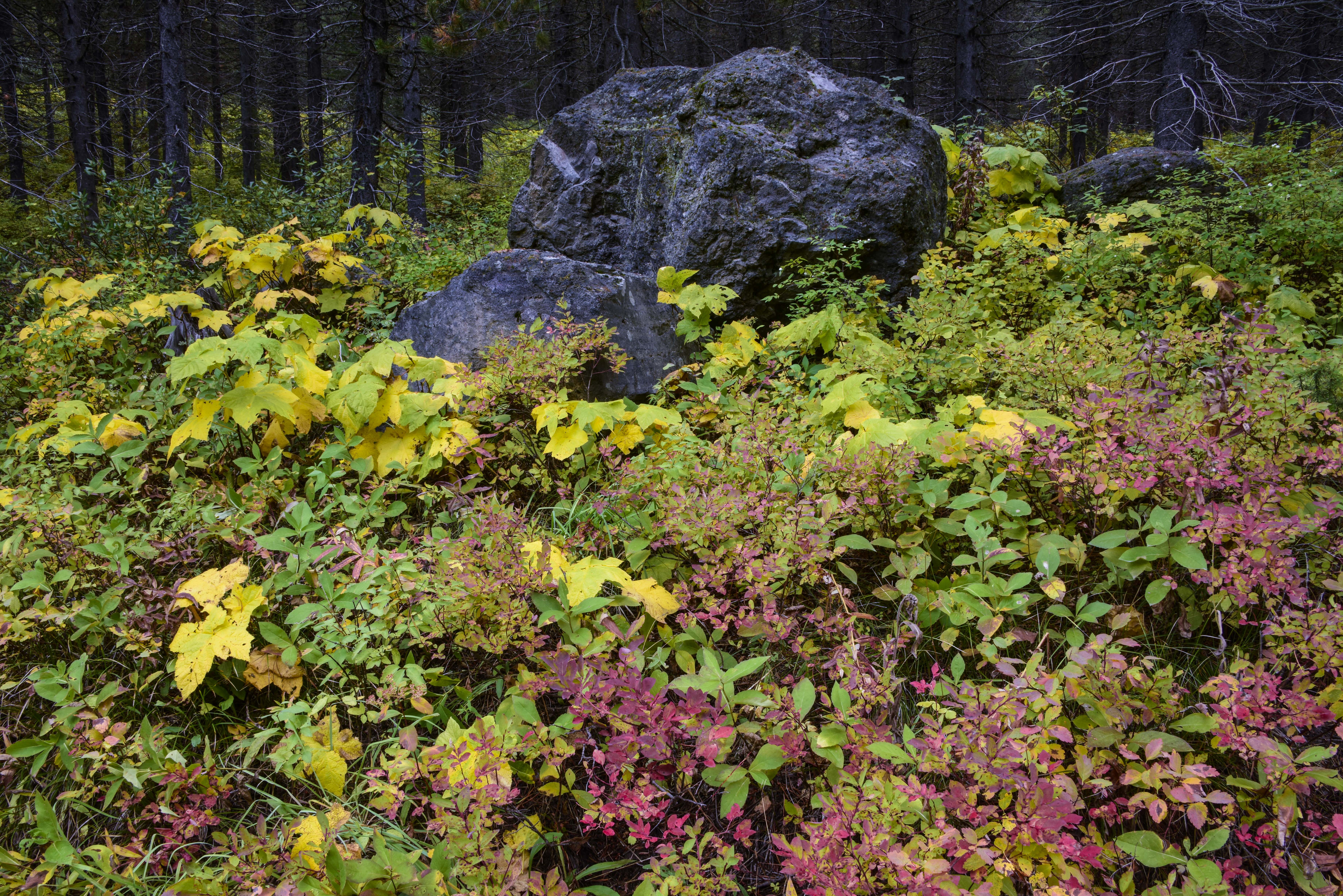 This was the scene from our campsite at Teklanika.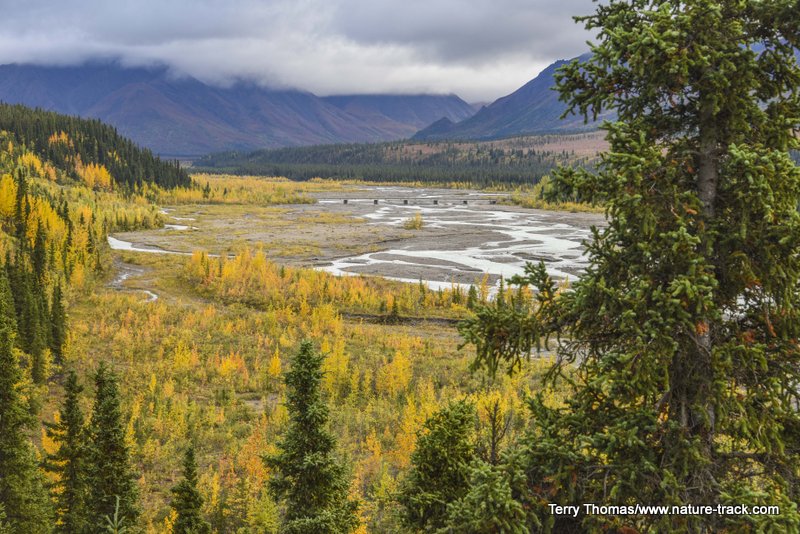 Teklanika Bridge can be seen from the Teklanika rest stop.
If I were to do it again, I would get on a bike bus (some green shuttle buses are equipped with bike racks on the front. Others are called camper buses and have room for packs and such) with my bicycle and ride as far as Sable Pass. Then I would get off and spend the day riding back to Teklanika. This is probably about 10 miles or so but it is really beautiful in the fall and it is mostly downhill.
I would also like to spend several nights at Wonder Lake. If you do this in July, you have a chance of capturing the mountain in alpenglow and a perfect reflection in Reflection Pond and Wonder Lake.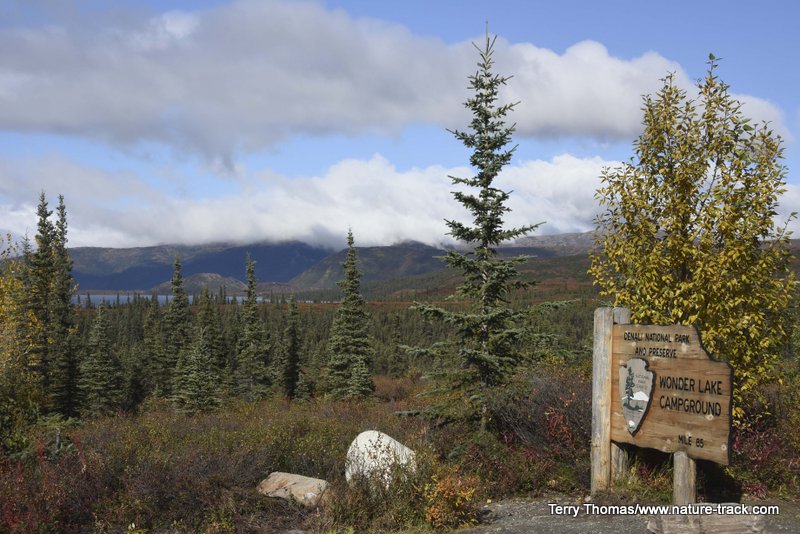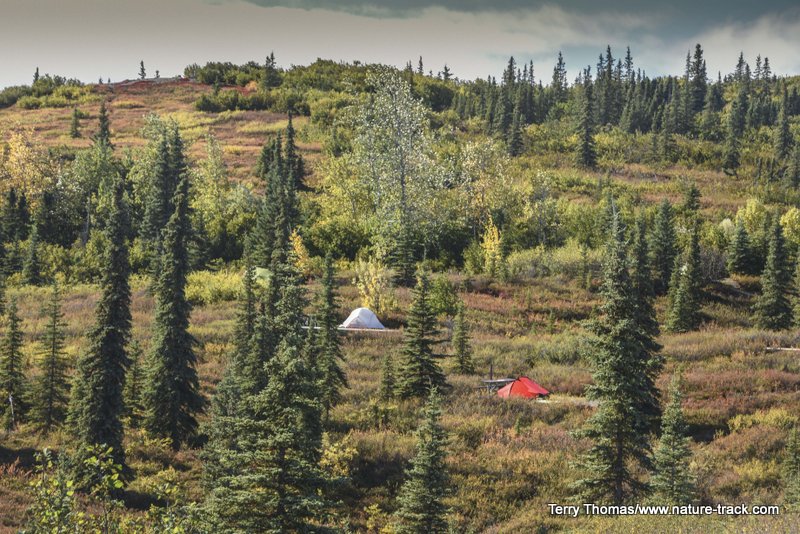 You don't have to go on the bus to see Denali. On our way out on our last day, we caught the Great One in a blushing sunrise near Savage River Campground back on the pavement. Denali is also a presence from many places along the Parks Highway, Denali State Park and Talkeetna. There are even some places in Anchorage where you can see her.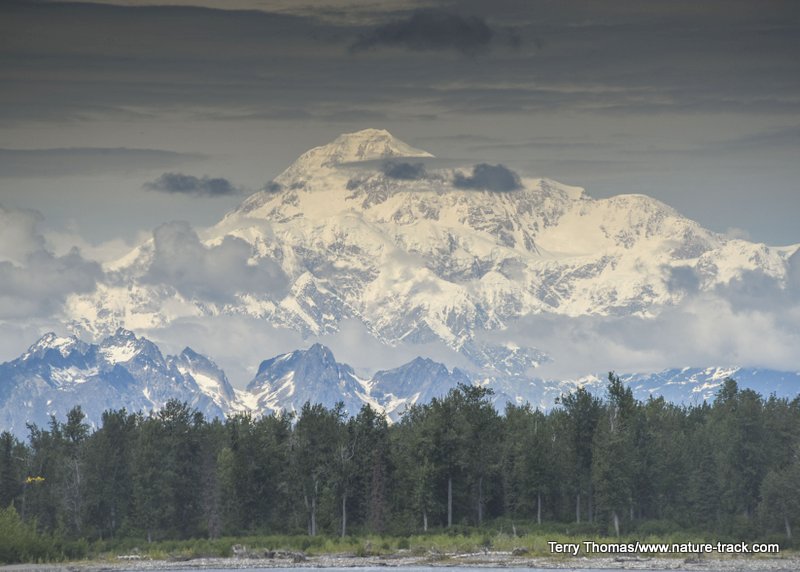 Denali from Talkeetna. This was the best view we had of Denali in 2016.
Denali sunrise from the Savage River Campground area. This is the first place along the paved section of the road where you can see the mountain (if you are lucky).
Whatever you do though, make sure Denali National Park gets on your bucket list and that you spend enough time there that you get to see the giant mountain called, The Great One.