Denali Highway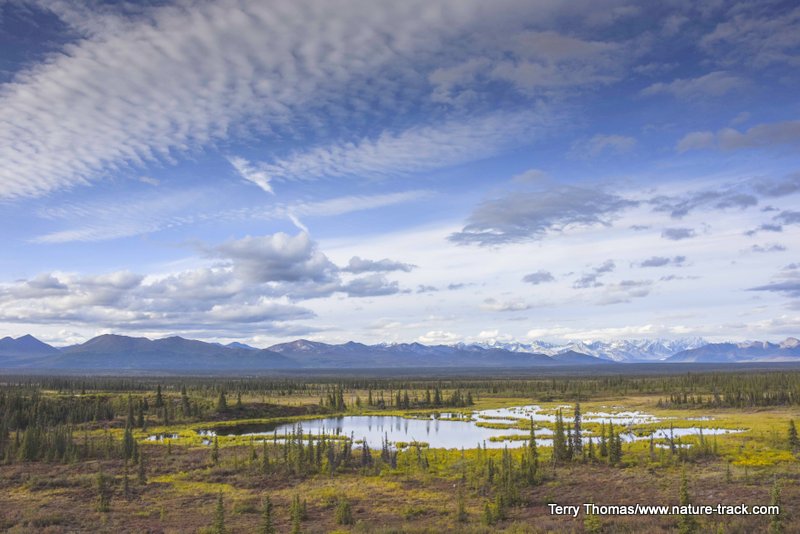 The Denali Highway is often touted as the most beautiful drive in Alaska. 
---
It seems a little strange to be writing a blog about a highway, but I think you will understand when you read about one of the most beautiful drives in Alaska.
Denali Highway runs between Paxson on the east and Cantwell on the west. It is about 135 miles long and about 100 miles of it are gravel. We pulled our trailer and spent three nights, covering the 135 miles in four days.
Until the Parks Highway was completed in the 1970's, linking Anchorage to Cantwell and Denali Park (then McKinley National Park), the Denali Highway was the only way to get to Denali. However, as far as we can tell, you cannot see the mountain from anywhere along the Denali Highway. There are several great views of Denali from the Parks Highway on a clear day.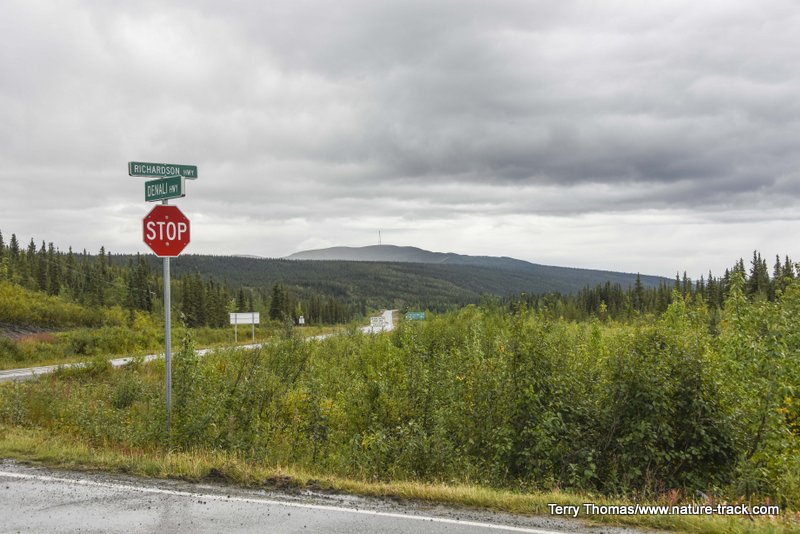 We were fortunate to have nearly four sunny to partly cloudy days too, and I will readily admit that this is like a drug to my attitude and enthusiasm, but I really don't think it colored my judgement. The fact that many Alaskans consider this the most scenic road in Alaska is likely evidence of that.
We started on the Paxson side, after a three-hour drive from Fairbanks—it seems everything in Alaska is AT LEAST a three-hour drive to anywhere—through Delta Junction. It was the standard awesome drive we had come to expect in Alaska. 
When we turned west at Paxson, low clouds obscured most of the horizon. What we could see was a series of rolling tundra covered hills and some small lakes. It was nice but not awe inspiring. (The Mountains were there---they were just obscured.) We drove as far as Tangle Lakes campground, a BLM campground just past the Tangle Lakes Lodge, where we set up camp. Then we headed up the road toward Maclaren Pass. This is the first place you actually get a view from above and a great view of the Alaska Range with Mount Hayes and Mount Deborah dominating, clouds willing.
The first 20 miles from Paxson are paved and in pretty good shape. From there, just slow down and you will be fine.
Tangle Lakes has a handful of private cabins, a lodge and a BLM campground. It also isn't very far from Paxson where more services are available.
The BLM Tangle Lakes Campground was a fine place for a first night's stay and it is close to the Tangle Creek Lodge where dining is available.
We drove as far as Crazy Pass, going past the Maclaren River Lodge and crossing the Maclaren River at milepost 42. This is a very pretty area, studded with ponds that sparkled in the late afternoon sun like diamonds. The lodge has some good reviews, but we didn't stop there.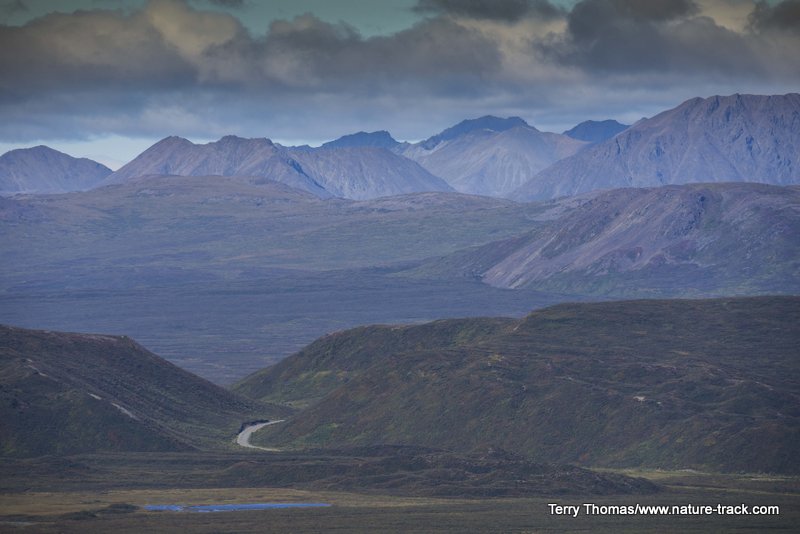 Crazy Notch is situated just past the Maclaren River bridge and the lodge there. 
Maclaren Glacier in the Alaska Range from Maclaren Pass.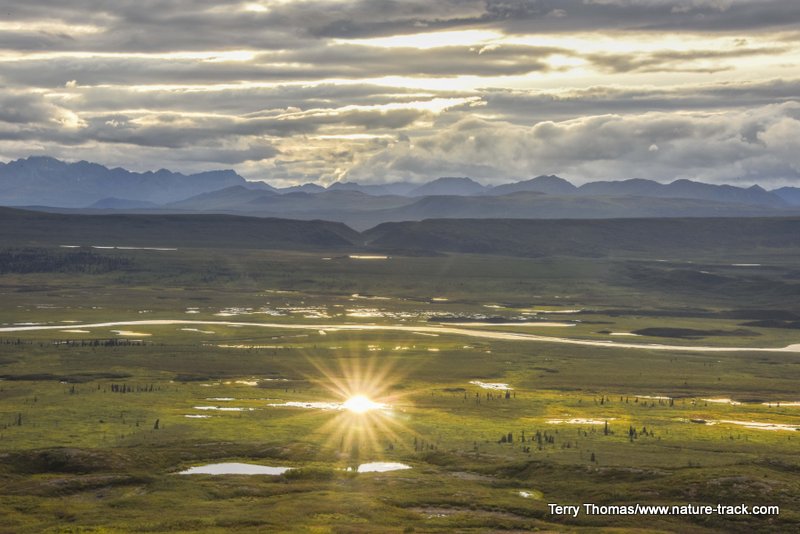 Maclaren River bottom from Maclaren Pass. Crazy Notch is in the background.
The next morning we moved camp to the Clearwater Creek Wayside. There are plenty of places to camp along the Denali Highway, but we liked this one for its proximity to Clearwater Creek, its pit toilet and lots of room.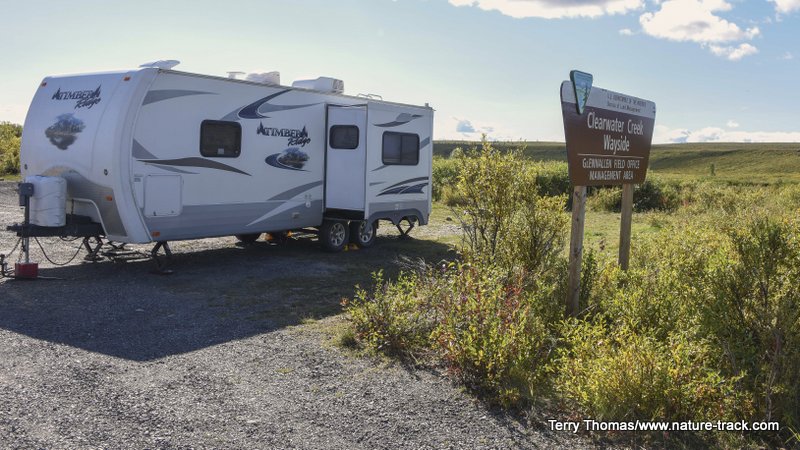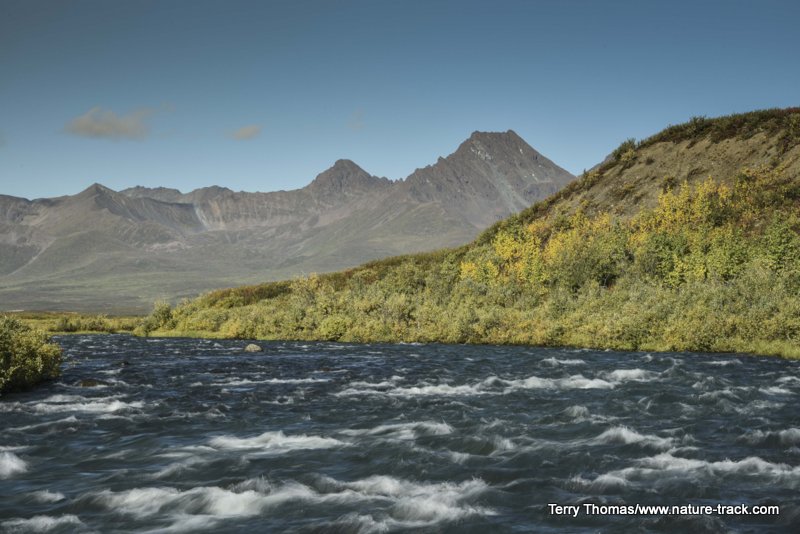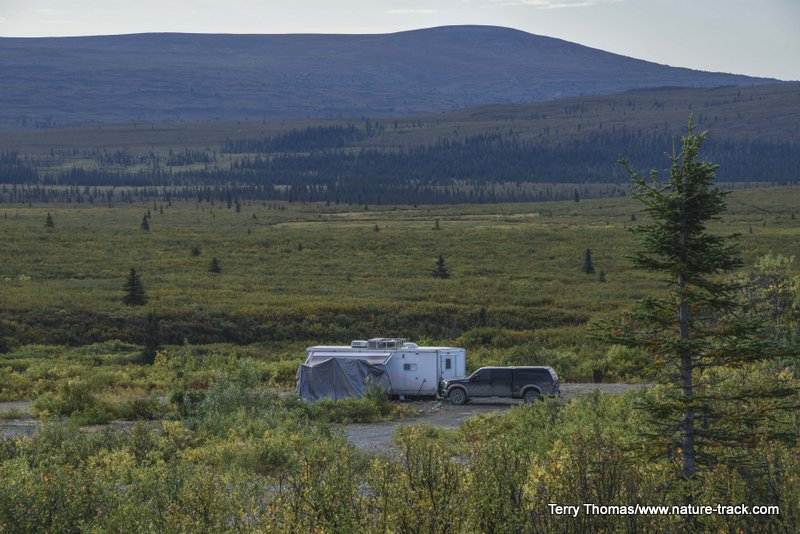 This camp was about half a mile from our camp at Clearwater Creek Wayside. It is big open country, but roads are few and far between.
We took a drive on down the road and discovered the Alpine Creek Lodge. The sign out front said that homemade pie was available so we went inside. Over blueberry pie, we talked to Bob, the owner's son of about 18, who regaled us with tales about life growing up in the Alaska bush. We found out that this lodge is a popular destination both winter and summer and we thought the rates were reasonable, especially for Alaska. When we go back that way, we hope to spend a night or two there.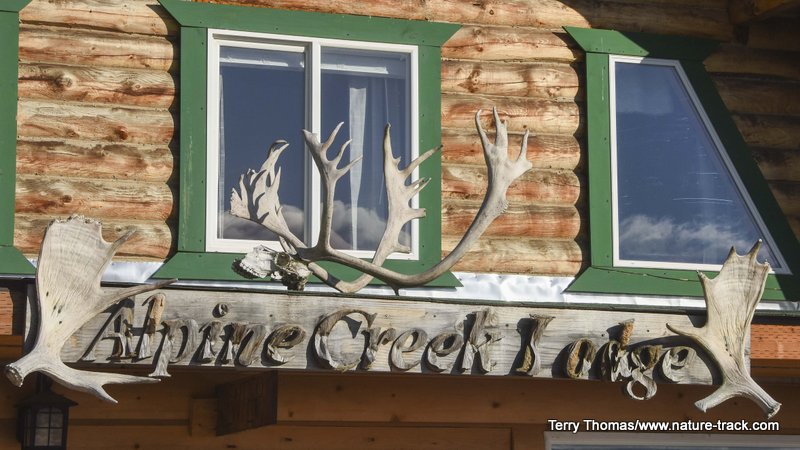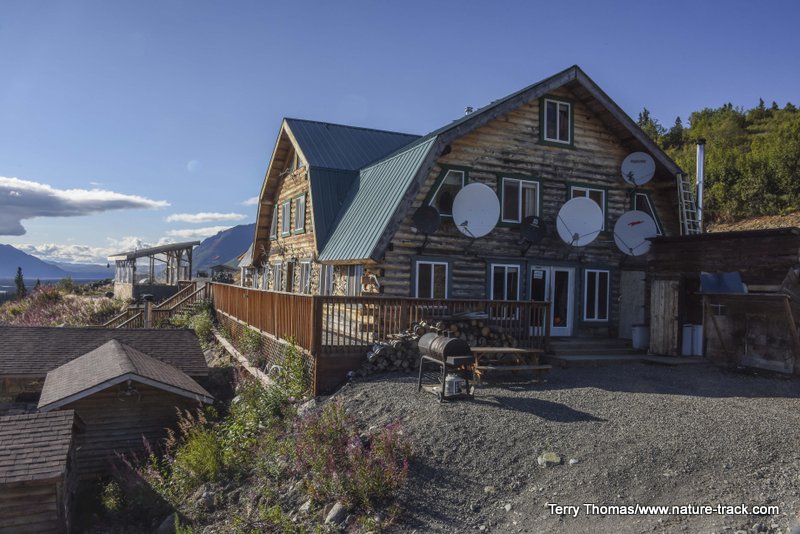 From Alpine Creek Lodge you can see the Susitna River and just a few miles further on, you will see the bridge over the Susitna River and what I thought was the most idyllic scenery of the drive, at least to that point.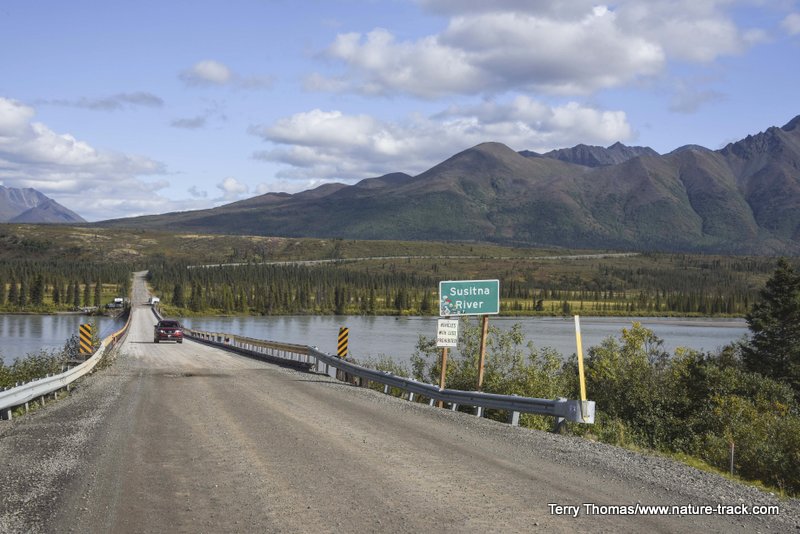 The view from the Susitna Bridge was awesome. It was probably my favorite view along the Denali Highway.
We returned to camp and lucked into a black wolf crossing the road about a ¼ mile from camp. I was too excited to get great photos but it was amazing all the same. 
I wish I could go back and re-do the 40 seconds this wolf graced us with this view. Nothing can take away the memory, but I would sure like to have a printable image or two!
The next day we moved camp again, this time to the "Knob" at about milepost 85 or so. This viewpoint is considered to be the favorite of many Alaskans. Indeed, it was pretty spectacular and again, Mount Hayes and Mount Deborah stole the show when visible.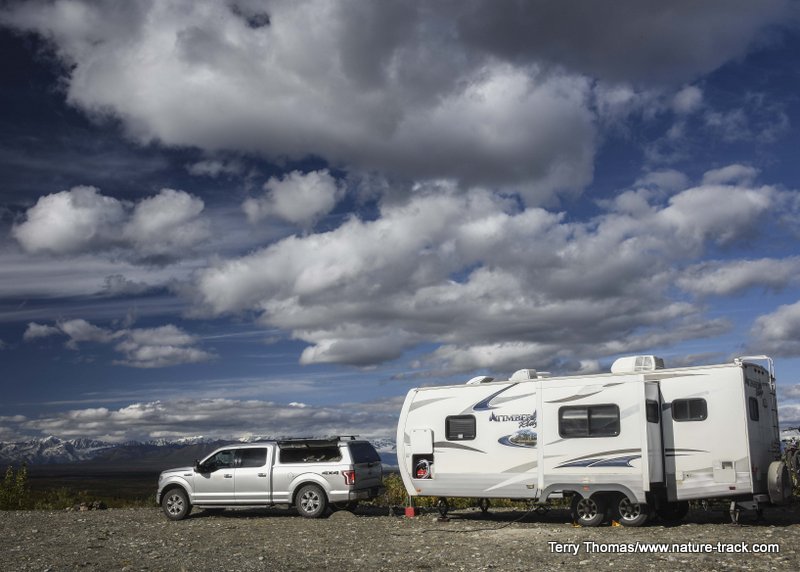 There was quite a bit of camping in the vicinity of the "Knob" where views of the Alaska Range are unparalleled.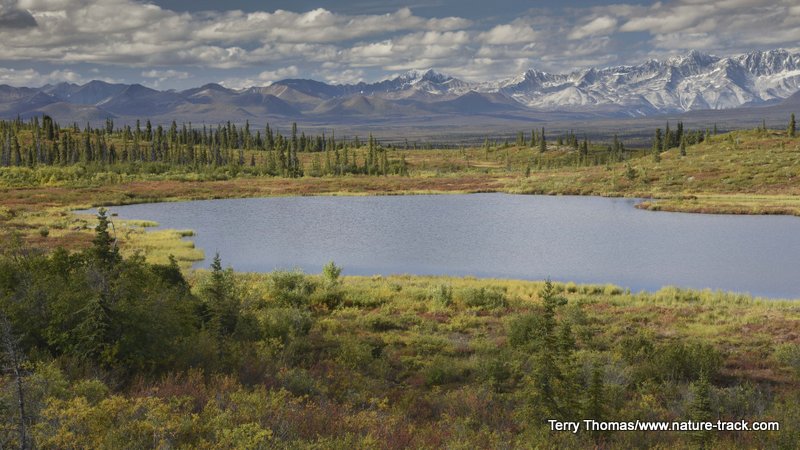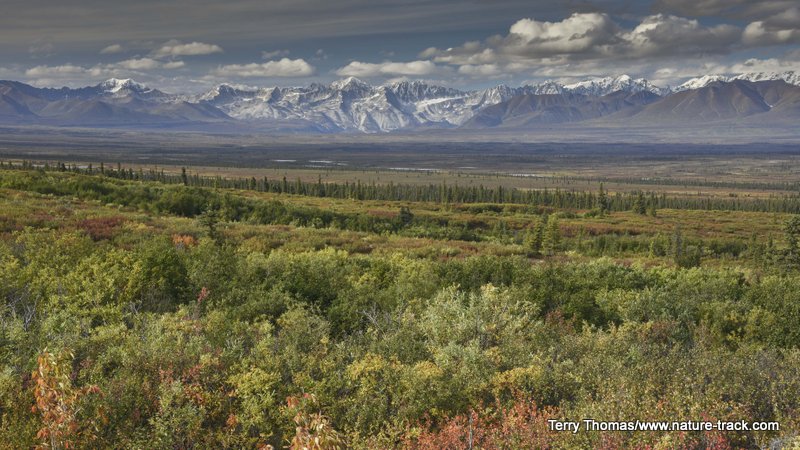 The views from the "Knob" area were sensational. We were fortunate to have a great afternoon as well. The next day, the clouds and rain were back and we couldn't see anything.
We drove on down the road and checked out the BLM campground at Brushkana Creek. We were tempted to spend a night there but decided that we needed to push on to Denali National Park.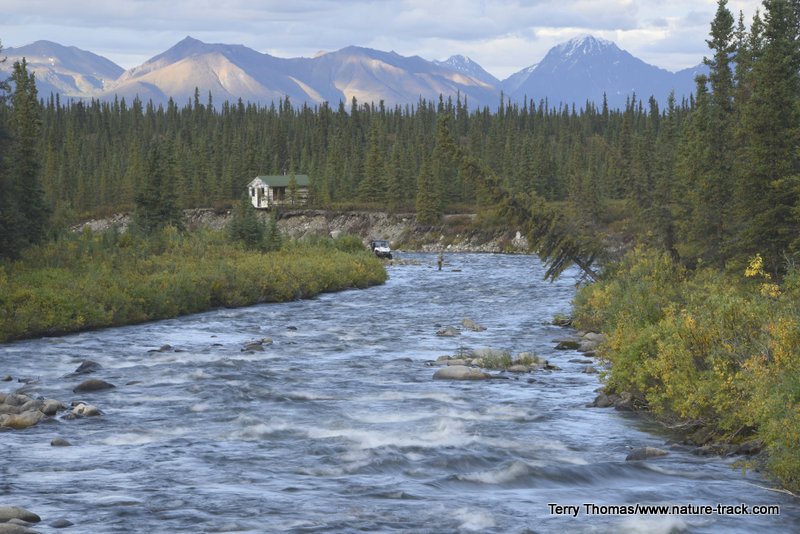 Brushkana Creek and campground are at about MP 112, about 20 plus miles from Cantwell. It looked like a great place to camp and some fishermen told us it was good fishing. Oh well, next time.......
One final thing: the habitats along the route are amazingly varied, from east to west, as the photos in this blog indicate. You start out in tundra on the east side, and slowly work through taiga and then through boreal forest. Rivers thread through the landscape and lakes dot it like spots on a dalmatian dog. Most often, views are long and soul fulfilling. Don't miss this drive when you get to Alaska!
Tundra and small lakes dominate the landscape on the Paxson end of the Highway. It is more boreal forest on the Cantwell side.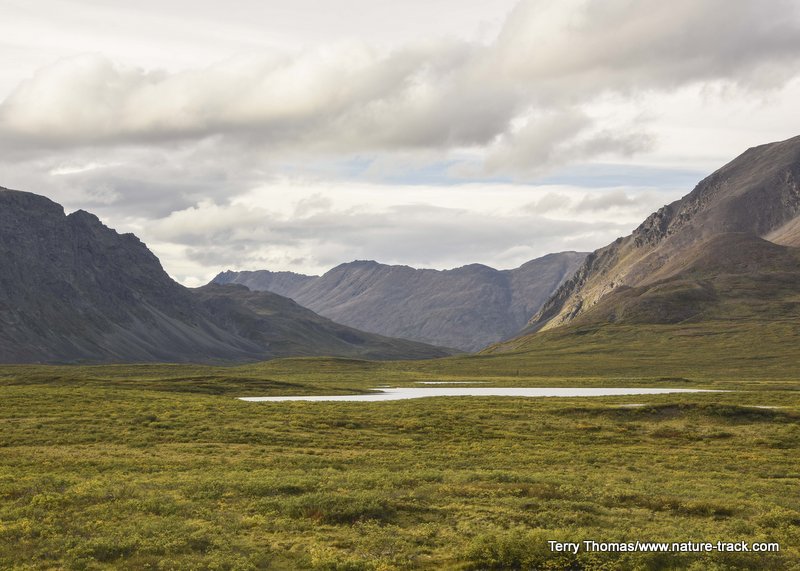 This is Glacier Gap on the Paxson side of things.
From Alpine Lodge, looking toward the Susitna River across boreal forest.
Views along the Denali Highway are incredibly expansive. After consulting some maps, we concluded that the mountains far in the distance are part of the mountains that make up Wrangell St-Elias National Park. 
Here are a few things you should know if you decide to drive the Denali Highway. First, it is not nearly as rough as many people will have you believe. The worst section was about 30 miles long, stretching from milepost 60-90 or so. This was truly a rough road and I probably averaged only 15 mph pulling the trailer. We could go almost twice that speed without the trailer.
The speed limit on the Denali is 50 mph. However, it is rare you can drive that fast on it. The first 20 miles on the Paxson side are paved though and the first 15 on the Cantwell side are paved as well and for the most part, the pavement is in good shape. 
I said that there are plenty of places to camp and that is true. However, during the hunting season, this is a wildly popular area and all bets are off. We happened to hit it just after an emergency closure of the caribou hunt and practically had it to ourselves.
You may be able to get fuel at Maclaren Lodge and you can get it at Tangle Lakes Lodge. You will pay dearly for it, but if you need it, you need it. If you can take your own spare gas, you should do so.
The Milepost recommends taking two spare tires for truck and trailer. We started our trip with brand new tires on truck and trailer and never had a problem, but we did have our extra spares. 
Despite the occasional rough roads (said to be dusty as well in the summer months), we loved our time on the Denali Highway. When we get back to Alaska, we hope to spend even more time there. 
Maybe we will see you in Alaska!