Trail Cameras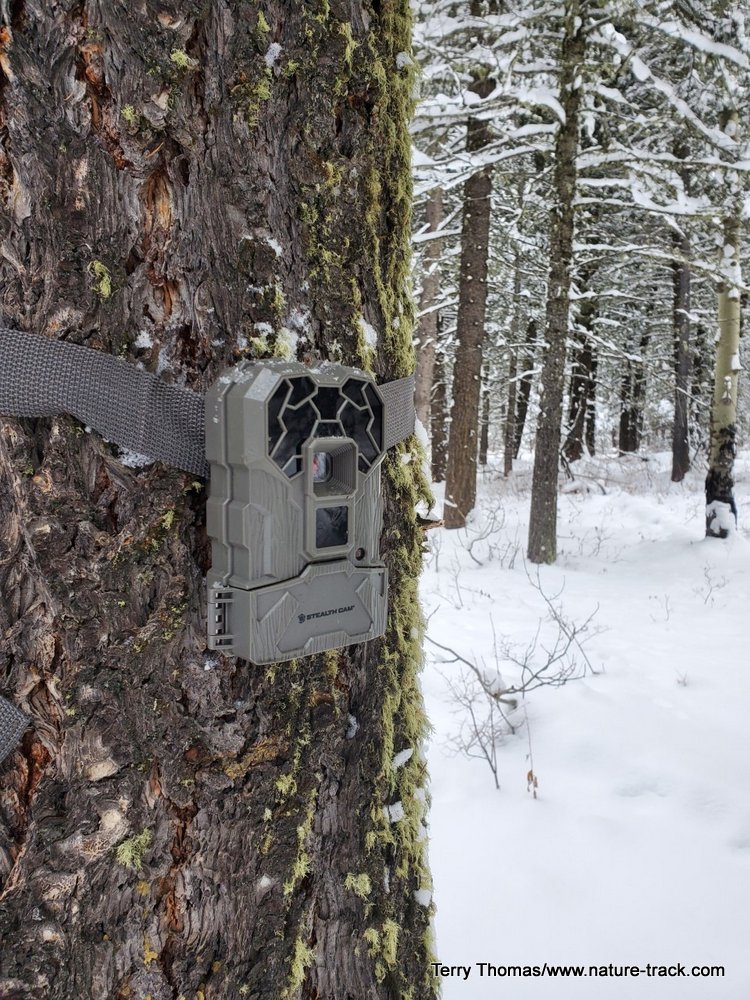 My trail camera in place and ready to work. It will work in most conditions, even down to about 10 degrees Fahrenheit.
---
It was frustrating to wander around on a mountainside, see lots of elk tracks, and not be able to connect with the animals. Obviously, our schedules weren't matching and I needed to figure out why before grandsons showed up with elk tags to fill. Out of desperation, I finally set up some trail cameras.
Trail cameras have been around for perhaps 20 years or more and each year they get better and cheaper. The basic principle is simple. A trail camera functions autonomously, taking a photo each time something trips the motion sensor. They work at night, during the day and in most kinds of weather.
And that's the beauty of trail cameras. Place as many as you want to afford to help you unravel the mysteries of the world of wildlife. For instance, the first thing I noticed about the elk I was interested in was that they didn't show up until about an hour after dark and left before daybreak. No wonder I couldn't find them.
Trail cameras can help you pattern movement, capture behaviors, locate animals and lots more. Set-ups can be as elaborate as you want to make them. Saturate an area, capture the same view from different angles or spread out cameras in a "trapline" of sorts. It all depends on how much you want to spend in time and money.
Trail cameras range in price from about $25 to over $700 each. I ended up buying cameras in the $50 each range. Each came with a strap to secure it to a tree, but 32 GB SD or SD-Micro cards are extra. Mine came with a reader so I could view the images on my phone in the field but it didn't work so I just replace the card and take the used one home to the computer.
Since I have a bit of money invested in my cameras, I was interested in protecting them in the field. My son has lost several cameras to thieves and one to a curious bear. However, as I delved into the protective boxes and cables available, I found that I could easily spend more to protect the cameras than they are worth. At this point, I haven't lost any, although I have captured several hunters on them.
There are a few things to consider when shopping for trail cameras. First is the quality of resolution, usually expressed as megapixels. It seems that 14-16 MP is the sweet spot.
The second thing to look for is how far from the camera an animal can trigger the sensor. The better cameras claim over 80 feet.
Third is how fast the camera triggers the shutter once the motion is detected. The shorter the interval, the better the camera.
I have seen some really fantastic images and video caught by trail cameras while the camera owners were miles away. One was a video of an elk calf playing in a water hole. She was splashing and dancing, turning circles and clearly enjoying herself, behavior I would not have believed if I hadn't seen it. I have also seen trail camera photos and video of a mountain lion attacking a deer, bears scratching their backs on trees, bull elk tearing up a wallow and just about everything else in nature that moves.
Trail cameras offer one of the best ways to understand the wildlife around you. I hope to add to my arsenal soon and be ready for next year.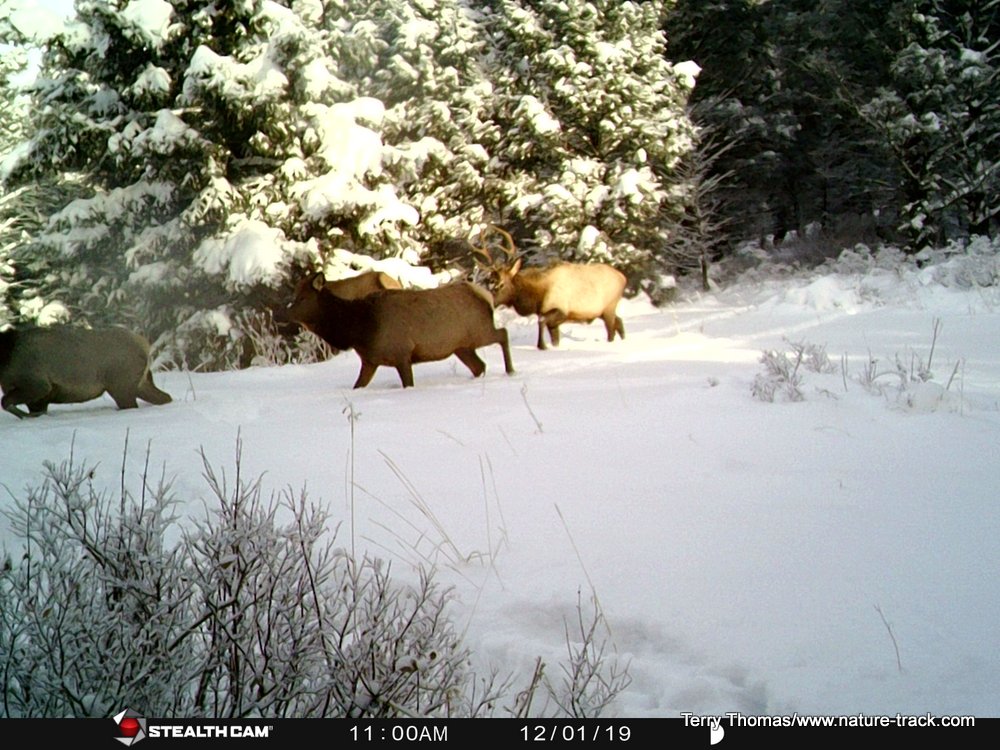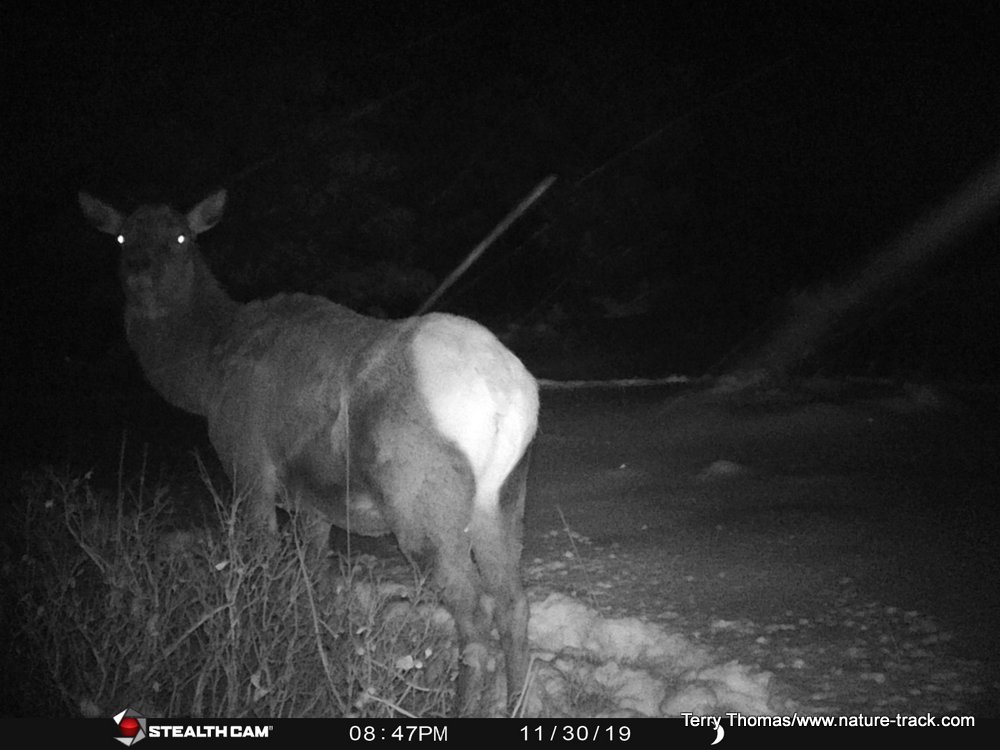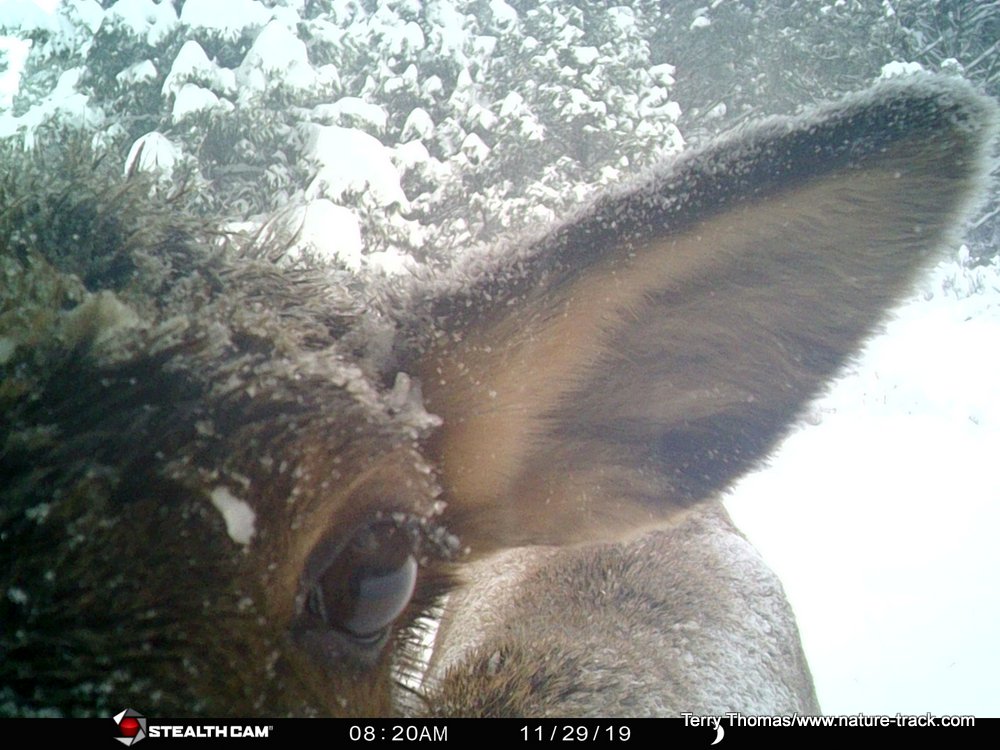 These are actual photos from one of my cameras. Most trail cameras say that their system is not detectable by wildlife but, as you can see, that is not the case, at least with mine. I have many photos where a curious elk got up close and personal with the camera or turned to stare at it.
---
Help Idaho Wildlife
When we traveled across the state in October 2017, most of the vehicles we saw using the wildlife management areas did not have wildlife plates. Buying wildlife plates is a great way for non-hunters and hunters alike to support wildlife-based recreation like birding.
C'mon folks, let's help Idaho's wildlife by proudly buying and displaying a wildlife license plate on each of our vehicles! 
See below for information on Idaho plates. Most states have wildlife plates so if you live outside Idaho, check with your state's wildlife department or vehicle licensing division for availability of state wildlife plates where you live. 
And tell them that you heard about it from Nature-track.com!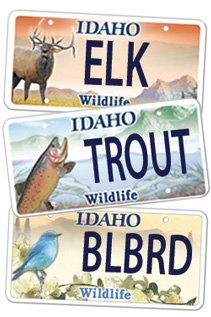 Wildlife License Plates
Idaho Wildlife license plates provide essential funding that benefits the great diversity of native plants and wildlife that are not hunted, fished or trapped—over 10,000 species or 98% of Idaho's species diversity. Game species that share the same habitats (such as elk, deer, antelope, sage-grouse, salmon, trout) also benefit from these specialty plates.
No state tax dollars are provided for wildlife diversity, conservation education and recreation programs. Neither are any revenues from the sale of hunting or fishing licenses spent on nongame species. Instead, these species depend on direct donations, federal grants, fundraising initiatives—and the Idaho Wildlife license plates.
Both my vehicles have Bluebird Plates. I prefer the bluebird because the nongame program gets 70 percent of the money from bluebird plates, but only 60 percent of the money from elk and trout plates - 10 percent of the money from elk plates supports wildlife disease monitoring and testing programs (to benefit the livestock industry) and 10 percent from cutthroat plates supports non-motorized boat access.
Incidentally, in 2014, the Idaho Legislature denied the Department of Fish and Game the ability to add new plates or even to change the name of the elk and cutthroat plates (very specific) to wildlife and fish plates, a move that would have allowed for changing images occasionally and generating more revenue. It would seem that they believe that we Idahoans don't want a well funded wildlife program. Go figure.