Winter Calendar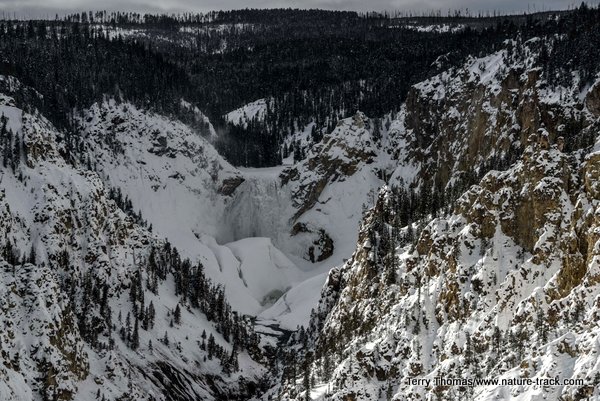 Winter is a great time around eastern Idaho. You can see places, like Lower Falls in Yellowstone, in totally different ways. Be sure to get out and enjoy it.
---
In the beginning, this column was supposed to be a, "where and when to go and what to do to enjoy nature". That got boring pretty fast and it has expanded to cover all sorts of topics from the natural world. However, at the commencement of a new year, it seems appropriate to take a few minutes and consider some activities available for the upcoming winter months to better plan our activities. So, here is a list of just a few of the wonderful opportunities that abound around eastern Idaho during the next few months.
If you have never done a winter tour into Yellowstone National Park, you should get it on your bucket list. Very few private snowmobiles are allowed in the Park so you will almost have to sign up for a tour. That isn't so bad, as the tour guides are usually quite knowledgeable and can fill your head with a lot of interesting information. Tours can be in the comfort of a snow coach or the more adventuresome can opt for snowmobiles. A typical tour leaves West Yellowstone early in the morning and heads to either Canyon or Old Faithful, returning mid-afternoon. Tours do cost money, but it is worth it to see the Park during the winter.
The yurts at Harriman State Park in Island Park are another fun adventure. For $55/night, you can stay in a comfortable yurt—basically a round tent with a wooden floor, bunks for up to six and a wood stove—and ski Harriman all day long. You can drive to within 50 yards of the yurts. These two yurts are quite popular during the winter months and you will need to visit parksandrecreation.idaho.gov/harriman for more information and to find out how to reserve your night or two in paradise.
Henrys Lake is open to ice fishing through January 1, 2018 but there are other places to go once it closes. Island Park Reservoir is an alternative in the Caldera. Close to town is Ririe Reservoir. When its ice gets thick enough to be safe, it can be hot fishing for kokanee, and two years ago my son caught an eight-pound rainbow through the ice there. Mackay Reservoir is a bit further to travel, but the rainbow trout and kokanee fishing there can be terrific.
While Mud Lake, Market Lake and Cartier Wildlife Management Areas are pretty quiet during the winter months, Deer Parks WMU is usually bursting with activity. As part of a sharecrop agreement, many acres of grain and corn are left standing or are mown down for waterfowl. Thousands of waterfowl, including up to 2,000 trumpeter swans, often call Deer Parks home during winter days. It is a real pleasure to be amidst such wildlife plenty.
If you want to see lots of big game animals up close, head to Jackson, Wyoming. From the highway north of town you can see thousands of elk on the National Elk Refuge or take a sleigh ride tour out and among them. Wintering mule deer are common on the foothills and bighorn sheep can be seen behind Miller Butte (take main street past the hospital and just keep going. You can't miss it). You may also see mountain goats on the south facing slope of the Snake River Canyon just east of Alpine Junction.
With all these exciting places to go, don't forget to just do a little quiet wandering. One of the best things about winter is the relative tranquility and peace that abide while the world slumbers.
---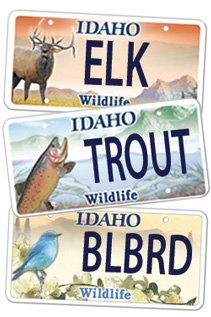 Help Idaho Wildlife
When we traveled across the state in October 2017, most of the vehicles we saw using the wildlife management areas did not have wildlife plates. Buying wildlife plates is a great way for non-hunters and hunters alike to support wildlife-based recreation like birding.
C'mon folks, let's help Idaho's wildlife by proudly buying and displaying a wildlife license plate on each of our vehicles! 
See below for information on Idaho plates. Most states have wildlife plates so if you live outside Idaho, check with your state's wildlife department or vehicle licensing division for availability of state wildlife plates where you live. 
And tell them that you heard about it from Nature-track.com!
Wildlife License Plates
Idaho Wildlife license plates provide essential funding that benefits the great diversity of native plants and wildlife that are not hunted, fished or trapped—over 10,000 species or 98% of Idaho's species diversity. Game species that share the same habitats (such as elk, deer, antelope, sage-grouse, salmon, trout) also benefit from these specialty plates.
No state tax dollars are provided for wildlife diversity, conservation education and recreation programs. Neither are any revenues from the sale of hunting or fishing licenses spent on nongame species. Instead, these species depend on direct donations, federal grants, fundraising initiatives—and the Idaho Wildlife license plates.
Both my vehicles have Bluebird Plates. I prefer the bluebird because the nongame program gets 70 percent of the money from bluebird plates, but only 60 percent of the money from elk and trout plates - 10 percent of the money from elk plates supports wildlife disease monitoring and testing programs (to benefit the livestock industry) and 10 percent from cutthroat plates supports non-motorized boat access.
Incidentally, in 2014, the Idaho Legislature denied the Department of Fish and Game the ability to add new plates or even to change the name of the elk and cutthroat plates (very specific) to wildlife and fish plates, a move that would have allowed for changing images occasionally and generating more revenue. It would seem that they believe that we Idahoans don't want a well funded wildlife program. Go figure.