Getting Out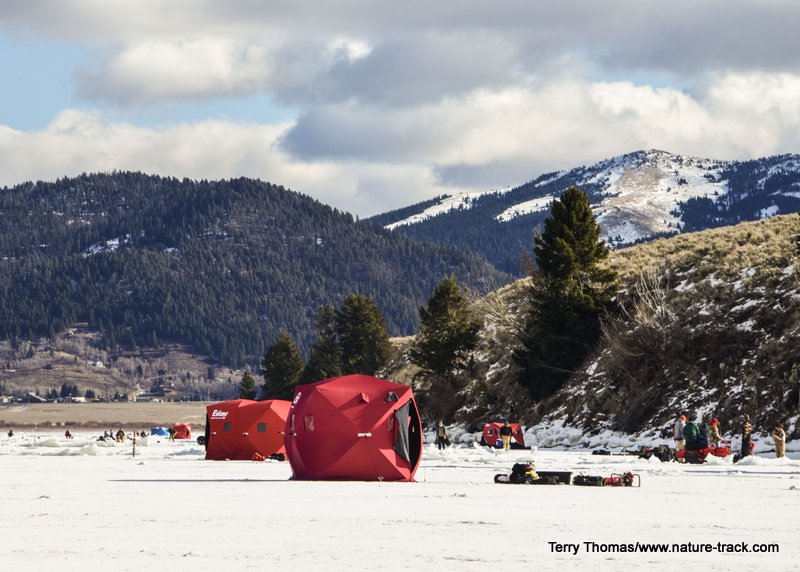 Ice fishing is just one of a myriad of ways to stay connected to nature this winter. 
---
Without a doubt, 2020 has been a difficult year. And, it doesn't look like it is over yet. The vaccine for Covid-19, while in the initial distribution phase, is still going to take months to get to everyone in the country and its long-term efficacy is still an unknown. Some experts are predicting that restrictions will last until at least June. That is six more months of trying to find something to do and, now more than ever, it is important to stay connected to nature.
Over the past summer and fall, nature has come to the rescue of many. This may be one disguised blessing of this pandemic. Americans are getting outdoors more and, as many studies have shown, increased exposure to nature improves overall mental and physical health. So, the question is, how do we continue that trend now? What can we do to stay engaged with nature and avoid crowds?
Everyone's first thought, and this was proven by a dramatic increase in visitors despite the increased potential for Covid-19 exposure, has been to visit national parks. Finding solace in a national park this summer was a challenge. When we visited Glacier National Park in October, we found it crowded and impossible to get a parking space at Logan Pass. Even the week before Yellowstone closed to prepare for winter visitation, roads were packed with visitors by ten o'clock in the morning. Clearly, national parks aren't the answer if we want to get the full benefit of a nature recharge.
We are fortunate to reside in Eastern Idaho. Public land is just outside the door no matter where we live and there are plenty of activities to engage in. Winter does complicate this just a little but there are still many things to do. Here is a short list of possibilities.
Go fishing. Yes, you can fish in the winter. Learn how to ice fish on Palisades, Ririe and Island Park reservoirs or fish the South Fork, Henry's Fork or main stem of the Snake river. You might just find that the old adage, "days spent fishing are not subtracted from one's life" is true.
Skiing, snowshoeing or walking. These activities require little expense; a quality pair of snowshoes can be had for around $80 and even used cross-country ski outfits are plentiful and under $100 (sometimes much less). Groomed trails can be found on the Idaho State Department of Parks and Recreation website (Park n Ski pass required) or just take off cross-country.
Birdwatching. This activity has really boomed in the past ten months as people have discovered an activity that can be done in the backyard. Hang up a birdfeeder, grab a set of binoculars and you are set. If you want to get out and see other birds, check out Deer Parks west of Menan Buttes. Thousands of swans, geese and ducks make this their winter home.
Forest watching. Believe it or not, this has been a big deal in Japan for a thousand of years. The idea is to visit a quiet place (it doesn't have to be a forest) and sit or slowly wander without a goal in mind. Try to really see what you are looking at and forget about cares and worries for a while. This may be the most therapeutic of all outdoor activities.
You can extend the effect of most of these activities by coming home and writing about them in a journal. This gives you a chance to really reflect on just what it was that you enjoyed about the day.
Whatever activity you choose, just get outside as much as possible. You will be better for it.
---
Help Idaho Wildlife
When we traveled across the state in October 2017, most of the vehicles we saw using the wildlife management areas did not have wildlife plates. Buying wildlife plates is a great way for non-hunters and hunters alike to support wildlife-based recreation like birding.
C'mon folks, let's help Idaho's wildlife by proudly buying and displaying a wildlife license plate on each of our vehicles! 
See below for information on Idaho plates. Most states have wildlife plates so if you live outside Idaho, check with your state's wildlife department or vehicle licensing division for availability of state wildlife plates where you live. 
And tell them that you heard about it from Nature-track.com!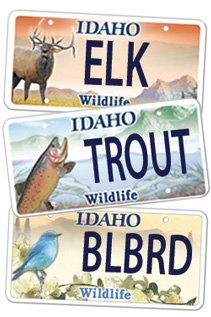 Wildlife License Plates
Idaho Wildlife license plates provide essential funding that benefits the great diversity of native plants and wildlife that are not hunted, fished or trapped—over 10,000 species or 98% of Idaho's species diversity. Game species that share the same habitats (such as elk, deer, antelope, sage-grouse, salmon, trout) also benefit from these specialty plates.
No state tax dollars are provided for wildlife diversity, conservation education and recreation programs. Neither are any revenues from the sale of hunting or fishing licenses spent on nongame species. Instead, these species depend on direct donations, federal grants, fundraising initiatives—and the Idaho Wildlife license plates.
Both my vehicles have Bluebird Plates. I prefer the bluebird because the nongame program gets 70 percent of the money from bluebird plates, but only 60 percent of the money from elk and trout plates - 10 percent of the money from elk plates supports wildlife disease monitoring and testing programs (to benefit the livestock industry) and 10 percent from cutthroat plates supports non-motorized boat access.
Incidentally, in 2014, the Idaho Legislature denied the Department of Fish and Game the ability to add new plates or even to change the name of the elk and cutthroat plates (very specific) to wildlife and fish plates, a move that would have allowed for changing images occasionally and generating more revenue. It would seem that they believe that we Idahoans don't want a well funded wildlife program. Go figure.