Adventure Planning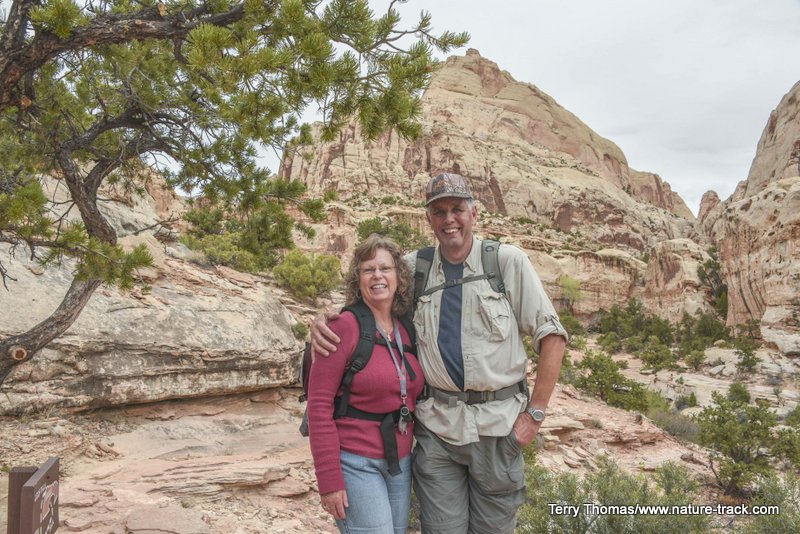 Who would have ever guessed that meeting a couple from Alaska on a hike in Southern Utah would lead us to a great camping experience in Alaska's Denali National Park?
---
One fine spring day about three years ago, we were hiking in Capitol Reef National Park when we stopped to visit with another couple resting on a huge sandstone rock. It turned out that they were from Eagle River, Alaska. We mentioned how we hoped to make an extended trip to the 49th state someday and we were especially interested in spending some time in Denali National Park. Denali, it turned out, was one of their favorite places and the proceeded to enlighten us with how and when to go and where to stay.
It took us two years to capitalize on their advice, but when we did, we followed it to the letter and were able to spend eight days camping inside the park with our trailer, well beyond where private vehicles are usually allowed to go.
Cathy consistently asks store clerks, campground hosts, other visitors and more, "What is your favorite place to go around here?", or, alternatively, "What is your favorite thing to do (or have done) in the area?" These two questions often spark some interesting discussions and fill in our schedule with some really fun activities that we would have otherwise missed.
I am not the social butterfly that my wife is, but I do eavesdrop on occasion. One time, while walking the Anhinga Trail in Everglades National Park, I overheard two ladies, obvious birders from their equipment and conversation, talking about a place not far from Fort Lauderdale where they had found a lot of birds. Finally, I couldn't stand it anymore and with unaccustomed bravado, I excused my rude eavesdropping and asked about the place they were talking about.
They graciously filled me in on Wakodahatchee, a small reclaimed area used for the final treatment of waste water. There is a boardwalk and path, lots of wildlife and is beautiful as well. Just like that, I discovered one of our favorite places to visit in southern Florida and this discovery led to an encounter just a few miles away at a similar area called Green Cay.
These two places were on several maps, but in print so small we would never have found them. Without overhearing the conversation and having the temerity to for directions, we likely would have never found either location. Now, I can't imagine going to Fort Lauderdale or Miami and not taking the short drive to see them.
This scenario has played out many times in our travels. Just this past summer, we encountered a grizzly sow and cubs on a gravel road a few miles from camp on Alaska's Kenai Peninsula. Cathy struck up a conversation with another observer who pointed out where the bears were headed and how to best photograph them. At a birding event in Magic Valley, I mentioned to a friend how much we had enjoyed visiting the City of Rocks near Almo, Idaho. He asked if we had ever been to Little City of Rocks north of Gooding. It took several years to get it on the calendar, but when we finally made it, we were thrilled. I also found out how to get to the other side of Mesa Falls for a different viewpoint from an old cowboy. The list goes on.
The bottom line is that everyone knows something I don't know; places to go, things to see. Sometimes these are well guarded secrets, most often though, people are more than willing to share if you just ask.
---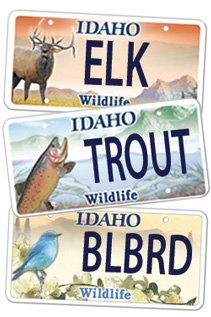 Help Idaho Wildlife
When we traveled across the state in October 2017, most of the vehicles we saw using the wildlife management areas did not have wildlife plates. Buying wildlife plates is a great way for non-hunters and hunters alike to support wildlife-based recreation like birding.
C'mon folks, let's help Idaho's wildlife by proudly buying and displaying a wildlife license plate on each of our vehicles! 
See below for information on Idaho plates. Most states have wildlife plates so if you live outside Idaho, check with your state's wildlife department or vehicle licensing division for availability of state wildlife plates where you live. 
And tell them that you heard about it from Nature-track.com!
Wildlife License Plates
Idaho Wildlife license plates provide essential funding that benefits the great diversity of native plants and wildlife that are not hunted, fished or trapped—over 10,000 species or 98% of Idaho's species diversity. Game species that share the same habitats (such as elk, deer, antelope, sage-grouse, salmon, trout) also benefit from these specialty plates.
No state tax dollars are provided for wildlife diversity, conservation education and recreation programs. Neither are any revenues from the sale of hunting or fishing licenses spent on nongame species. Instead, these species depend on direct donations, federal grants, fundraising initiatives—and the Idaho Wildlife license plates.
Both my vehicles have Bluebird Plates. I prefer the bluebird because the nongame program gets 70 percent of the money from bluebird plates, but only 60 percent of the money from elk and trout plates - 10 percent of the money from elk plates supports wildlife disease monitoring and testing programs (to benefit the livestock industry) and 10 percent from cutthroat plates supports non-motorized boat access.
Incidentally, in 2014, the Idaho Legislature denied the Department of Fish and Game the ability to add new plates or even to change the name of the elk and cutthroat plates (very specific) to wildlife and fish plates, a move that would have allowed for changing images occasionally and generating more revenue. It would seem that they believe that we Idahoans don't want a well funded wildlife program. Go figure.