Finding Information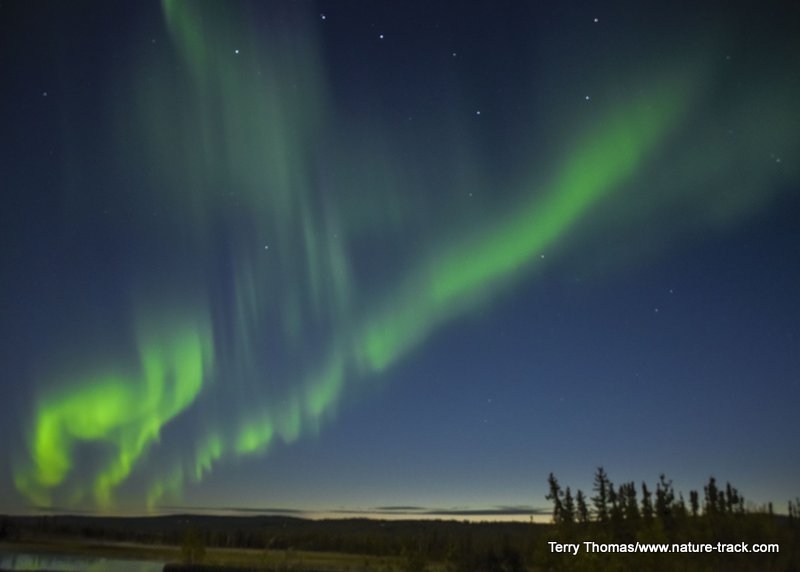 We saw the Northern Lights outside of Fairbanks, Alaska in 2018, but had to stay out until 2 a.m. to do it. We missed our opportunity to see them right here in Eastern Idaho last week at a more reasonable hour.
---
For three evenings last week, you could glimpse the Northern Lights, a rare phenomenon for Eastern Idaho. Not being plugged in very solidly to social media and news channels, we did not hear about this until about 8 p.m. on the second night when a friend posted a photo of the Northern Lights taken from Pocatello. We immediately left home in search of the event, but we were too late that night. The following night was stormy, eliminating our opportunity all together.
We had a good look at the Northern Lights while in Alaska several years ago so this was little more than an opportunity loss, but it still rankled. It was a reminder that it is so easy to miss unique natural events and that luck should not be depended upon. Some events such as when the elk are bugling, wildflower season, full moons and the first day of spring are routine and predictable. How about more random events? How could I get better informed?
Of course, I began my quest on the internet. A simple search revealed that astronomical events such as eclipses, meteor showers, blue moons, comets and planet alignments are all highly predictable out to hundreds of years. This information is available on numerous websites and I found these to be helpful: WhenIsTheNextEclipse.com and timeanddate.com. I also learned that tomorrow, December 21st, Jupiter and Saturn will almost "kiss" shortly after sunset. Great find! Astronomers call this an appulse or great conjunction, meaning it is the closest two celestial objects will get to each other. This summer I discovered that with my 60-power spotting scope (I have yet to acquire a telescope) we could just make out the rings of Saturn. So, find yourself a scope and don't miss it.
Finding information about other known or predicted events has proven to be much more difficult. I did encounter this website, https://earthobservatory.nasa.gov, and it intrigued me enough that I subscribed to their newsletter. However, I have a hunch that it won't be telling me what is going to happen but rather, what has just happened. As the old saying goes, a day late and a dollar short.
The website, https://www.futuretimeline.net/21stcentury/2021.htm, has come a little closer to what I am looking for. For instance, they indicated that Brood X, the largest of 15 groups of 17-year cicadas, will hatch this summer. "Its members, all of the genus Magicicada, tunnel to the surface en masse, mate and lay eggs, then die. This is the biggest swarm of insects in the world. The area covered stretches from New York, down the East Coast to Georgia and west to Illinois." That is the sort of information I am looking for. I can plan for something like that even if the dates aren't specific. However, the vast majority of this site is dedicated to scheduled technological advances not natural events so it is of limited value.
There are plenty of websites that predict potential disasters but that is pretty ridiculous—maybe the Yellowstone super-volcano will torch off. Yeah, right—sometime in the next 10,000+ years. That stuff is just baseless speculation and not helpful at all.
My internet search skills aren't great and regardless of the word combinations I use, I end up with pretty much the same results, just in different order. I have despaired at finding an easy way to get in touch with all the natural events that happen in a year. If I find one, I will let you know.
---
Help Idaho Wildlife
When we traveled across the state in October 2017, most of the vehicles we saw using the wildlife management areas did not have wildlife plates. Buying wildlife plates is a great way for non-hunters and hunters alike to support wildlife-based recreation like birding.
C'mon folks, let's help Idaho's wildlife by proudly buying and displaying a wildlife license plate on each of our vehicles! 
See below for information on Idaho plates. Most states have wildlife plates so if you live outside Idaho, check with your state's wildlife department or vehicle licensing division for availability of state wildlife plates where you live. 
And tell them that you heard about it from Nature-track.com!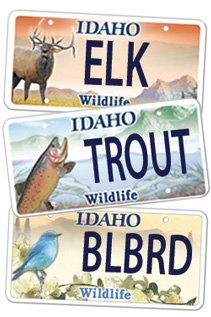 Wildlife License Plates
Idaho Wildlife license plates provide essential funding that benefits the great diversity of native plants and wildlife that are not hunted, fished or trapped—over 10,000 species or 98% of Idaho's species diversity. Game species that share the same habitats (such as elk, deer, antelope, sage-grouse, salmon, trout) also benefit from these specialty plates.
No state tax dollars are provided for wildlife diversity, conservation education and recreation programs. Neither are any revenues from the sale of hunting or fishing licenses spent on nongame species. Instead, these species depend on direct donations, federal grants, fundraising initiatives—and the Idaho Wildlife license plates.
Both my vehicles have Bluebird Plates. I prefer the bluebird because the nongame program gets 70 percent of the money from bluebird plates, but only 60 percent of the money from elk and trout plates - 10 percent of the money from elk plates supports wildlife disease monitoring and testing programs (to benefit the livestock industry) and 10 percent from cutthroat plates supports non-motorized boat access.
Incidentally, in 2014, the Idaho Legislature denied the Department of Fish and Game the ability to add new plates or even to change the name of the elk and cutthroat plates (very specific) to wildlife and fish plates, a move that would have allowed for changing images occasionally and generating more revenue. It would seem that they believe that we Idahoans don't want a well funded wildlife program. Go figure.