Christmas Tree Hunt
This Christmas tree may look a little sad, but the experience getting it was a fun family adventure.
---
For the second time in 20 years we ventured into the hills to cut our own Christmas tree. We should have learned from our past experience that this isn't really a good idea. Here is what I wrote about that:
"On Thanksgiving morning, my kids went to the woods, permit in hand, to cut our Christmas tree.  They returned triumphant with a lodgepole pine, fully twelve feet tall and eight feet wide.  The tree has, as an optimist might say, character.  The top lists to the left and there are holes you could drive Santa's sleigh through.  In the ugly department, it has pushed last year's tree, the here-to-fore undisputed ugliest tree champion, into shameful obscurity."
This year's tree was described by my wife on her Facebook page thus: "The tree looks a little "Charlie Brownish," but Jake's family helped us find it, cut it and decorate it so it's perfect."
After a short drive up a snowy-slick road, we hiked up the hill each looking for the picture-perfect tree. We gathered in the snow around potential victims and discussed the merits and shortcomings of each of them individually. I could quickly see and point out the flaws in each tree—there were no perfect ones—but the kids were excited and after a few wifely glares my way, and not wanting the process to last until we could see stars, I stopped offering an opinion and recognized my role as simply the chainsaw executioner of whichever quarry was selected.
Cutting a Christmas tree on public land (with the requisite permits of course) as I have learned, is far more about the experience than it is to save money or to find that flawless tree. Neither of those things is likely to happen, even if you live in a forest surrounded by trees. In fact, years ago, we switched to an artificial tree for those very reasons.
  Now that we are back in the real Christmas tree business, more reasons to switch to an artificial tree came flooding back, starting with having to buy a new tree stand when just last year I finally gave away a better one. Then we found that the base of our selected tree was too small, leading to braces and spacers and strings from the ceiling and wall just to keep the dang thing upright. Even then, it tipped over once, spilling onto the carpet the gallon of water we had so carefully poured into the base. Then it was time to get poked in the face repeatedly as we adjusted the tree so that the worst of the holes was against the wall.
I don't suspect I will ever get back into the sane world of artificial Christmas trees, so this summer we are going to take our time and identify our prey well in advance. Then there may be some hope that this evergreen embellishment that occupies our house for one twelfth of the year may actually abide without apology or excuse as part of our decor.
Still, Christmas tree hunting makes a great early season winter adventure, one the entire family can enjoy. Next year we may make it an all-day event with hot chocolate, sledding and a fire. As my wonderful wife points out, the experience makes even a less-than-ideally-shaped tree just perfect.
---
Help Idaho Wildlife
When we traveled across the state in October 2017, most of the vehicles we saw using the wildlife management areas did not have wildlife plates. Buying wildlife plates is a great way for non-hunters and hunters alike to support wildlife-based recreation like birding.
C'mon folks, let's help Idaho's wildlife by proudly buying and displaying a wildlife license plate on each of our vehicles! 
See below for information on Idaho plates. Most states have wildlife plates so if you live outside Idaho, check with your state's wildlife department or vehicle licensing division for availability of state wildlife plates where you live. 
And tell them that you heard about it from Nature-track.com!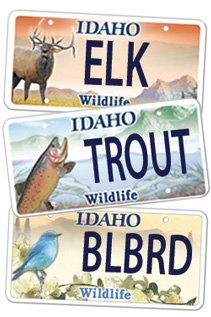 Wildlife License Plates
Idaho Wildlife license plates provide essential funding that benefits the great diversity of native plants and wildlife that are not hunted, fished or trapped—over 10,000 species or 98% of Idaho's species diversity. Game species that share the same habitats (such as elk, deer, antelope, sage-grouse, salmon, trout) also benefit from these specialty plates.
No state tax dollars are provided for wildlife diversity, conservation education and recreation programs. Neither are any revenues from the sale of hunting or fishing licenses spent on nongame species. Instead, these species depend on direct donations, federal grants, fundraising initiatives—and the Idaho Wildlife license plates.
Both my vehicles have Bluebird Plates. I prefer the bluebird because the nongame program gets 70 percent of the money from bluebird plates, but only 60 percent of the money from elk and trout plates - 10 percent of the money from elk plates supports wildlife disease monitoring and testing programs (to benefit the livestock industry) and 10 percent from cutthroat plates supports non-motorized boat access.
Incidentally, in 2014, the Idaho Legislature denied the Department of Fish and Game the ability to add new plates or even to change the name of the elk and cutthroat plates (very specific) to wildlife and fish plates, a move that would have allowed for changing images occasionally and generating more revenue. It would seem that they believe that we Idahoans don't want a well funded wildlife program. Go figure.