Evergreen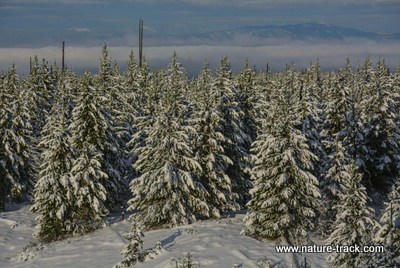 Evergreens like these can flavor an otherwise monochrome winter scene.
---
In a place like Harriman State Park, the transition as winter settles in is dramatic. Gone is the kaleidoscope of color that marks both summer and fall. Gone too are the elk, the deer and most of the birds. The river still flows but ice transforms lakes into meadows. The mantle of snow eschews diversity in favor of monochrome. Even sound seems banished from the winter landscape if you can ignore the distant highway or snowmobile.
One plant type though, rails against the homogenization of the winter—evergreens. The pines, spruces and firs, dressed in their forever green, starkly contrast against the whites and grays of winter.
Being evergreen is a plant strategy where the plants retain their leaves throughout the year in contrast to deciduous trees, such as maples and aspens, that lose their leaves each fall and spend the winter months in a mostly dormant state.
Retaining leaves year-round is an excellent strategy in more tropical climates where the two critical ingredients for growth and maintenance—sunshine and warmth—are abundantly supplied. However, the strategy seems to lose its appeal in more northern latitudes where leaves can freeze and sunshine is limited during winter months.
Yet the northernmost latitudes are covered in evergreen forests. That doesn't appear to make sense. Soil, it seems, is what makes the difference. In the deciduous forests of the eastern states, soil is rich and deep. Deciduous trees can make their living during the warm summer months by creating a lot of leaf surfaces to capture the sunlight. Energy converted above and beyond the needs of maintenance is stored for the winter months when the tree is dormant.
In the nutrient challenged soils of the west and north, this strategy doesn't work so well. Deciduous trees cannot convert enough energy from the sun because they are limited by soil quality. They enter winter unprepared to survive the duration.
Evergreens, on the other hand, have the perfect approach. Rather than try to get by on stored reserves, they mitigate for the poorer soil by working all winter long. With short days and branches often covered in snow, deep winter photosynthesis may be minimal but the photosynthetic season is still greatly extended.
For the species we commonly think of as evergreens—firs, pines, junipers, cedars, spruces and such, leaves are modified into needles or scales to resist freezing. These are coated with a waxy element that also protects them against the drying effects of the wind. Of course, even these leaves die and are replaced, but just not all at once.
There are another group of evergreen plants that we think of less often. These are broad-leafed evergreens. At Christmas time, we see a lot of one species, holly, but there are a number of other species as well. One local species is shiny-leaf ceanothus, a common plant in our foothills and mountains. The leaves of many of these plants are also waxy to help prevent winter dehydration and many broad-leafed evergreen plants depend upon a covering of snow to protect them from extreme cold and wind.
Evergreens certainly aren't as showy as fall colors or summer flowers. But during the winter months, they earn their keep by splashing a little color on an otherwise black and white scene.
---
---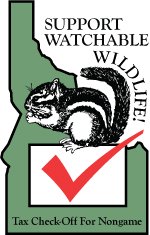 TAX DAY is coming! Here is a chance to do something good with a bit of your tax return and make the day less painful.
Donate part of your tax return to support wildlife in Idaho!
On the second page of the Idaho Individual Tax form 40 you have the opportunity to donate to the "Nongame Wildlife Conservation Fund".
Check-off this box on your next return or ask your tax preparer to mark the Nongame check-off on your behalf.
If you are not from Idaho, check with your own state wildlife agency about how you can help. Many states have a similar program.
---