Christmas Peace of Mind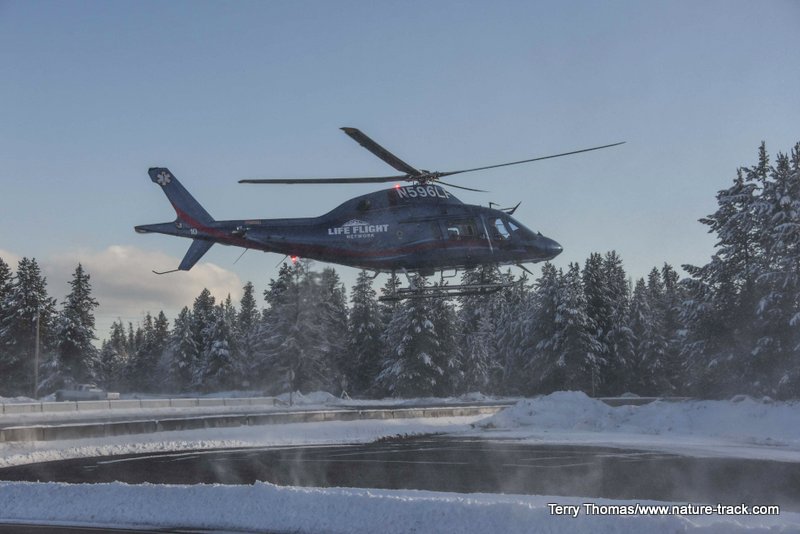 A Life-Flight Network helicopter lands in Island Park to transport a critically injured snowmobiler.
---
The search for a meaningful Christmas present for an avid outdoorsman or woman is sometimes overwhelming. There is no shortage of "treasures" that run a great risk of never leaving the closet. Is there a Christmas gift that gives all year in a meaningful way?
When I think of the myriad ways I could end up with a crippling injury while recreating outdoors, safety is always a top priority. For me, anything that improves my safety and security while afield ranks high on my wish list.
One such item is a communication device. While cellphones are great for staying in touch, they often are of limited value in the woods because of inadequate and inconsistent coverage. There have been huge advances in technology in the past decade and the latest generation of satellite communicators can keep you in touch via texting over a global satellite network, allow loved ones to follow your travels on a map, have SOS capabilities and can even access weather forecasts. Examples include the Garmin inReach Mini Hiking GPS Navigator and the Spot x 2-Way Satellite Messenger w/ GPS Tracking & SOS. You can spend over $400 on one of these gems but the peace of mind is worth it.
There are less expensive safety items too. While I no longer carry a specific survival kit, I do carry all the elements of one in my pockets. Some of the items that I routinely carry and that can make a difference if I am incapacitated or lost include several ways to start a fire, a water purifier (these start as low as $20), a quality multi-tool, a signaling device and several survival blankets. Whenever I wander around in bear country, bear spray is also on my belt. In my mind, any of these make great gifts.
One of the more unique gifts that is perfect, not just for outdoor enthusiasts, but really for everyone, is emergency medical flight insurance. Air rescue, whether fixed or rotary wing, is a very real possibility anywhere in Eastern Idaho where terrain can be remote, rugged or just dang far away. If you need it, air rescue is available for everyone. There is a catch though. It is also expensive and not necessarily covered by your health insurance policy. According to the National Association of Insurance Commissioners, a typical rescue may cost $12-20,000 for a 58-mile round trip, but may run much much higher depending on distance and what is needed.
Enter emergency flight insurance. For as low as $50 per year, "you, your spouse and your eligible dependents will pay nothing out of pocket for medically necessary transports (Air Idaho Rescue website)." This covers rescue from a fall in a remote canyon or a car accident and anything in-between.
Air Idaho Rescue (A.I.R) is Eastern Idaho Regional Medical Center's (EIRMC) air emergency medical transport service. They respond to critical illnesses and injuries within a 500-mile radius of the hospital including Yellowstone and Grand Teton National Parks. Their rescue helicopter and airplane are based out of Driggs as it is most central to the area and reduces flight response time.
There are other services in our area as well. Life-Flight Network is based out of Pocatello, and there are affiliate programs in other states that often accept coverage with other providers.
This Christmas, you can give peace of mind to yourself and your loved ones by investing in one or more of these suggestions. It is one way to increase our chances of being around next Christmas.
---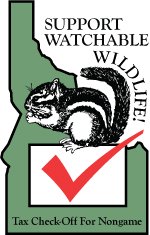 TAX DAY is coming! Here is a chance to do something good with a bit of your tax return and make the day less painful.
Donate part of your tax return to support wildlife in Idaho!
On the second page of the Idaho Individual Tax form 40 you have the opportunity to donate to the "Nongame Wildlife Conservation Fund".
Check-off this box on your next return or ask your tax preparer to mark the Nongame check-off on your behalf.
If you are not from Idaho, check with your own state wildlife agency about how you can help. Many states have a similar program.
---
Help Idaho Wildlife
When we traveled across the state in October 2017, most of the vehicles we saw using the wildlife management areas did not have wildlife plates. Buying wildlife plates is a great way for non-hunters and hunters alike to support wildlife-based recreation like birding.
C'mon folks, let's help Idaho's wildlife by proudly buying and displaying a wildlife license plate on each of our vehicles! 
See below for information on Idaho plates. Most states have wildlife plates so if you live outside Idaho, check with your state's wildlife department or vehicle licensing division for availability of state wildlife plates where you live. 
And tell them that you heard about it from Nature-track.com!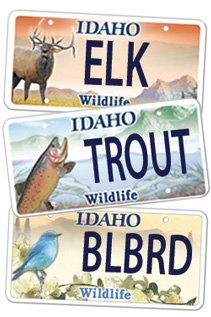 Wildlife License Plates
Idaho Wildlife license plates provide essential funding that benefits the great diversity of native plants and wildlife that are not hunted, fished or trapped—over 10,000 species or 98% of Idaho's species diversity. Game species that share the same habitats (such as elk, deer, antelope, sage-grouse, salmon, trout) also benefit from these specialty plates.
No state tax dollars are provided for wildlife diversity, conservation education and recreation programs. Neither are any revenues from the sale of hunting or fishing licenses spent on nongame species. Instead, these species depend on direct donations, federal grants, fundraising initiatives—and the Idaho Wildlife license plates.
Both my vehicles have Bluebird Plates. I prefer the bluebird because the nongame program gets 70 percent of the money from bluebird plates, but only 60 percent of the money from elk and trout plates - 10 percent of the money from elk plates supports wildlife disease monitoring and testing programs (to benefit the livestock industry) and 10 percent from cutthroat plates supports non-motorized boat access.
Incidentally, in 2014, the Idaho Legislature denied the Department of Fish and Game the ability to add new plates or even to change the name of the elk and cutthroat plates (very specific) to wildlife and fish plates, a move that would have allowed for changing images occasionally and generating more revenue. It would seem that they believe that we Idahoans don't want a well funded wildlife program. Go figure.