Christmas Presents
Three new tools have helped me to enjoy nature in more and different ways this year. Perhaps they will inspire you or someone you care about as well.  
---
My kids sometimes go to great lengths to find a unique and/or useful gift to buy for me, whom everyone sees as difficult to please (nonsense!). Recently, a cool folding grappling hook was added to my collection of gifts, that over the years has included the book, Odd Thomas, by Dean Koontz (which was intended as a tongue-in-cheek joke about my peculiarities, but started a love affair with that series), flashlights, guns, knives, field guides and other stuff that put a smile on my face and hopefully pleased the givers.
A lot of effort, though not always dollars, always goes into gift giving. I thought about my daughter, who this year as a birthday gift, gave me a bag of homemade fudge-topped caramels and a full gallon of walnuts; shelled, soaked to remove bitterness and dried. These awesome gifts took an enormous amount of time, yet not a lot of dollars as the walnuts grow in her backyard. I am still appreciating these wonderful gifts months later, and the walnuts may last the entire year.
So, this Christmas, I have decided to reveal a few new things that I have enjoyed that might help you with your gift-giving adventures for those who love to explore in nature.
Possibly the most enjoyable tool I bought this year was the laser pointer that I acquired to help study the stars. These things are amazing, casting a pinpoint laser beam hundreds of yards, and seemingly into infinity. At night, the green beam is visible and it is very easy to point out stars and constellations and other earthlier things with this device. Mine came with its own rechargeable battery and charger as well as a key to lock it for safety (as this is not a toy for children—the more powerful ones can ignite a match) and cost less than $30.
My second acquisition was a digital microscope. I have wanted a microscope for years but have never wanted to spend the $500 or so for one of even a modest quality. So, when I saw the ad for a digital microscope that could display the images on my computer or cell phone and even take photos of the images, I made an impulse buy (it was under $30 so don't chastise me too much) and ordered one. It has lived up to its inexpensive price tag, but it has been serviceable enough to make me want a better one.
Last week this column was about trail cameras. They are another innovation that is increasing my enjoyment of the outdoors. You don't have to be a hunter to appreciate the wildlife stories they can reveal. How many trail cameras is enough? I have two, my son has over a dozen. A dozen may be adequate, but two is not, at least for me.
My best advice about gift giving isn't all that great, but my best advice about gift receiving is simple and straight forward—be a happy and graceful receiver, whatever the gift, and you will never go wrong.
And truly, the best gift we can offer our grandchildren and their children won't come in a box—it is a natural world still intact and vibrant that they can enjoy and also pass on. If that requires that we make sacrifices now, that is what Christmas giving is all about.
---
---
Help Idaho Wildlife
When we traveled across the state in October 2017, most of the vehicles we saw using the wildlife management areas did not have wildlife plates. Buying wildlife plates is a great way for non-hunters and hunters alike to support wildlife-based recreation like birding.
C'mon folks, let's help Idaho's wildlife by proudly buying and displaying a wildlife license plate on each of our vehicles! 
See below for information on Idaho plates. Most states have wildlife plates so if you live outside Idaho, check with your state's wildlife department or vehicle licensing division for availability of state wildlife plates where you live. 
And tell them that you heard about it from Nature-track.com!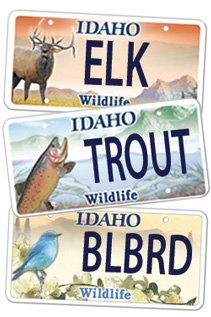 Wildlife License Plates
Idaho Wildlife license plates provide essential funding that benefits the great diversity of native plants and wildlife that are not hunted, fished or trapped—over 10,000 species or 98% of Idaho's species diversity. Game species that share the same habitats (such as elk, deer, antelope, sage-grouse, salmon, trout) also benefit from these specialty plates.
No state tax dollars are provided for wildlife diversity, conservation education and recreation programs. Neither are any revenues from the sale of hunting or fishing licenses spent on nongame species. Instead, these species depend on direct donations, federal grants, fundraising initiatives—and the Idaho Wildlife license plates.
Both my vehicles have Bluebird Plates. I prefer the bluebird because the nongame program gets 70 percent of the money from bluebird plates, but only 60 percent of the money from elk and trout plates - 10 percent of the money from elk plates supports wildlife disease monitoring and testing programs (to benefit the livestock industry) and 10 percent from cutthroat plates supports non-motorized boat access.
Incidentally, in 2014, the Idaho Legislature denied the Department of Fish and Game the ability to add new plates or even to change the name of the elk and cutthroat plates (very specific) to wildlife and fish plates, a move that would have allowed for changing images occasionally and generating more revenue. It would seem that they believe that we Idahoans don't want a well funded wildlife program. Go figure.