Custer State Park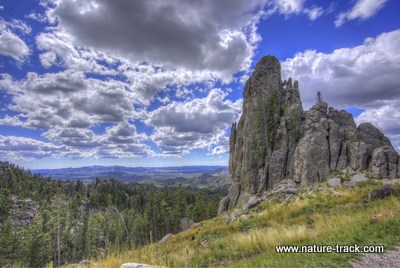 In the Black Hills of South Dakota is one of the best state parks around. Custer State Park sits between Wind Cave National Park to the immediate south and Mount Rushmore National Memorial to the north. It is a land where shortgrass and tall grass prairies meet and you can see wildlife from both ecosystems. The Black Hills are also Ponderosa pine (yellow pine to some Idahoans) country with deep forests everywhere there isn't prairie.
This was our third visit to Custer State Park. All our trips have been in September or October though and my first thought when I arrived this time was; I would like to see this place when it is a little greener. My next trip will hopefully be late May or early June when the grass and trees are in their springtime splendor and bison and elk calves are young and extra cute. On the other hand, I would love to be there in late November when the white-tailed deer are rutting. There may not be a bad time to visit Custer.
 There are eight campgrounds in Custer State Park. Some take reservations well in advance and we found that even in September, those were pretty booked when we checked on them in early August.
 We camped at Center Lake which requires same day reservations that can be made on line or by phone:  1-800-710-2267. They even have a phone in the campground that is a direct line to the reservation desk. A campsite costs $20.05/night plus $7.50 non-resident fee plus $2.50 if you use the phone instead of the internet. However, if you want to extend your stay you can just ask the camp attendant to do it and avoid the extra fees. We thought the lower loop was better than the upper loop. It is down on the creek and near to the shower facility. There are no hookups but the generator hours of 8 a.m. to 8 p.m. are generous. One caveat on generators: you are only allowed to run one for two hours at a time. I don't know what the interval between uses would have to be. We found two hours plenty to charge things up and to use the microwave.
 Our campsite was #13 and our 24-foot trailer (29 feet overall) fit fine and we could park our truck in front of it. However, in our opinion, site #20 was the best and 22, 25, 27 and 30 were all runners up because they were on the creek. 
 Although we were there Friday through Sunday nights, the campground never did fill to capacity even though campers would arrive until dark (the reservation line closes by 6 p.m. so they had to make reservations earlier in the day). We didn't drive through the upper loop to see how full it got but we did check it out the first day and there were only a couple of occupied sites.
Center Lake is a small lake at the head of the Grace Coolidge walk-in fishing area. You can walk along the creek for three miles until you reach the State Game Lodge, where President Calvin Coolidge spent the summer of 1927, when it was termed, The Summer White House. Center Lake is also about five miles from the Blue Bell Lodge area and just a short drive up Playhouse Road (plays run there until Labor Day) which is an off-shoot of the Needles Highway to Sylvan Lake and back to Custer, SD.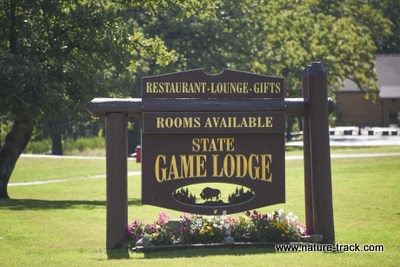 If camping isn't your style, there are a total of four lodges within the park: State Game Lodge, Blue Bell, Sylvan Lake and Legion Lake. We didn't go into any of them, but they all look nice from the outside. Beyond that, the town of Custer isn't far outside the park with plenty of places to stay.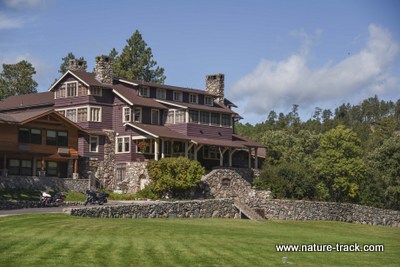 This is the State Game Lodge, the Summer White House in 1927.
Custer SP is known for its wildlife. The southern end of the park has a road called the Wildlife Loop and it is aptly named. It is somewhat similar to driving through Hayden or Lamar valleys in Yellowstone as far as wildlife goes. Driving this road and a number of unpaved side roads will give you the opportunity to see bison, pronghorn antelope, white-tailed deer, mule deer and elk.
There are several black-tailed prairie dog towns along the loop and watching these little creatures at work and play can be more entertaining than the big guys.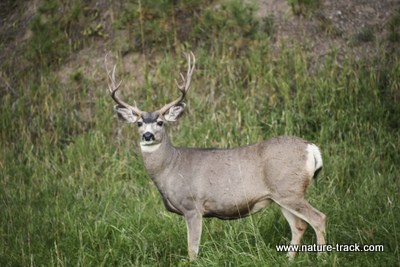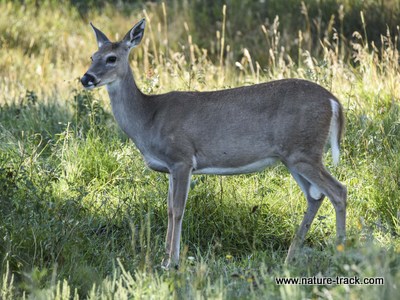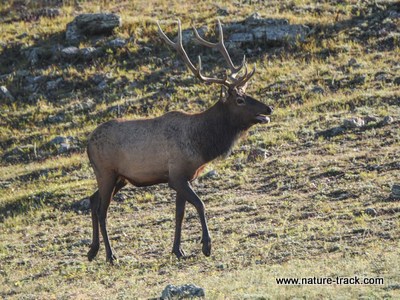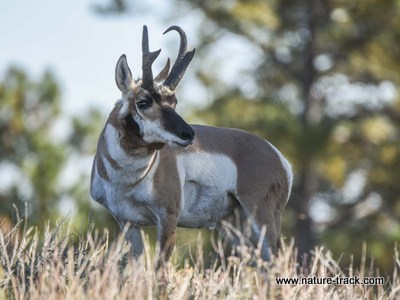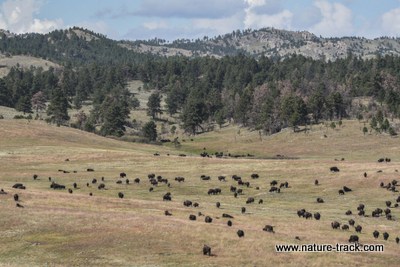 Around 1200 bison roam in Custer and there are plans to increase this number.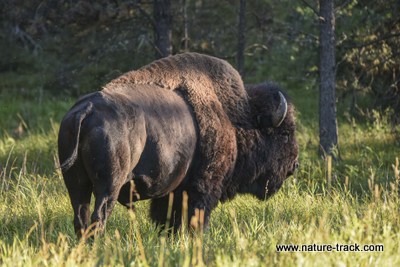 Bison are sort of treated like a business in Custer SP.  Each one is branded with the year it was born (If you look closely you can see an 8 on the right rump of this fantastic bull). Managers then know exactly how old each animal is. During the annual roundup, animals are selected to be sold at auction.
All of these images are from Custer SP.
 Wild burros also populate the wildlife drive and these guys are always looking for a handout. There are not any rules prohibiting feeding wildlife in the park and giving tidbits to these burros is often a highlight of the visit. They can be aggressive though so be a little cautious.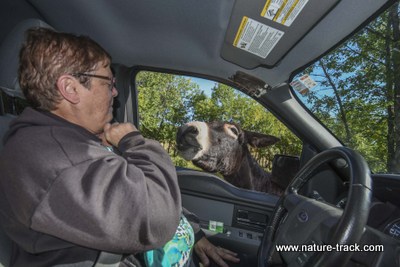 Cathy tentatively offers a wild burro a potato chip. These burros have no social skills at all and will readily stick their heads in your vehicle and help themselves to what they want. Be ready for that if you choose to feed them.
But the Wildlife Loop isn't the only place to see wildlife. An early morning drive just about anywhere will afford sightings of white-tailed deer everywhere. We saw plenty of turkeys in the forested areas and we even saw a mountain goat at the Needle's Eye Tunnel on the Needles Highway. Rocky Mountain bighorn sheep  are doing well and can be seen on the Needles Highway in the Mount Harney area (Mount Harney is the highest point in South Dakota). We did see a few mule deer on the Needles Highway, but saw half a dozen bucks near the town of Keystone.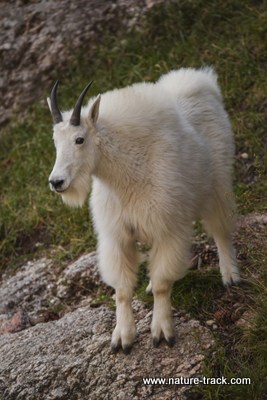 Here is what a wildlife calendar might print. Below is the reality. This goat was very interested in some mineral inside the tunnel and entered it several times.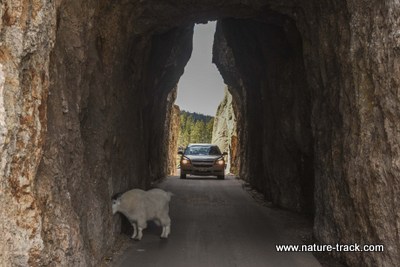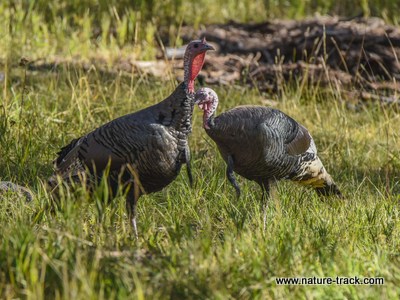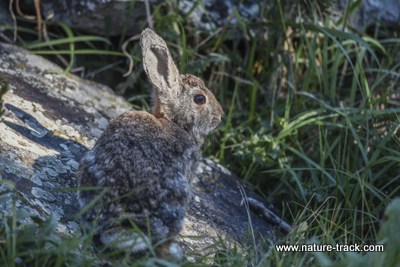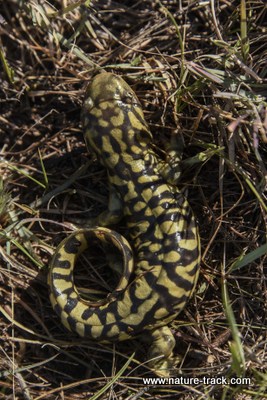 I rescued this tiger salamander just before my driver ran over it near the game drive visitor center. For some reason it needed to cross the hot asphalt in the middle of the day.  It was really surprising to find it as there seemed to be zero salamander habitat in the area. I placed it under a rock shelter and wet it down with a water bottle. We checked the next day and it was gone. I'll always wonder what it was thinking.
One of the best wildlife opportunities was right in camp. There were several red-breasted nuthatches hanging around and with a little encouragement (black oil sunflower seed) I was able to persuade them to come in for a few photographs. They are extremely fast and agile little birds and most of the images were just a blur but it was fun. I did the same thing with chipmunks. They appreciated the easy meal and I enjoyed the photography. This is one reason I like state parks better than national parks. Most state parks don't have rules on feeding wildlife or how close you can get like the federal parks do. That isn't to say that I like to run amuck, but I do appreciate the added freedom.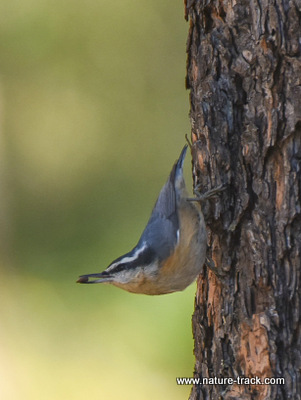 We have been on the Blue Ridge Parkway in Tennessee on a road called the Tail of the Dragon. It is supposed to have more curves per mile than any other road in the country. After driving some of the roads in the Black Hills, I think I will dispute that. Most of the roads in this area wind like worms through the country and have one lane tunnels through solid rock. Some of the funnest roads include the Iron Mountain Road (take this road to Mount Rushmore and enjoy two pigtails where the road does a 360 degree turn, passing on top of itself), the Needles Highway, Playhouse Road and the Rockerville Road. These are all beautiful and in the five days we were kicking around the area, the fall colors really came on. Aspens were at 80 percent when we left on September 19th.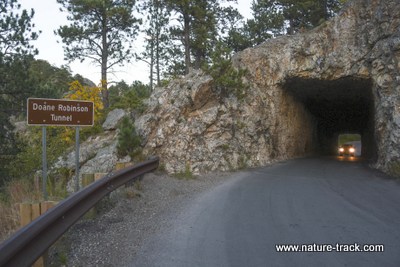 Of all the drives, the Needles Highway is probably the best. Not surprisingly, it accesses an area called, The Needles, huge jagged spires of granite that define the skyline for miles.  The road winds and twists through vertical spires and passes through two one-lane tunnels. There are several 180 degree turns on this road that make it completely unsuitable for trailers of any kind. If you want to get to Sylvan Lake with your trailer go through the town of Custer.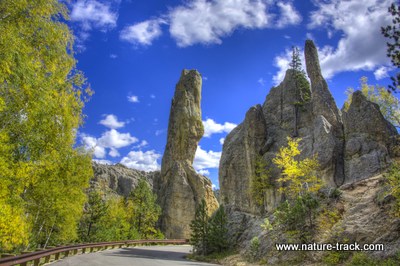 If Sylvan Lake looks familiar to you when you first see it, it is because it is featured prominently in the movie, National Treasure 2. It is the lake where the cast is searching for an entrance into Cibola, the lost city of gold. Sylvan Lake is really a cool place, one worth exploring in depth. For the photographer, it is a target-rich environment. I think the best view is right from the day use parking lot where some cattails emerge along the edge. With a wide angle lens you can get cattails for a foreground, lake for a middle ground and sky for a background, giving your image a lot of depth (check out my Photography Classroom for more on Fore-middle-background).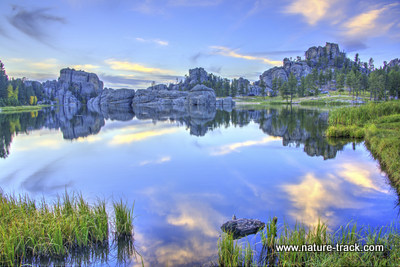 One fun place to go is Coolidge Ridge and Lookout (south of the Blue Bell Lodge). It is a nice drive to a high point where you can see Mount Rushmore, the Crazy Horse statue, The Needles and even Badlands National Park way to the east. It is only a mile up to the lookout and since there is a gate at the bottom that I am sure was closed when we went by early in the morning, I suspect that it is only open when the lookout is there, likely 8-5.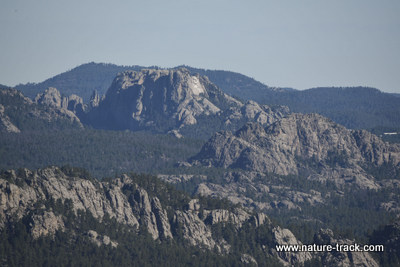 Mount Rushmore is the white spot in the center-upper third of this photograph taken from Coolidge Lookout.
We had a great time in Custer State Park and highly recommend it if you are headed to the Black Hills country. With scenery, wildlife, history and even culture during the summer season, there isn't much that isn't happening there.