Costa Rica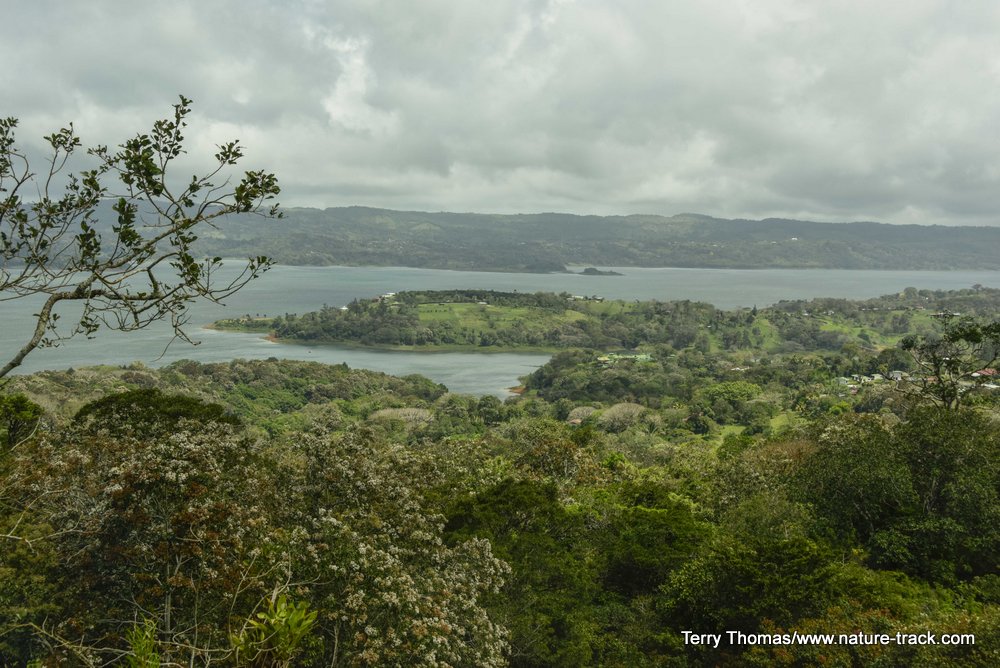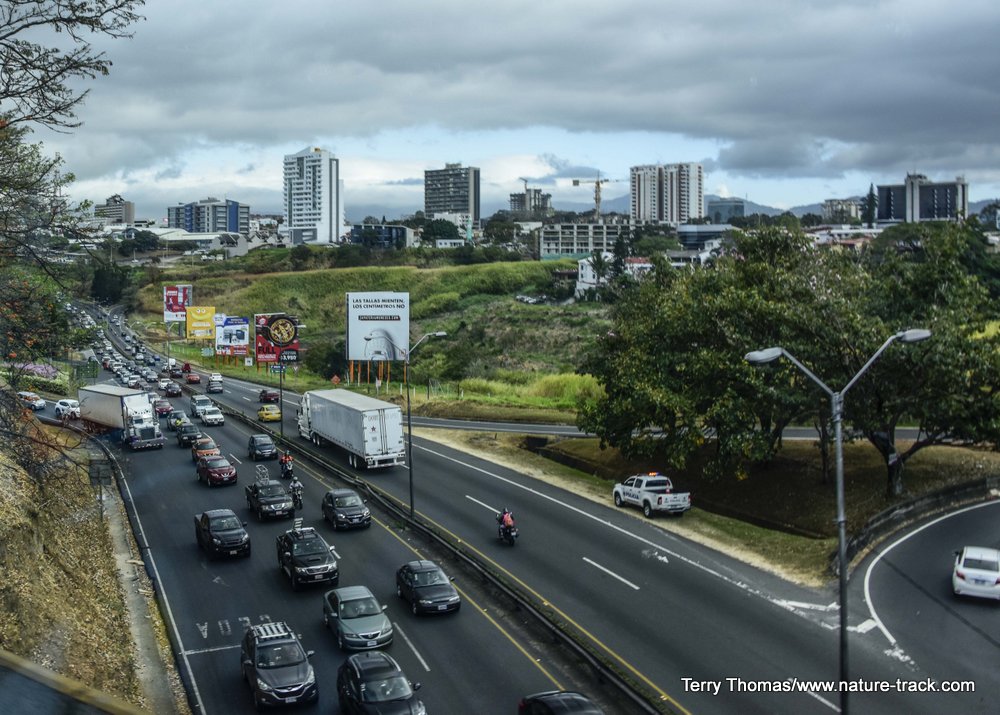 Central America's Costa Rica is a fabulous place, one every naturalist should aspire to see. With only 0.03 percent of the Earth's landmass it supports five percent of its biodiversity including more bird species than the USA and Canada combined, all in an area half the size of Kentucky. There are awesome rain forests filled with beautiful flora as well as fauna. It is just fabulous.
We just completed a tour there and I will try to fill in as many blanks as I can about our visit.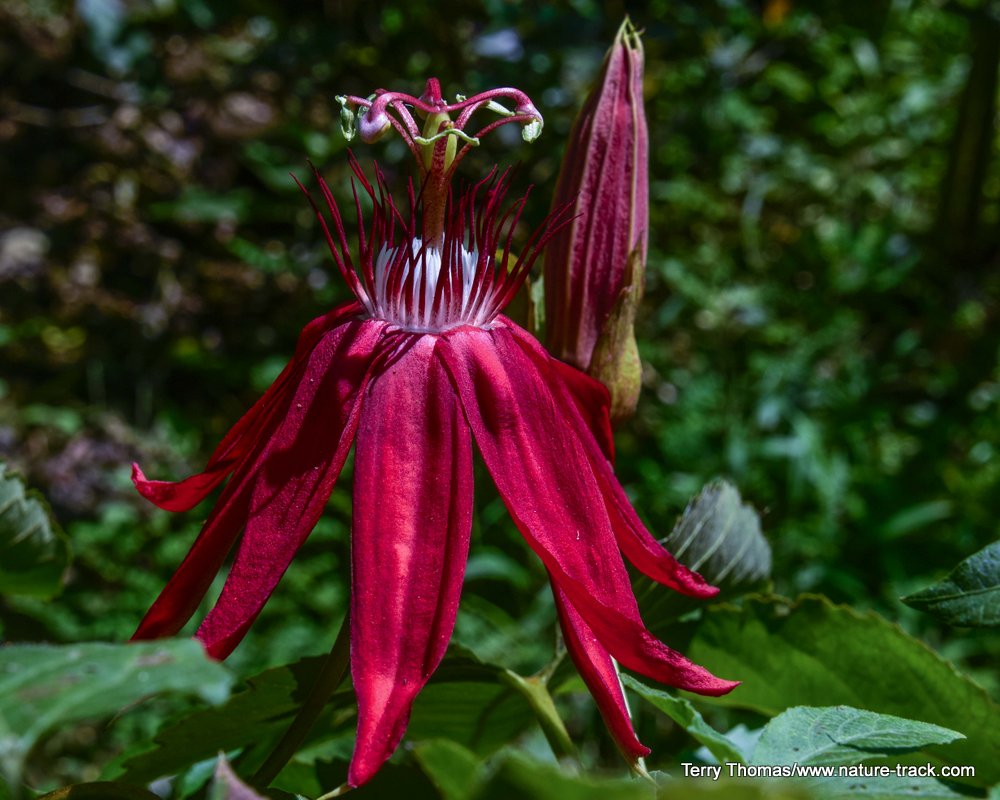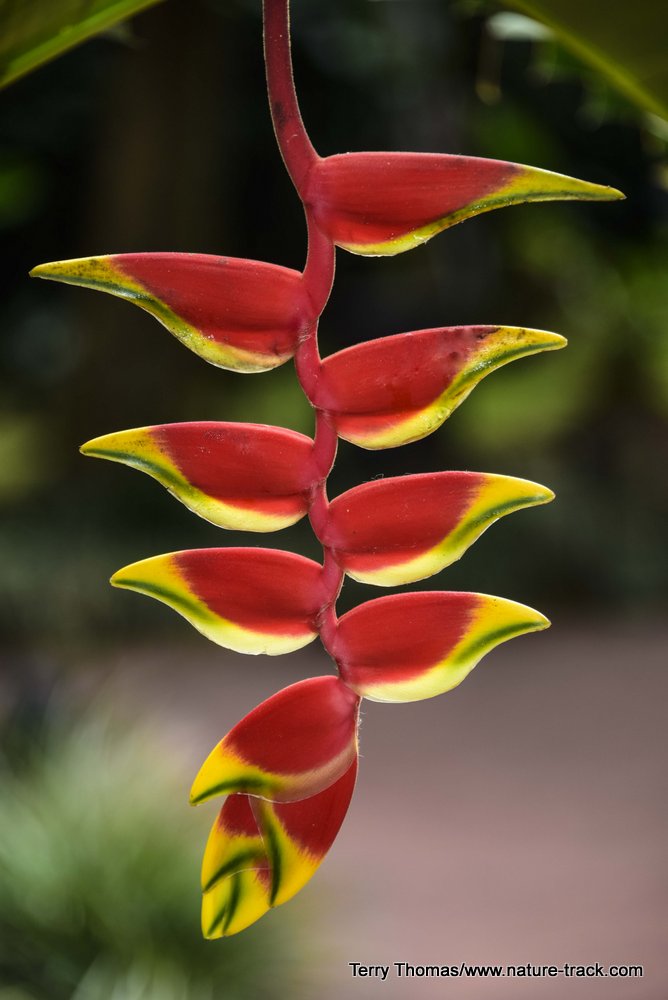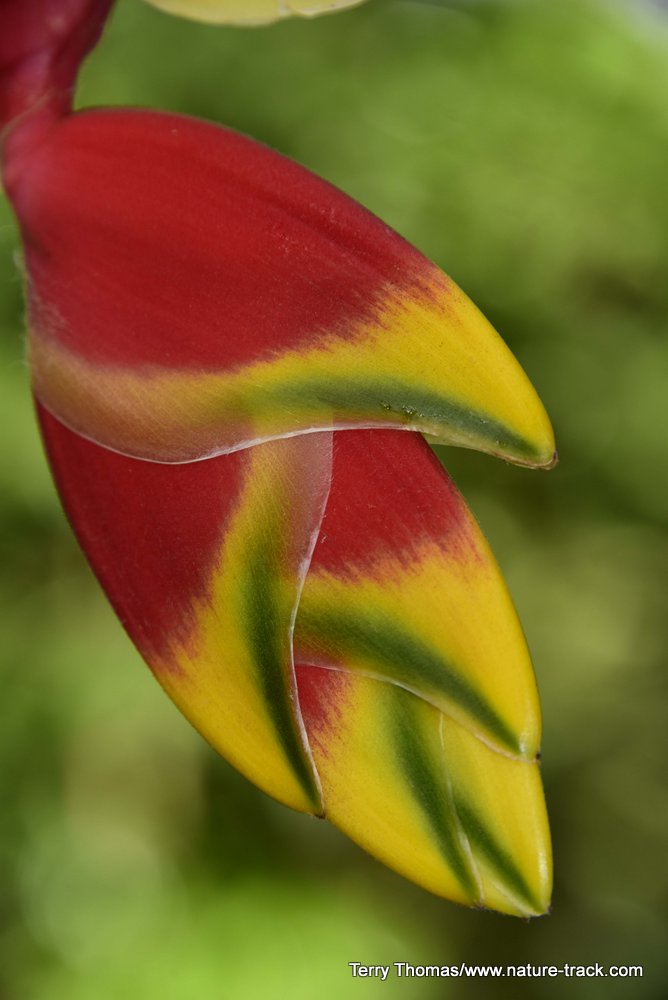 ---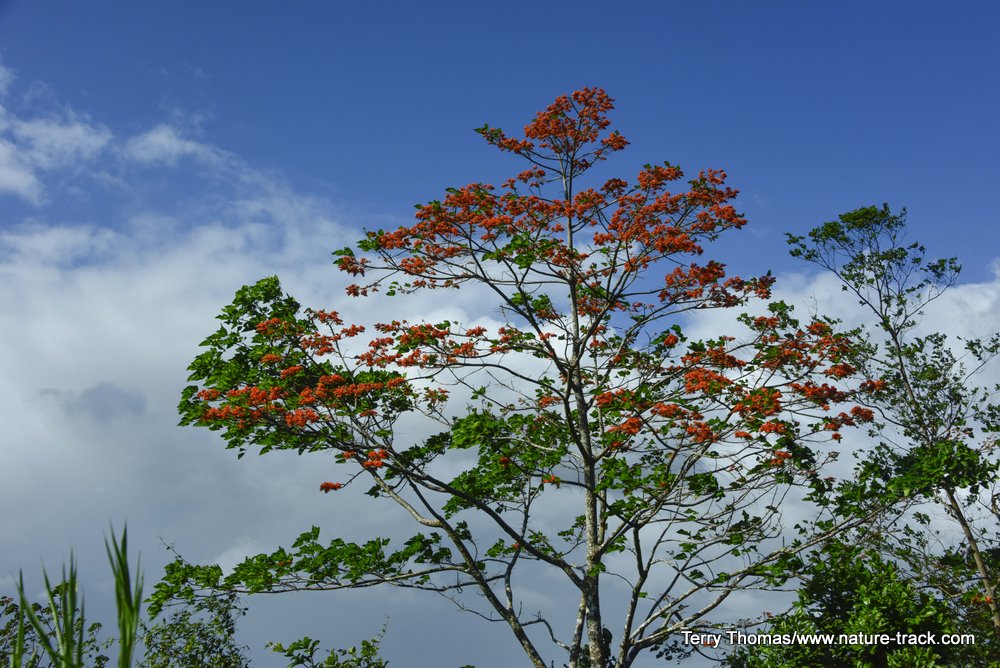 First, we decided to join a tour rather than to go on our own for several reasons. Mainly, it was for the convenience. We used Caravan Tours based in Chicago, the most experienced touring company in Costa Rica.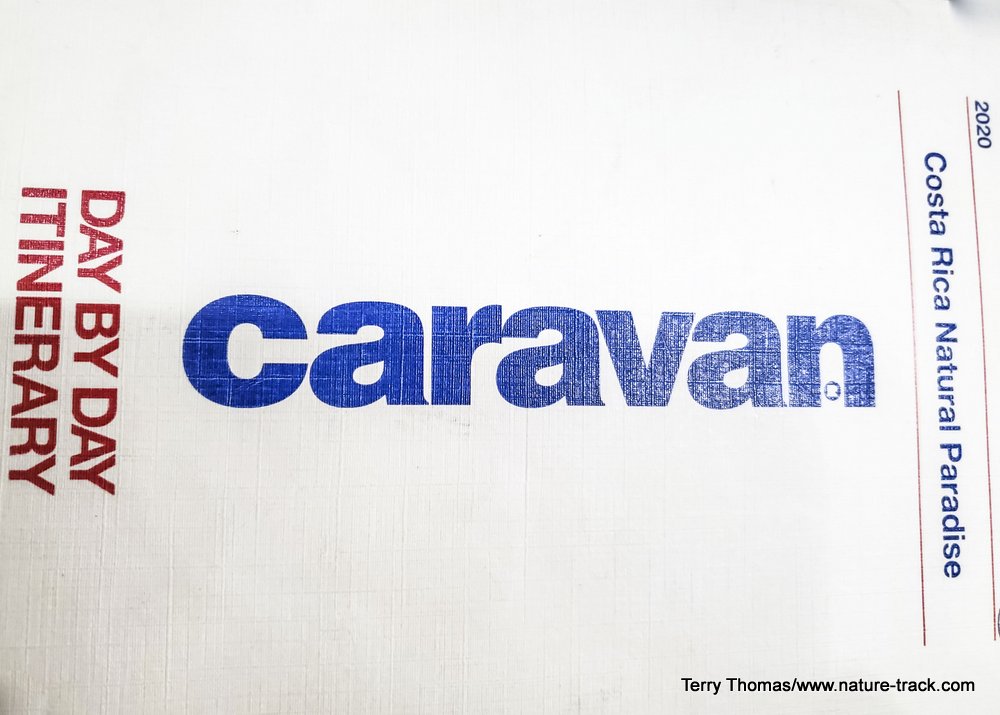 Caravan Tours: 800-227-2826, or www.caravan.com.
Their package included all meals, hotels, travel (except flights to and from) and most of the tips for a very reasonable price. Second, we really didn't know where we wanted to go and decided this would be a good way to prep for a return visit when we can be a bit more specific. Joining a tour had its good points and its bad points which I will discuss as we go along.
The first thing you should realize when planning a tour to Costa Rica is that there are only two seasons: wet season and dry season. We went in mid-February which is considered about the middle of the dry season. On the Pacific uplands side of the country, things were already brown and some of the trees had lost their leaves, leaving things looking a bit sparse, or at least not what a scenic photographer might hope for.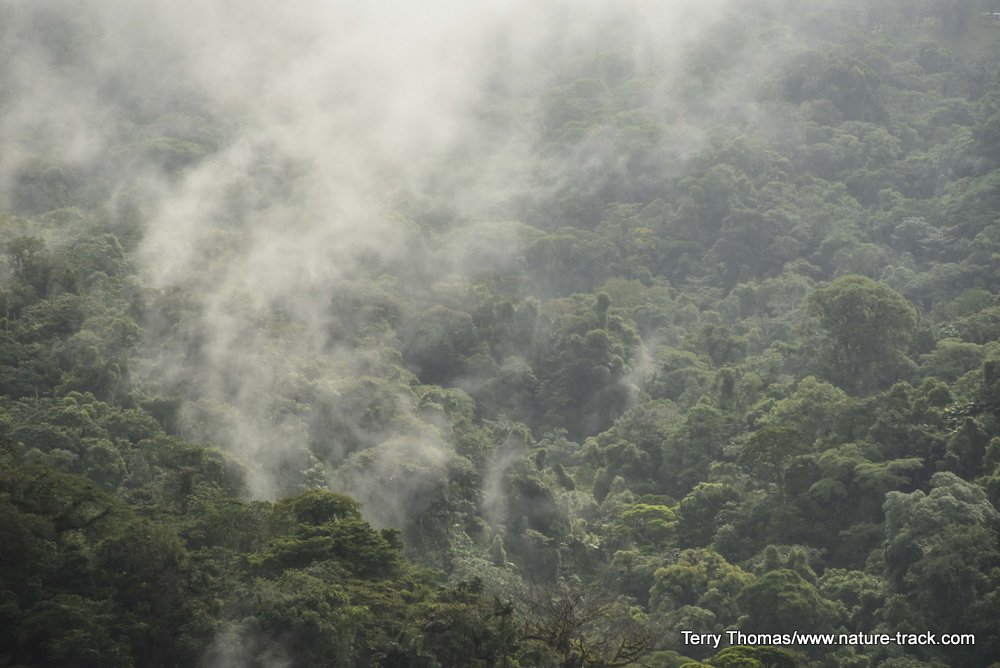 The wet season is really wet, but even in the dry season it can rain.
I asked our guide, Aaron Salazar Guido, about traveling in the wet season and he suggested the second week of December. He mentioned that most of the rain has stopped by then yet the crowds are down until just before Christmas and most of the northern birds area there.
Other information has also stated that while you can expect daily rain during the rainy season, it isn't constant rain in most places. You will have more clouds and wetter hiking, but it may not be as bad as it sounds. At least the rainy season can be an option and you will see more animals and it is less expensive.
Money was an issue for us and Caravan offered the best value of all the tours we looked at and covered a good part of the country—a large circle north, then west then south and back to San Jose. We stayed at five-star hotels, ate very well and found that everything ran like the proverbial clockwork. The birding and photography tours we looked at were at least twice the money and saw less country.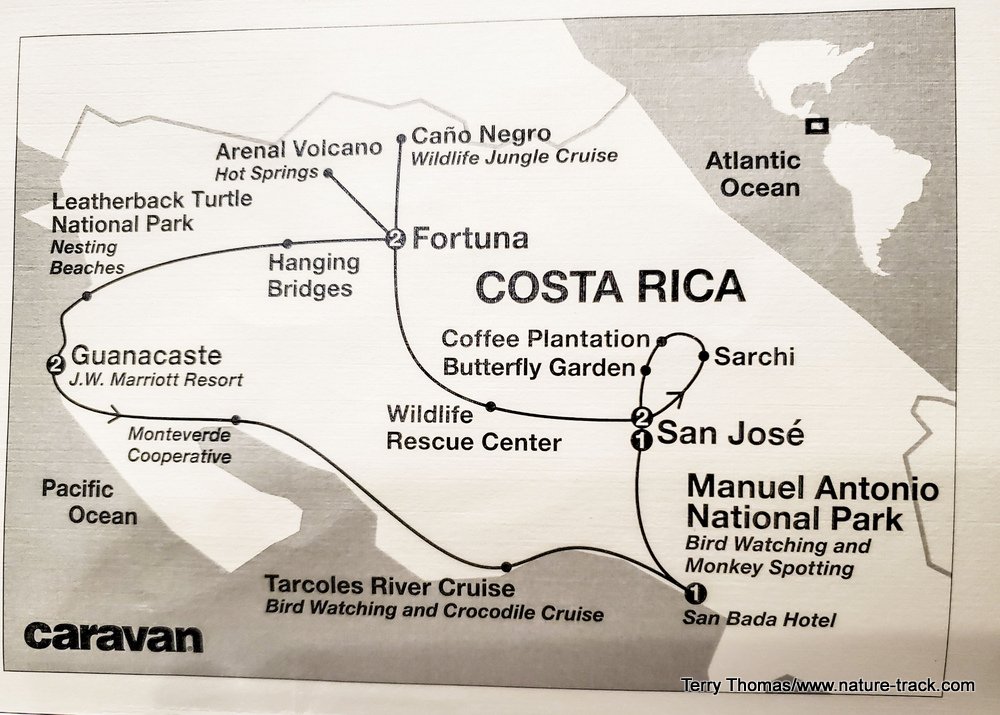 Map of our tour route, starting and ending in San Jose. The white numbers in black circles indicate how many nights we were at a location.
My wife is a great internet shopper and found us flights from Las Vegas (we were there anyway) for $300 each. However, it was on a Mexican airline, Interjet, that we had never heard of and that made us nervous. Because of that, we chose to only take carry-on and personal items; we did not check luggage.
As it turned out, Interjet was just fine. They fly jets that are likely a little older based on the ample legroom and offer a free mid-flight service that was much appreciated.
With that said, next time, I hope we can route our flight directly to San Jose and avoid a layover in Mexico City. That stop adds a lot of work to your flight: you have to pass through immigration, which had anaconda-like lines, recover your checked bags and re-check them, pass once again through security and then wait while their rather inefficient airport ran behind on flight times.
Two days prior to our trip I was in an accident that left me with an arm in a sling and a bruised hip that allowed me to walk no further than a few dozen yards at a time and that was with a cane. As a result, I had to use a wheelchair in the airports, something that was actually a blessing in disguise as we were able to circumvent the long long lines and we had someone to help us navigate the confusing Mexico City Airport.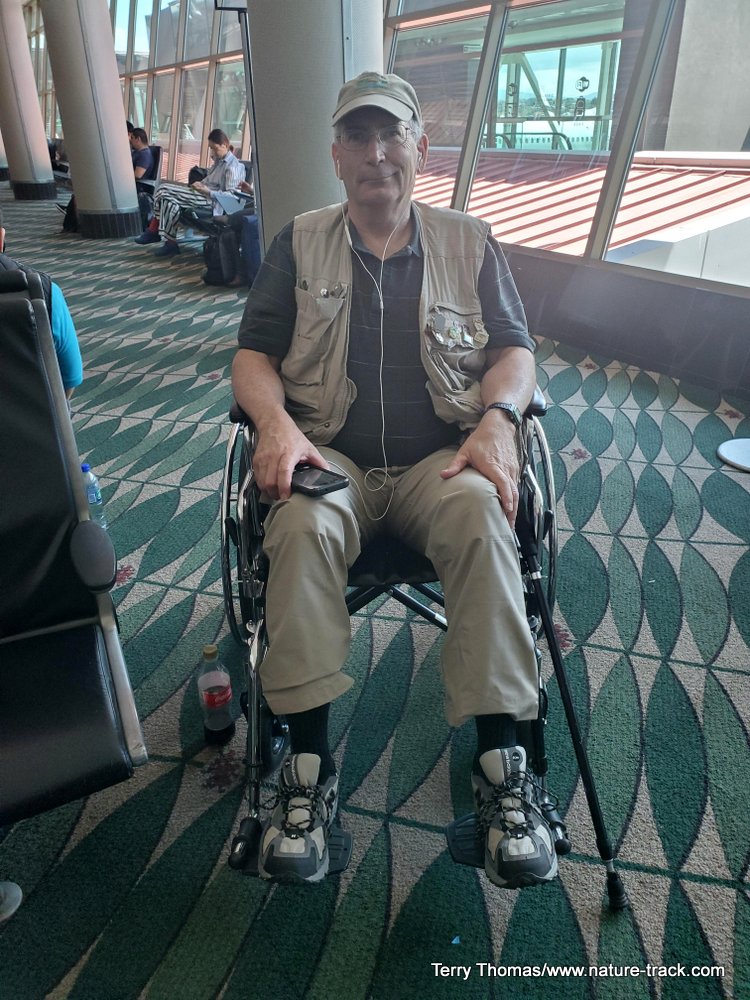 By the time we came home, I had abandoned the sling but still could not walk far.
---
We spent the first two nights in San Jose at the Barcelo Hotel. They had everything you would expect from a five-star hotel including excellent food. They had a smallish garden with path between the pool and the hotel and we saw our first clay-colored thrush (Costa Rica's national bird) and a great kiskadee there.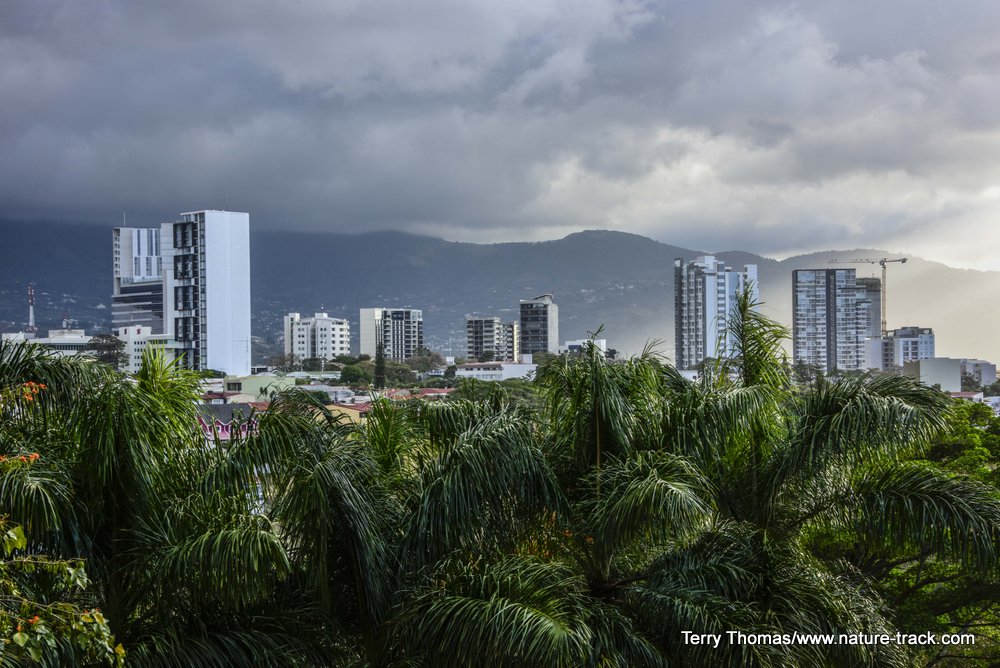 View from Barcelo Hotel window.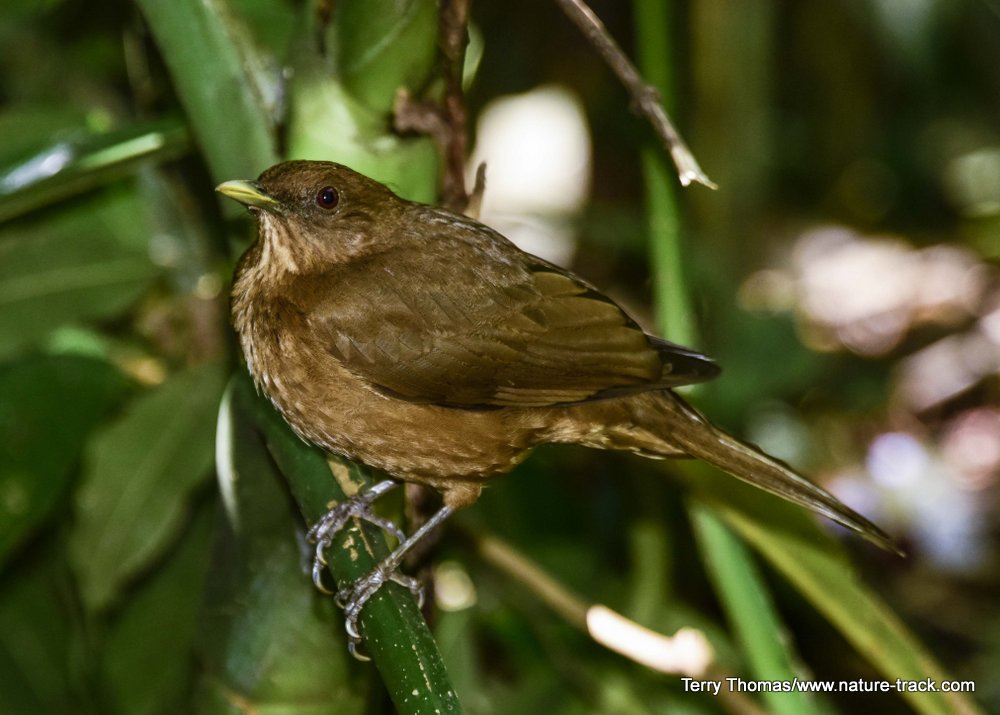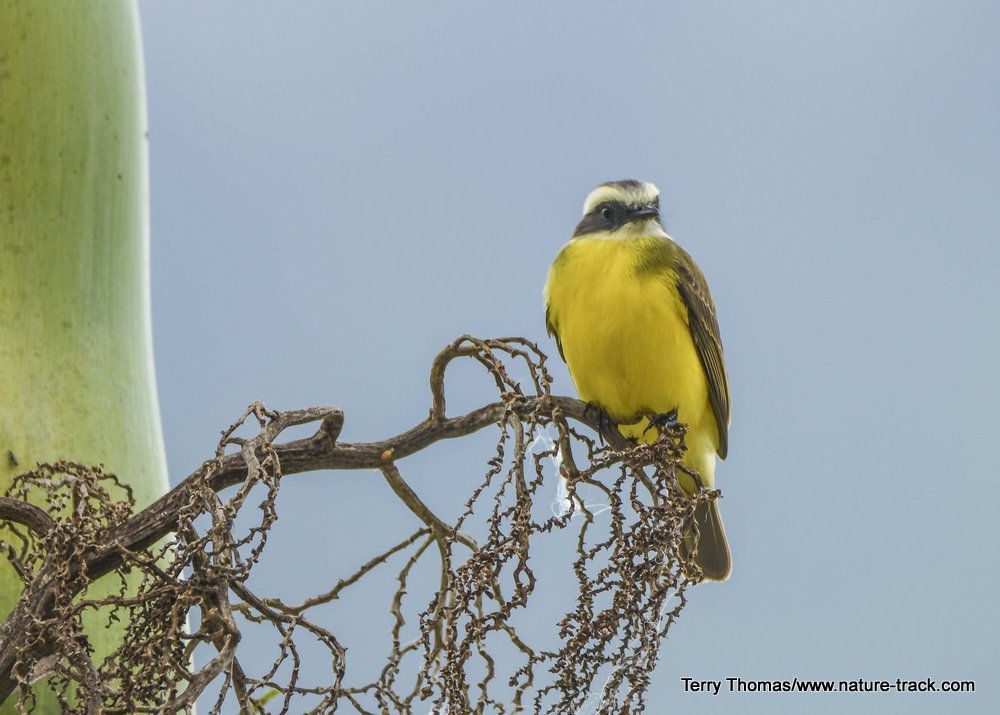 Clay-colored thrush and Great kiskadee.
The first full day we went to an oxcart factory (the oxcart is the national symbol of Costa Rica and is still used on many farms today) and toured a coffee plantation where we learned the incredible story about how coffee gets from the field to the store. There was also a butterfly garden at the coffee plantation. I wasn't excited about either of these, but they proved to be entertaining and educational.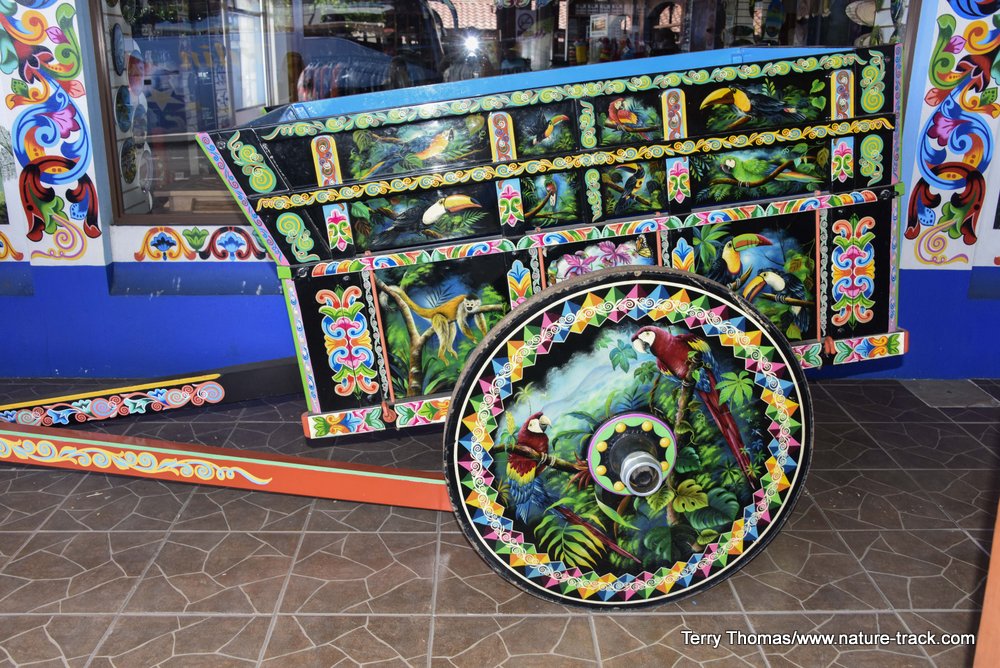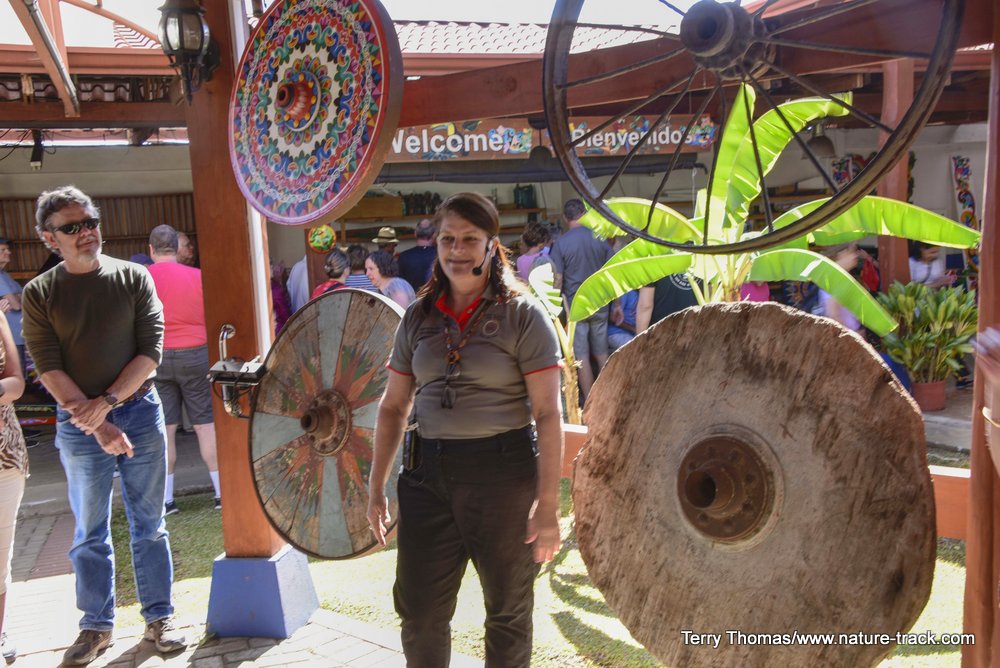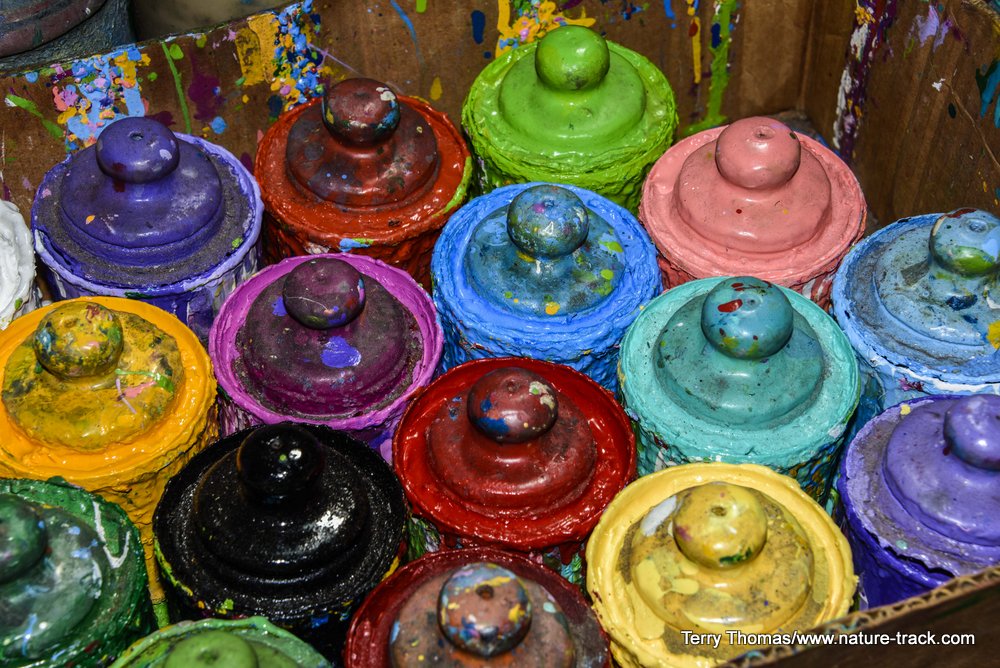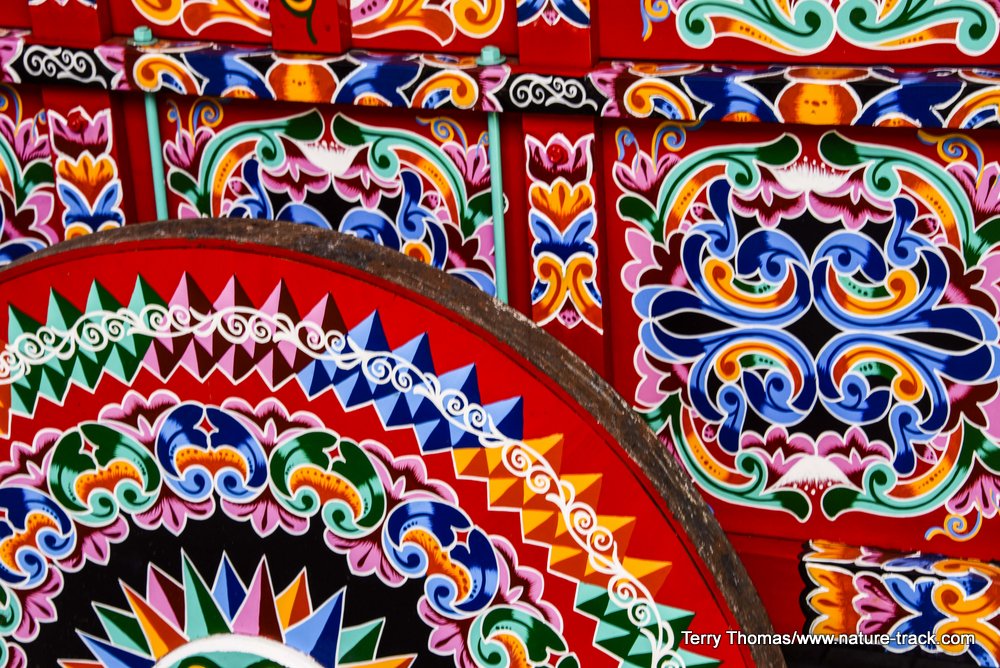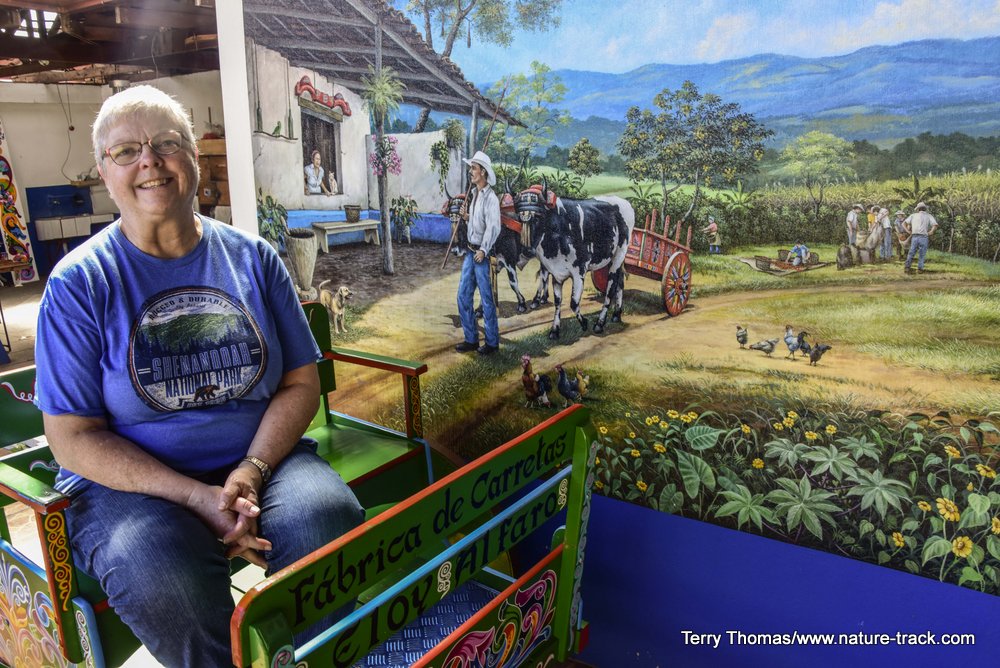 ---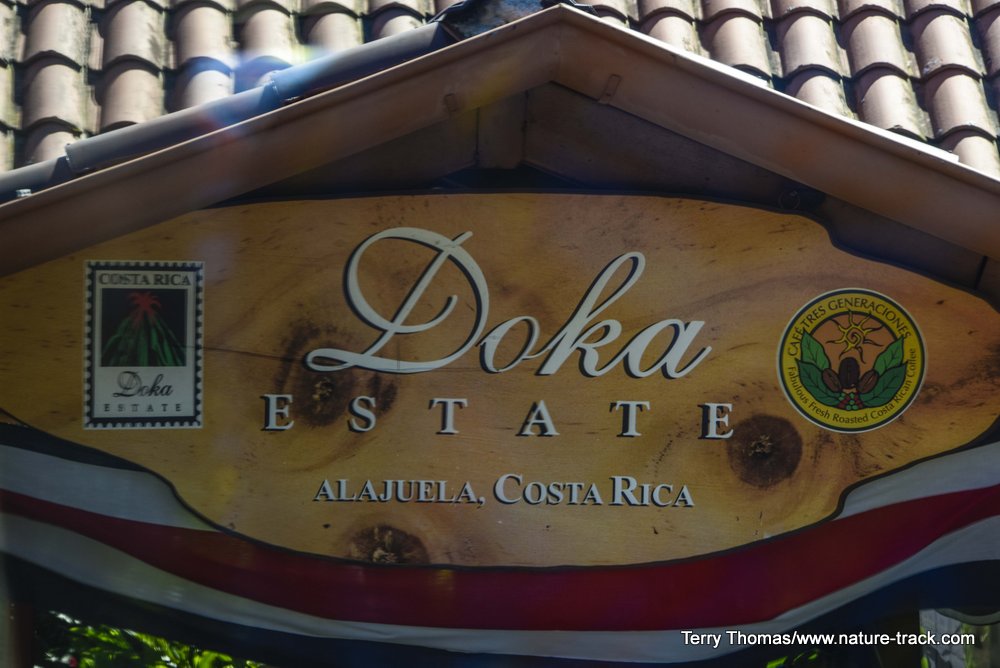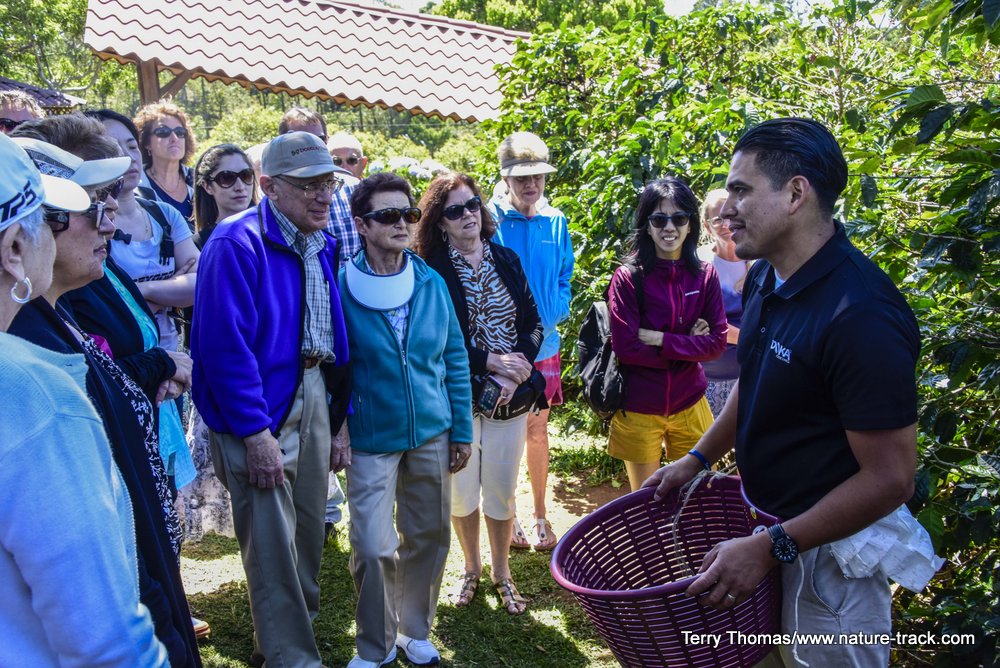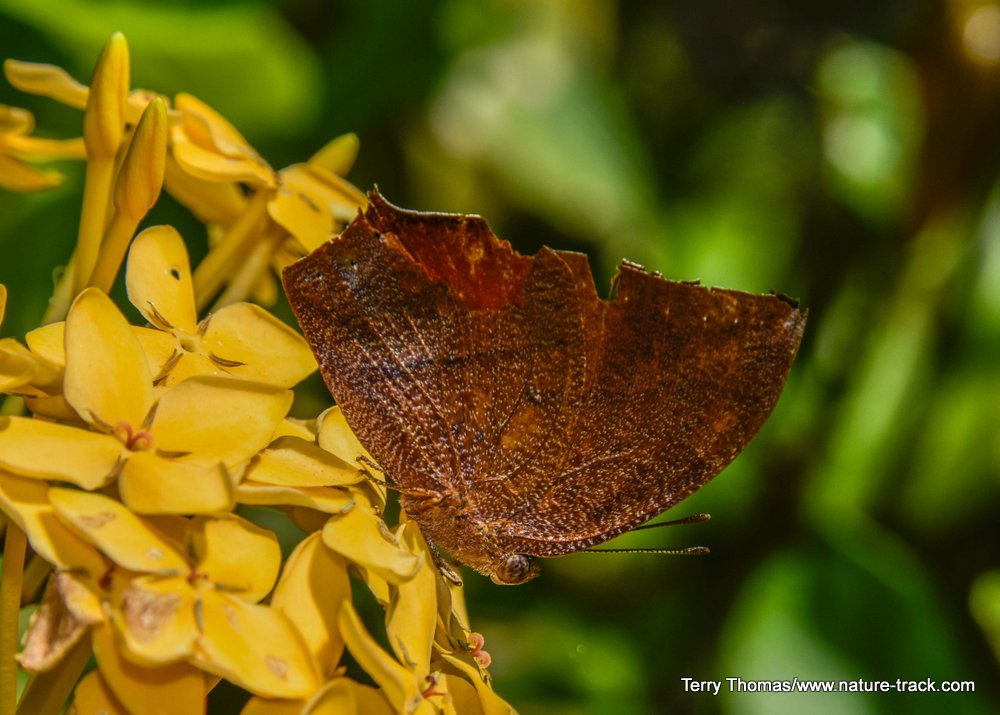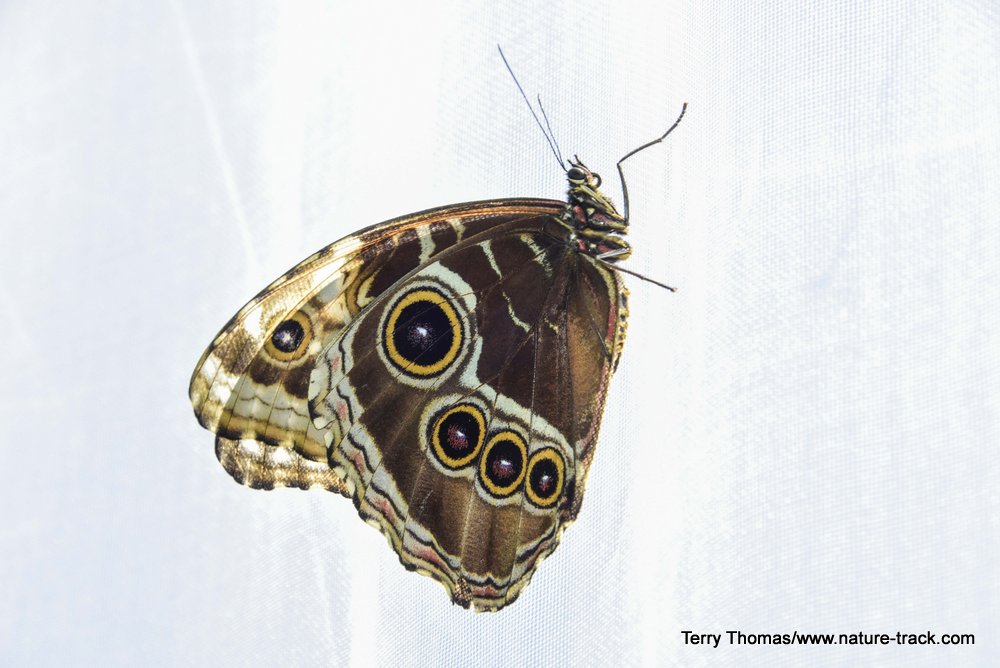 ---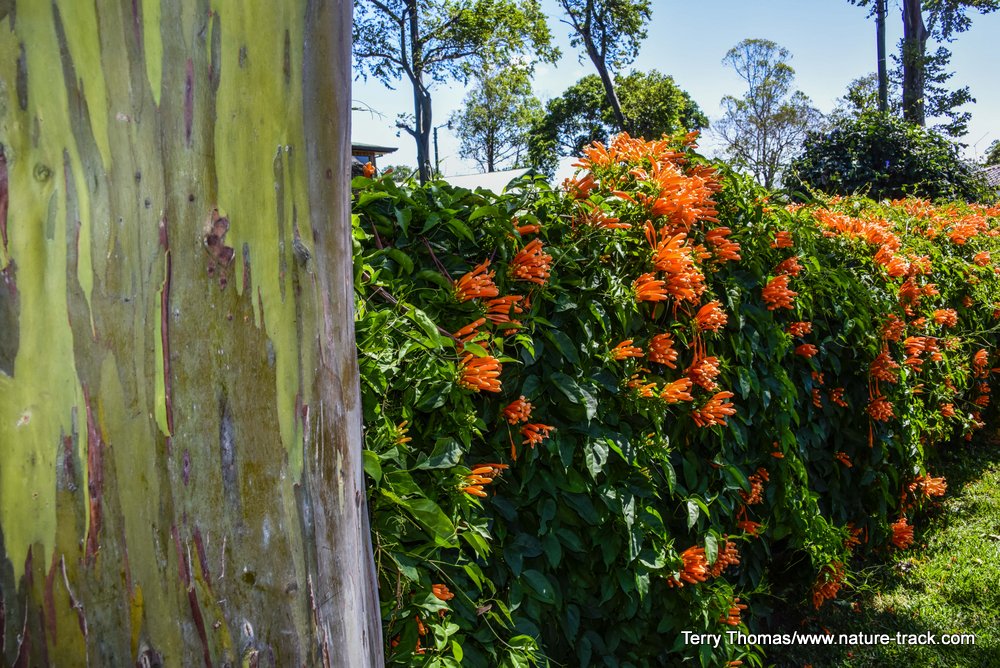 The second day, we went to a wild animal rescue facility. After a five-minute program, we were allowed to wander along the pathways to see rehabbed and even wild visitors to the place. It was a huge challenge for me and we didn't get to see it all because I was so slow, be we really enjoyed what we did see.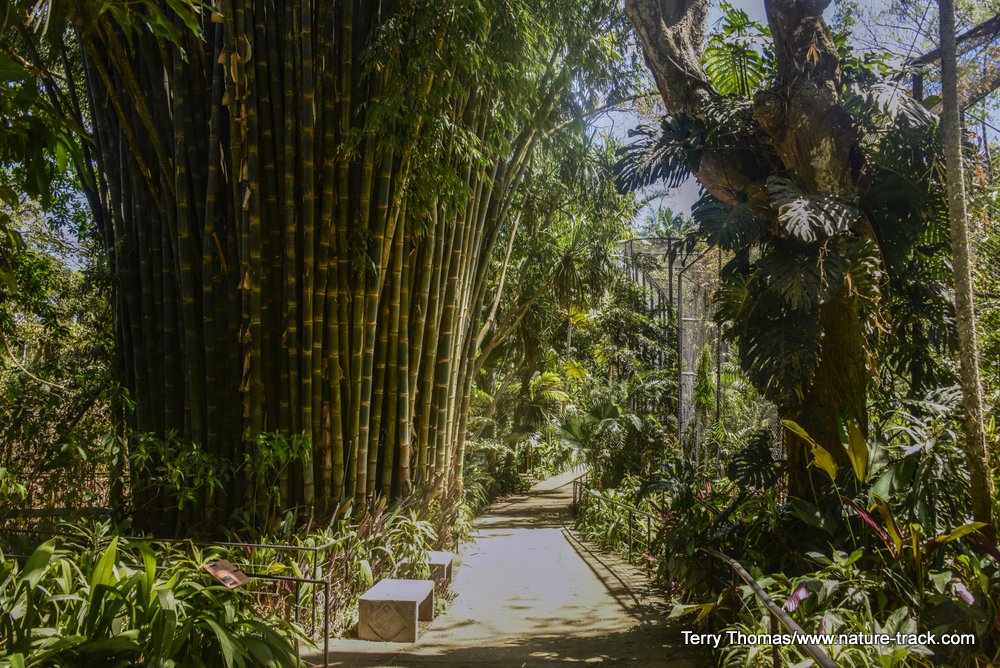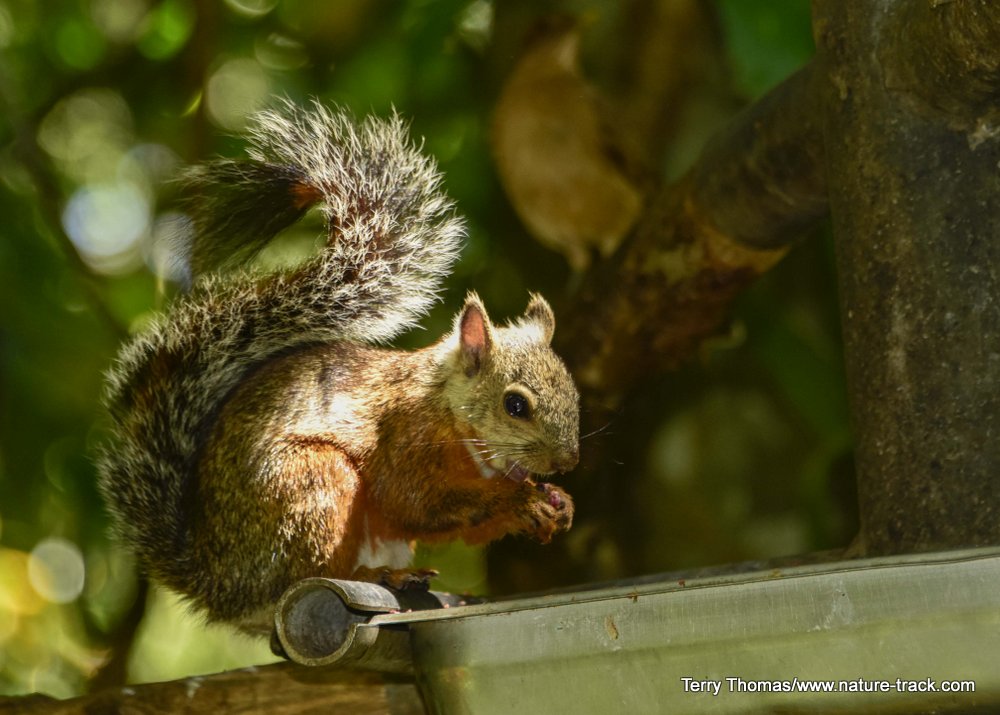 Variagated squirrel.
Gray hawk.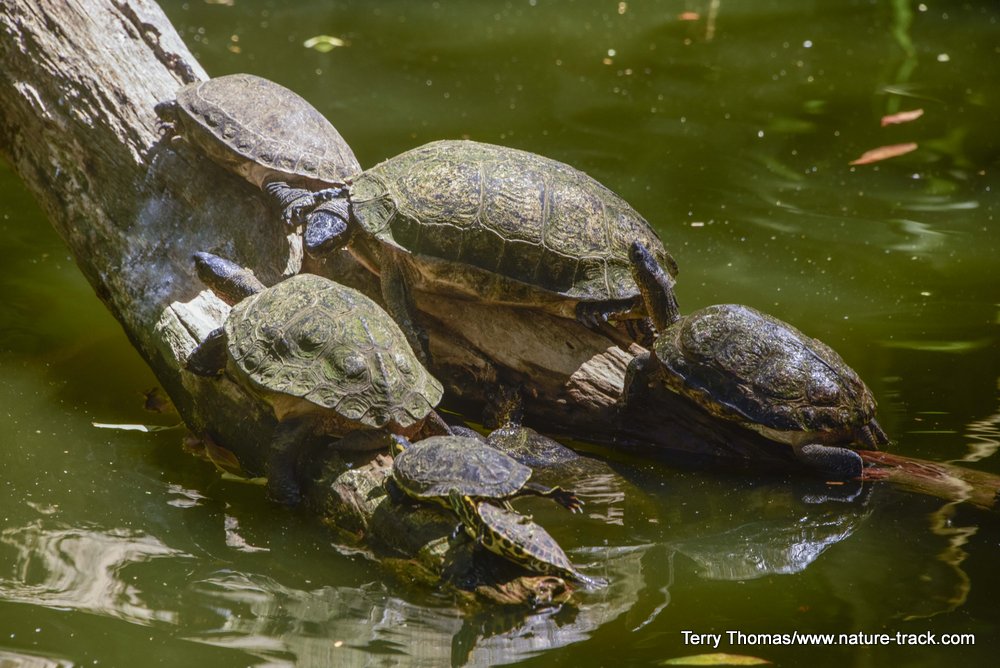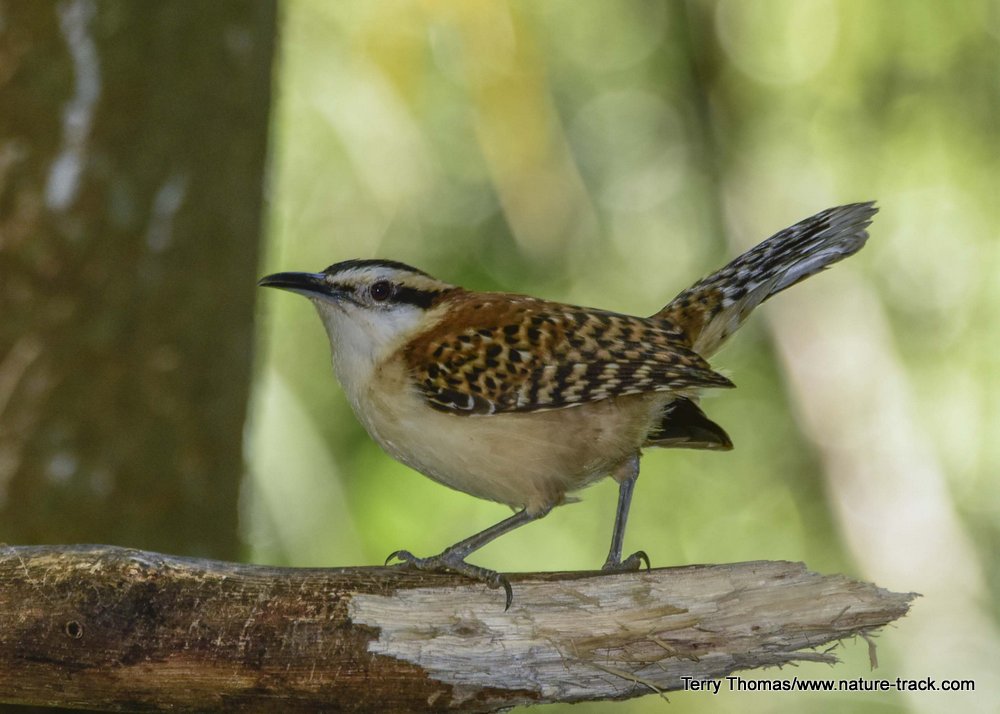 Rufous and white wren.
From there we headed to Magic Mountain Hotel and Resort at the foot of Arenal Volcano. If you ever saw the movie, Spy Kids 2, this is the "island" that they go to. The big activity the next day was a two-hour ride on a tour boat on the Rio Frio, or Cold River. This was a highlight for me as we were almost constantly seeing new wildlife including three new species of kingfishers, a new species of heron (bare-throated tiger heron), monkeys and more. My big complaint is that the tour should have been four hours, not two.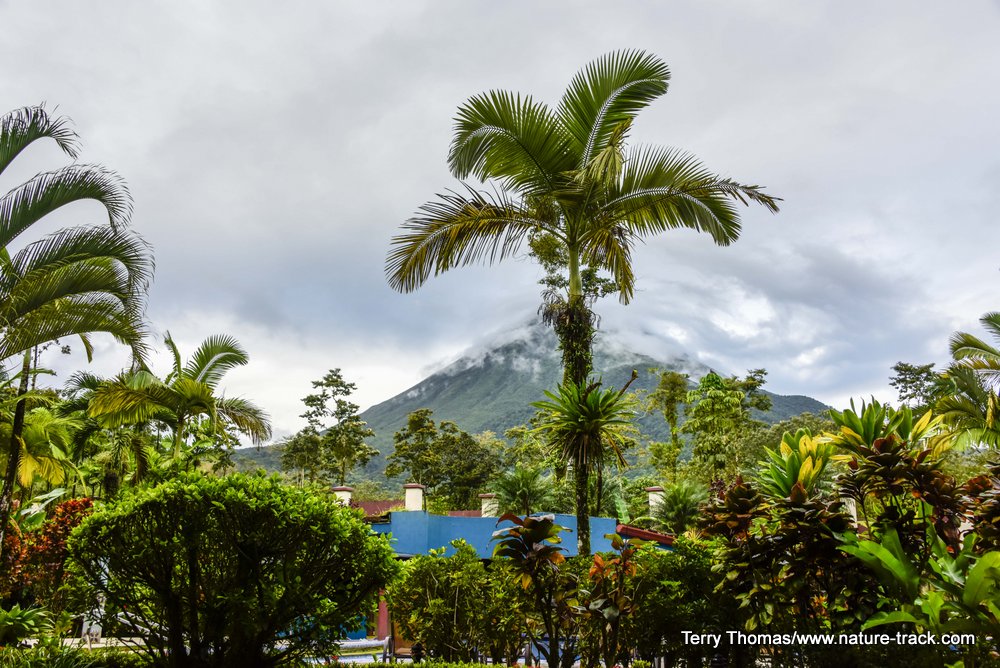 View of Arenal Volcano from our room at Magic Mountain.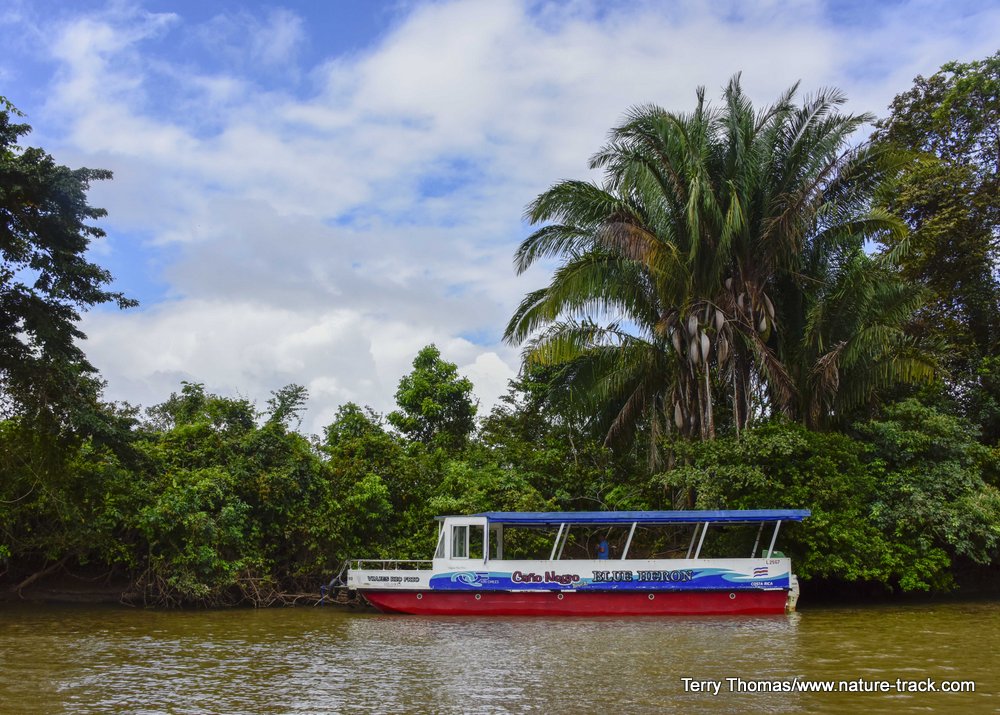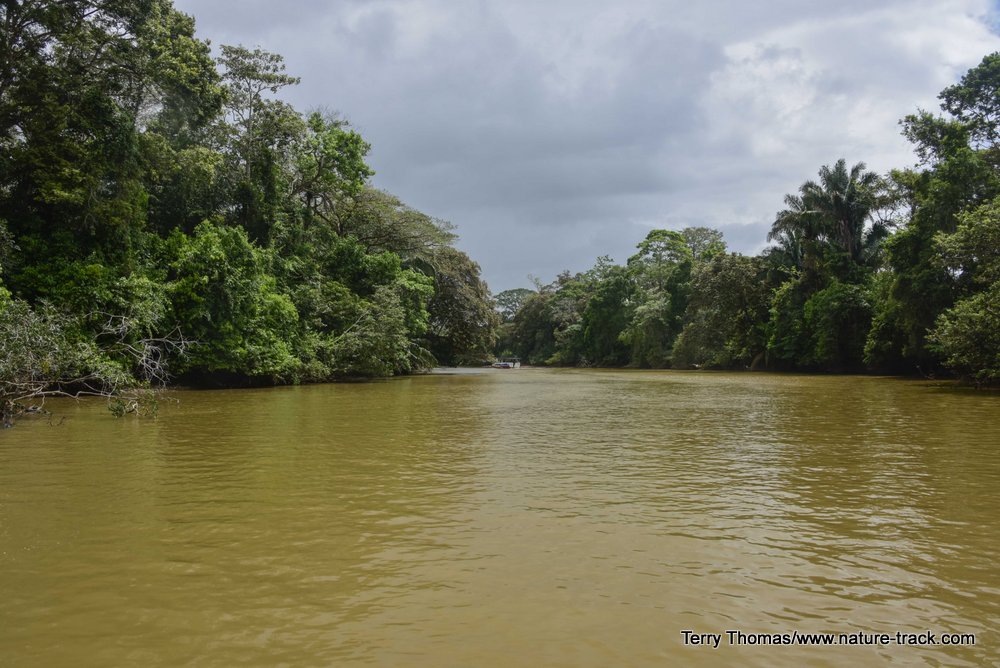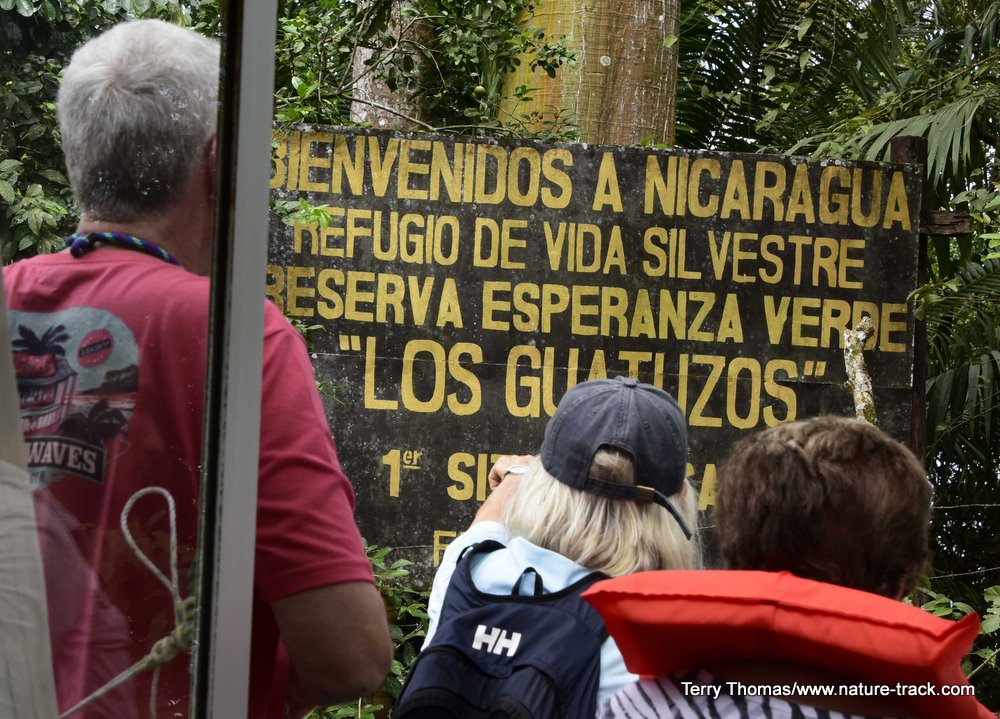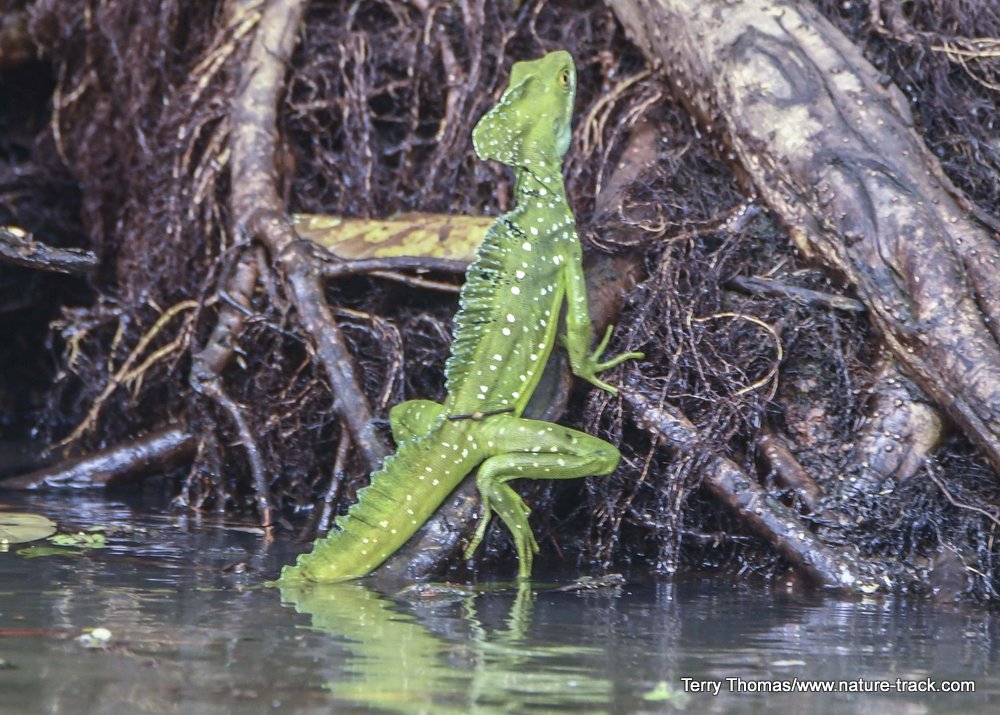 Emerald Basilisk.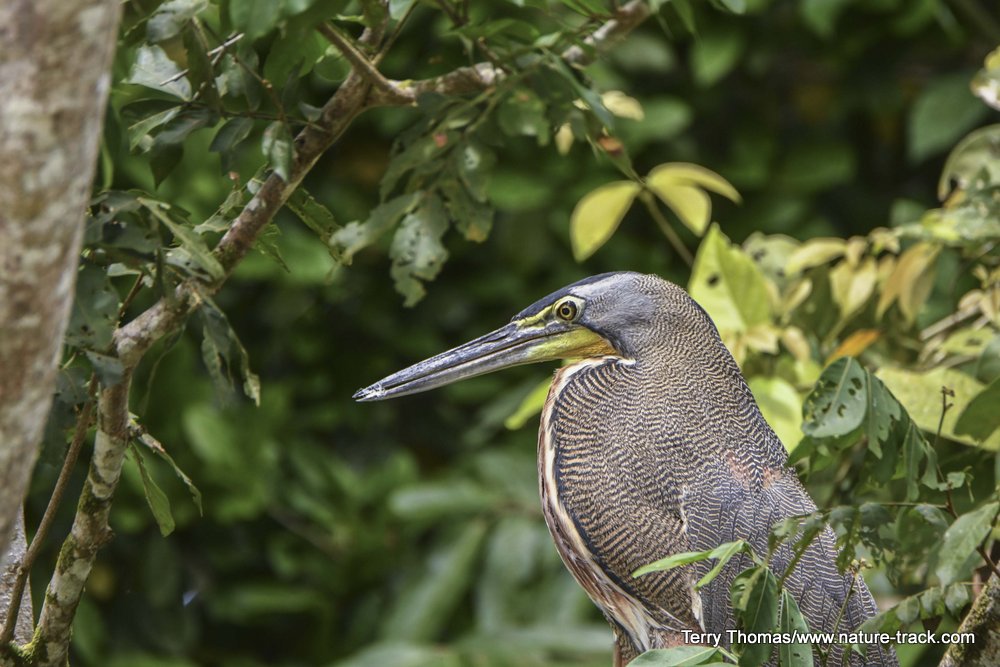 Bare-throated tiger heron.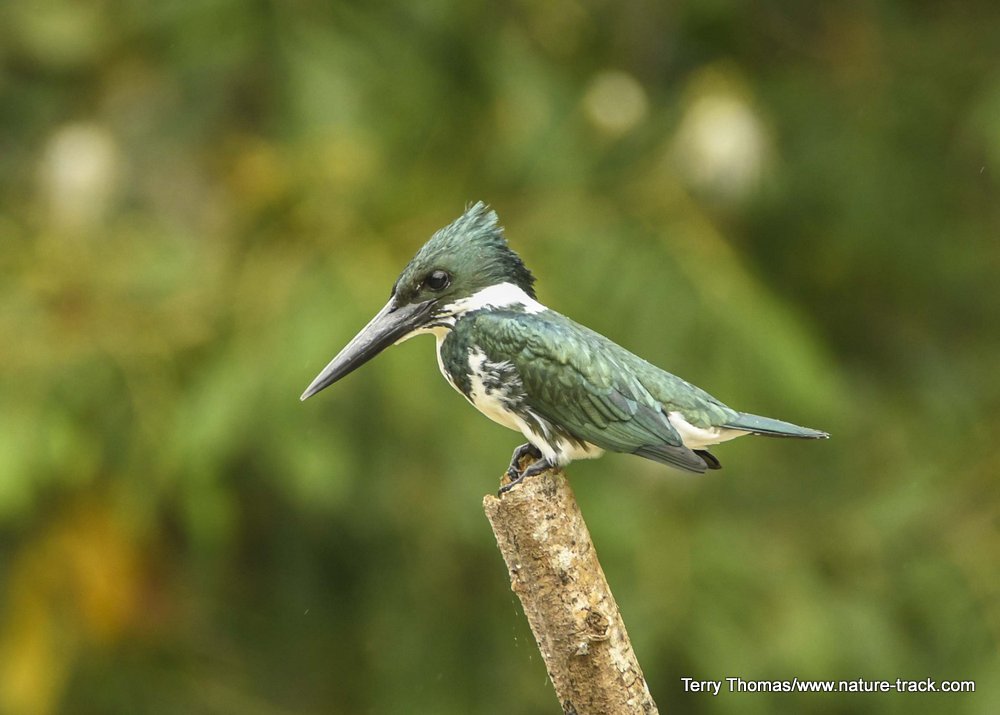 Amazon Kingfisher.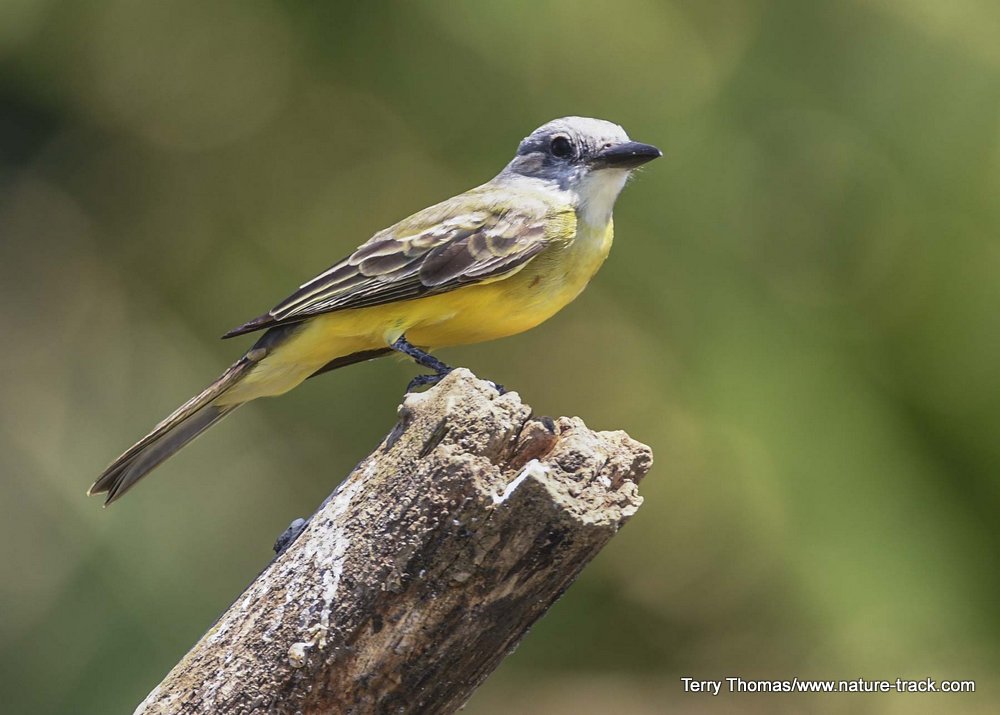 Tropical Kingbird.
All above from Rio Frio boat tour up to the Nicaraguan Border.
---
Some of the group attended the planned visit to a hot spring near the hotel that afternoon but we decided to spend the time in the garden looking for birds. Our great find was crested caracaras which, it turned out, were pretty common.
The next day, we went to a place called Hanging Bridges, right next to the dam on Lake Arenal. There are 21 bridges that go through the canopy of the rainforest at different heights. There were three pathways; the longest was two miles, the middle trail was a mile out and a mile back, while the third trail just went around the garden area at the visitor center, crossing only the last bridge. My wife took the middle option but I was lucky to make it around the shortest trail. This is the only place during the entire eight days where we got rained on, but as our guide said, you can't have the magic of the rainforest without the rain. Here we saw crested guans, a turkey-sized bird, rufous-tailed humming birds and more. Had it not been for my injury, I could have spent a day or more here.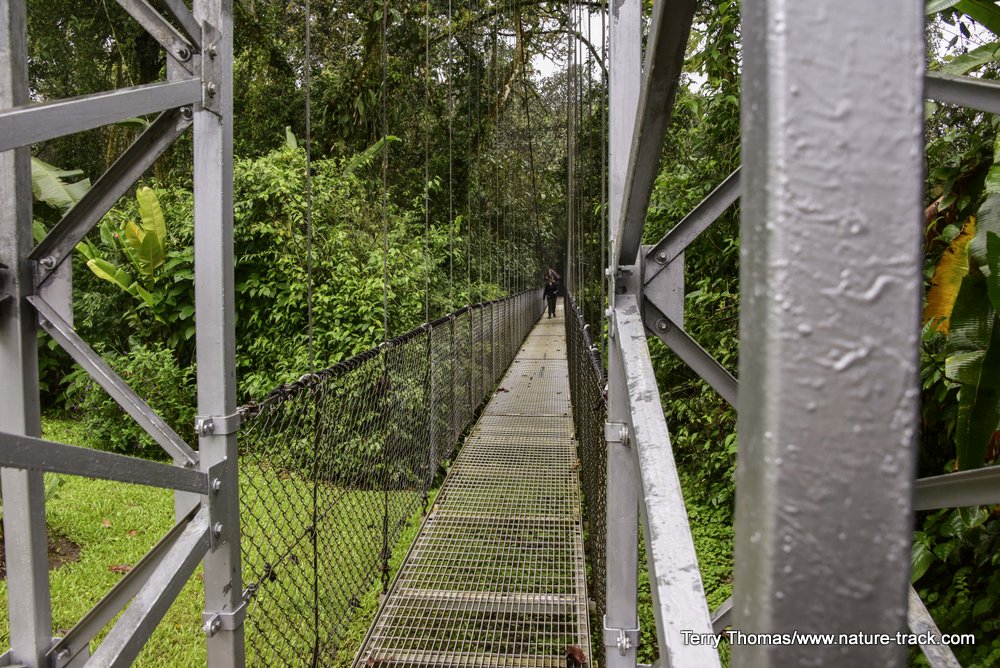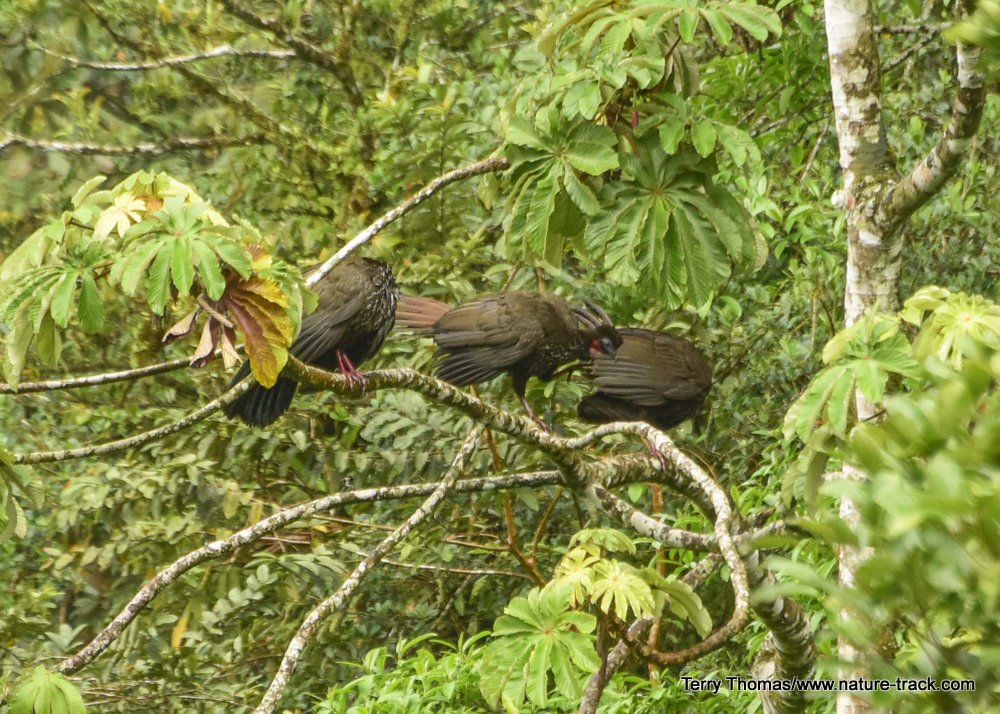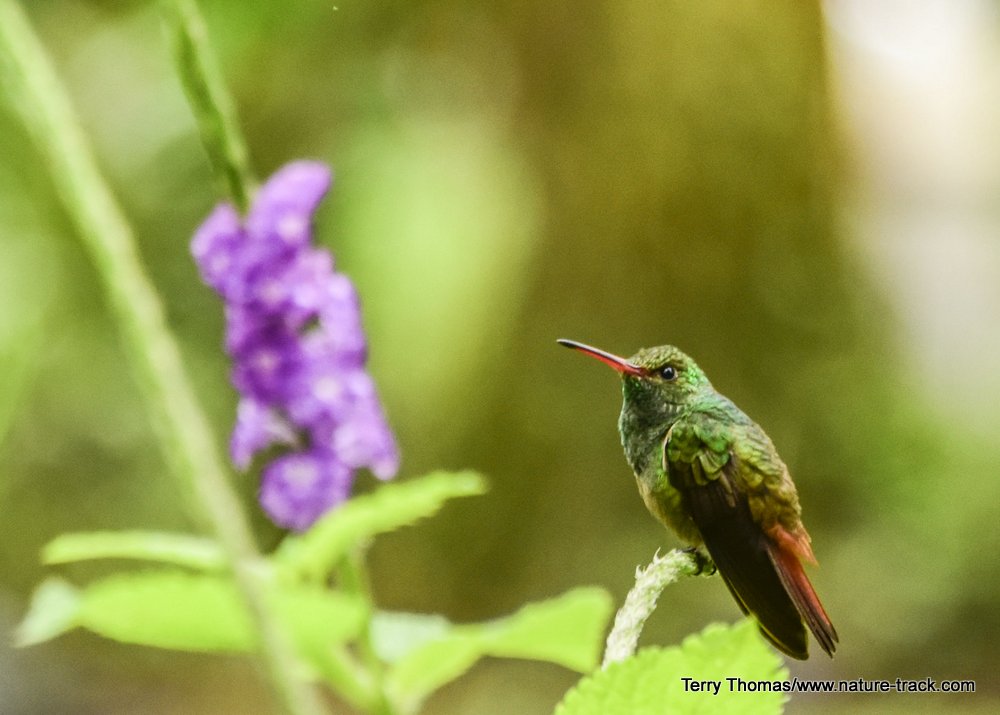 Crested guan and rufous-tailed hummingbird.
---
From here we proceeded to the JW Marriott on the Pacific coast. This was the hottest area of the trip, with temperatures in the nineties during the day. My injuries were starting to catch up to me here and I didn't get to see much of the grounds, but they did have a nice pool and beach where you could watch the sunset. This place is also very different from the highlands where we had been. It is much more open and dry.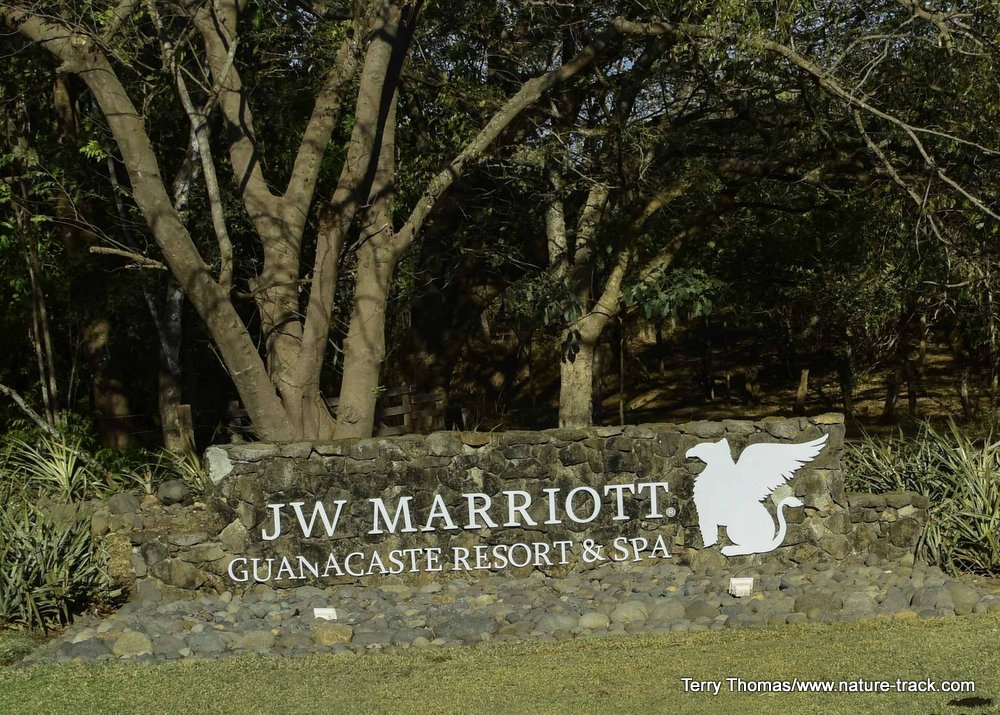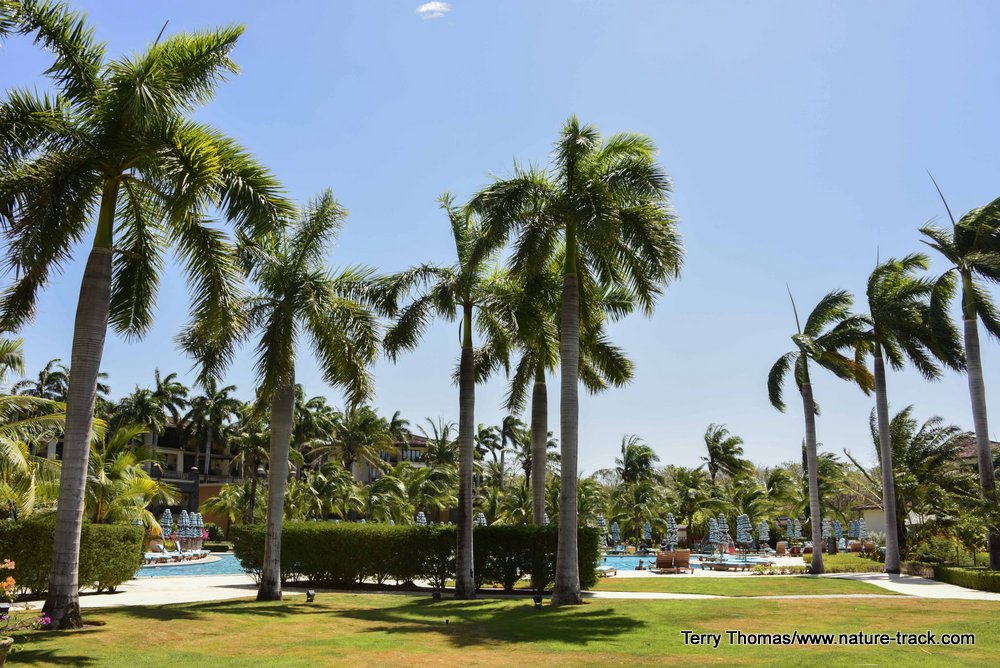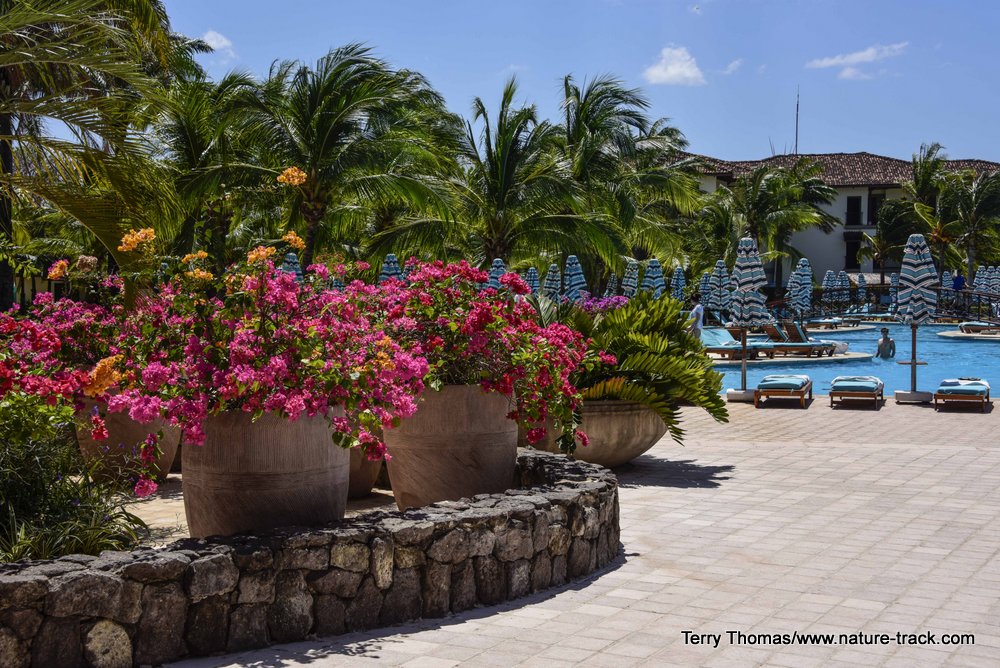 Pool area at the Marriott, Guancaste.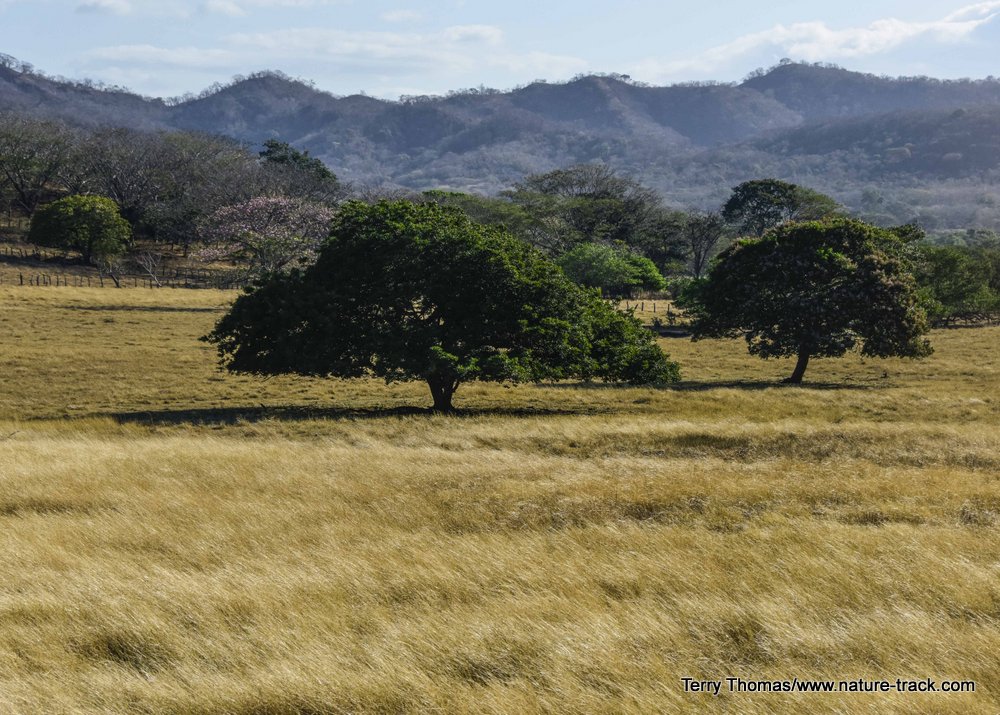 The Pacific side near the coast is much drier than the highlands near San Jose.
My wife attended a discussion on leatherback turtle conservation the following day at the beach where they lay their eggs but I did not go, hoping to do a little recovery. She came back and filled me in with the notes she had taken. No, she did not get to see any turtles, almost no one does and those that do have to pay for a night trip that can last many hours, but she found the talk fascinating.
Most of the time at the JW Marriott was on our own. It looked like a great place to enjoy a beach and pool and normally I would have done a lot of walking, but I wasn't up to it. One of our fellow travelers checked on the internet and found that it is $600 a night to stay there.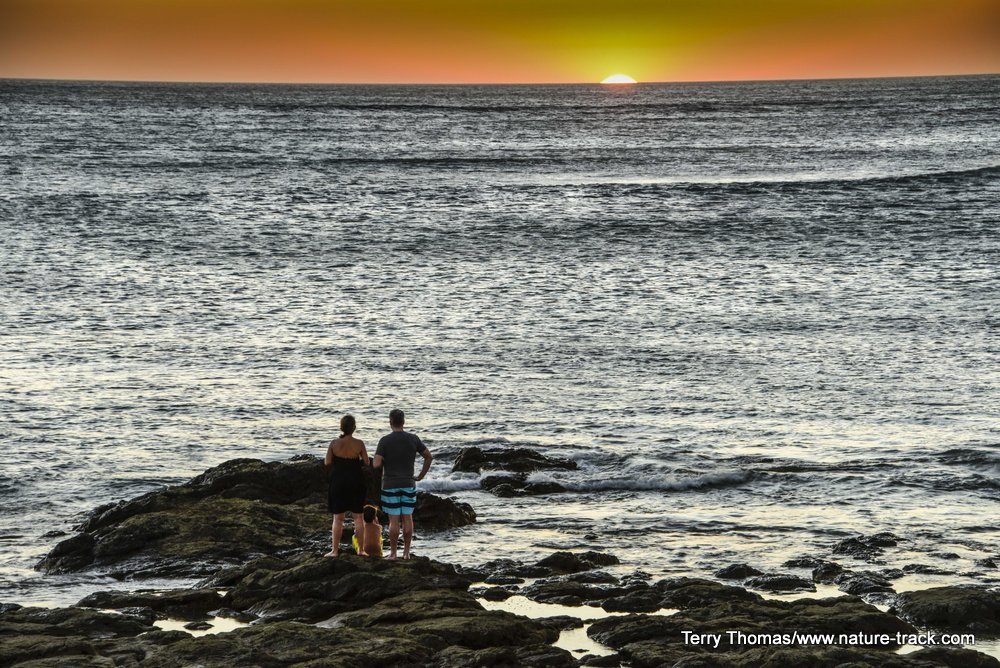 Sunsets at Guanacaste were beautiful.
We moved back to the rainforest after two nights in the Marriott. We took another boat ride on the Rio Tarcoles. It was only one hour long but we saw a lot of wildlife including crocodiles and caimans. Once again, I felt that this tour should have been longer.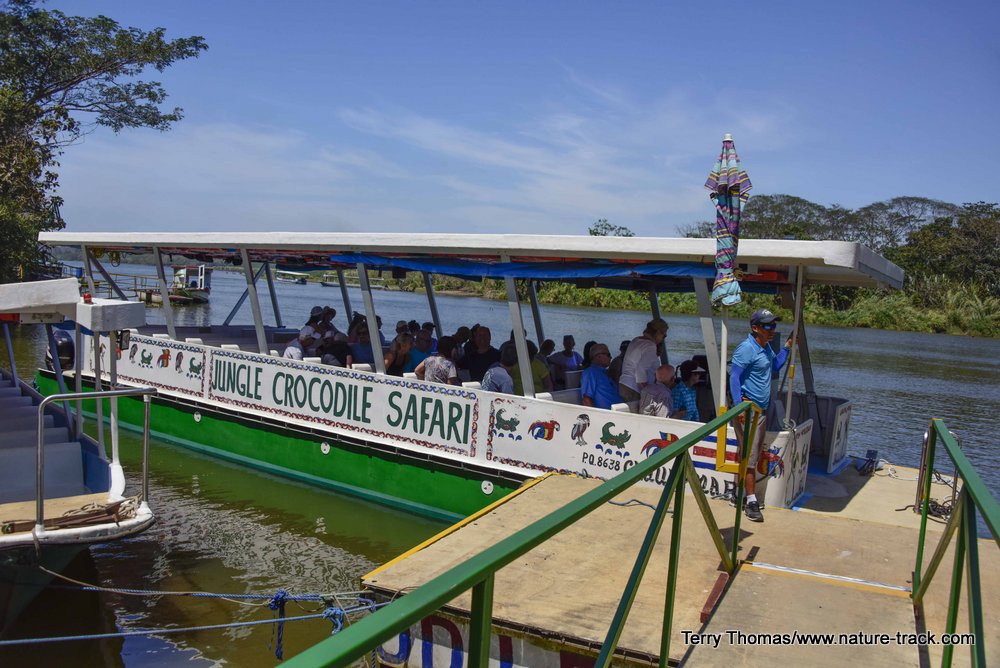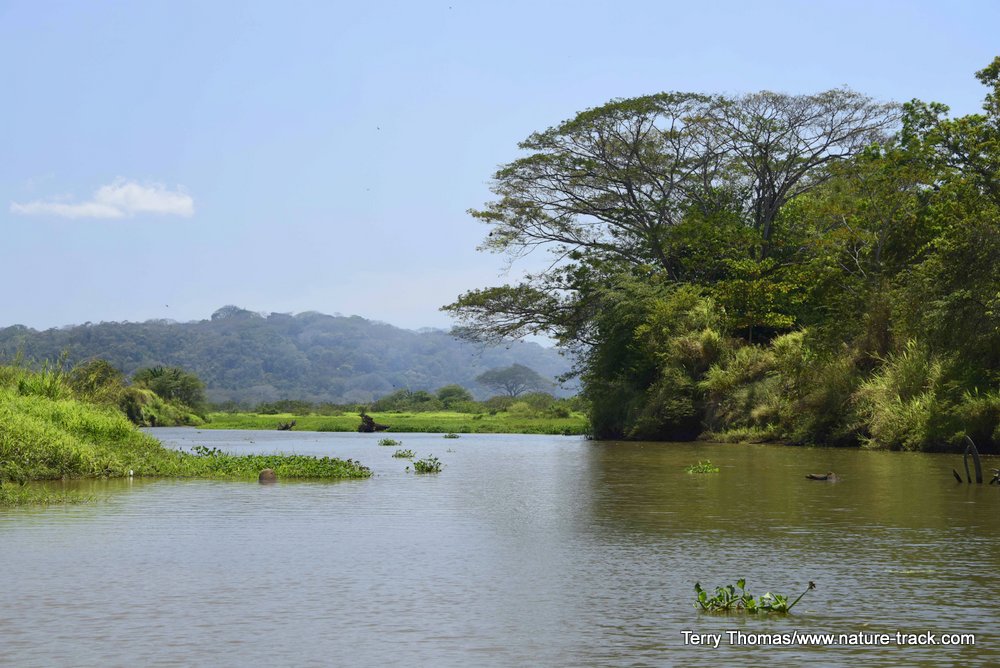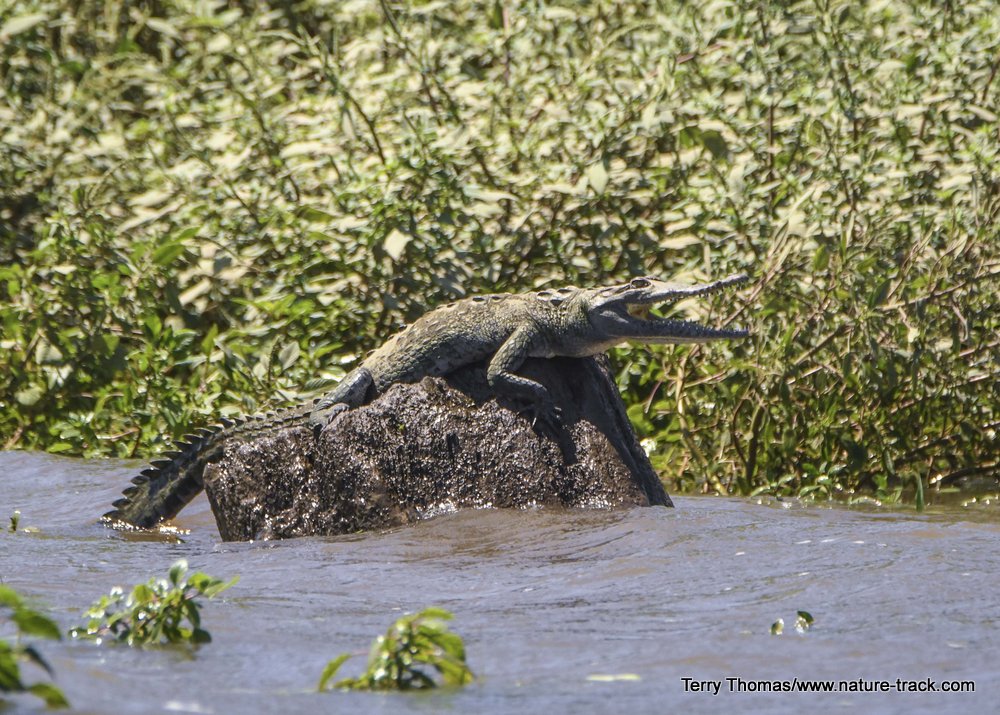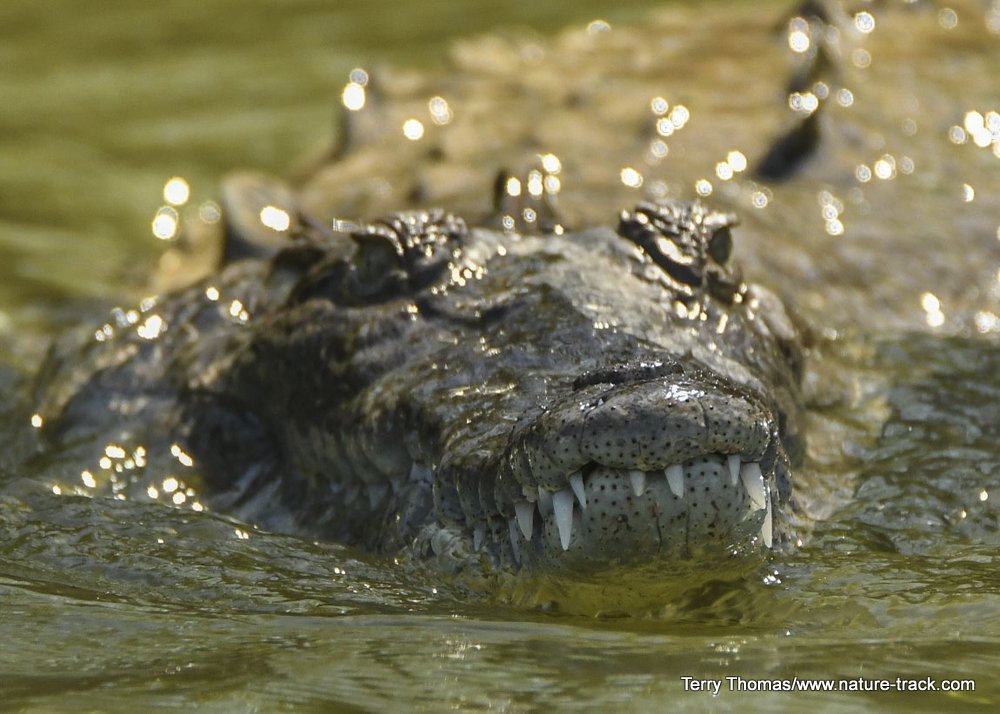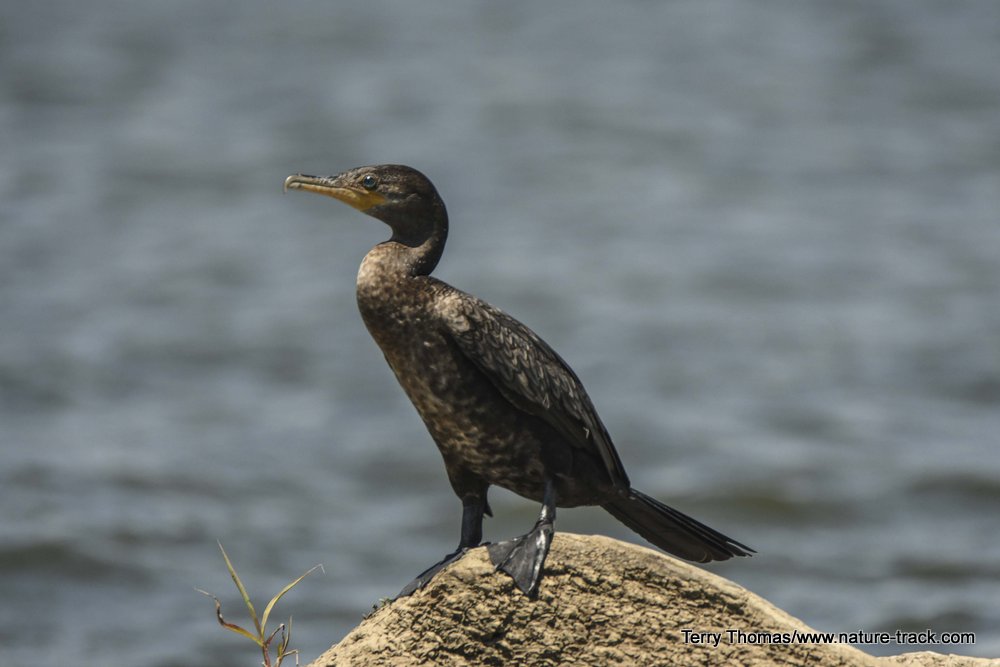 We stayed at San Bada Hotel right at the gate to Manuel Antonio National Park, the most popular park in the country and ranked number 12 of 7,000 national parks worldwide. It is a small park with foot access only but the wildlife that can be seen is sensational. We saw monkeys, sloths, blue and red land crabs, new birds and played on the beach. It was also a very busy park, with hundreds of visitors on the trail. It cost $16 US to get in and it is only open from 7 a.m. to 4 p.m. I could spend DAYS here.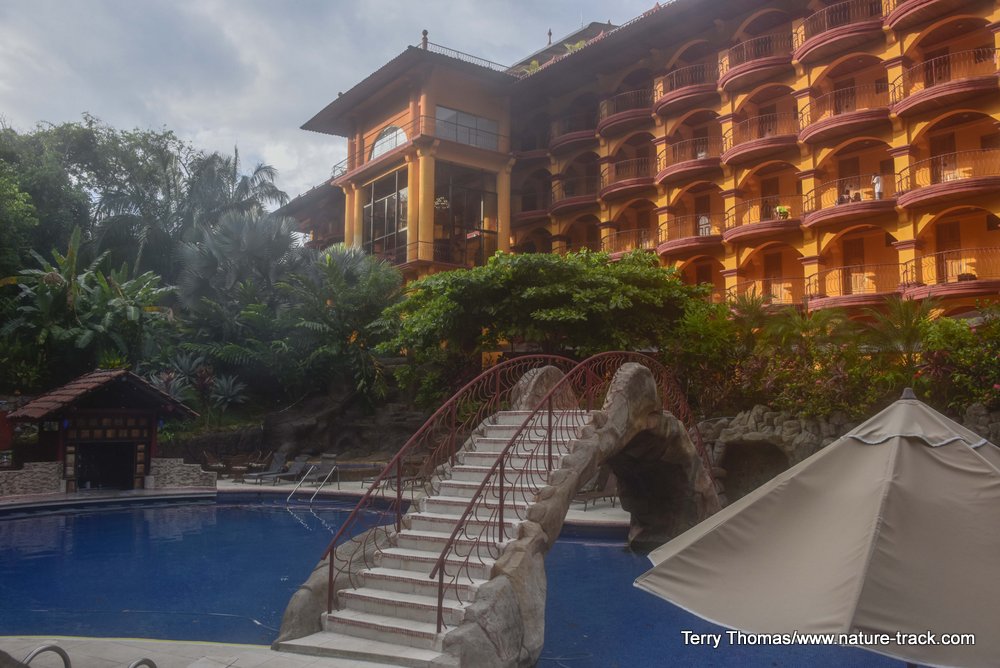 San Bada Hotel right at the gate to Manuel Antonio National Park.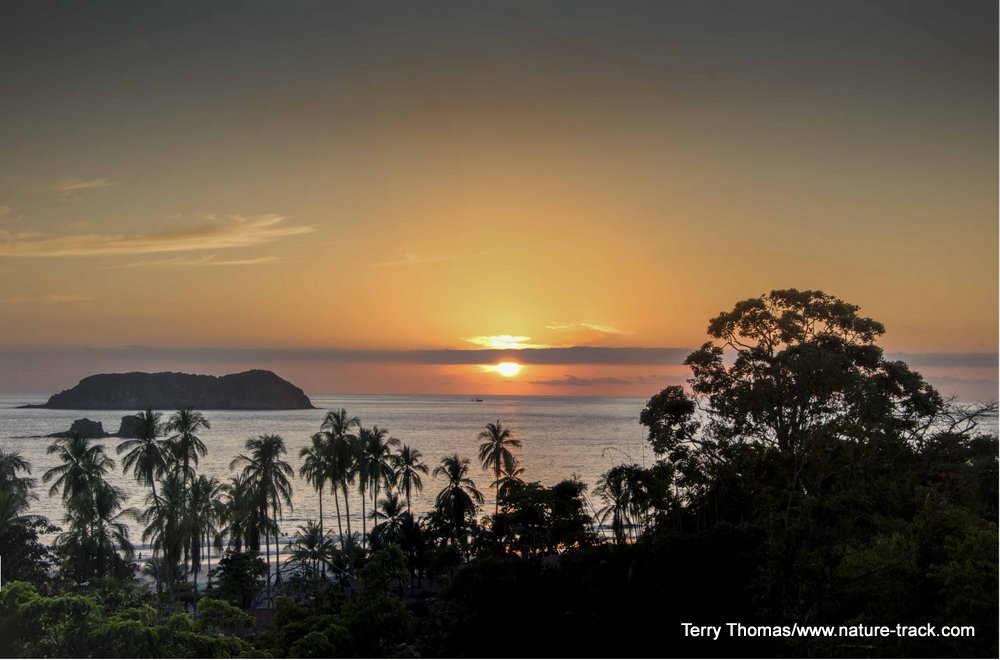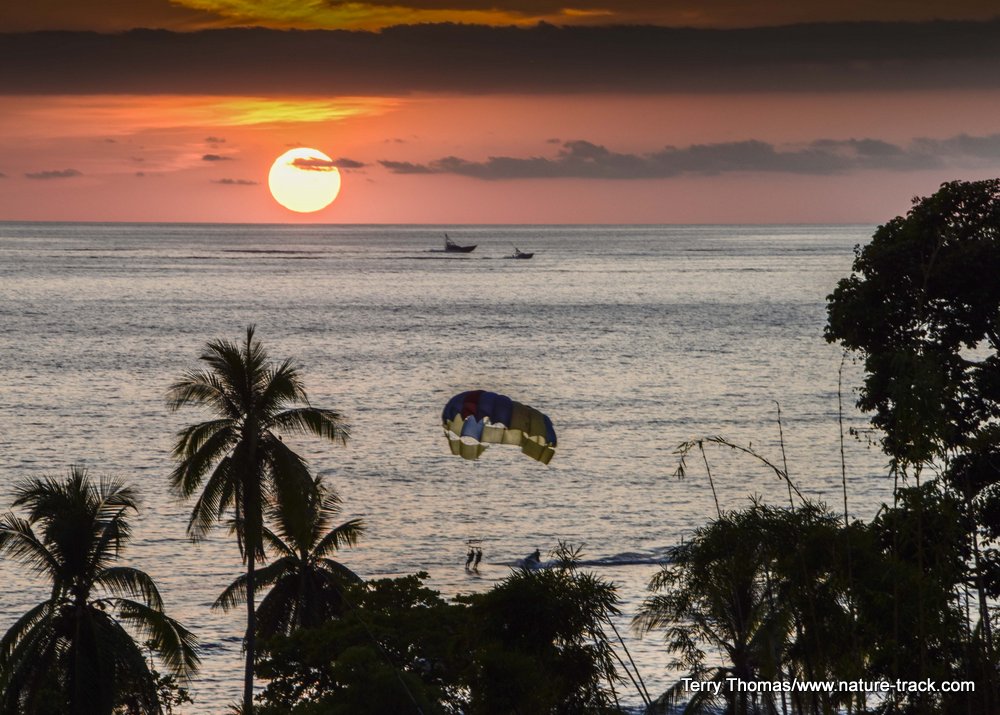 Sunset from the roof of San Bada Hotel.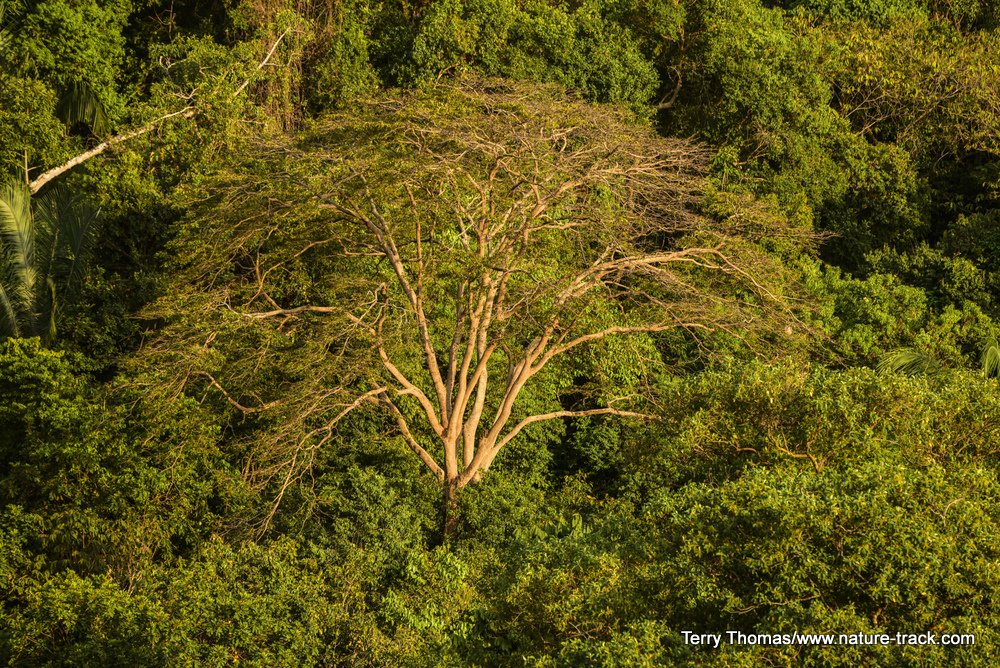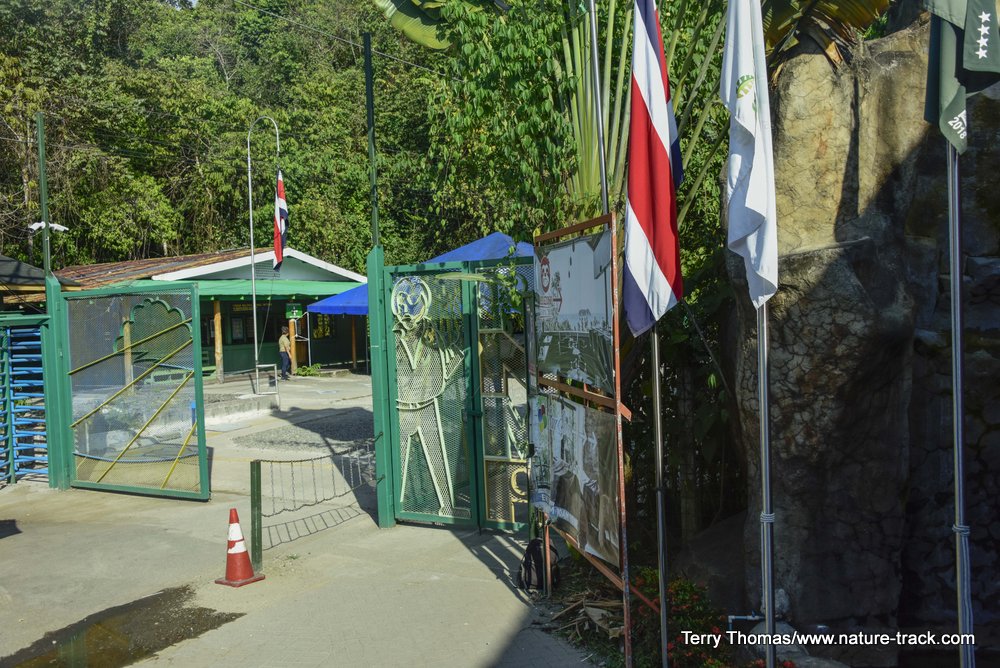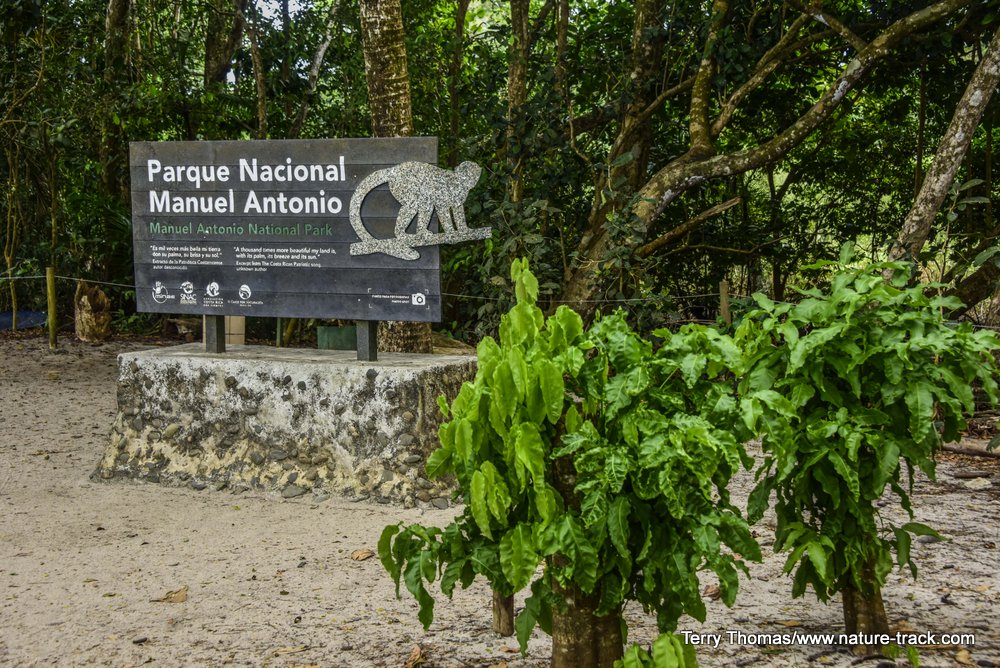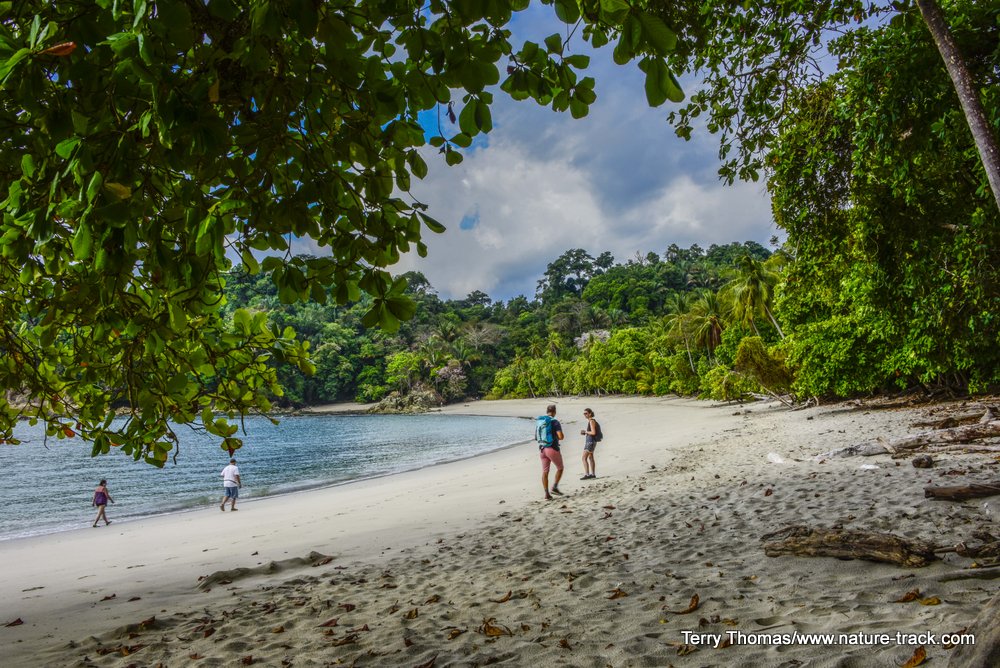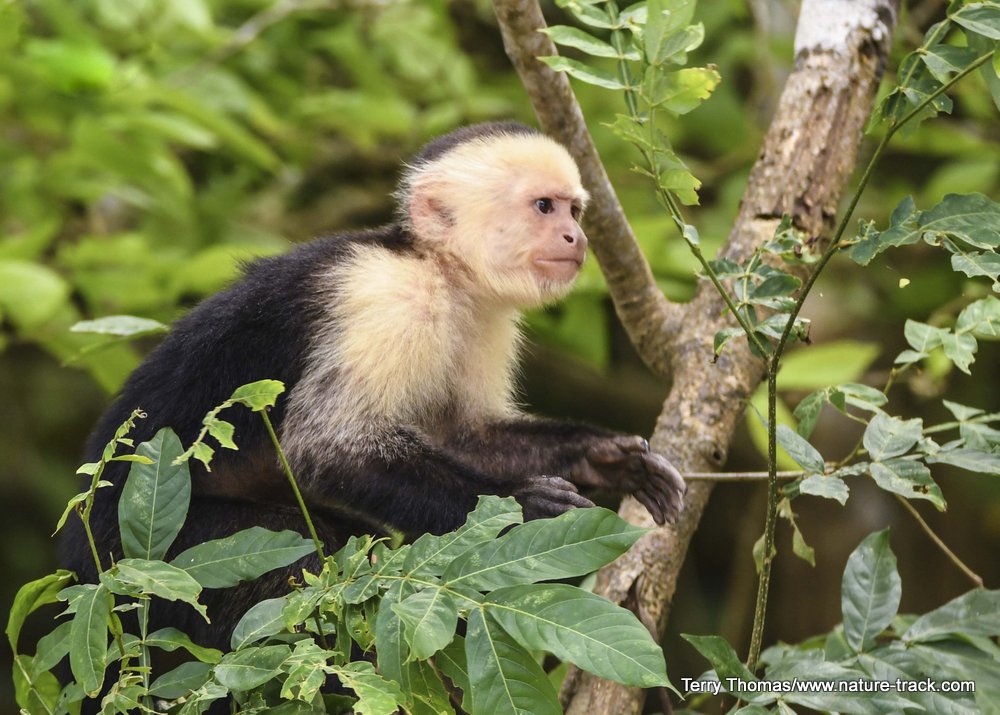 Manuel Antonio National Park.
The last night of our trip was spent at the Intercontinental Hotel in San Jose. Before sunset, hundreds of red-fronted parrots came in to roost at the hotel. We had a wonderful farewell dinner and a couple of dancers for entertainment.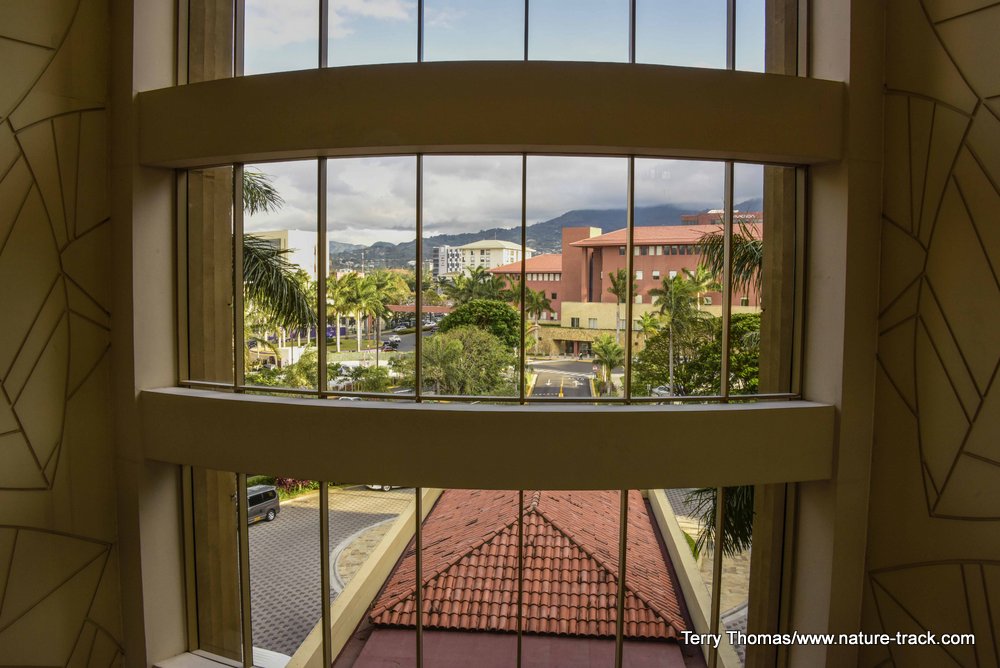 Intercontinental Hotel was very fancy. The dinner they served for our final night was terrific.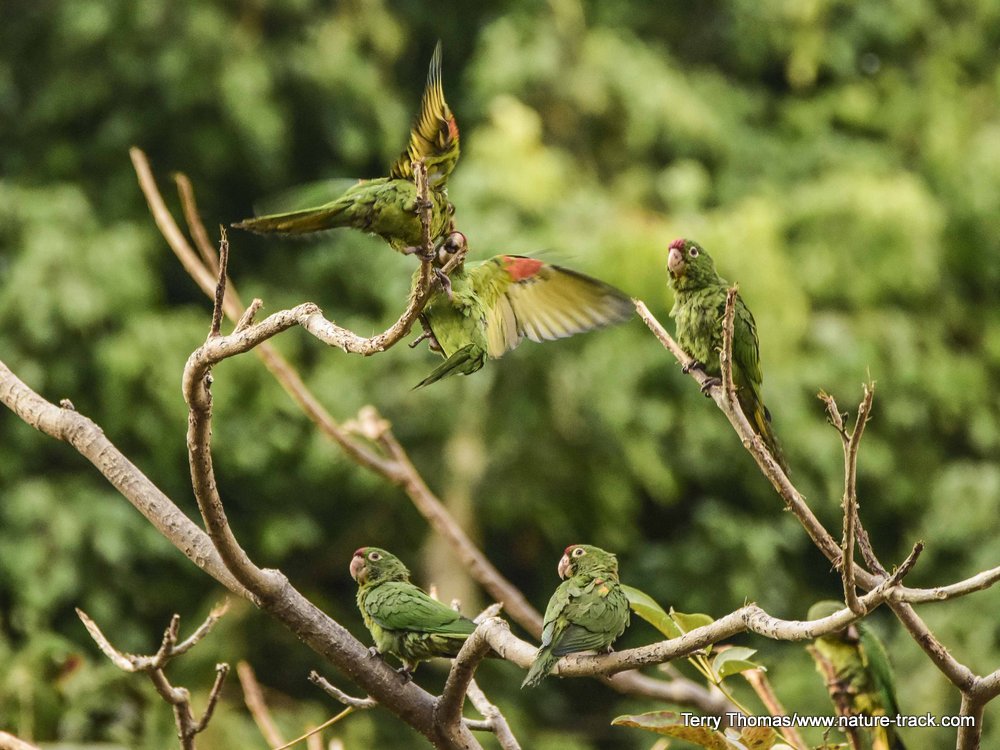 We spent a LOT of time on the bus and this bothered some of our fellow travelers although it was pretty comfortable. For me it wasn't so bad as I couldn't get out much anyway. But 900 miles on a bus at an average speed of less than 40 mph was significant (we were only on two four lane highways in eight days). However, the slow speed allowed our bus driver, Leo, to spot a lot of wildlife for us including sloths, monkeys and the only other place we saw toucans and the only scarlet macaws that we saw, so the bus time wasn't wasted. We also got to really see what the country was like.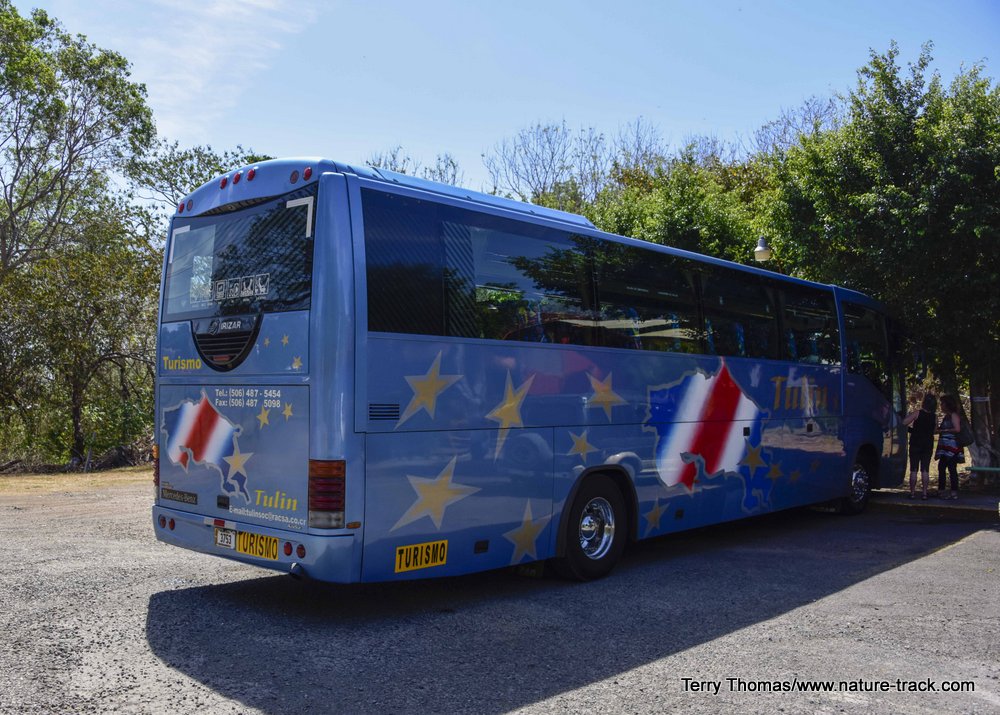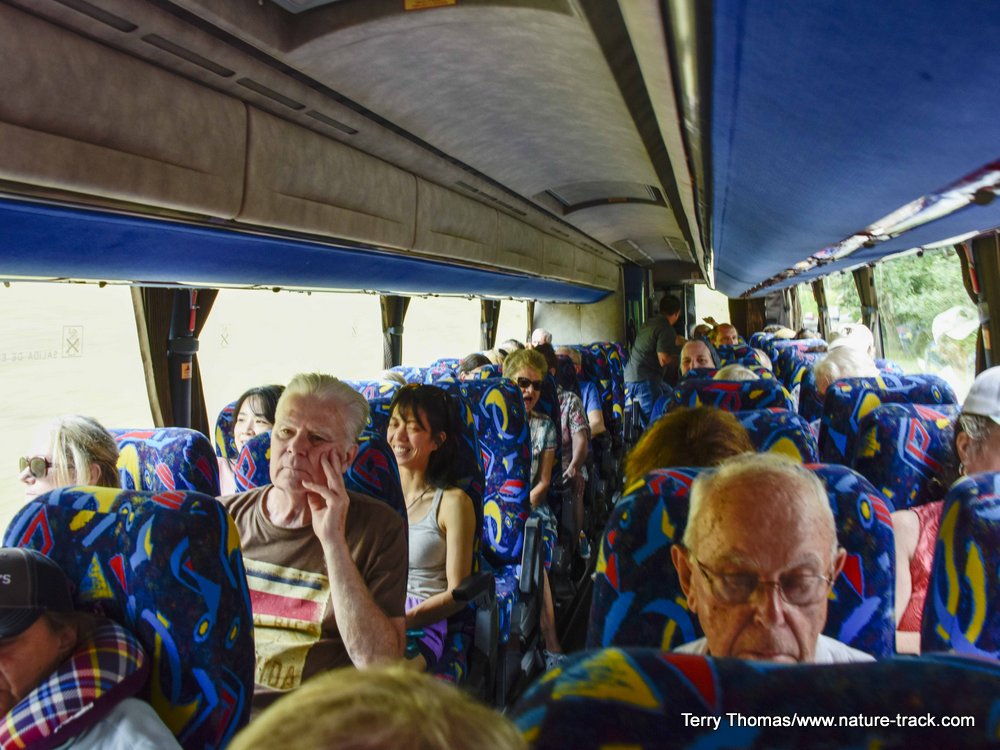 Chestnut-mandibled toucan that we saw from the bus.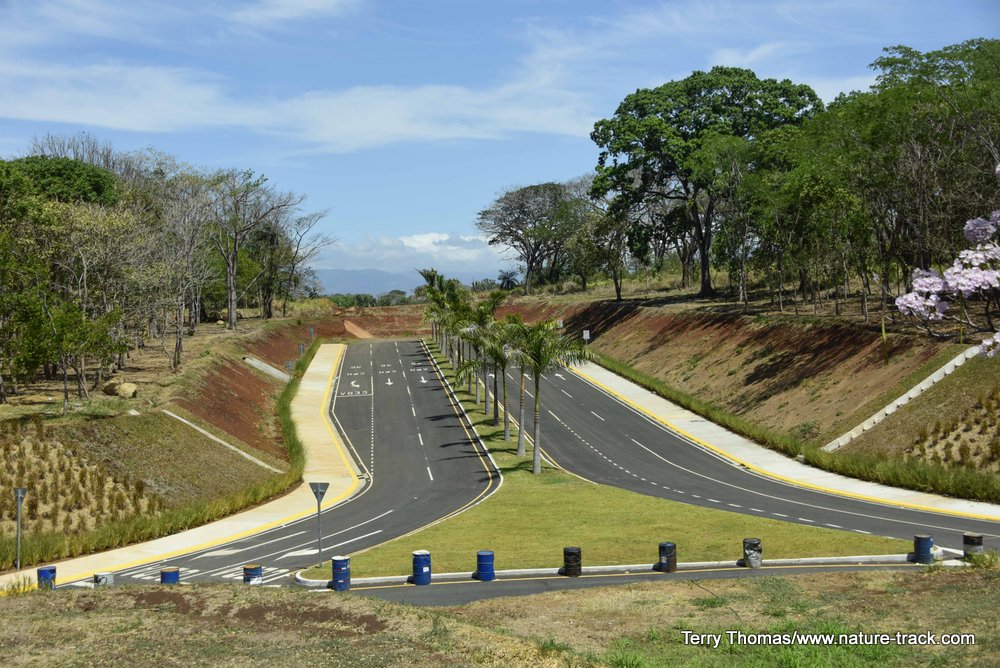 Nice wide roads with more than two lanes were rare.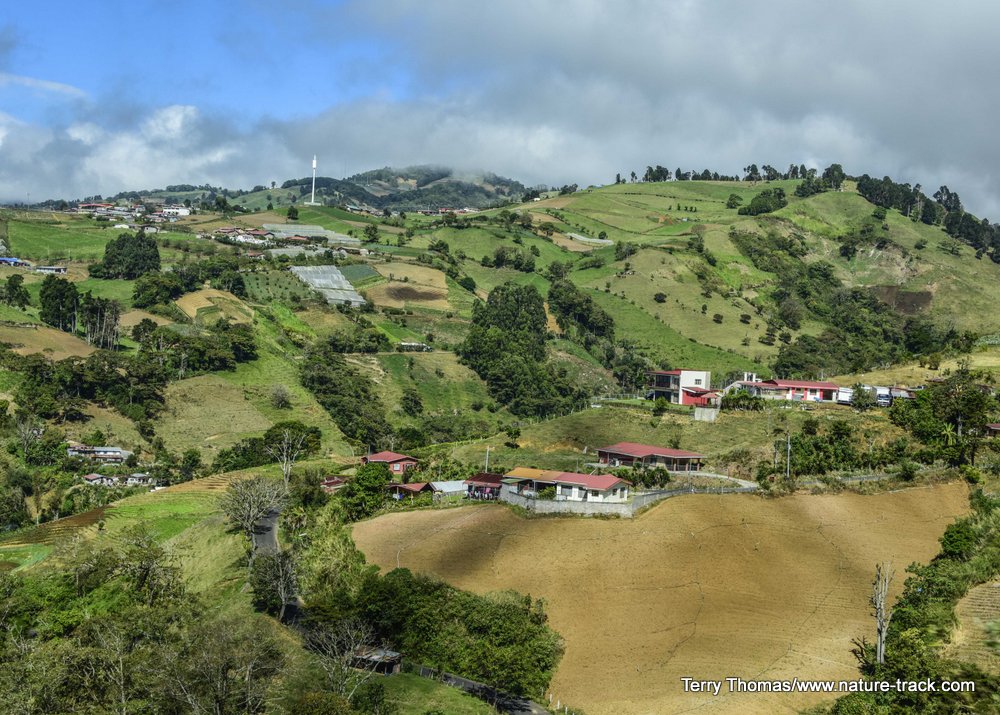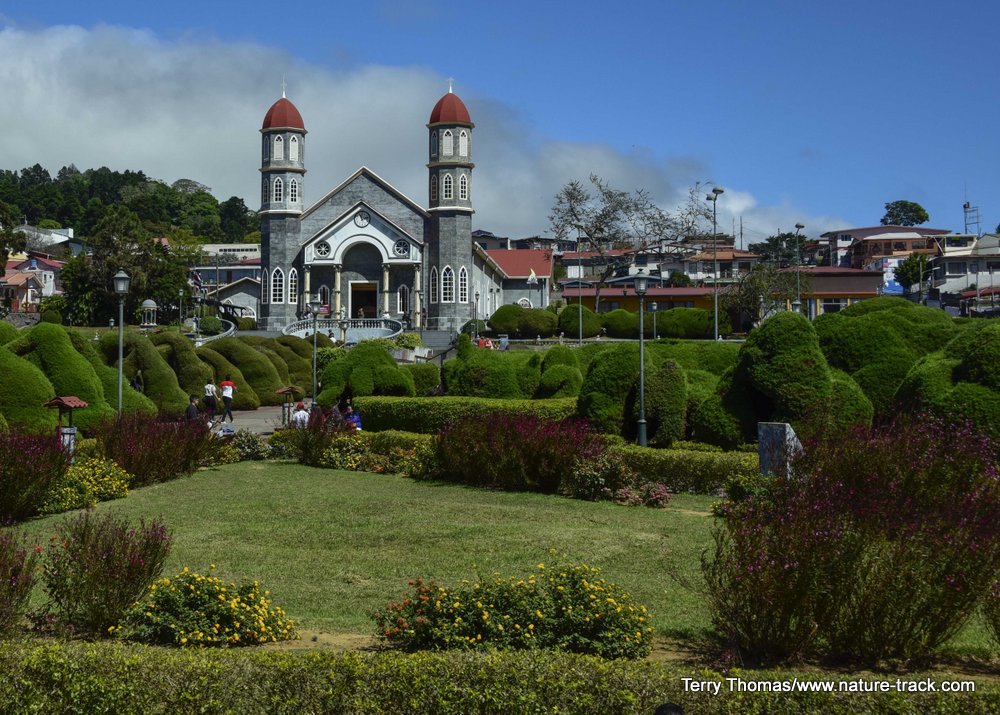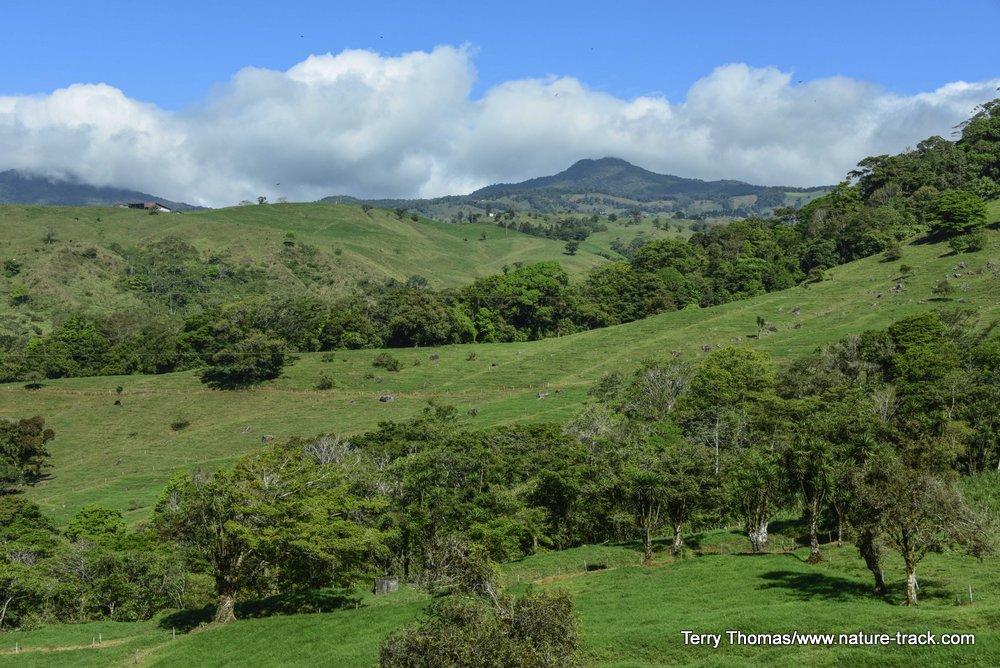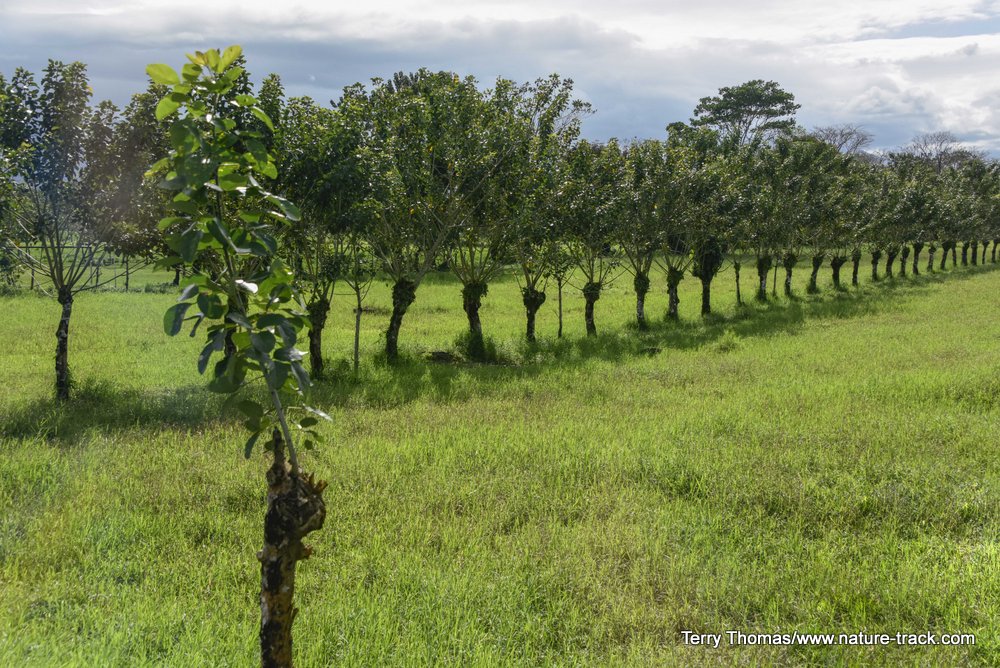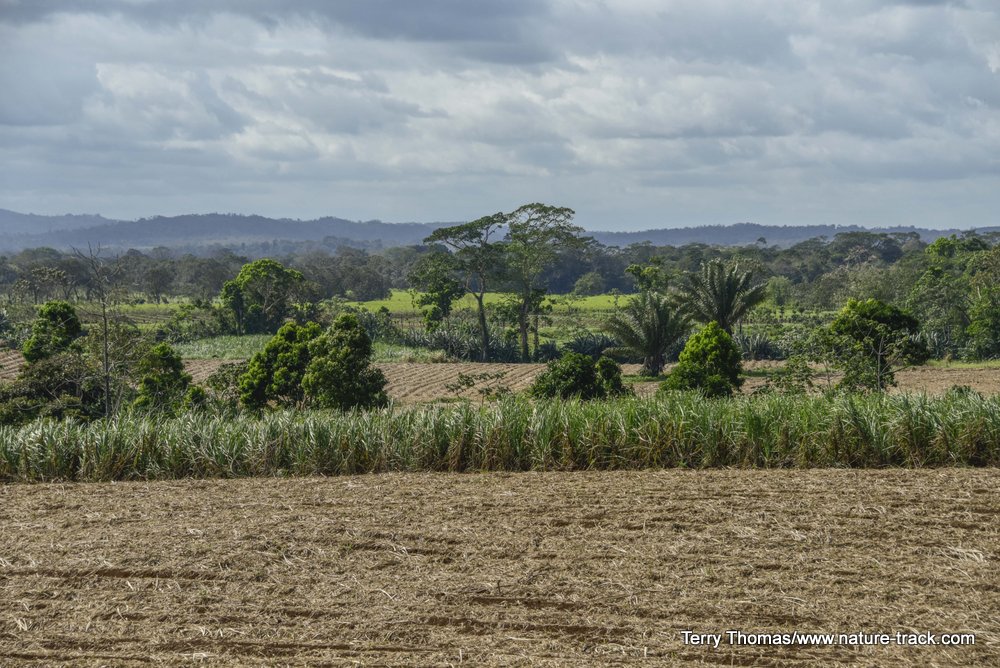 Bus rides were sometimes long, but at least we got to really see the Costa Rica countryside.
Also, each trip was broken up by destinations, lunch, ice cream and shopping stops so the longest stretch was about 2.5 hours. That didn't seem too bad to me.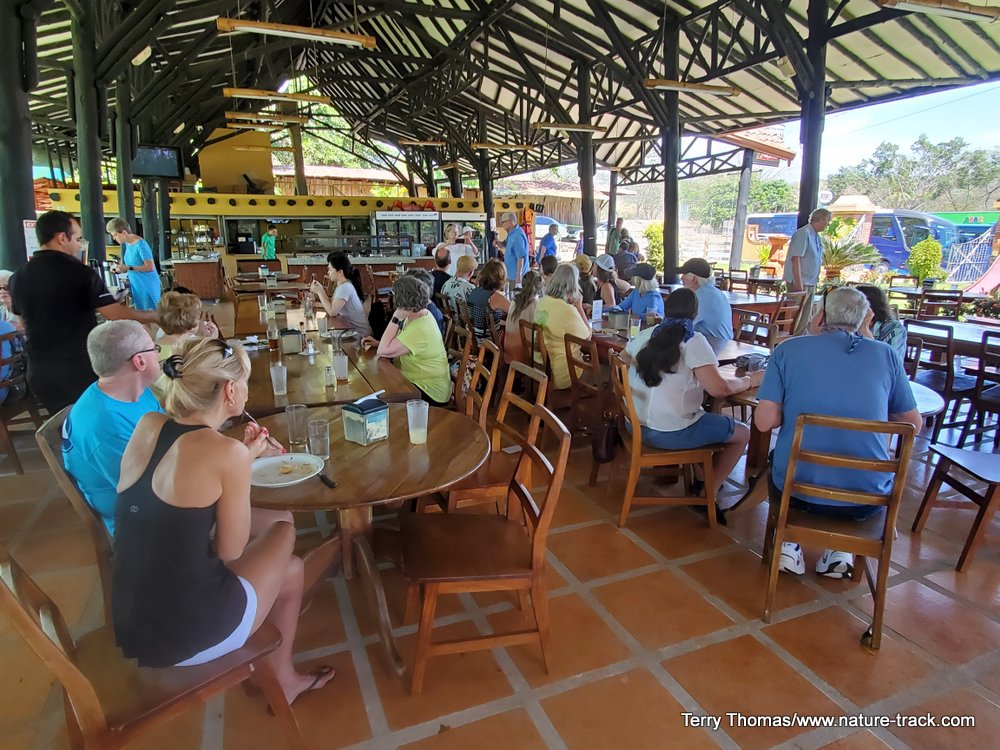 Our guide, Aaron, really made the trip enjoyable. He spoke excellent English and had 21 years' experience leading tours. He also has a degree in Biology and Taxonomy and a passion for conservation and for his country.  If you choose to do a Caravan tour, see if you can get on one of his.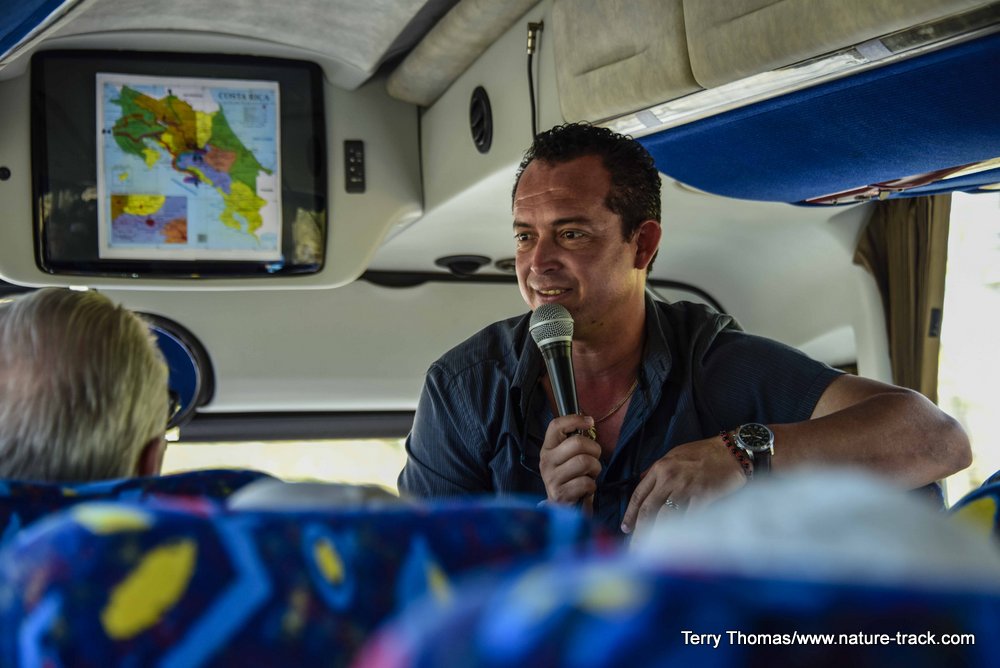 Our guide, Aaron Salazar Guido.
If I get the chance to go back to Costa Rica here is what I would like to do:
Visit Monte Verde Rainforest. Aaron said this should be top on the list.
I would like to take the river cruises again, but this time hire a guide and a boat for a day in each location or find a better spot.
I would revisit Hanging Bridges, spending an entire day there if possible.
However, there are many national parks in Costa Rica, any one of which could be a destination for a week or more. I have read that camping is allowed in most of them (not Manuel Antonio though) and that would be a good way to go.
Would I do a tour again? That would depend upon my objectives. If photography or birding are serious parts of your agenda, a tour is not for you.  You will be frustrated by the rigid schedule and the lack of opportunity to get serious about your passion. It would be worth the money to go with a group specializing in what you really want to do or get brave and plan your own trip.
 It was admittedly pretty tame on the adventure scale as well. So if high adventure is what you are looking for, do some other kind of tour.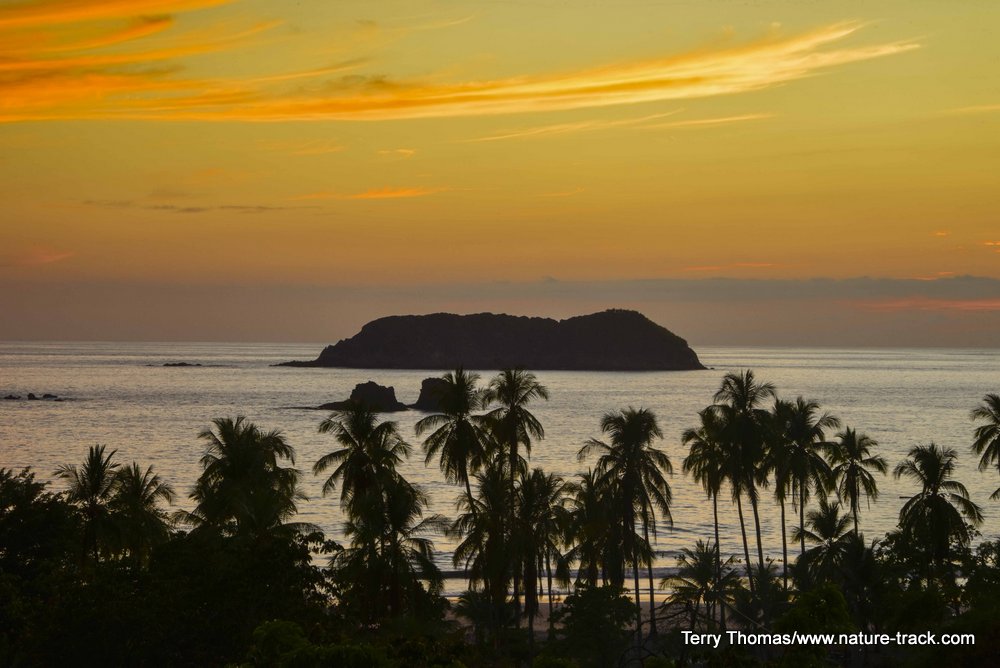 On the other hand, if you want to learn about the country, meet lots of fine people, enjoy great accommodations and meals and have someone else do the heavy lifting, a tour might be just right for you.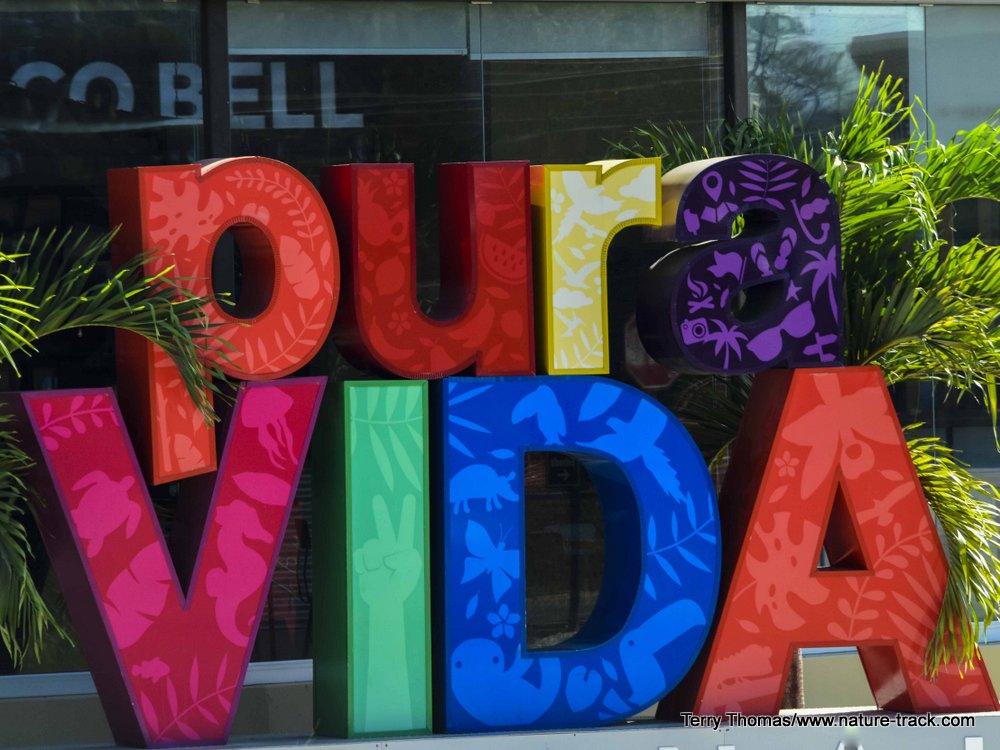 So, as they say in Costa Rica, Pura Vida! (exact translation is pure life but it means almost anything from a greeting to how ya doing.) However you plan a trip to Costa Rica, just do it. Don't miss out on seeing this fabulous place!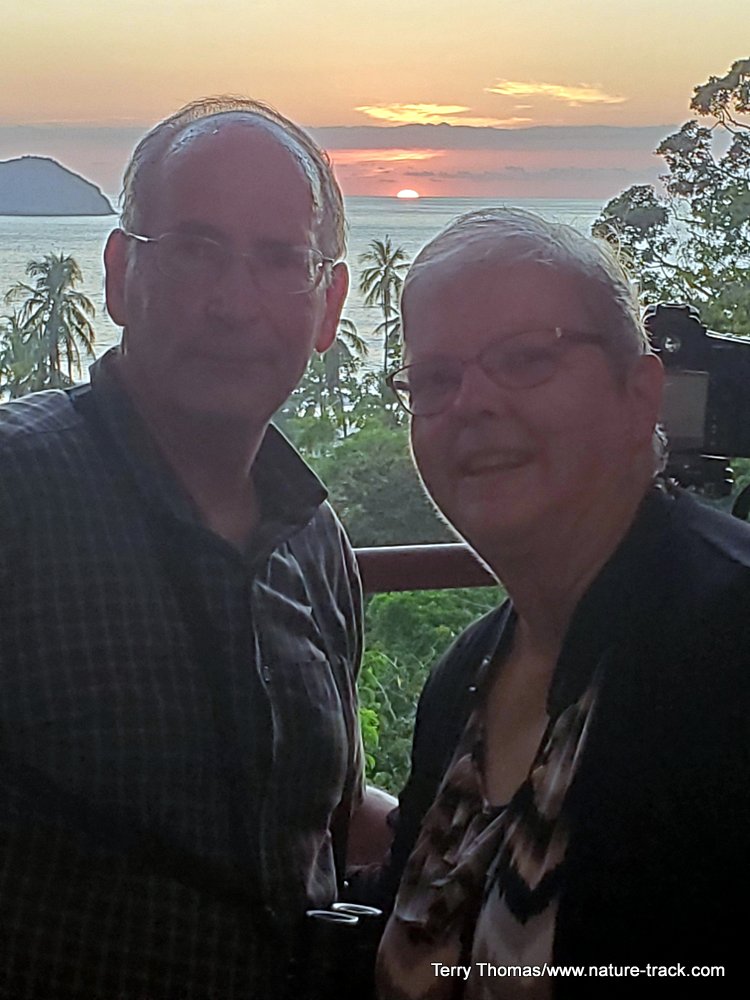 This is a terrible phone shot but probably the only one we have of the two of us in Costa Rica!