Cathedral Gorge State Park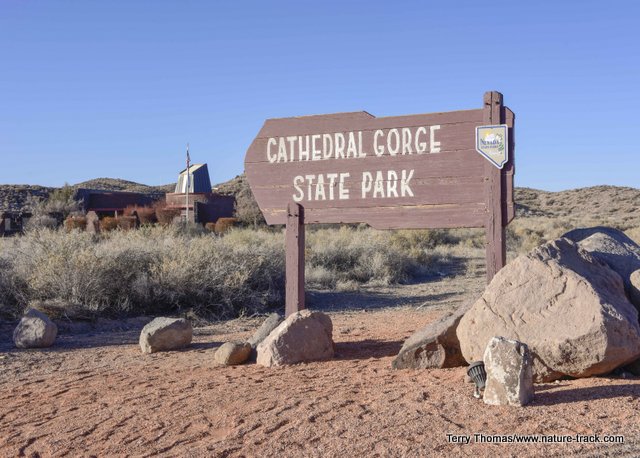 ---
If you have never been to Eastern Nevada, you should stop putting it off and go! There is a lot of country to see there including a national park, Great Basin, which hosts Nevada's second highest peak, Mt. Wheeler, at over 13,000 feet tall. However, this blog is not about Great Basin, but rather, a state park called Cathedral Gorge, located just outside the tiny town of Panaca (pronounced, puh NAW ca).
This is not a large park, about 1600 acres, but it does sport some pretty cool geology. The history of the area as it is today started about one million years ago when the area was part of a large lake. The bottom of the lake filled with silt from the surrounding hills and ash from volcanoes and hardened into an almost rock-like consistency. Several times, intense flooding washed in coarser gravels which formed even harder layers. As the climate changed, the lake dried up and the deep sediments began to erode. The harder layers eroded more slowly, and left shelves several inches thick as well as altered the erosion patterns of the softer material.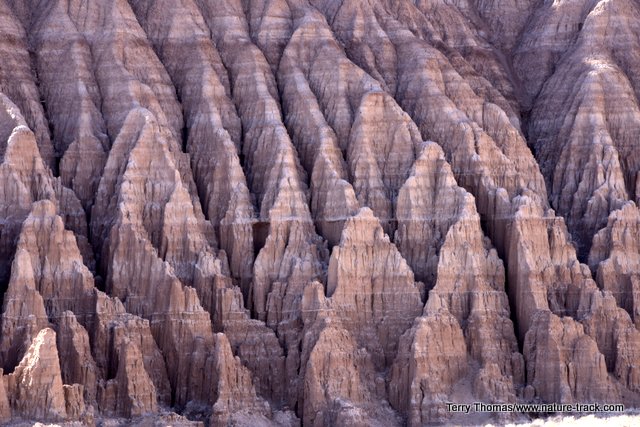 Today, the erosion of hundreds of thousands of years has left behind an other-worldly landscape full of spires, spines and even slot canyons that seem to be sculpted out of melted wax. The process continues today, although it is slow enough that we won't likely notice significant changes even in a lifetime or two.
To get to Cathedral Gorge, you can head northwest out of Las Vegas, head west from St. George, Utah or southwest from Cedar City, Utah. We actually came south from Delta, Utah. Head for the tiny town of Panaca, Nevada, on Nevada Highway 93. The park is just one mile north of the junction of 93 and Highway 319.
Like all state parks, there is an entry fee to use the park. For Nevada residents it is $5, for the rest of us it is $15 per car. If you stay in the campground, the entrance fee is included in your camping fee. The camping fee is $20 if you don't have electrical hook-ups and $30 if you do have electrical hook-ups. Every site had electricity, but if you didn't have the ability to use it, you didn't have to pay for it.
The campground is very nice. There are 24 sites, all first come, first served, and many will handle larger RVs. The restroom facilities are top notch. It was winter when we visited and got downright cold at night even though the daytime temps were near 60 degrees Fahrenheit, so heated bathrooms and flush toilets were welcome. Also, the showers were the best I have ever used in a campground—clean and with plenty of hot water. If I have a complaint, it is that hand soap is not provided at the sinks.
There is plenty to see in Cathedral Gorge. The slot canyons, also called caves, are one of the biggest attractions and with good reason. They are unique, not necessarily beautiful, with straight up vertical walls, sometimes over thirty feet. I went into Cathedral Slots and Moon Slots. I liked both, but liked Moon a bit more.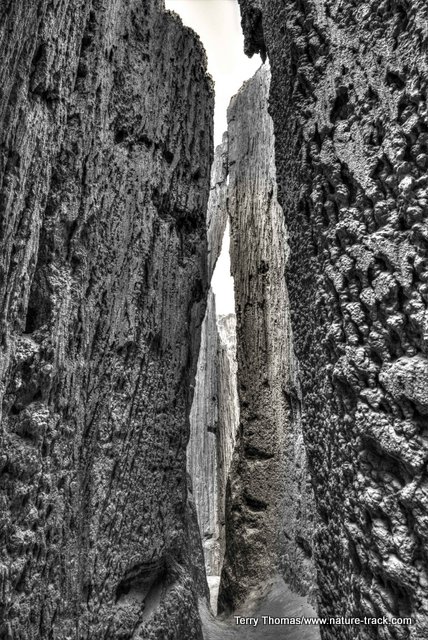 ---
This is a small park and there is very little driving available. It is mostly a walking park. There is an overlook at the top end called Miller Point (and Eagle Point) that is about three miles from the campground by road, but you can literally walk up the canyon to the overlook about as quickly as you can drive there.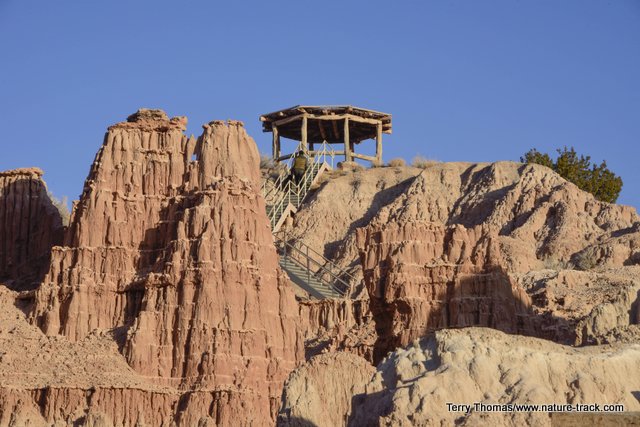 Miller overlook. You can descend into the canyon down the iron stairs.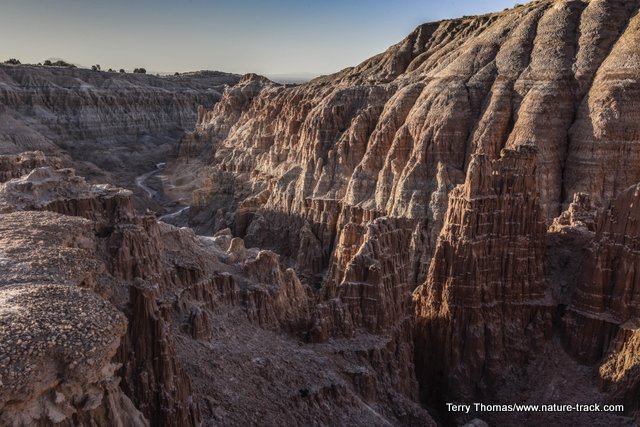 Miller Canyon from the overlook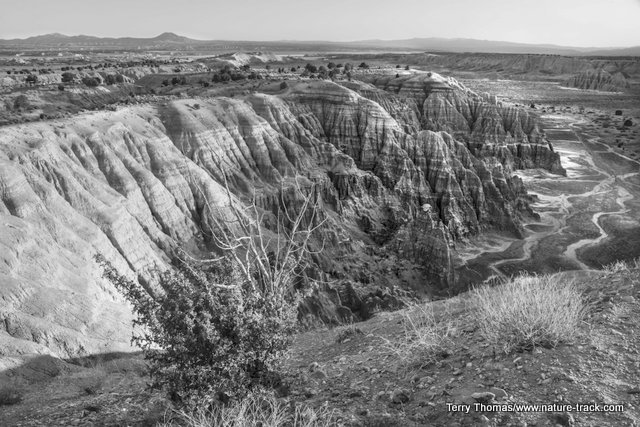 View from Eagle Point. Black and white conversion in Adobe Bridge.
We walked the main loop, a four-mile walk called Juniper Draw. All other hikes branch off this easy-to-follow trail. The trail had little in the way of elevation gain/loss and followed the edges of the formations on both sides of the canyon.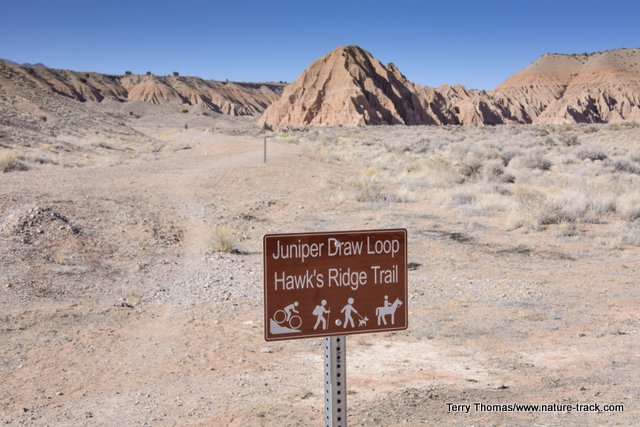 Juniper Draw, where we walked, from Eagle Point.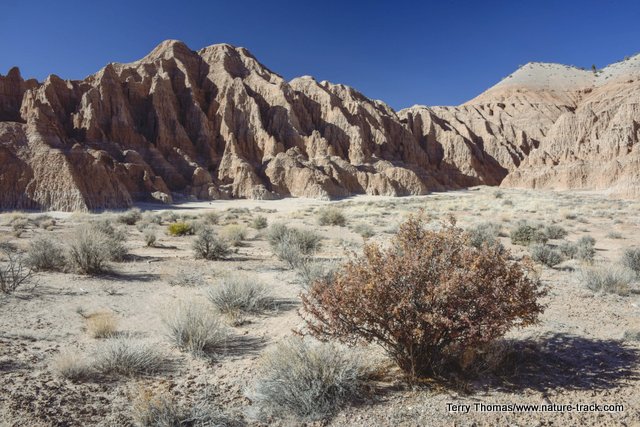 As for photography, the opportunities are endless. We were up early the first morning, hoping for a sunrise from Miller Overlook, but the beautiful clear sky didn't cooperate. We then walked out onto adjacent Eagle Point and could look down into Juniper Draw (where we later walked). There was some good scenic potential here and we even returned around sunset for more dramatic light. I preferred Eagle Point over Miller Overlook for photography. 
Black and white conversions of some of the geology in the canyon. 
The slot canyons are great, but may require some advanced techniques because of the dramatic changes in light between the inside of the canyons and the sky. I had to blend five different exposures using a High Dynamic Range (HDR) program to get something I liked. That meant that a tripod was pretty important, although I was able to rest my camera against a wall when I was too lazy for the tripod. If the sky appears washed out (not blue) when you look up from inside a slot canyon, either change your position, find a different canyon or wait for later in the day.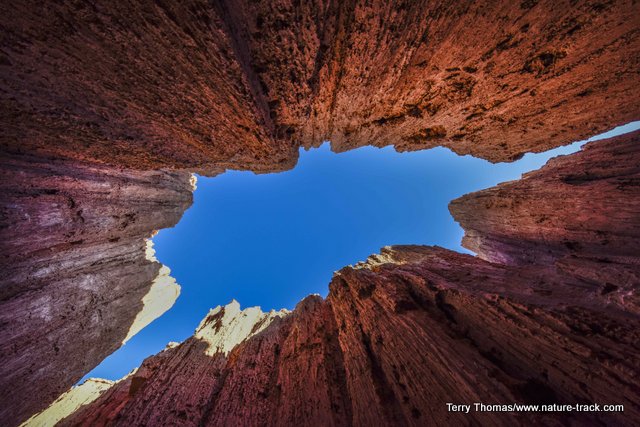 This image required five exposures blended into a single HDR image. It is still too hot where the sun directly hits the edge. I should have waited another 20 minutes or so.
Since we took the hike around 2 p.m. (sunset was around 5:30 p.m. Nevada time) the sun was still high in the sky. I tried taking images that I might be able to convert to black and white, but was only moderately successful. I did have what I considered success with BW in the slot canyons.
This park has been around since 1935 and was one of the first in the Nevada park system. The Civilian Conservation Corps, or CCC, built some of the structures in the park including a rock water tower and a rock outhouse. Both are still there today, although neither one is in use.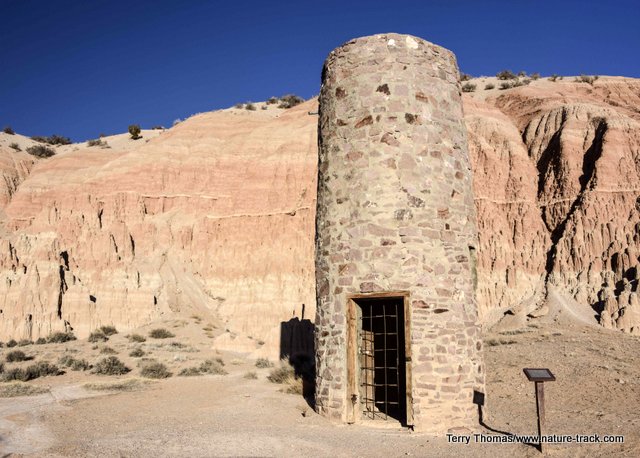 Rock water tower built by the CCC in the 1930's.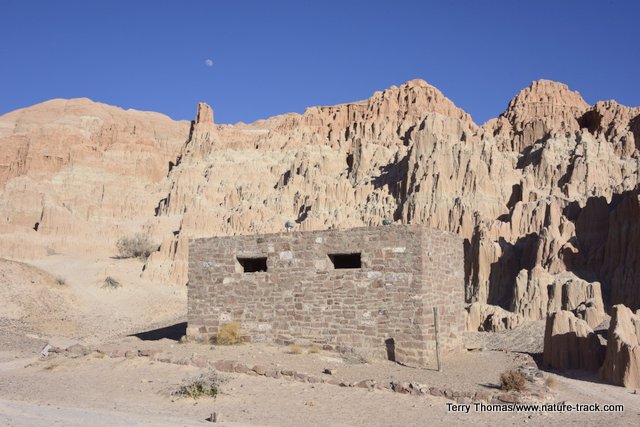 CCC-built rock outhouse. Funny how yesterday's crapper is today's historic building.
I found the geology of the park to be fascinating. However, I will warn you that many of the photographs on the internet can make the features look much more large and dramatic than they are. Nonetheless, it is still fascinating and worth the trip.