Carlsbad Caverns and Guadalupe Mountains National Parks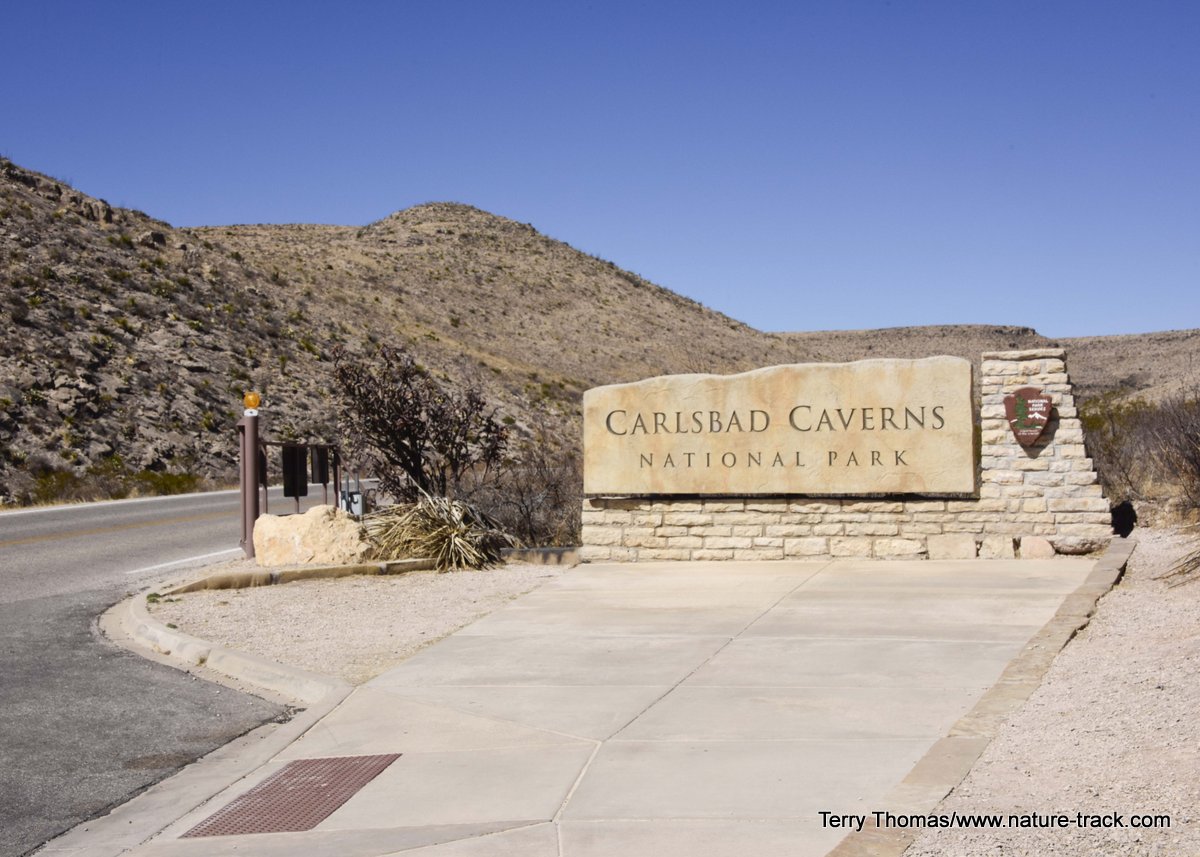 Carlsbad Caverns and Guadalupe Mountains National Parks are in New Mexico and Texas, respectively, but are only about 35 miles apart and are part of the same range of mountains, the Guadalupes. Another thing they share is remoteness. Carlsbad Caverns is over 150 miles east of El Paso, Texas, and Guadalupe Mountains is about 115 miles east of El Paso. The nearest town of size to either of them is Carlsbad, New Mexico, about 20 miles from White's City, the entrance to Carlsbad Caverns. Carlsbad is a full service city of about 30,000. White's City does have gas, but no convenience store and only one restaurant that appeared to be open.
The Guadalupe Mountains once were on the edge of a great Permian Period ocean. A huge 400 mile-long reef, known as the Capitan Reef, formed over millions of years, from plants and animals of that time, which eventually turned to limestone. As the ocean receded and tectonic activity pushed the mountains upward, acidic water began to percolate into the ground. This water action hollowed out caves by the hundreds. If we could see this mountain system in X-ray, it might look like the proverbial Swiss cheese. Permian fossils also abound in this limestone.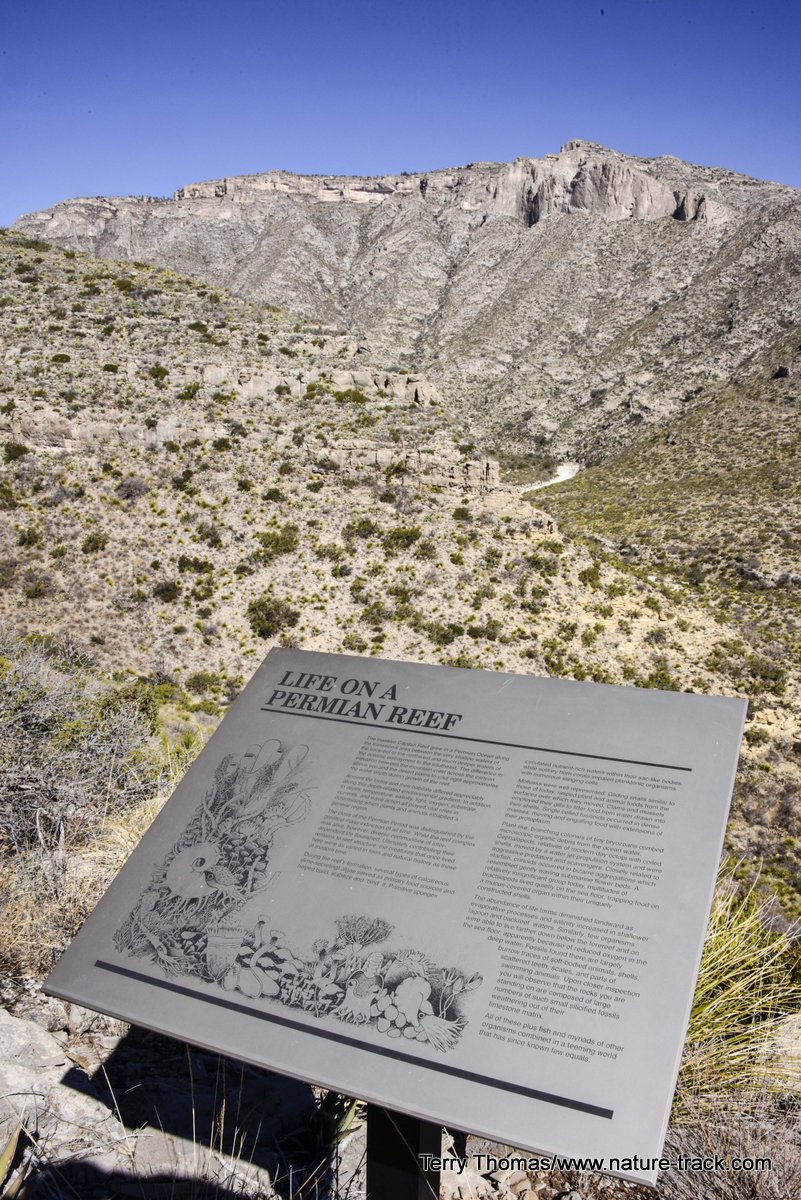 I will start with Carlsbad Cavern National Park. This is an unpretentious park above ground. It is in the middle of the Chihuahuan Desert and the visitor center sits on top of an unpretentious hill, basically a foothill to the Guadalupe Mountains. But this park isn't about what is above ground. Underground it is a wonderland equal to Yellowstone.
Carlsbad Caverns National Park is 100 years old next year. It was discovered years earlier by a teenage cowboy named Jim White who was curious about the hundreds of thousands of Brazilian free-tailed bats that seemed to materialize from the ground itself each evening from spring to fall. He investigated and found a large cave opening, now referred to as the natural opening. White began exploring and quickly realized that he had discovered a national treasure. He began lobbying for its preservation before souvenir hunters and commercial interests could ruin the place. When Carlsbad became a national park in 1923, White was appointed its first superintendent.
Today, Carlsbad Caverns National Park may be unique among all other caves. We have been to Lehman Caves in Great Basin NP, Nevada, Timpanogas NM in Utah, Jewel Cave NM and Wind Cave NP in South Dakota as well as LuRay Caverns in Virginia and even a cave in China. All of those caves have guided tours led by rangers and visitors are carefully monitored. Some do not allow cameras, flash or tripods. In Carlsbad, there are range-led tours, but the main room and the natural entrance tours are self-guided, with a ranger giving a pre-entrance talk of several minutes. You can do the tour as fast or slow as you like. Photography is welcomed with no gear restrictions. They just caution you not to interfere with other guests.
The other difference is that you need to go online and get a tour time reservation so visitors are a little more spread out. However, once you have a time and a pass, it is good for three days. From that point, you can enter the cave any time you want to. Just go to the Cave Tour desk and have them update your pass.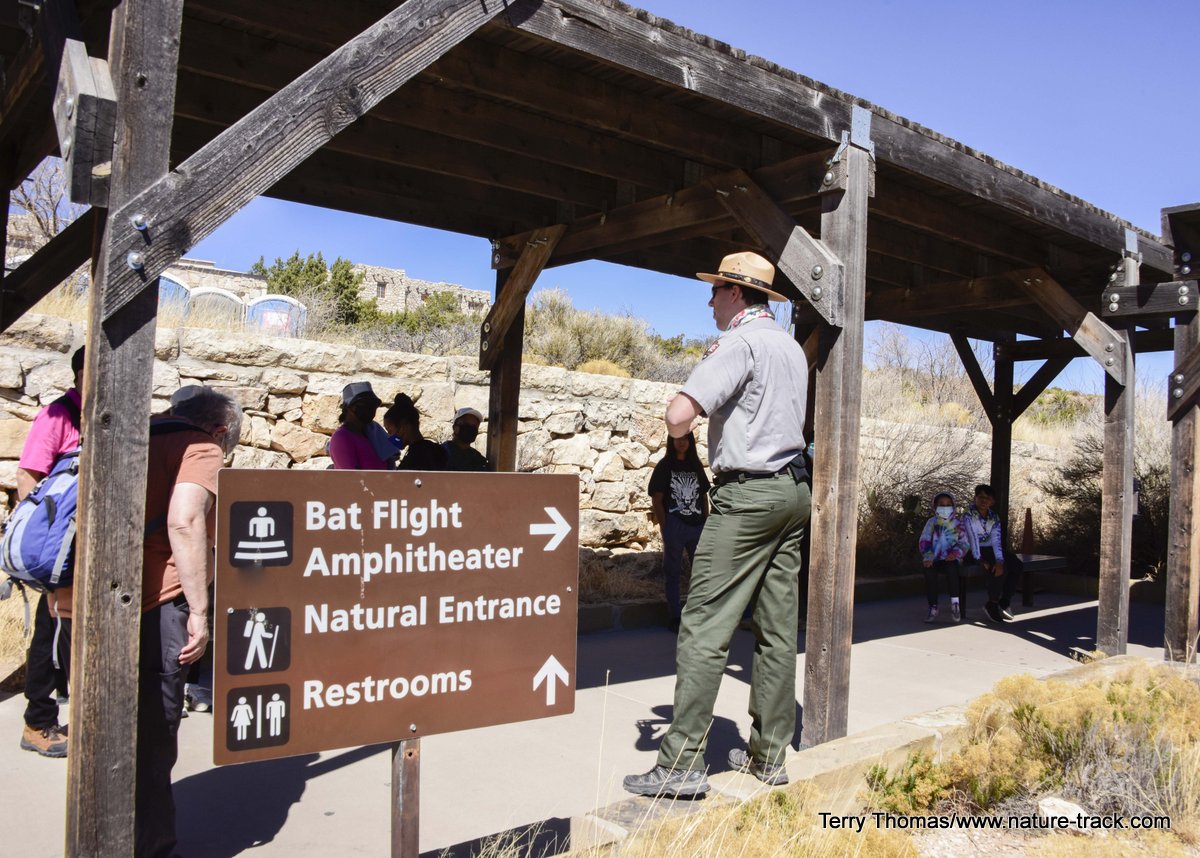 A ranger gives us a short orientation before entering the Natural Opening.
Now, about the Caverns. First, Carlsbad is just one of several hundred caves in the park. Lechugilla, a cave discovered about 40 years ago and off-limits to visitors, has over 150 miles of tunnels on multiple layers. Another cave, in Slaughter Canyon, will be open again for tours this summer. This one requires about a mile hike in.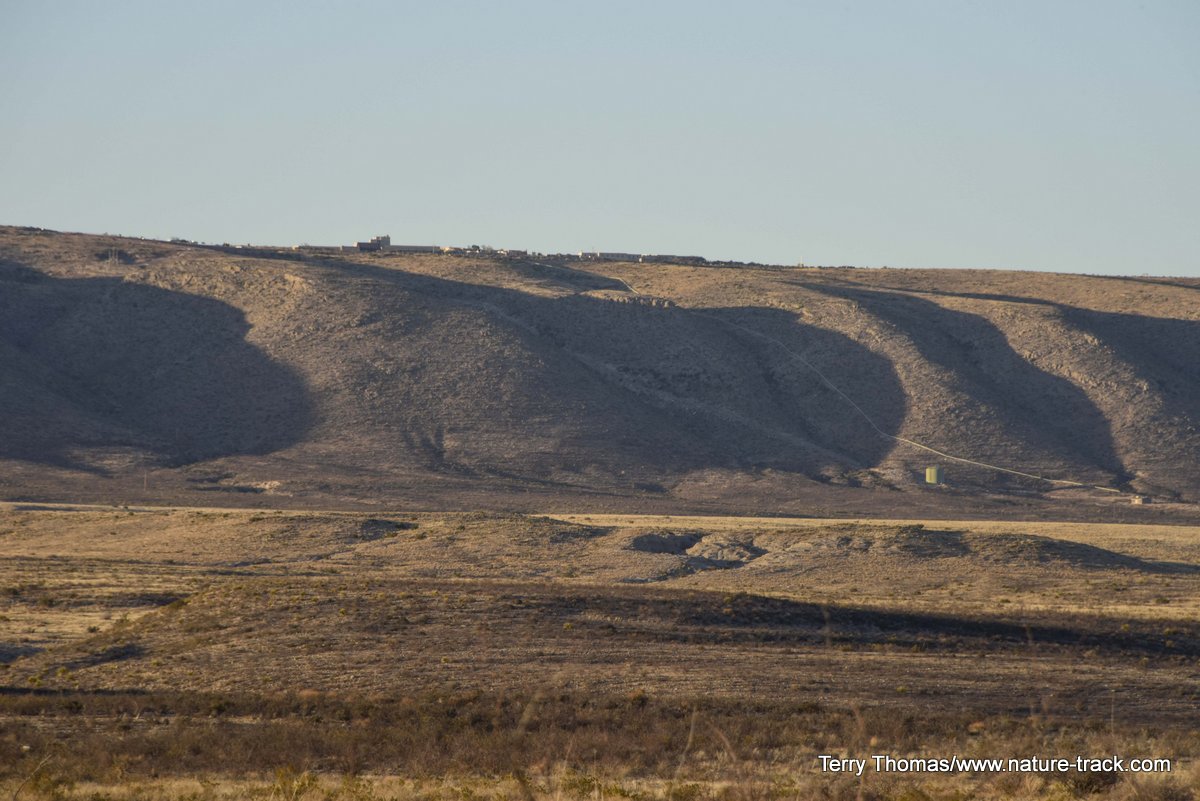 The visitor center sits atop a very unassuming hill. The elevator entrance goes straight down from the visitor center and the cave start about at the level of the valley floor at the base of the hill.
Carlsbad Cavern is, in a word, spectacular. If you put all the features of all the caves I mentioned previously into one cave, they would not equal Carlsbad. I cannot reach for enough superlatives to describe this place.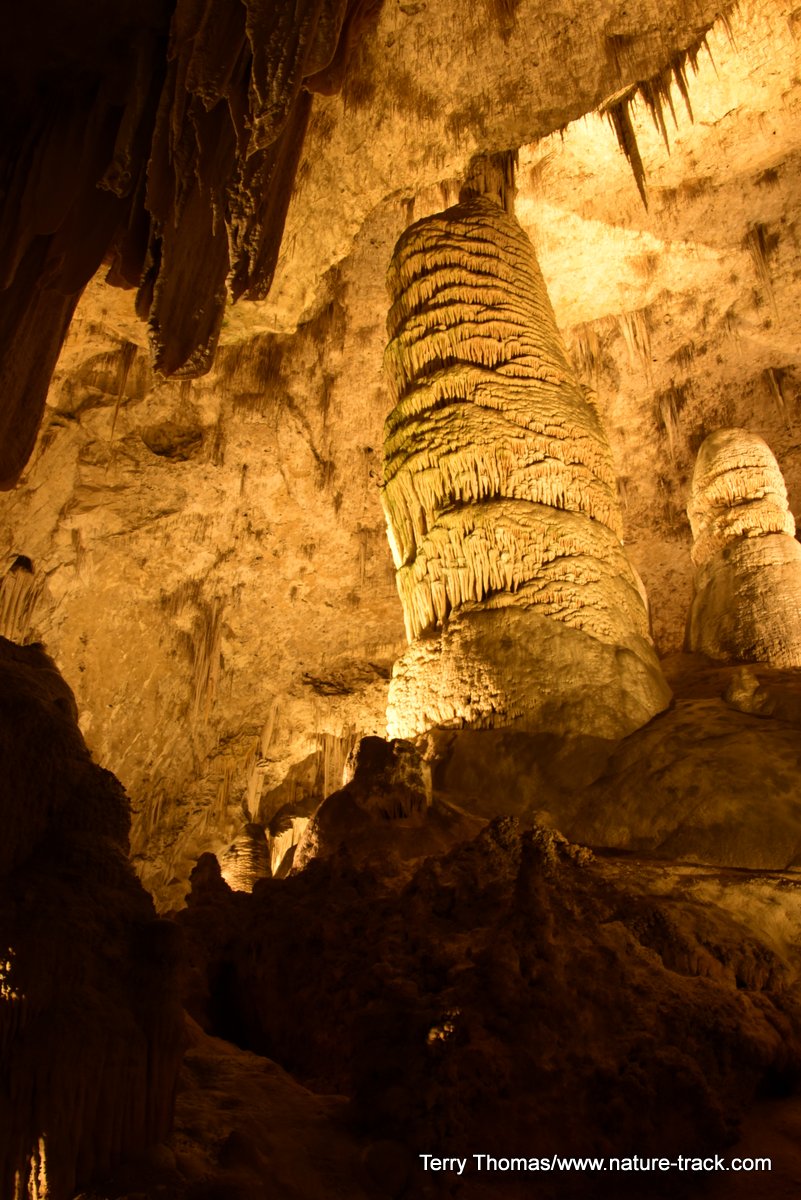 You can enter the Caverns two ways. The easiest way is to descend in an elevator 750 feet below the visitor center. This places you about even with the valley floor. From there, you can take the Big Room tour which will take from one to several hours. There are benches to rest on, but not a lot of them. The walkway is really designed to keep people moving. It is all paved with handrails on both sides. One interesting feature is a series of emergency telephones where visitors can report other visitors who try to collect souvenirs or go off trail.
If you don't think that vandalism is a real thing, in the King's Room tour, over a 10-year period, cave specialists documented over 16,000 locations where pieces of the wall were removed by visitors—and this was on the guided tour portion of the cavern. It is one of the reasons this tour hasn't been reopened yet.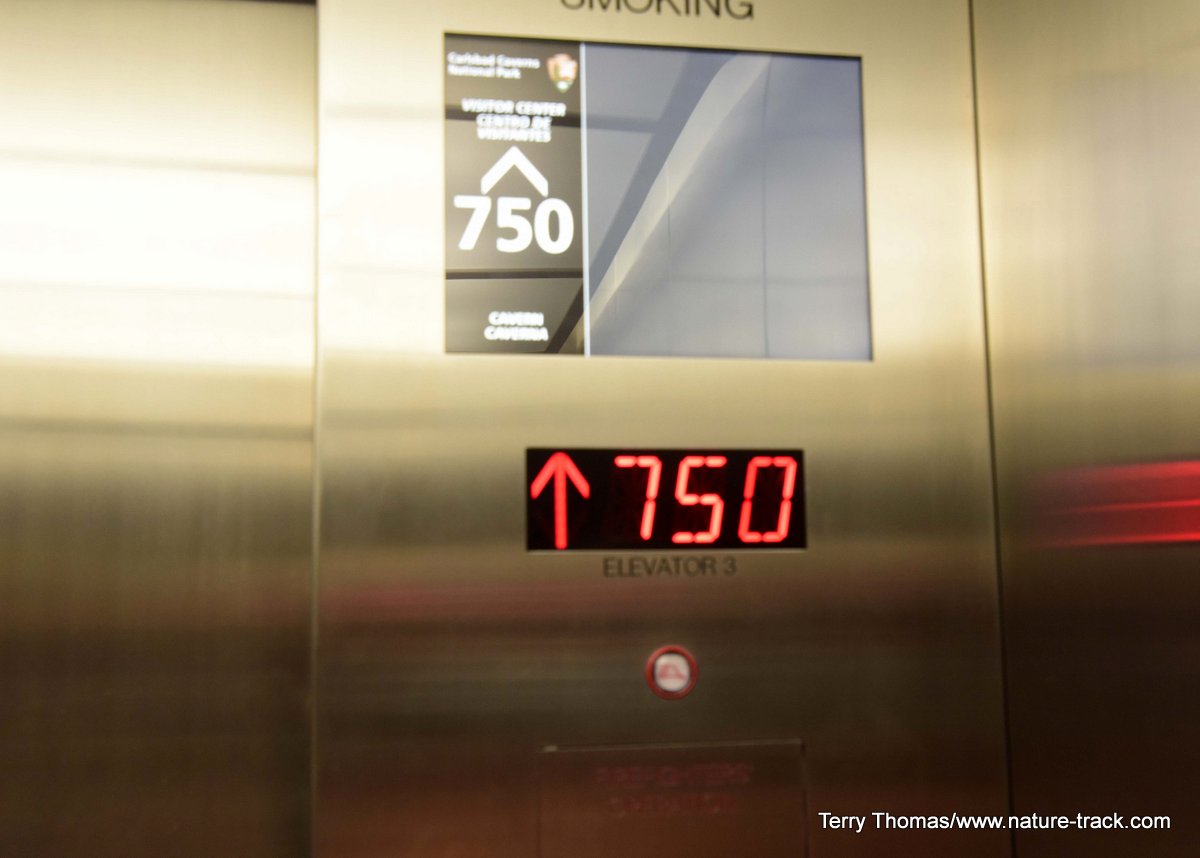 I am going to let a few photographs speak for the amazing features in the Cavern. Just realize, in a 1.25 mile walk, this is what it is like the entire time! I tried in vain to capture the vastness of cavern, but even with my lights, I could not pierce the depths.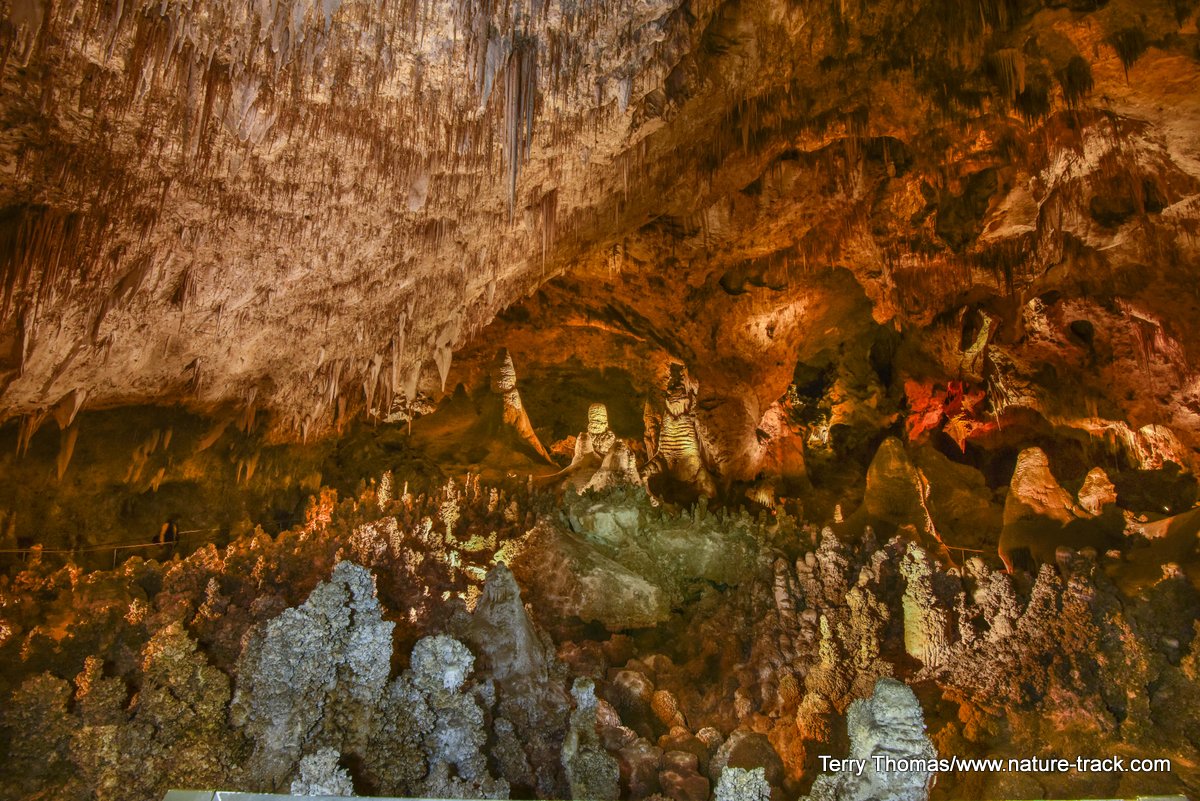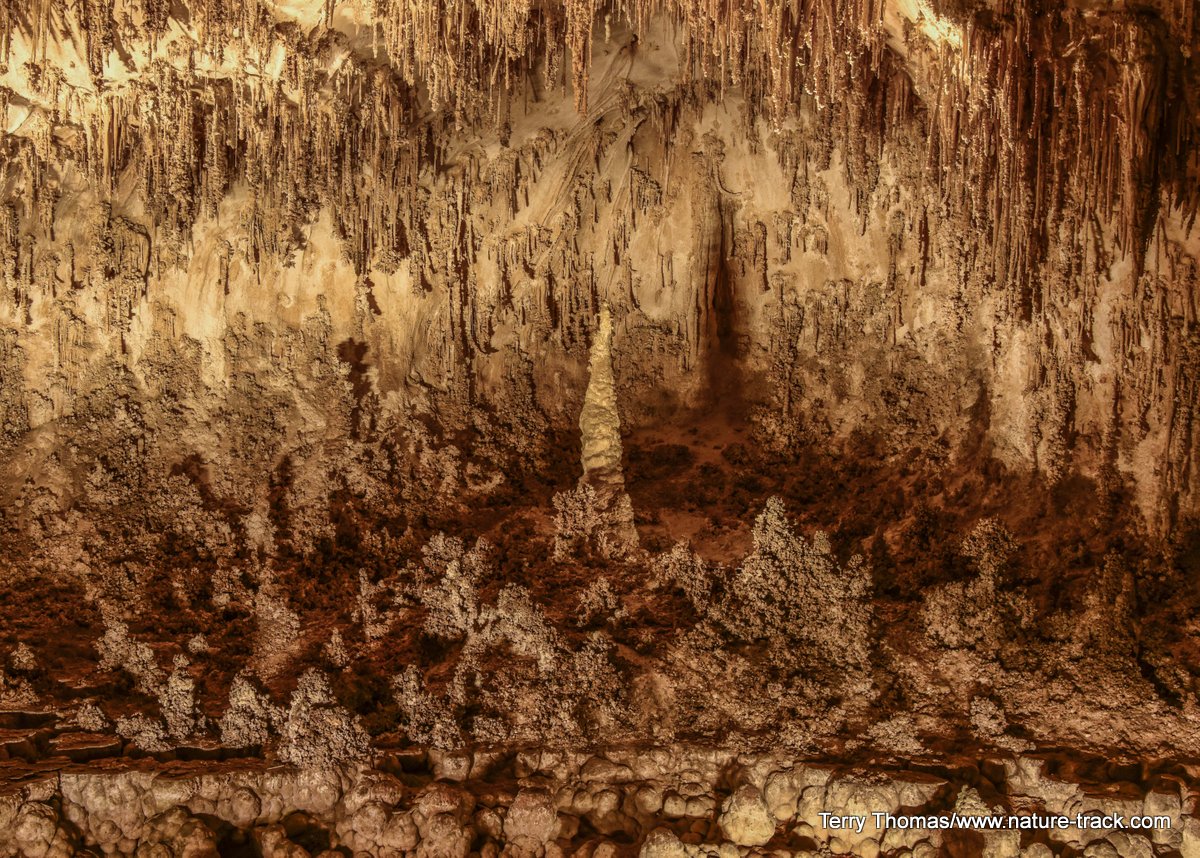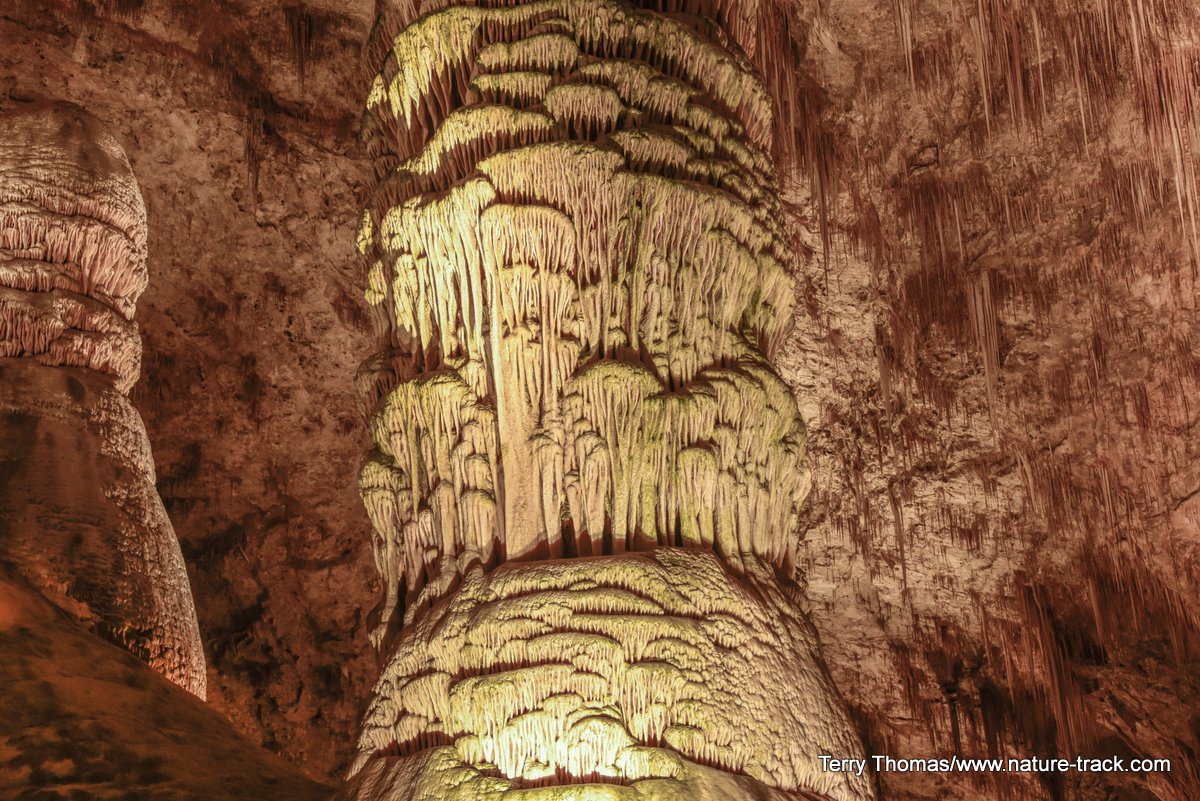 The Natural Entrance, was something we almost passed on as it looks daunting on the map. I am so glad we didn't! This route takes you into the cave the same way that Jim White saw it, except for the benefit of a 1.5-mile-long paved trail, which is really like a giant switchback. It ends at the elevator and you can choose to take the elevator back to the top or you can walk back up the natural entrance, which is quite a hike uphill. The Natural Opening may not be open when the bats are there, from May to October, as this is where the bats emerge each evening.
There are a lot of switchbacks when you go in the Natural Entrance. That makes the 750 foot descent easier.
Looking back out the natural opening. 
The Natural opening is a must-do if you physically can do it. It really isn't difficult unless you have knee issues when you walk downhill—it is pretty much downhill all the way. They recommend a light jacket, as the cavern is a consistent 56 F. However, I decided that a long-sleeved shirt would have been plenty adequate.
As for photography, I took two Litra 16 LED bulb lights (little rechargeable cubes about 1.25 inches/side) and a 700 lumen LED flashlight to light up the features. These worked pretty well, but I could have used more light, especially something that could cast a beam into the depths. I wasn't smart enough or experienced enough with cave photography to do this, but a ranger told us that someone else had taken a blacklight down and it really made the colors pop. I would do that next time. It would have helped to have someone hold the lights for me, but we were usually looking at different things so I just used the self-timer to free up my hands.
Extra lighting like these units were very helpful for evening out lighting a bit and for aiding in composition.
The cave obviously has lighting, especially on some of the more attractive/famous features and that presents a problem for photography. You will get hotspots all over the place and they can be hard to control. Watch for them and try to hide them behind things or balance them with the lights you bring.
Switch your camera to manual exposure and take some test shots as soon as you get in the cave. You may have to under or over expose. I also set my ISO to 2000 for a start and jumped to 4000 if needed. Also, I did a lot of bracketing, up to seven images, for merging later using HDR. I found that I didn't use  this many images in creating an HDR image, but to get the ones I wanted, I needed that much range. Usually, three or five was plenty though.
A tripod is going to be a must as shutter speeds are still going to be slow. Don't rest your tripod against the handrails as there are always vibrations.
If I could only take one lens, it would be my 12-24 FX. However, I wasn't restricted, so I also took my 28-300 FX.
It was difficult to capture perspective in the cave and if you don't pay attention, many photographs will just look like a jumble. If you can include people in some of them, especially some of the grander scenes, it will help. My wife doesn't like to model for me so I tried to use the pathways when I needed to portray perspective. 
Here I used the walkway to create a leading line and add perspective to the image.
Finally, I just accepted that I was not going to get the National Geographic-type photos. When professionals get permission to photograph down in the cavern, they go after hours, can go off-trail within reason, can set up multiple lights, and more importantly, can turn off the cave lights. I can't do any of that so I have to rely on my rudimentary Photoshop skills to help tame the light.
If you are using a cell phone for your camera, you might try switching to night setting. You will have to brace the camera solidly against something though as it will be a slow shutter.
If you are interested in birding at the park, there is a one-way gravel road/nature trail that starts up by the visitor center and loops back to the main road. There were a number of birds there, but the flocks of lark buntings stole the show.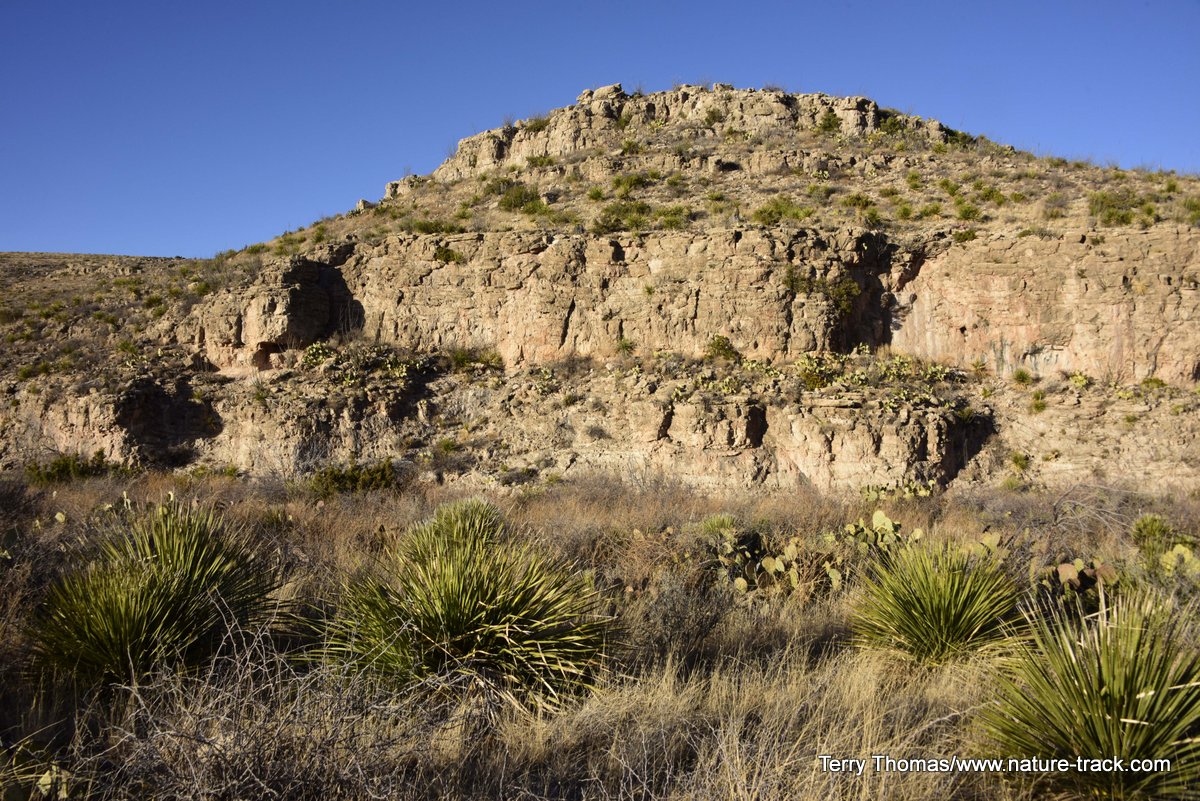 Scenic drive in Carlsbad.
Lark buntings on scenic drive. We saw several hundred, all still in winter dress.
Note that we were at the parks during the first several days of March. It is still winter from a vegetation standpoint. If you are interested in better birding or scenic photography, I would suggest going around the 1st of April.
The other place to go birding is Rattlesnake Springs down on the flats. This is a small part of the park disconnected from the rest. It is also the source of all the water for the visitor center and must be purified and pumped uphill. It is adjacent to a Nature Conservancy property and between the two, there are a lot of species (depending on time of year) including vermillion flycatchers, brown thrashers, great horned owls, sharp-shinned hawks, black phoebes and lots more. It is accessed via the same road that gets you to Sunset Campground (see below) and Slaughter Canyon.
Just down the road from Rattlesnake Springs is a BLM day use area called Cottonwood. There is a restroom there and if you follow the trail a few hundred feet, you will come to a platform that overlooks a slough of the Black River. Water in the desert is always an attraction and we saw white-throated sparrows, scaled quail, northern flickers, black phoebes, American coots, pied-billed grebes and more.
---
---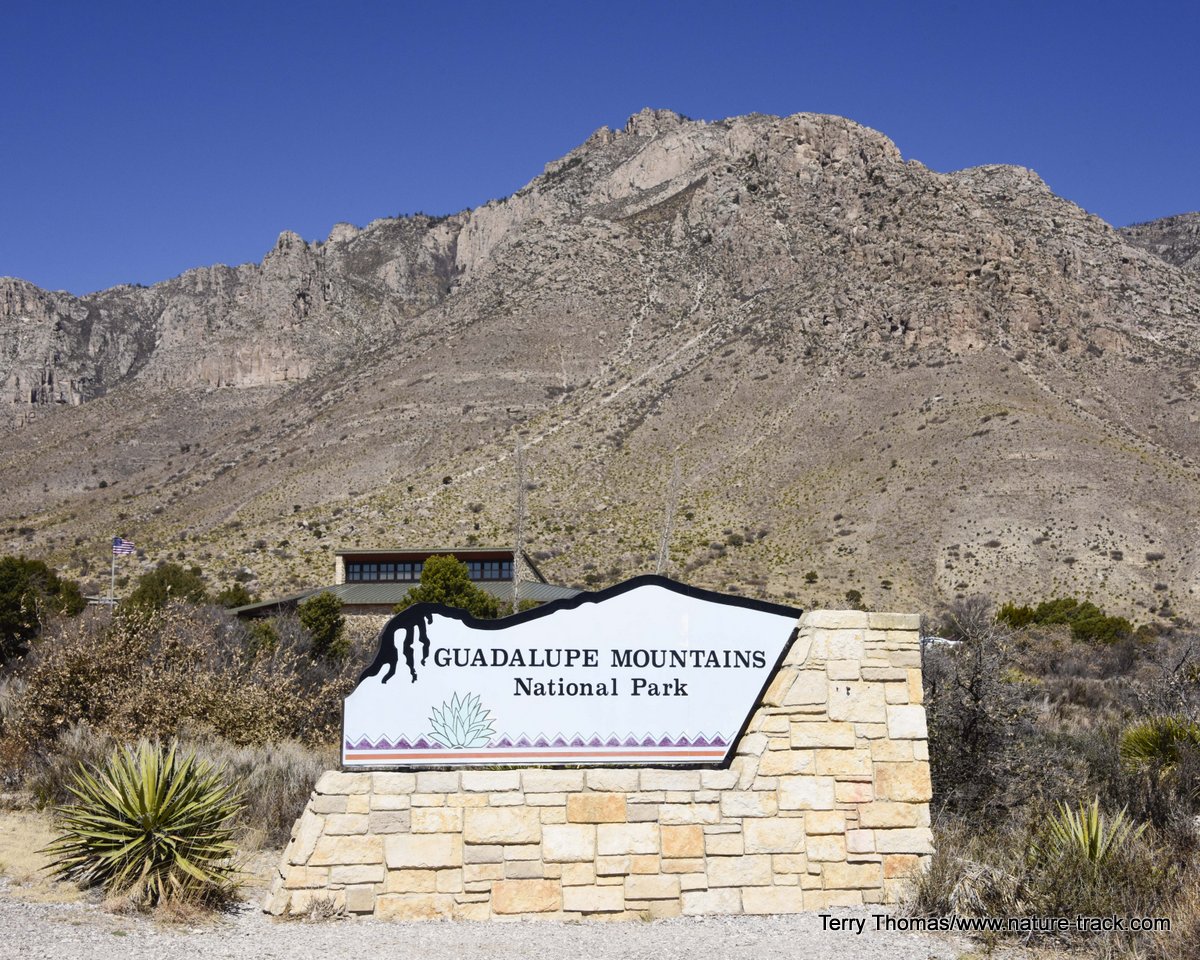 Guadalupe Mountains National Park is really a hiker's park. There are no scenic drives and only two short nature walks, but miles and miles of trails and peaks as high as 8,615 feet as well as designated wilderness. There is no water though, so go well prepared.
We started our visit with the nature walk at McKittrick Canyon. This trail goes up a canyon and then loops over a ridge and back to the visitor center. It may be about a mile long and goes through the Chihuahuan Desert habitat where it starts to transition to pinyon-juniper habitat. It is a nice walk early in the day, but could be hot in the afternoon. 
Although Guadalupe Mountains National Park is in Texas, it stays on Mountain time to be consistent with Carlsbad Caverns. 
At the main visitor center, we took the Butterfield historical walk. This short trail ends at the remnants of a stagecoach/overland mail station that was in operation for 10 months during 1858-59. The stagecoach line owners prided themselves in making the journey from St. Louis to San Francisco in 25 days, averaging 120 miles a day. I don't think I can even imagine such a journey.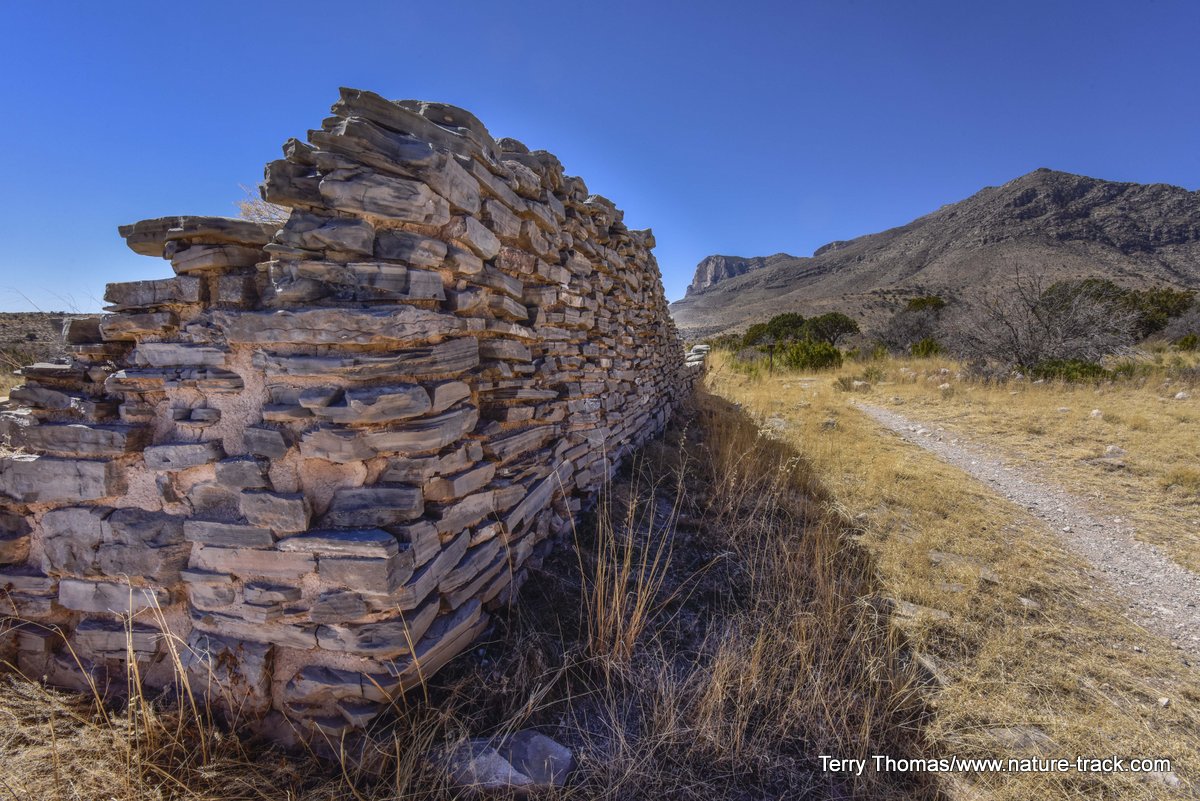 Little remains of the Butterfield Overland Mail Pinery station.
One other trail is easily accessible at the Frijole Ranch entrance, a historical ranch that still has most of its buildings intact. The ranch house is now a museum, but it was closed when we were there. We walked on to a spring that was developed by the rancher for irrigation and the trail continued from there.
Frijole Ranch museum.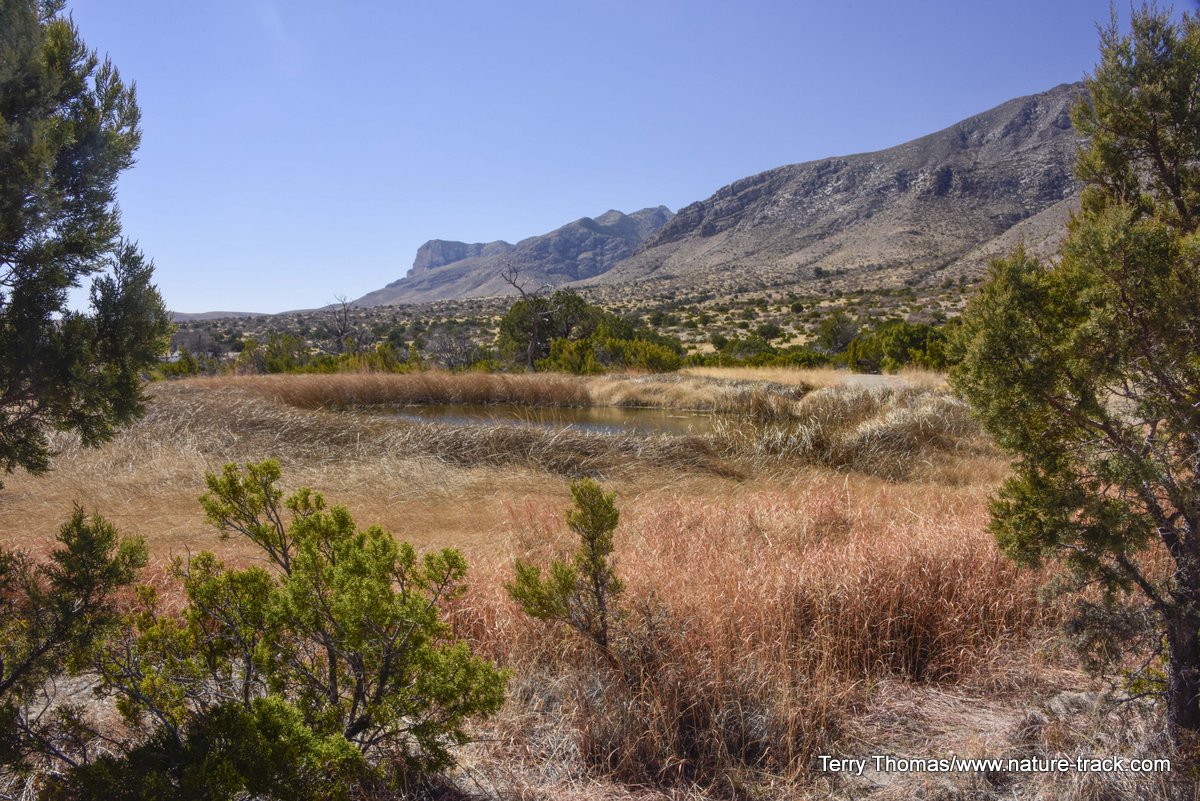 Frijole Spring.
There is one access point to Guadalupe Mountains National Park on the north side. It is named Dog Creek and has a campground. We decided to check it out and found that it is quite a long drive that goes through BLM, national forest and private land. Once again, if you want to see any more of the park from here, you will need to get your hiking boots on.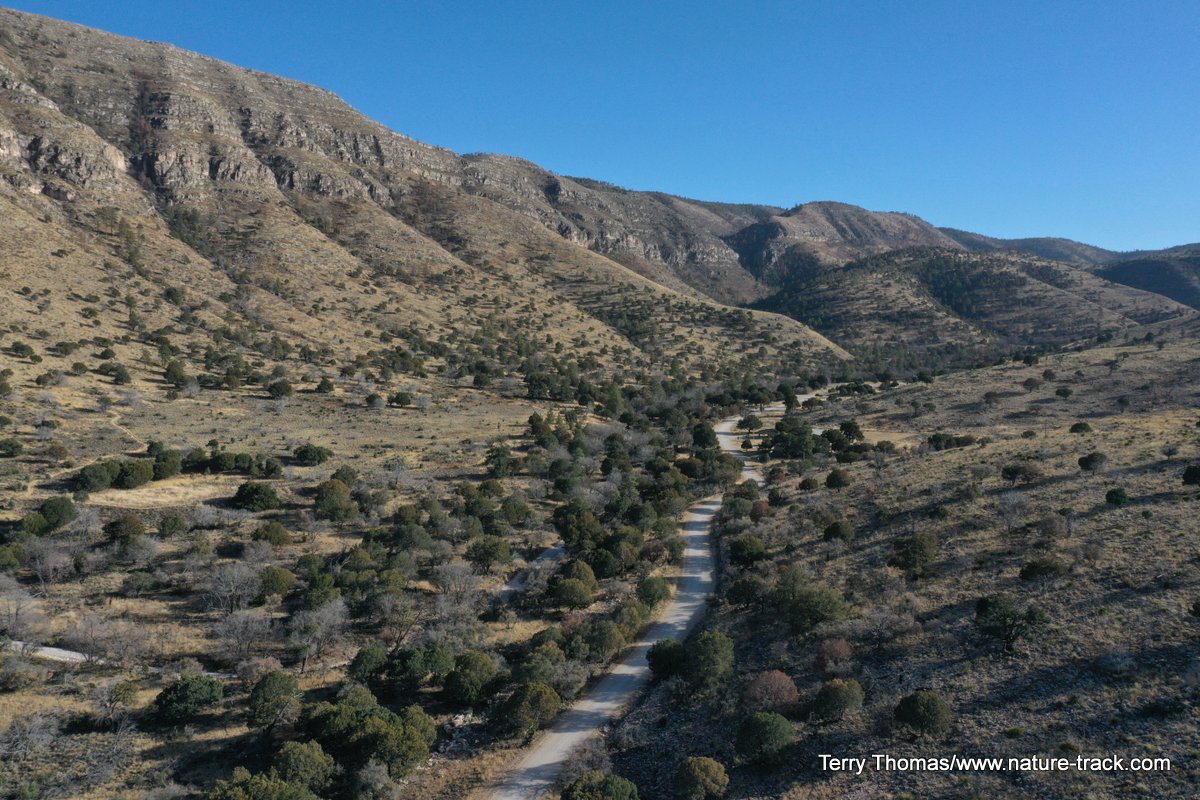 Dog Creek campground, on the north end of Guadalupe Mountains National Park is very secluded. 
I suppose that I would not make Guadalupe Mountains National Park a destination if it were not for Carlsbad Caverns National Park nearby. However, being that close, I am glad we did not miss it.
As for camping and lodging, there is a campground at Guadalupe Mountains by the main visitor center. However, this is possibly the most austere national park campground I have ever seen. It is literally a big parking lot. However, you still need to get reservations through Recreation.gov. As for Dog Creek, it is a nice quiet campground, but unless you have a reason to go there, it is WAY out of the way for everything else.
We camped in a BLM campground called Sunset View, at the beginning of the Rattlesnake Springs road. This campground is not visible from the highway. You will recognize the turn because there is a great big red billboard announcing Washington Ranch. As soon as you turn onto this road, you will turn right, go through a fence and over a cattle guard. About half a mile further is the campground. There are only about eight RV and eight tent/small RV sites, but there is an iron pipe fence around the campground and probably another 10-15 rigs will park around the perimeter. That is where we camped for four nights—we even cancelled our reservation at Guadalupe as it was just as easy to access that park from here (about 30 miles). The restroom was well stocked and clean and the campground was very quiet.
Aerial view of Sunset Campground. Carlsbad Visitor Center is on the ridge in the background on the far right.
If there is no room at Sunset, there are several places across the highway. One is called Chosa and has a graveled parking lot, at least from the photos. We did not go look at it, but you can find it on the Internet.
There are also several privately owned campgrounds at White's City.
Carlsbad Caverns National Park should be on everyone's bucket list. It is that impressive. While you are there, Guadalupe Mountains National Park deserves some time as well.