Badlands National Park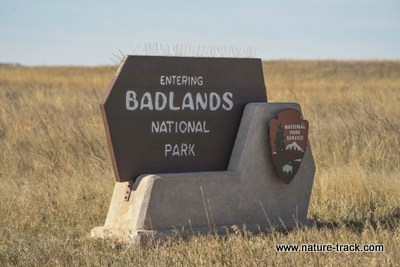 ---
It seems odd to actually have a place called Badlands as a destination. Intuitively, that seems like a place to avoid. But Badlands National Park in South Dakota is an awesome place to visit. Our three days was not long enough by a long way. That was especially true as the weather was changing from hot and clear to rainy and cool the day we left and we would have experienced an entirely different park in wet weather.
We arrived by taking Highway 44 from Rapid City, SD to Interior. This is a fine backroad that isn't very busy. There are no services along the way though until you reach Interior. The town of Scenic is really more of a ghost town and isn't scenic at all.
  You can also take Interstate 90 and get off at Wall, SD (Exit 110), the home of the famous, Wall, Drug, or get off at Exit 131. Head south on Highway 240 from Wall and in eight miles you will be at the Park with about 25 awesome miles to go to the visitor center at Interior. Exit 131 (further east) is only about 12 miles from the visitor center down Highway 377.
We camped in the Cedar Pass Campground near the visitor center. Campsites without electricity are $20.10/night. With electricity are $35/night. They have an RV dump station that you can use for $1.00 and you can fill up your freshwater tank.
 The campground is okay, but you will feel like stacked cordwood. Most of the sites filled up by evening but there were always a few left. Most were pull through but there were often two sites in one pull through making getting lined up a little dicey. The restrooms have flush toilets and hot water though so that was nice. Also, campfires are NEVER permitted anywhere in the Park.
 There is one other campground at the far west end, called the Sage Creek Campground. It is accessed via a gravel road either by turning north about a mile east of the town of Scenic on Highway 44 or by driving out the loop drive and continuing on the gravel road past the Roberts Prairie Dog Town. There is no fresh water at this campground and there is only a pit toilet. However, the Sage Creek end of things is really pretty and is closer to most of the wildlife.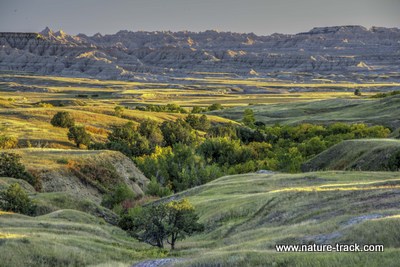 The Sage Creek area, including part of the Badlands Wilderness Area, is dramatically different from the rest of the park. It is worth spending time there. I would suspect that this would be a great place to photograph large mule deer and white-tailed deer bucks later in the season.
The gravel road thing discouraged me from taking the trailer into Sage Creek. However, we drove the road from Highway 44 to the paved portion of what is called the Loop Road (because it loops from Wall, down through the Park and back to Interstate 90) and it was a fine road. I wouldn't hesitate to take my trailer down it if it is dry. Park staff warn that any of the unpaved roads can get pretty slick in wet weather.
 If you don't want to camp in the park, there is a KOA nearby or you can stay at one of the cabins at the Lodge ($150-195/night), at several motels in Interior or in Wall.
There are terrific views of the Badlands along the paved Loop Road, the gravel road out to Sage Creek Campground and also along Highway 377. There are so many different views and angles though that it was a real challenge to decide which images to include with this blog. There just didn't seem to be a single iconic image that represented the entire park. Every shot was different enough to be included so what i have here doesn't represent the entire park.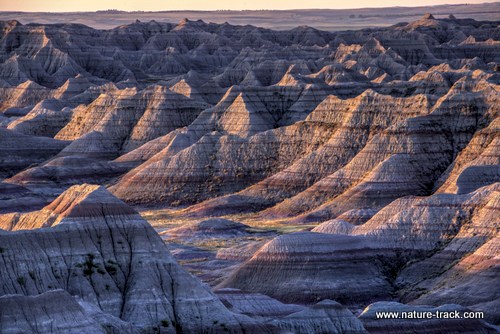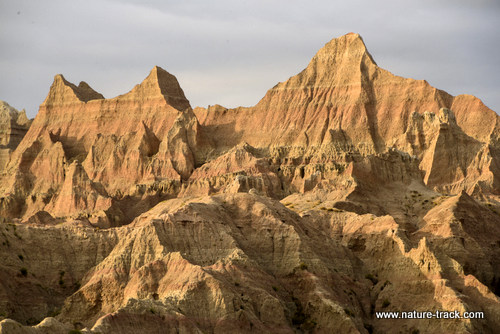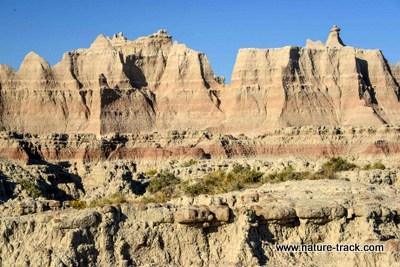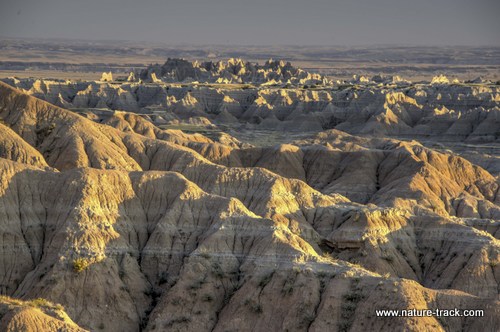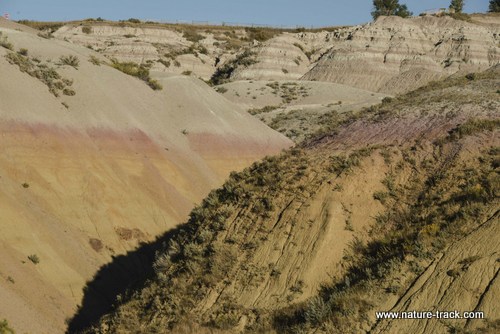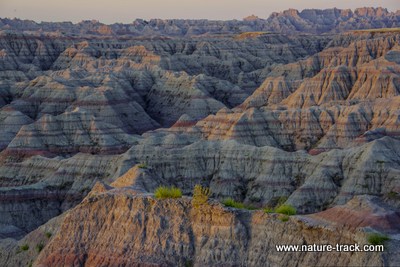 All of these images were taken from the Loop road. I could have chosen from dozens more views but you get the point.
We were big into trying to get sunrise and sunset photos and found that sunrises were best along Highway 377 (in part because it was much closer to the campground and easier to reach before sunrise) and sunsets were best along the Loop Road. Incidentally, you are far enough east that sunrise and sunset are both about half an hour earlier than in Idaho Falls.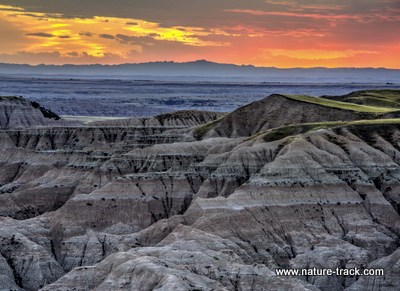 Sunrise from Big Badlands Overlook.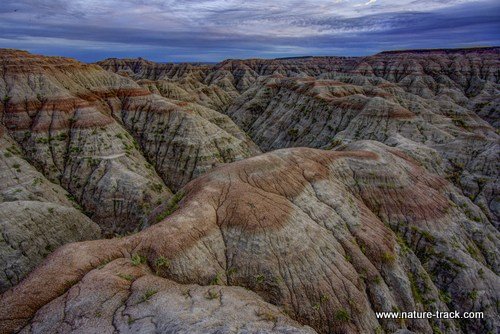 The bottom photo ended up being my favorite from the trip. We had set out to get sunset images but the sun and clouds didn't cooperate. I sort of took this one as a BTN (better than nothing) image but it really worked. It is an HDR with three different exposures composited together. And no, that isn't cheating.
We found good sunrise views at Big Badlands Overlook near the Park entrance and also at the Door Overlook a mile or two south. For sunsets, most of the views along the Loop Road are great but we liked the Pinnacles Overlook, the Big Foot Overlook, and Burns Basin Overlook. On the last evening, sunset was a flop but I did discover that I like walking down into the canyon a couple hundred yards and out on to one of the many lower down overlook points. I found this angle to be pleasing and easier to compose than shooting from the overlook or near it.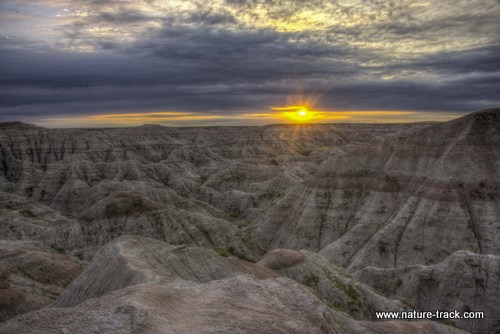 Sunset from the Burns Basin Overlook.
When we were at Custer State Park we made a two-hour drive over to Red Shirt on the Pine Ridge Indian Reservation, part of the Stronghold segment of the park (the same location is about 80 miles, 1.5-2 hours, from Interior, South Dakota where the main visitor center is). Robert Hitchman of the Photograph America Newsletter describes the overlook there as one of the best views for a sunrise that the park has to offer. We were there in the evening to witness the harvest moon rise over the same landscape. As I reviewed my images from that area, I decided that indeed this was a great area to photograph.  However, during World War II this area was used as a gunnery practice range and unexploded ordnance is still found there today. Travel at your own risk.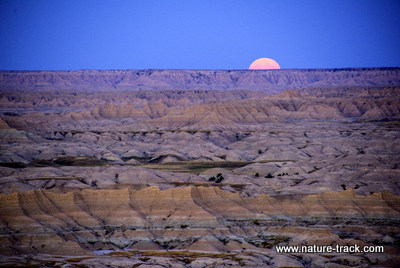 Moonrise over the westernmost part of the Badlands, the Stronghold Unit. Taken from the Red Shirt Overlook area.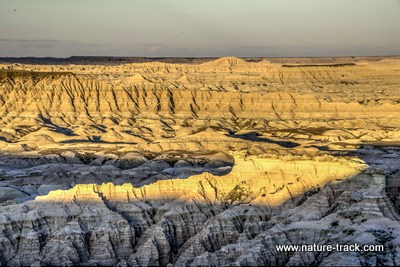 The Red Shirt Overlook would be a great place to be at sunrise. It is almost a two hour drive from Interior though, so you will be getting up early. This is a sunset image, facing east.
The Badlands are really the sediment of the bottom of an ancient sea that covered much of the North American continent for millions of years during the Tertiary Period, during the rise of mammals. After the ocean receded, rivers like the White River began to erode the sediments away. The process still happens today, forcing the 60-mile-long wall of the badlands inexorably northward and separating the upper and lower prairies. It is estimated that from 100,000 to 500,000 years from now, the Badlands will be gone.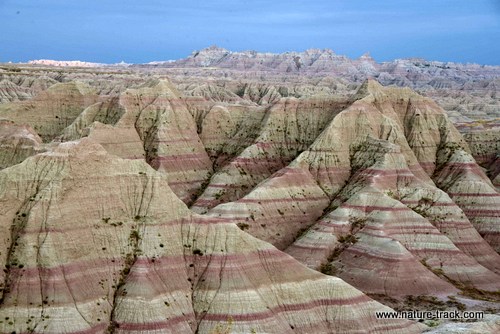 Sediments laid down over millions of years are easily identified as erosion cuts intricate patterns into the consolidated mud that was once an ocean floor.
These ancient sea sediments have been the graveyard of thousands and thousands of early mammals and Badlands National Park is a well-known paleontological site. Mammal fossil remains of many new species have been discovered in the Badlands and as the erosion continues (about an inch a year) new specimens are continually uncovered.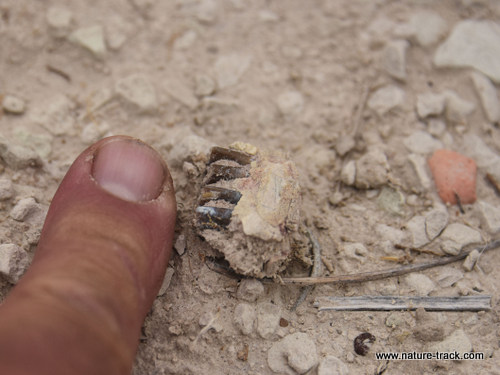 These fossilized jawbone and teeth are from a medium dog-sized animal, according to the paleontologists at the lab in the visitor center.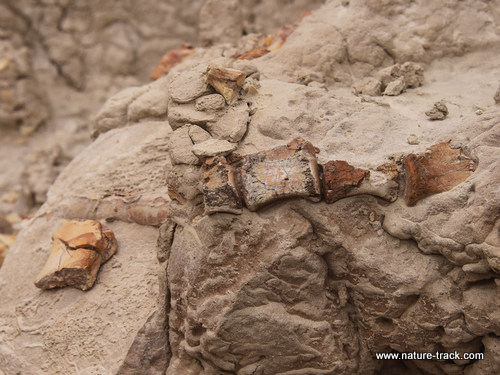 Cathy discovered this segment of vertebrae. There are five segments of vertebrae here--four go horizontally across the center of the image and the fifth is on the rock at far left. This could have been from a mammal or a tortoise. We found a lot of fossilized tortoise shell too.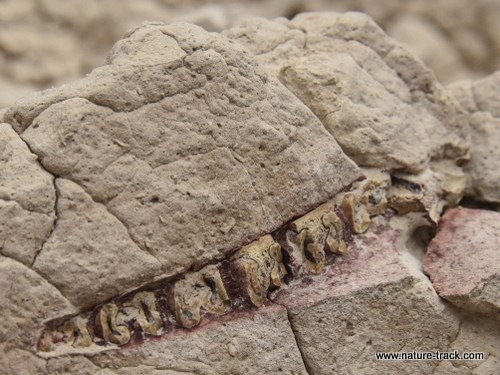 I spotted this row of fossilized teeth about 10 feet up a bank. Bits and pieces of other bones were scattered below it.
This park is considered an "open" park where you are allowed to wander just about anywhere you want to. That is great for photography but it is even better for finding fossils. Cathy dropped me off to photograph a bighorn ram and while walking out to it, I stumbled on the piece of a fossil jaw and teeth. I raced back to the road and flagged Cathy back down and together we looked for more. Within minutes we had discovered fossil tortoise shell fragments, leg bone fragments and another piece of jaw.
Photography was forgotten and we spent the rest of the morning exploring. We documented each find with Cathy's cell phone and then reported the find at the Visitor Center. Despite finding over a hundred fragments, it turned out that what we discovered was fairly common in this park and didn't elicit the excited response we hoped for. We were just one of 500-600 reported visitor finds so far this year. It was awesome for us though and something I look forward to doing again on our next visit.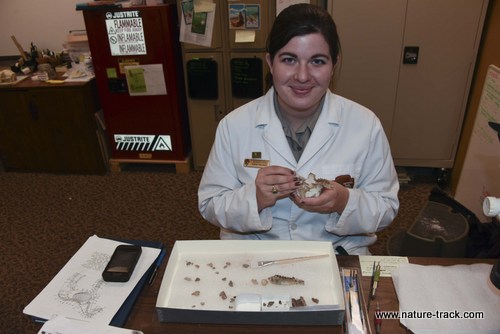 Paleontologist Alaina Fike carefully cleans specimens in the lab at the visitor center.
We were also surprised by the wildlife in the Park. I told Cathy that the Badlands would be all about scenery and that wildlife would just be a bonus. However, we saw bighorn sheep every day including a herd of 40 ewes, lambs and young rams and four full curl rams, lots of bison, the best black-tailed prairie dog towns of the trip (we also saw them in Devils Tower, Wind Cave NP and Custer SP), pronghorn antelope, mule deer, rabbits, tons of bluebirds including one eastern bluebird, sharp-tailed grouse, rock wrens and more meadowlarks than we could count.
There were signs everywhere warning about prairie rattlesnakes but I didn't get to see one. The best place for wildlife is on the gravel road toward Sage Creek but there really wasn't anyplace we didn't see something. In fact, the rams were on the 377 Highway, not even on the main part of the Loop Road.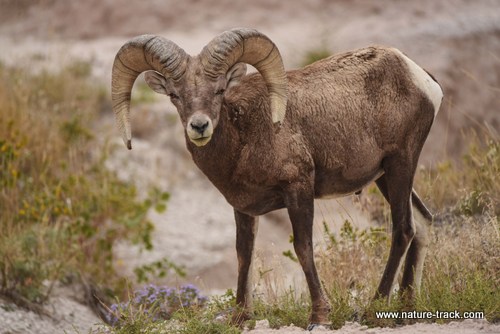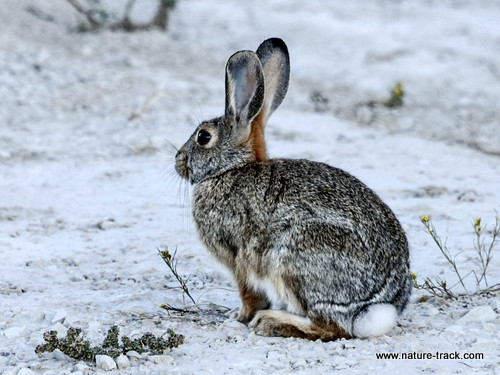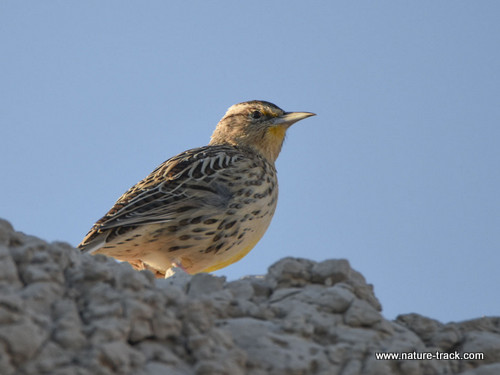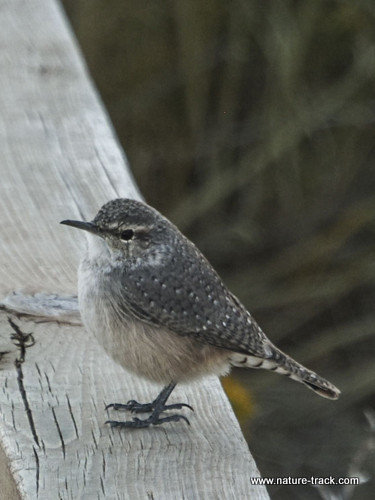 We took an afternoon and raced down to the Stronghold Unit on the western side of the Park.  We didn't get all the way to the White River Visitor Center but we did take the road to the top of Sheep Mountain Table. This was reported to be a very difficult road suited only for high clearance and recommended four-wheel drive but we found that to be a great exaggeration. True, there is a sign on top (after several miles) that warns of rough road conditions and beyond this sign it got more difficult, but until that sign, no vehicle would have any trouble. All bets are off if it is wet though.
View east from the Sheep Mountain Table rim.
This was a fine way to spend some time, but I didn't find it much of an improvement over the rest of the Park although the drive through the Sage Creek area was worthwhile. It would have been a good place for a sunset photo but we left before that.
It is easy to find though: just go down the Sage Creek Road to Highway 44 turn west and then in about a mile turn south at Scenic. Go down the road about four miles and watch for the Sheep Mountain sign on your right. If you go another 16 miles you will be at the White River Visitor Center.
Just a quick note on the rest of the Park. There is one unit, the Palmer Unit, that is on Reservation land and is completely surrounded by private property. Without permission, it is not accessible at all.
I am still hoping to get back to the Badlands and do some serious photography one day. I think I will go in May or June though to capture the green landscape and perhaps some wildflowers to complement the stark grays, reds and yellows of the slopes.