The Busy Season
Post Register
August 1, 2013
     For many years, I have avoided extended vacations in National Parks during the busy season. On rare short visits I always found the crush of humanity a bit unnerving. Last fall, for instance, we had a chance to join throngs of people viewing the fall colors in Smoky Mountain National Park. This is the most visited park in the system, and autumn is definitely the busy season. We checked at the entrance for conditions in Cade's Cove, a popular loop drive. The ranger told us it was literally bumper to bumper, with a three hour wait to make the short loop once we got there. That was too much for me, so we skirted the park on an equally scenic, but less crowded parkway.
     Thus, our decision to spend our vacation in Grand Teton Park, in the middle of July and over a weekend, caused me some trepidation. I worried I would see the people and not the park. I figured that solitude we find in the off-season was too much to ask, but we really wanted to experience summer in the park, so I hoped the crowds wouldn't push me to insanity.
     Although we camped just outside the Park on National Forest land, we were pleasantly surprised to find that even in the peak of the busy season, not all park campgrounds filled except on the weekend. Gros Ventre and Lizard Creek campgrounds typically did not fill.
     We explored in the cool morning hours and discovered that mornings were definitely the time to be out. Two experiences illustrate this. At about 0800 Saturday morning, we were one of half a dozen vehicles observing a bull elk near the String Lake turnoff. He was a splendid specimen in his smooth, rich brown summer coat with matching velvet-covered six-point antlers. The next afternoon, same place, same elk, there were over 50 vehicles and a park ranger riding herd on the masses.
     String Lake is a beautiful, small, shallow lake that winds like a ribbon between Jenny Lake and Leigh Lake. Mount Moran and Teewinot reflect in its still, early morning surface and sandy beaches line the east shore. We launched our canoe on Saturday before 0830, pleased to find we were sharing this peaceful place with just a few others. By noon, it seemed that a carnival had descended. Dozens of watercraft dotted the surface and every beach and every boulder that jutted from the lakebed bulged with swimmers.
     Trails weren't much different. In the early morning you could easily lose yourself in the illusion of solitude. By noon you might confuse the same trail with the Idaho Falls Greenbelt.
     Solitude was still available, but we had to work for it. For instance, the roads closed by sequestration created instant "wilderness," as people seemed reluctant to walk into an area where they could formerly drive. There are also many off-trail experiences available and canoeing immediately separated us from the majority.
     Bottom line? Yes, the park is crowded in July. However, a summer visit, with lots of daylight, stunning wildflowers, and clear warm days, is still worth it. Solitude might be a scarce commodity, but the scenery, wildlife, and atmosphere are still there. Moreover, I realized that National Parks are much like anything else: you will find what you look for.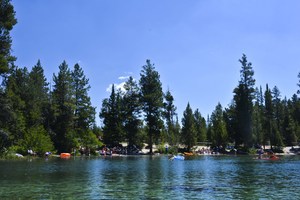 We had the morning almost to ourselves on String Lake, but by noon, we shared it with several hundred other people.