Harriman State Park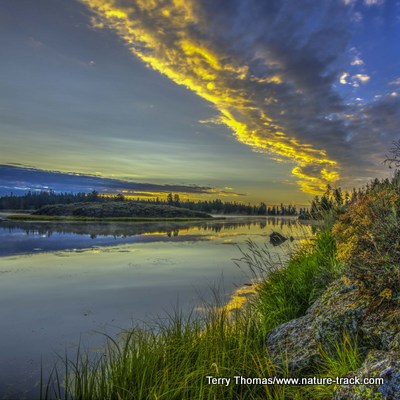 Sunrise over the Henrys Fork in the heart of Harriman State Park. If you haven't been there, you are missing a great place.
---
Maybe Island Park's Harriman State Park is overshadowed by more famous places on Highway 20 like Yellowstone and Henry's Lake. Perhaps they need a bigger sign or better advertising, or even a public relations firm. Whatever the reason, this state park doesn't get the attention it deserves from ardent outdoor enthusiasts.
Oh, sure, fly fishermen know all about it. They explore eight miles of the Henrys Fork within the park searching for cutthroat trout. But unless they are hiking back to their vehicle, fly fishermen are never far from the river, leaving a lot of the 11,700 acres available for others.
Harriman was once called the Railroad Ranch. It was established in 1902 when five railroad men formed the Island Park Land and Cattle Ranch. In 1907, the chairman of Union Pacific Railroad, Edward H. Harriman, bought shares in the ranch and eventually, his son, Roland, owned all the shares. In 1977, Roland and his wife Gladys donated the ranch to the state of Idaho to become a state park.
As I understand it, the Harriman's had a few strings attached to their gift. First, the ranch had to remain a working cattle ranch in some form. Second, no hunting was to be allowed and a wildlife security area had to be included. Third, fishing in the river would be catch and release and dedicated to fly fishing only. Fourth, and this was important well beyond the borders of Harriman, a professional parks and recreation agency had to be created to manage the park.
That last one was responsible for the creation of Idaho Department of Parks and Recreation which now manages 28 park entities throughout the state. It was also the clause that kept Governor Otter from disbanding Idaho Parks and Recreation as a cost cutting measure a few years ago. Had professional government-run management been withdrawn, the property would have reverted back to the Harriman family.
Today, this well-run park is surrounded on the west side by a 7,000-acre wildlife refuge. The cattle operation is leased out to a local rancher and many of the original buildings are available for visitors to tour and some are even available for rent. You can even rent horses for a guided tour.
The majority of visitors never get much further than the ranch complex. The 22 miles of hiking/biking trails are lightly used and it isn't uncommon to have a trail to yourself.
My favorite things in the park seem to revolve around water. There are always swans and other waterfowl and occasionally I see a moose, elk, deer, otter or muskrat.  I enjoy the Silver Lake and Thurmon Creek trails, the river trail and Golden Lake. I also like to canoe on the Harriman Fish Pond, which is located across Highway 20 down the Mesa Falls road. Once on the Mesa Falls Road, watch for the sign about a mile down the road, turn right and then take the left.
I know this sounds like an advertisement for this wonderful place. I guess I just can't help myself when I go to Yellowstone and find roads and trails choked with 30,000 visitors on any day in August. Even at Harriman Heritage Days last month the park only garnered a few hundred visitors each day. Maybe a little advertising isn't a bad thing.
---
Help Idaho Wildlife
When we traveled across the state in October 2017, most of the vehicles we saw using the wildlife management areas did not have wildlife plates. Buying wildlife plates is a great way for non-hunters and hunters alike to support wildlife-based recreation like birding.
C'mon folks, let's help Idaho's wildlife by proudly buying and displaying a wildlife license plate on each of our vehicles! 
See below for information on Idaho plates. Most states have wildlife plates so if you live outside Idaho, check with your state's wildlife department or vehicle licensing division for availability of state wildlife plates where you live. 
And tell them that you heard about it from Nature-track.com!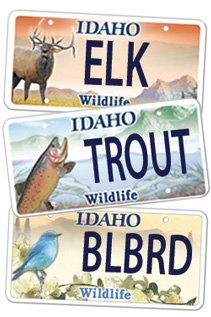 Wildlife License Plates
Idaho Wildlife license plates provide essential funding that benefits the great diversity of native plants and wildlife that are not hunted, fished or trapped—over 10,000 species or 98% of Idaho's species diversity. Game species that share the same habitats (such as elk, deer, antelope, sage-grouse, salmon, trout) also benefit from these specialty plates.
No state tax dollars are provided for wildlife diversity, conservation education and recreation programs. Neither are any revenues from the sale of hunting or fishing licenses spent on nongame species. Instead, these species depend on direct donations, federal grants, fundraising initiatives—and the Idaho Wildlife license plates.
Both my vehicles have Bluebird Plates. I prefer the bluebird because the nongame program gets 70 percent of the money from bluebird plates, but only 60 percent of the money from elk and trout plates - 10 percent of the money from elk plates supports wildlife disease monitoring and testing programs (to benefit the livestock industry) and 10 percent from cutthroat plates supports non-motorized boat access.
Incidentally, in 2014, the Idaho Legislature denied the Department of Fish and Game the ability to add new plates or even to change the name of the elk and cutthroat plates (very specific) to wildlife and fish plates, a move that would have allowed for changing images occasionally and generating more revenue. It would seem that they believe that we Idahoans don't want a well funded wildlife program. Go figure.