RV Dry Camping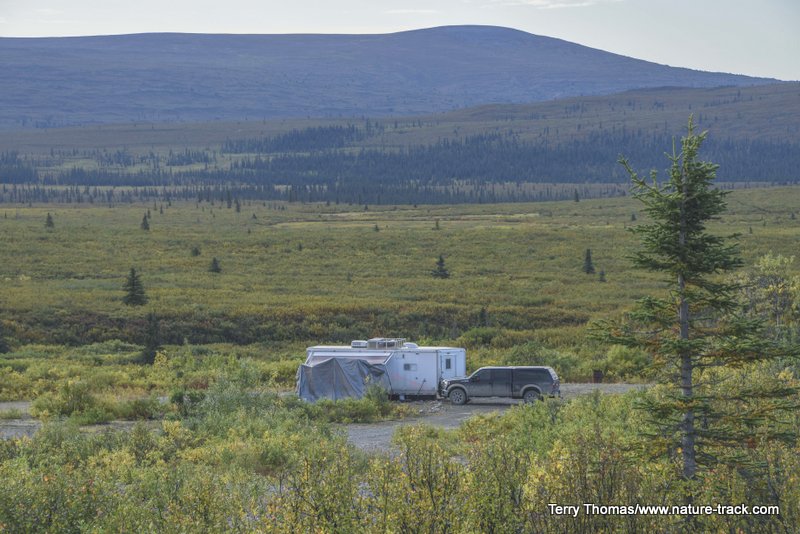 Dry camping on the Denali Highway, Alaska. Where allowed on public lands, dry camping really adds to your flexibility and enjoyment so long as you are prepared.
---
We 're amazed at the number of rental RVs on the road these days. Perhaps as many as half of the RVs we have encountered through Canada and Alaska have been rentals, from minivans to huge motorhomes.
I am sure resort and motel owners would disagree, but I think it is great that people are getting out and seeing this wonderful country in what, for many, is a non-traditional way. I have wondered though, how many of them are having their first camping experience after showing a guy from Hawaii how to dump his holding tank and fill his fresh water in Seward, AK.
Camping with a recreational vehicle is, in most cases, much easier than a tent, especially when it is rainy. Wet tents tend to stay that way during inclement weather and putting them up and down every day eventually soaks everything else.
Recreational vehicles are not effortless though, and that is especially true when dry camping. Dry camping, also called boondocking or drop camping, means camping outside an established campground.
There are some real advantages to dry camping. There are no campground fees, which can really add up over a long trip. Campsites are roomier with fewer neighbors and no restrictions on generators and such. You still need to be respectful of other campers, but typically, they are far enough away that it isn't an issue.
When dry camped, you are dependent upon the resources that you bring with you. You can't plug into a current bush or connect to city water. In just a weekend, you aren't likely to use up a tank of fresh water, but on extended trips, you may need to conserve or bring extra water in separate tanks.  You are still restricted by the size of your holding tanks though.
The same is true for power. Once you stop you start draining your battery power supply. Mitigate this three ways:
1) replace all bulbs in the RV with LED lights. These are spendy little things, but worth it from an energy standpoint.
2) acquire a generator. A 2000-watt generator will run most things in your RV, it just might not run them all at once. For instance, ours will not run the electric water heater and the microwave together. A 4000-watt or larger generator will run the air-conditioning.
3) get a solar panel. We placed a 100-watt panel on our trailer roof and have never run out of power in the six-weeks we have been on the road. As a bonus, these rather expensive units ($1200) can become a significant tax credit as your RV is considered a second home. Check with your tax consultant.
Newbie campers don't seem to realize they should level their RVs. Sometimes I'm amazed that they can keep anything on the table or sleep without sliding to the foot of the bed. We try hard to select a site that is fairly level to begin with, then use the tongue jack to get the front to back level and the corner jacks to level side to side. A set of bubble levels installed on a corner of your RV really helps with this.
If things are really unlevel, you can place blocks under your tires to raise up the low side. You can also create shallow holes for your tires to drop into to. After having our trailer slide off the front jack block when it rolled off the blocks under the tires, we have decided that the holes are safer. Just fill them back in when done. We also now use a wheel chock that fits between the tires and locks them together. And ALWAYS chock a trailer before removing it from the vehicle.
Once you are prepared, taking advantage of all the wonderful public land in the West by dry camping is a great option.
---
Help Idaho Wildlife
When we traveled across the state in October 2017, most of the vehicles we saw using the wildlife management areas did not have wildlife plates. Buying wildlife plates is a great way for non-hunters and hunters alike to support wildlife-based recreation like birding.
C'mon folks, let's help Idaho's wildlife by proudly buying and displaying a wildlife license plate on each of our vehicles! 
See below for information on Idaho plates. Most states have wildlife plates so if you live outside Idaho, check with your state's wildlife department or vehicle licensing division for availability of state wildlife plates where you live. 
And tell them that you heard about it from Nature-track.com!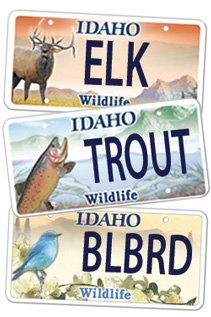 Wildlife License Plates
Idaho Wildlife license plates provide essential funding that benefits the great diversity of native plants and wildlife that are not hunted, fished or trapped—over 10,000 species or 98% of Idaho's species diversity. Game species that share the same habitats (such as elk, deer, antelope, sage-grouse, salmon, trout) also benefit from these specialty plates.
No state tax dollars are provided for wildlife diversity, conservation education and recreation programs. Neither are any revenues from the sale of hunting or fishing licenses spent on nongame species. Instead, these species depend on direct donations, federal grants, fundraising initiatives—and the Idaho Wildlife license plates.
Both my vehicles have Bluebird Plates. I prefer the bluebird because the nongame program gets 70 percent of the money from bluebird plates, but only 60 percent of the money from elk and trout plates - 10 percent of the money from elk plates supports wildlife disease monitoring and testing programs (to benefit the livestock industry) and 10 percent from cutthroat plates supports non-motorized boat access.
Incidentally, in 2014, the Idaho Legislature denied the Department of Fish and Game the ability to add new plates or even to change the name of the elk and cutthroat plates (very specific) to wildlife and fish plates, a move that would have allowed for changing images occasionally and generating more revenue. It would seem that they believe that we Idahoans don't want a well funded wildlife program. Go figure.