Canadian Rockies

Selecting a single image to accompany this column was more difficult than writing it. This is Peyto Lake in Banff National Park.
---
Enough friends have told us of the wonders of the Canadian Rocky Mountains that we decided to see for ourselves. We prepared for the trip by singing along with John Denver in the 1974 documentary, Day of the Bighorn, filmed in part in Jasper National Park (find it on YouTube). Far out. We then set out for Canada last week via the Port of Roosville, north of Kalispell, Montana. After cruising north on Highway 93 for several hours, we passed through the tourist destination of Radium Hot Springs and entered into Kootenay National Park.
Kootenay National Park is one of seven national parks in the Canadian Rockies.  Perhaps the most well-known is Waterton, the sister park to Montana's Glacier Park, well to the south in Alberta. Banff, Jasper, Yoho and Kootenay are all connected and form part of the Canadian Rocky Mountain Parks World Heritage Site, a United Nations designation. The group straddles the British Columbia—Alberta provincial line with Yoho and Kootenay in British Columbia, Banff in both and Jasper, the largest of the parks at 2.6 million acres (larger than Yellowstone), entirely in Alberta. Glacier National Park and Revelstoke National Park west of Yoho NP in British Columbia finish the Rocky Mountain national parks. Besides the national parks there are a series of provincial parks in both BC and Alberta along with wildland and wilderness parks.
We went to the four World Heritage parks and found the scenery in all of them to be overwhelming. Turquoise blue lakes and milky blue rivers, wildflower meadows shaded by impossibly rugged peaks, waterfalls plunging hundreds of feet, creeks rushing through narrow slot canyons and quiet marshes were everywhere. You could not see anything but endless fabulous scenery.
The road between Banff National Park's famed Lake Louise and the village of Jasper is called the Icefield Parkway. This 140-mile-long route was named by National Geographic as one of the ten best scenic drives in the world. It lives up to that reputation. The road is also a pleasure to drive with a mostly smooth surface, wide lanes and wide shoulders that cyclists appreciate.
The name Icefield Parkway comes from the Columbia icefield which sits on top of the mountains like a layer of icing and feeds a number of glaciers. This icefield is 77 square miles of ice hundreds of yards deep, sometimes more, lots more, and is the largest mass of ice in the Canadian Rockies. We paid the price and took the massive ice buggy out onto Athabasca Glacier where we enjoyed the chilly glacial air and drank the pure melted ice water.
While there are few roads per square mile in these parks, everywhere there is a road there is significant development. That is particularly true at the lakes. If you can drive a car to it, there is a lodge and resort there, without exception at least in our limited sampling. Be prepared for lots and lots of people during the summer season.  The campgrounds were always full---thank goodness for overflow campgrounds (essentially giant parking lots) at Lake Louise, Icefield Centre and Jasper.
The Canadian Rockies certainly stand up to their reputation as incredibly beautiful. Are they really superior to Idaho's Sawtooths, Wyoming's Wind Rivers, Utah's Uintas, Colorado's Rocky Mountain National Park or Montana's Glacier National Park? Each is spectacular in its own way, but vastness is what sets Canada's Rocky Mountains apart. There is more incredible mountain country than anyone can explore in a dozen lifetimes. If that appeals to you, start planning now for your adventure.
---
Help Idaho Wildlife
When we traveled across the state in October 2017, most of the vehicles we saw using the wildlife management areas did not have wildlife plates. Buying wildlife plates is a great way for non-hunters and hunters alike to support wildlife-based recreation like birding.
C'mon folks, let's help Idaho's wildlife by proudly buying and displaying a wildlife license plate on each of our vehicles! 
See below for information on Idaho plates. Most states have wildlife plates so if you live outside Idaho, check with your state's wildlife department or vehicle licensing division for availability of state wildlife plates where you live. 
And tell them that you heard about it from Nature-track.com!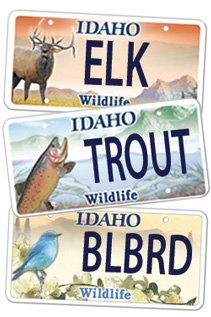 Wildlife License Plates
Idaho Wildlife license plates provide essential funding that benefits the great diversity of native plants and wildlife that are not hunted, fished or trapped—over 10,000 species or 98% of Idaho's species diversity. Game species that share the same habitats (such as elk, deer, antelope, sage-grouse, salmon, trout) also benefit from these specialty plates.
No state tax dollars are provided for wildlife diversity, conservation education and recreation programs. Neither are any revenues from the sale of hunting or fishing licenses spent on nongame species. Instead, these species depend on direct donations, federal grants, fundraising initiatives—and the Idaho Wildlife license plates.
Both my vehicles have Bluebird Plates. I prefer the bluebird because the nongame program gets 70 percent of the money from bluebird plates, but only 60 percent of the money from elk and trout plates - 10 percent of the money from elk plates supports wildlife disease monitoring and testing programs (to benefit the livestock industry) and 10 percent from cutthroat plates supports non-motorized boat access.
Incidentally, in 2014, the Idaho Legislature denied the Department of Fish and Game the ability to add new plates or even to change the name of the elk and cutthroat plates (very specific) to wildlife and fish plates, a move that would have allowed for changing images occasionally and generating more revenue. It would seem that they believe that we Idahoans don't want a well funded wildlife program. Go figure.