High Tech Gear
Compared to a couple we met in the Tetons, my backpack looks huge, heavy and unwieldy. I may be due for an update to more modern gear.
---
As we rode the tram to the top of Jackson Hole Resort near Wilson, Wyoming several weeks ago, we chatted with a young couple from New York.  They were heading out on the Teton Crest trail, with their endpoint being Jenny Lake in Grand Teton National Park four days hence. Their backpacks were smaller than what I usually carry for a day pack and I marveled at what they must be leaving behind—items that I likely considered essential for a successful backpacking trip, and wondered at what high-tech wizardry their remaining gear must hold.
I thought about that as I stared at, then hefted, the gargantuan backpack that I was about to carry on a whopping four-and-a-half mile, two-night backpacking trip into the Uinta Mountains of Utah last week. While it didn't weigh what the pack from the previous year did, it was still heavy and was going to make the thousand-foot elevation gain in the first mile and a half a real struggle.
I questioned everything that I packed, realizing that just camera gear, essential in my mind, tipped the scales at around ten pounds, and I wondered what I could do to lighten my load. Switching to a full-frame mirrorless camera and lens would probably reduce my camera gear weight by half, but that is an expenditure of around $5,000, a cost difficult to justify.
What else could I do though? This was not a rhetorical question. On this trip, my son and grandkids helped me celebrate my 66th birthday and the realization that I am not getting younger forces me to ponder alternatives.
My oldest son is an advocate of ultralight backpacking and has been slowly convincing me that I need to change out some of my gear for ultralight equipment. It makes sense, but there is a part of me that is emotionally tied to the tents, packs and pads that I have used on so many other trips that it would seem almost disloyal to abandon them to shave a few pounds.
However, reducing pounds is becoming paramount to being able to stay in the backpacking game for a few more years. My son had already convinced me to get a new ultralight air mattress, one that is quite comfortable, if a bit noisy, and also has an R-2 insulation value thanks to a reflective coating on the inside that redirects body heat back up, and presumably, ground cold back down. This move alone removed about one and a half pounds and freed up a lot of space in my pack.
Steps two and three will likely be an ultralight backpack and an ultralight tent. My current backpack weighs six pounds empty. A high-quality ultralight pack will weigh in at about two pounds, shedding a net of four pounds.
The same is true for a tent. My two-man backpack tent, which is a tight squeeze for my wife and I and has no head room to speak of, weighs in at just over four pounds. A larger more comfortable tent made from Cuben fiber or other high-tech materials would weigh in at around 20-28 ounces, less than two pounds, saving me an additional two to two and a half pounds.
In two items, I could cut over six pounds from my standard gear and actually improve my comfort. I know that sleep systems have come a long way as well, and while I am not likely to ever embrace a hammock for sleeping, I could probably shed an additional two pounds with an all-new sleep system (not necessarily a sleeping bag).
Freeze-dried food is already a staple for backpacking and high-tech clothing will also help, but in the end, I will need to take less if I want my pack to weigh less. I am prone to include a number of potentially unnecessary things such as field guides, fishing tackle, hand lenses, primitive fire-starting gear, binoculars, the occasional bottle of soda pop and more. For me, these are all items that make the adventure more than just exercise.
I don't think I am ever going to get to the ultralight level of the couple from New York. Perhaps, though, embracing high-tech gear will let me still haul a few of my guilty pleasures.
---
Help Idaho Wildlife
When we traveled across the state in October 2017, most of the vehicles we saw using the wildlife management areas did not have wildlife plates. Buying wildlife plates is a great way for non-hunters and hunters alike to support wildlife-based recreation like birding.
C'mon folks, let's help Idaho's wildlife by proudly buying and displaying a wildlife license plate on each of our vehicles! 
See below for information on Idaho plates. Most states have wildlife plates so if you live outside Idaho, check with your state's wildlife department or vehicle licensing division for availability of state wildlife plates where you live. 
And tell them that you heard about it from Nature-track.com!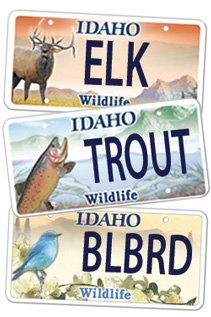 Wildlife License Plates
Idaho Wildlife license plates provide essential funding that benefits the great diversity of native plants and wildlife that are not hunted, fished or trapped—over 10,000 species or 98% of Idaho's species diversity. Game species that share the same habitats (such as elk, deer, antelope, sage-grouse, salmon, trout) also benefit from these specialty plates.
No state tax dollars are provided for wildlife diversity, conservation education and recreation programs. Neither are any revenues from the sale of hunting or fishing licenses spent on nongame species. Instead, these species depend on direct donations, federal grants, fundraising initiatives—and the Idaho Wildlife license plates.
Both my vehicles have Bluebird Plates. I prefer the bluebird because the nongame program gets 70 percent of the money from bluebird plates, but only 60 percent of the money from elk and trout plates - 10 percent of the money from elk plates supports wildlife disease monitoring and testing programs (to benefit the livestock industry) and 10 percent from cutthroat plates supports non-motorized boat access.
Incidentally, in 2014, the Idaho Legislature denied the Department of Fish and Game the ability to add new plates or even to change the name of the elk and cutthroat plates (very specific) to wildlife and fish plates, a move that would have allowed for changing images occasionally and generating more revenue. It would seem that they believe that we Idahoans don't want a well funded wildlife program. Go figure.