Fire Lookout Towers
---
Clay Butte Lookout on the Shoshone National Forest is closed for the 2020 season but is scheduled to re-open in 2021. It is a great place to see how a fire lookout operated.
---
It wasn't a long hike to the lookout tower in Island Park, but it was exciting just the same to be going to someplace new. At the tower, there were no interpretive signs (although we later learned that it was built in 1936) and the first 20 or so wooden steps and accompanying metal handrail had been removed to discourage visitors from climbing this all metal 100-foot tall structure half hidden in the trees. It was a reminder though, of a bygone era when fire lookout towers were the primary method of detecting forest fires.
Before 1910 fire detection in the West received little attention although eastern states had been building towers before the US Forest Service was established in 1905. Then a huge collection of wildfires throughout North Idaho, Montana and Washington, sometime referred to as the Big Blowup, ravaged over three million acres and killed 85 people. The smoke from those fires literally and politically reached Washington DC and the fledgling Forest Service was tasked with seeing it didn't happen again. That spurred an effort that would eventually create about 5,000 fire lookout towers across the nation by the 1940's, 611 built by the Civilian Conservation Corps. Every state except Kansas had at least one fire tower.
There was no template for a fire lookout tower. They ranged from a single tree with a chair nailed to a platform on top and a ladder for access to elaborate steel or wooden towers and three-story rock buildings built on high bluffs. What most had in common was small size. The cab, the small room on top of a tower (even lookouts built at ground level were called towers and had a cab), was usually 10 by 10 feet, occasionally as large as 14 by 14 feet.
The tallest fire lookout tower in the United States is the Woodworth Tower in Louisiana. It is 175 feet high and is anchored by over 650 cubic yards of concrete. Built in 1951, Woodworth Tower was likely one of the last towers to be built in the United States. The highest elevation fire lookout in the world is atop Fairview Peak at 13,214 feet in, you guessed it, Colorado. Idaho apparently holds the record for the most lookouts in the lower 48 states.
Fire lookouts were in their heyday for only a relatively short period. By 1950, aircraft and advancing communication abilities were beginning to replace fire towers. In the United States, about 250 towers are still in operation, manned by a mix of volunteers and paid professionals. At least 21 countries, including the United States and Canada, still use fire lookout towers to some degree today. While many US towers are on the National Historic Register, not many are maintained and as the 2019 loss of the Mt Holmes tower in Yellowstone to a lightning strike demonstrates, nature will continue to claim them.
Clay Butte Lookout on the Beartooth Highway near Cooke City, Montana, is a great place to see how a fire lookout operated. This tower was operated until 1962 and has been staffed since 1975 by volunteers who show visitors how to work the equipment.
Lookout towers fascinate me and I have been to many. Throughout my life, I have also had my own personal lookouts—friends, family and leaders of many types watching over the tops of the forests I wandered, warning me of fires, storms and giving direction when I, in the thick of the woods, could not see which way to go. To these lookouts, I say a heartfelt, Thank you.
---
Help Idaho Wildlife
When we traveled across the state in October 2017, most of the vehicles we saw using the wildlife management areas did not have wildlife plates. Buying wildlife plates is a great way for non-hunters and hunters alike to support wildlife-based recreation like birding.
C'mon folks, let's help Idaho's wildlife by proudly buying and displaying a wildlife license plate on each of our vehicles! 
See below for information on Idaho plates. Most states have wildlife plates so if you live outside Idaho, check with your state's wildlife department or vehicle licensing division for availability of state wildlife plates where you live. 
And tell them that you heard about it from Nature-track.com!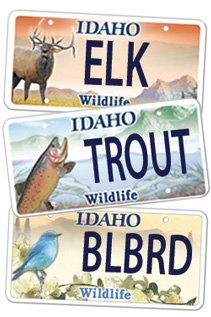 Wildlife License Plates
Idaho Wildlife license plates provide essential funding that benefits the great diversity of native plants and wildlife that are not hunted, fished or trapped—over 10,000 species or 98% of Idaho's species diversity. Game species that share the same habitats (such as elk, deer, antelope, sage-grouse, salmon, trout) also benefit from these specialty plates.
No state tax dollars are provided for wildlife diversity, conservation education and recreation programs. Neither are any revenues from the sale of hunting or fishing licenses spent on nongame species. Instead, these species depend on direct donations, federal grants, fundraising initiatives—and the Idaho Wildlife license plates.
Both my vehicles have Bluebird Plates. I prefer the bluebird because the nongame program gets 70 percent of the money from bluebird plates, but only 60 percent of the money from elk and trout plates - 10 percent of the money from elk plates supports wildlife disease monitoring and testing programs (to benefit the livestock industry) and 10 percent from cutthroat plates supports non-motorized boat access.
Incidentally, in 2014, the Idaho Legislature denied the Department of Fish and Game the ability to add new plates or even to change the name of the elk and cutthroat plates (very specific) to wildlife and fish plates, a move that would have allowed for changing images occasionally and generating more revenue. It would seem that they believe that we Idahoans don't want a well funded wildlife program. Go figure.