Idaho Mountain Ranges
The Pioneer Mountain range has the highest average elevation of all the 115+ ranges in Idaho (Long Lake).
---
I've climbed mountains, but I am not a mountain climber. For the most part, my climbing has been occasional peak bagging in association with backpacking trips although I have specifically climbed Mt. Borah and the Grand Teton in my younger days. Deserts, coastlines, swamps and taiga all have considerable appeal, but mountains have always been my first love and the place where I feel most at home.
A friend was recently cleaning out her bookshelf and gave me a book, Idaho Mountain Ranges, that intrigued me. I started searching for more information about Idaho mountains and learned a lot. For instance, most, but not all, of the mountain ranges in Idaho are part of a great mountain range you might have heard of: the Rocky Mountains. This chain of mountains, the largest on the continent, is over 3,000 miles long, stretching from northern British Columbia to New Mexico.  Sadly, of the 100 highest peaks in the range, Idaho was left out while our neighbors, Wyoming, Montana and Utah all have at least one. Colorado has 78 of the highest 100 and even New Mexico has six of the 100.
The Rocky Mountain range has hundreds of subranges and subranges are often further divided into other distinct mountain chains. In Idaho, there are at least 115 named ranges according to the US Geological Survey (USGS).
Any mountains north of the Snake River Plain are considered part of the Rocky Mountains as well as the mountains along our eastern border with Wyoming around Soda Springs and south. Idaho Climbing Guide (idahoclimbingguide.com) recognizes 36 major ranges in Idaho.
The elevations of these mountain ranges, according to the USGS, stretch from the Chalk Hills of Canyon County with an average of 2,556 feet in elevation to...well it is not the Lost River Range where the tallest mountain in Idaho, Mt. Borah, and the next highest, Mt. Leatherman, reside. The range with the highest average elevation is the Pioneer Range of Copper Basin fame with an average elevation of 11,939 feet. The Lost River Range averages 8,783 feet elevation.
Elevation can be deceptive though. For instance, the Selkirk Mountains of Idaho's Panhandle average only 5,331 feet in elevation. However, the general area is lower in elevation than Eastern Idaho. Bonner's Ferry, the closest town of size, sits at 1,896 feet, or 3,400 feet below the average of the range. As a reference, the elevation of Idaho Falls is 4,705 feet and Mackay, the closest town to the Pioneer Range is at 5,906 feet. So, it is all sort of relative, although someone from Idaho Falls isn't likely to suffer from altitude sickness in the Selkirks while someone from Bonner's Ferry might find the air thin indeed in the Pioneers.
Probably the best-known mountain range in Idaho is the Sawtooth Mountains in central Idaho. The summit of the highest peak, Thompson Peak, in this incredibly rugged chain of mountains, is surprisingly only 10,751 feet. The entire range encompasses an area of 678 square miles with 57 peaks over 10,000 feet. Another 77 peaks fall between 9,000 and 10,000 feet.
Since mountain ranges were formed long before there were people on this planet, they don't conform well to political boundaries. Idaho shares mountain ranges with Montana, Nevada, Oregon, Utah, Washington, Wyoming and Canada.
The view from the top of a mountain peak has always been worth the climb and I should have scaled more of them in my younger days. The old adage, mountains get taller and steeper as you get older seems to be true. There will always be other mountains to climb though and they won't all be made of granite.
---
Help Idaho Wildlife
When we traveled across the state in October 2017, most of the vehicles we saw using the wildlife management areas did not have wildlife plates. Buying wildlife plates is a great way for non-hunters and hunters alike to support wildlife-based recreation like birding.
C'mon folks, let's help Idaho's wildlife by proudly buying and displaying a wildlife license plate on each of our vehicles! 
See below for information on Idaho plates. Most states have wildlife plates so if you live outside Idaho, check with your state's wildlife department or vehicle licensing division for availability of state wildlife plates where you live. 
And tell them that you heard about it from Nature-track.com!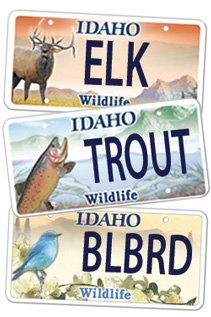 Wildlife License Plates
Idaho Wildlife license plates provide essential funding that benefits the great diversity of native plants and wildlife that are not hunted, fished or trapped—over 10,000 species or 98% of Idaho's species diversity. Game species that share the same habitats (such as elk, deer, antelope, sage-grouse, salmon, trout) also benefit from these specialty plates.
No state tax dollars are provided for wildlife diversity, conservation education and recreation programs. Neither are any revenues from the sale of hunting or fishing licenses spent on nongame species. Instead, these species depend on direct donations, federal grants, fundraising initiatives—and the Idaho Wildlife license plates.
Both my vehicles have Bluebird Plates. I prefer the bluebird because the nongame program gets 70 percent of the money from bluebird plates, but only 60 percent of the money from elk and trout plates - 10 percent of the money from elk plates supports wildlife disease monitoring and testing programs (to benefit the livestock industry) and 10 percent from cutthroat plates supports non-motorized boat access.
Incidentally, in 2014, the Idaho Legislature denied the Department of Fish and Game the ability to add new plates or even to change the name of the elk and cutthroat plates (very specific) to wildlife and fish plates, a move that would have allowed for changing images occasionally and generating more revenue. It would seem that they believe that we Idahoans don't want a well funded wildlife program. Go figure.