National Parks Vs National Monuments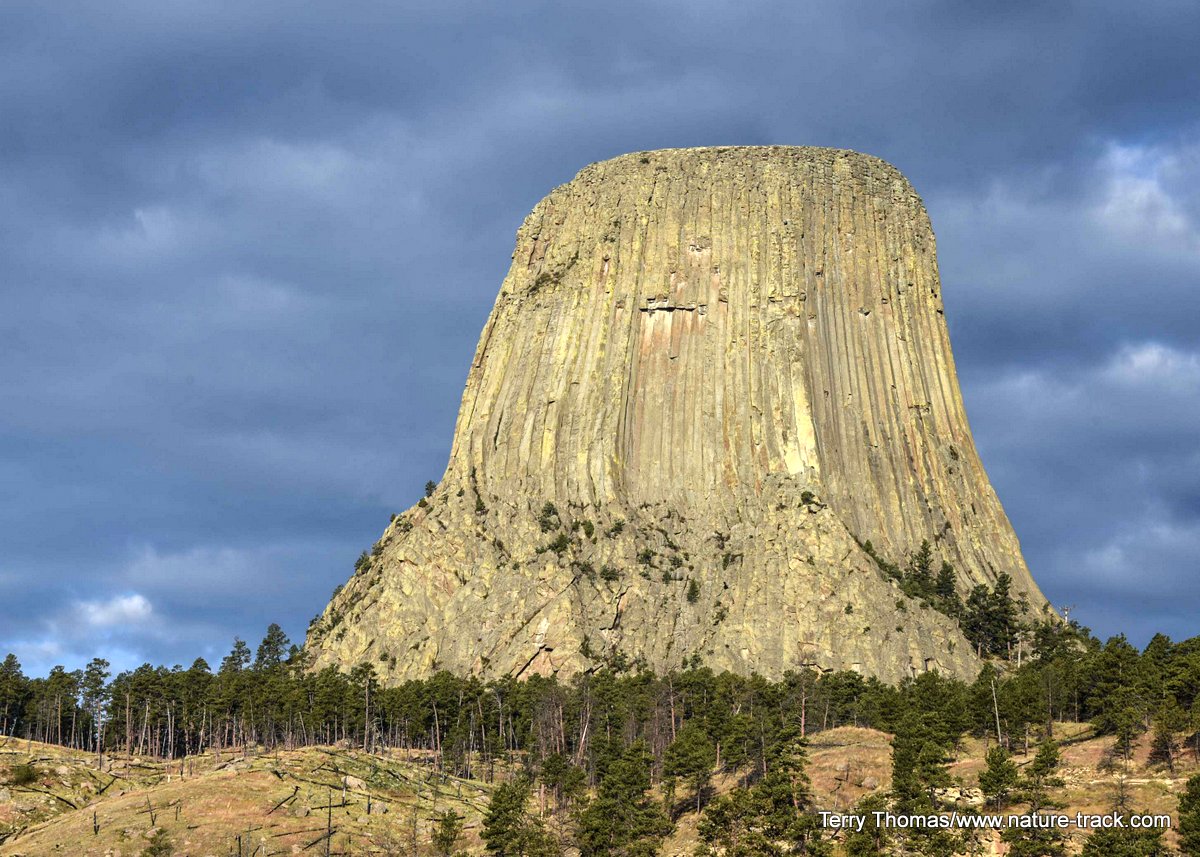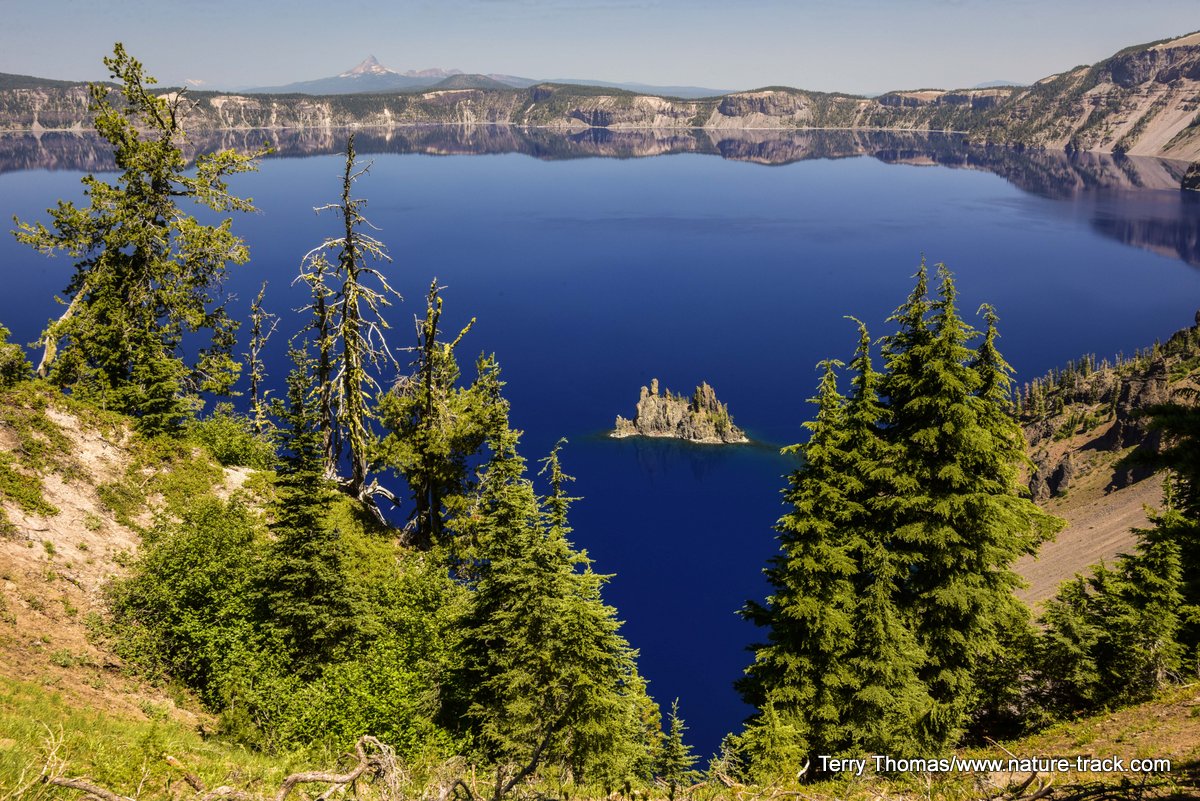 ---
Devil's Tower was the first National Monument, created just three months after the passage of the Antiquities Act of 1906. Crater Lake National Park, was established directly as a National Park in 1902.
---
On a recent trip to Oregon, we spent most of a day exploring Oregon's only true national park: Crater Lake in south-central Oregon along the Pacific Crest National Trail in the Cascade Range. John Day Fossil Beds and Oregon Caves are both national monuments, not parks, a seemingly small difference, but an important one.
One main difference between a park and a monument is in how the area is established. A national park is authorized through Congressional legislation. A national monument is created by presidential proclamation using the authority of the Antiquities Act of 1906 or by congressional legislation.
President Theodore Roosevelt was the first President to declare a national monument when he proclaimed Devils Tower in Wyoming as the first national monument on September 24, 1906. He went on to declare a total of 16 national monuments including Grand Canyon, Lassen Volcano, Pinnacles, Petrified Forest and Olympic national monuments, all of which subsequently were approved by Congress for national park status. Today, there are 129 national monuments.
It is fairly common for national monuments to later be approved as national parks. Of the 59 established national parks, 27 started out as national monuments. Besides the ones outlined above, the list includes Acadia, Zion, Grand Teton, Bryce, Death Valley, Katmai, Carlsbad Caverns, Arches, Great Sand Dunes, Saguaro, Joshua Tree, Glacier Bay and more. Clearly, the national monument process has been a terrific benefit to the American people.
Only three presidents, Richard Nixon, Ronald Reagan and George H.W. Bush, did not create national monuments during their tenure. Even Donald Trump added five monuments to the system. Barack Obama leads with the creation or expansion of 34 national monuments, Bill Clinton created 19 and Jimmy Carter created 15.
The impetus for the establishment of a national park is almost always related to its unique scenic value. There may be other features that help to "sell" it to Congress such as history or unique geology, but scenic value is always high on the list. A national park is also considered a playground of sorts, as recreation is a priority. Thus, most national parks are large enough to allow for management options.
On the other hand, monuments may be established to protect a single value. In fact, the Antiquities Act of 1906 was established specifically to protect archaeological sites. However, it also authorized the president to proclaim, "historic landmarks, historic and prehistoric structures, and other objects of historic or scientific interest" on federal lands as national monuments. Indeed, historical sites make up almost half of the national monuments. According to Wikipedia, "At least sixty-two national monuments protect historic sites, including twenty-seven associated with Native Americans, nine relating to African American history, and eleven forts."
The Antiquities Act also stated that, "the limits of which in all cases shall be confined to the smallest area compatible with the proper care and management of the objects to be protected." This last statement has resulted in some creative thinking in just what constitutes the smallest area needed to protect an object. Some monuments and additions to monuments have exceeded two million acres.
All national parks are managed by the National Park Service. Such is not the case with monuments. Of the 129 current monuments, 85 are managed by the NPS, 28 by the Bureau of Land Management, 13 by the US Forest Service and over a dozen are managed cooperatively between several agencies. While generally more restrictive than, say, a national forest, those monuments managed by agencies other than NPS, often have more flexibility in rule making.
Oregon may have only one national park, but if you don't count the nearly inaccessible several-mile-wide slice of Yellowstone National Park that juts into Idaho, there are no national parks (none with entrances in Idaho) in Idaho. Our only national monuments are Craters of the Moon and Hagerman Fossil Beds.
---
Help Idaho Wildlife
When we traveled across the state in October 2017, most of the vehicles we saw using the wildlife management areas did not have wildlife plates. Buying wildlife plates is a great way for non-hunters and hunters alike to support wildlife-based recreation like birding.
C'mon folks, let's help Idaho's wildlife by proudly buying and displaying a wildlife license plate on each of our vehicles! 
See below for information on Idaho plates. Most states have wildlife plates so if you live outside Idaho, check with your state's wildlife department or vehicle licensing division for availability of state wildlife plates where you live. 
And tell them that you heard about it from Nature-track.com!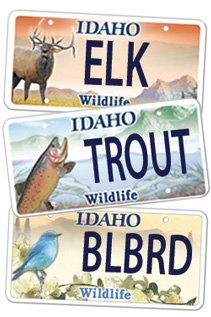 Wildlife License Plates
Idaho Wildlife license plates provide essential funding that benefits the great diversity of native plants and wildlife that are not hunted, fished or trapped—over 10,000 species or 98% of Idaho's species diversity. Game species that share the same habitats (such as elk, deer, antelope, sage-grouse, salmon, trout) also benefit from these specialty plates.
No state tax dollars are provided for wildlife diversity, conservation education and recreation programs. Neither are any revenues from the sale of hunting or fishing licenses spent on nongame species. Instead, these species depend on direct donations, federal grants, fundraising initiatives—and the Idaho Wildlife license plates.
Both my vehicles have Bluebird Plates. I prefer the bluebird because the nongame program gets 70 percent of the money from bluebird plates, but only 60 percent of the money from elk and trout plates - 10 percent of the money from elk plates supports wildlife disease monitoring and testing programs (to benefit the livestock industry) and 10 percent from cutthroat plates supports non-motorized boat access.
Incidentally, in 2014, the Idaho Legislature denied the Department of Fish and Game the ability to add new plates or even to change the name of the elk and cutthroat plates (very specific) to wildlife and fish plates, a move that would have allowed for changing images occasionally and generating more revenue. It would seem that they believe that we Idahoans don't want a well funded wildlife program. Go figure.