New Wilderness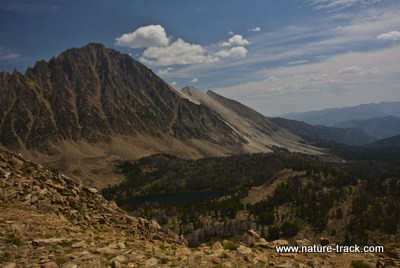 Castle Peak rises above Chamberlain Basin in the new White Cloud Wilderness. The new legislation may help maintain the wildness of this remote and wonderful area for future generations.
The climb up the Chamberlain Traverse from Washington Lake in the White Cloud Mountains was steep. Footing on the loose granite was treacherous and I worried about my grandson, Logan, and the sneakers he was wearing. He was nimble as a mountain goat though and we crossed over the ridgeline together. We took a break and soaked in a view of 11,815 foot Castle Peak rising like a wall above Chamberlain Basin.
At that very moment, 2,000 miles east, President Obama was signing into law the creation of the White Cloud, Hemmingway-Boulder Mountain and the Jim McClure-Jerry Peak wilderness areas of which the view in front of us was a part. There was no fanfare; formations of Air Force F-16s didn't perform a flyover and even the wind didn't miss a beat.
This was some of the most momentous environmental legislation impacting Idaho in many years yet it passed into law without a single change on the ground. Then it hit me: that is what this new designation was all about. There was too much at risk. Maintaining the same wildness we were enjoying couldn't be left to chance and no change was actually the goal.
The Wilderness Act was signed into law 51 years ago by President Lyndon B. Johnson after eight years and 66 revisions. With 110 million acres in 750 areas now designated as wilderness, the addition of 275,665 acres more seemed somewhat paltry.
It certainly wasn't the 332,000 acres originally proposed. Some very beautiful and fragile areas were deliberately excised from the final legislation, including Washington Lake where we were camped and the nearby and popular Fourth of July Lake basin.
It isn't as if the Boulder/White Clouds, as they are often referred to, had been ripe for development and thus in desperate need of protection. Over 40 years ago, Congress protected it as a recreation area providing for the, "management, utilization, and disposal of natural resources insofar as their utilization will not substantially impair the purposes for which the recreation area was established."
But that sentence left lovers of wild country cold. This is mining country, after all, and who was to say whether or not a new mine would "substantially impair" the values protected by the recreational designation? It wasn't sure and it wasn't enough. More was needed.
After dropping down into Chamberlain Basin and catching a few fish, Logan and I decided to take the trail back to camp rather than the traverse. We quickly learned just how big this country is. It took hours to hike to the other side of the ridge.
I have hiked, camped, fished and photographed in the White Cloud Mountains for many years. The change to wilderness won't affect my enjoyment or use of the area in the slightest. What it might do though, is allow Logan to return someday with his grandson, climb that steep traverse and drink in the same unchanged view of Castle Peak. If so, it was all worth it.
---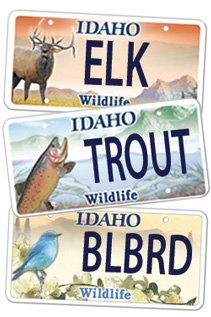 Wildlife License Plates
Idaho Wildlife license plates provide essential funding that benefits the great diversity of native plants and wildlife that are not hunted, fished or trapped—over 10,000 species or 98% of Idaho's species diversity. Game species that share the same habitats (such as elk, deer, antelope, sage-grouse, salmon, trout) also benefit from these specialty plates.
No state tax dollars are provided for wildlife diversity, conservation education and recreation programs. Neither are any revenues from the sale of hunting or fishing licenses spent on nongame species. Instead, these species depend on direct donations, federal grants, fundraising initiatives—and the Idaho Wildlife license plates.
Both my vehicles have Bluebird Plates. I prefer the bluebird because the nongame program gets 70 percent of the money from bluebird plates, but only 60 percent of the money from elk and trout plates - 10 percent of the money from elk plates supports wildlife disease monitoring and testing programs (to benefit the livestock industry) and 10 percent from cutthroat plates supports non-motorized boat access.
Incidentally, in 2014, the Idaho Legislature denied the Department of Fish and Game the ability to add new plates or even to change the name of the elk and cutthroat plates (very specific) to wildlife and fish plates, a move that would have allowed for changing images occasionally and generating more revenue. It would seem that they believe that we Idahoans don't want a well funded wildlife program. Go figure.