Yellowstone Lake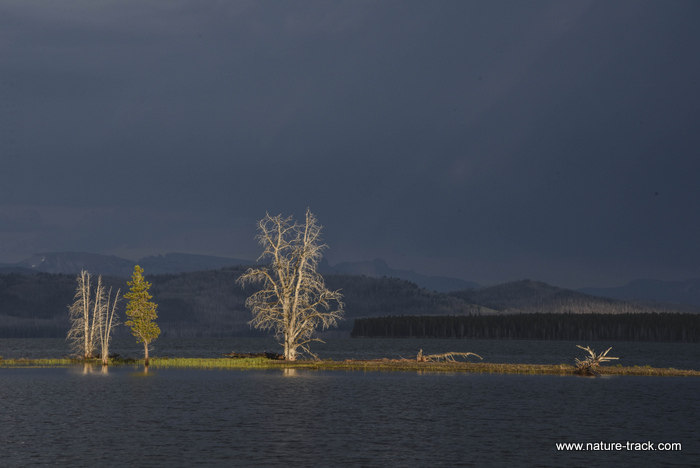 Adventure onto Yellowstone Lake and enter a wilderness that seems worlds away from the burgeoning crowds around Yellowstone National Park's more famous and easily accessed attractions.
---
It is impossible to escape humanity and civilization along the roads in Yellowstone National Park in July and August. Parking lots at places like Grand Prismatic Spring fill up fast and visitors are forced to pull off onto the shoulder, parking up to half a mile from some attractions. Boardwalks seem almost as crowded as Black Friday shopping aisles. By mid-day, traffic at key intersections can back up for a mile or more and if you happen to be caught in a buffalo jam, be prepared to be late for dinner.
Like shucking a heavy pack after a long day on the trail, all this humanity falls away when you enter the world of Yellowstone Lake. Solitude and a wilderness experience worthy of a national park are just a few boat miles away. In three nights camped on Yellowstone Lake's shores, we talked with exactly five other people, one being the ranger who checked our permit and the other four were on the single boat that spent the night moored to the dock that accessed our camp. Our nearest neighbors were three mule deer that visited camp daily, sometimes bedding next to our tents.
That isn't to say that camping on Yellowstone Lake isn't rife with the regulations that the Park is known for. A backcountry camping permit is required and although there are dozens of campsites available, getting a reservation in March or April is a good idea. Your boat will undergo an inspection for invasive species such as zebra mussels and you will be required to watch a 20-minute video on camping in the backcountry.
Part of the allure of Yellowstone Lake is its size. It is by far the largest lake in the park and is also the largest alpine lake (defined as lakes above 7,000 feet elevation) in North America. Its 141 miles of convoluted shoreline encompass 132 square miles of surface water. With that much area, it is easy to escape the bounds of civilization and have a true wilderness experience. Although we saw a couple dozen boats a day, most were at distances so great that we could not hear them. Even then, that is a miniscule percentage of the 30,000 visitors in the park on any given day in July and August.
Several regulations help to maintain the Yellowstone Lake wilderness experience. First, no water sports such as water skiing and tubing are allowed. Personal watercraft are verboten as well and camping, of course, is restricted to developed campsites. About one quarter of the lake, the South and Southeast arms and the Flat Mountain arm, have either five-mile-an-hour restrictions or are reserved for hand propelled craft like canoes and kayaks.
The fishing is great with plenty of four-pound cutthroats attacking lures and flies and lake trout over 20 pounds lurking in the depths. All cutthroats must be released and all lake trout must be killed. We had an awesome lake trout fish fry one night. A Yellowstone NP fishing permit is required.
If you are tired of the crowds at Yellowstone, you might try getting on the waters of Yellowstone Lake or one of the other lakes in the park. You will forget the swarm and press of humanity and rediscover a Yellowstone most visitors don't even know exists.
---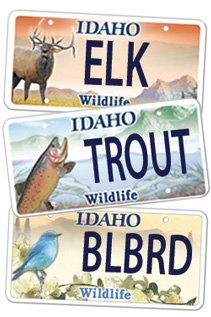 Wildlife License Plates
Idaho Wildlife license plates provide essential funding that benefits the great diversity of native plants and wildlife that are not hunted, fished or trapped—over 10,000 species or 98% of Idaho's species diversity. Game species that share the same habitats (such as elk, deer, antelope, sage-grouse, salmon, trout) also benefit from these specialty plates.
No state tax dollars are provided for wildlife diversity, conservation education and recreation programs. Neither are any revenues from the sale of hunting or fishing licenses spent on nongame species. Instead, these species depend on direct donations, federal grants, fundraising initiatives—and the Idaho Wildlife license plates.
Both my vehicles have Bluebird Plates. I prefer the bluebird because the nongame program gets 70 percent of the money from bluebird plates, but only 60 percent of the money from elk and trout plates - 10 percent of the money from elk plates supports wildlife disease monitoring and testing programs (to benefit the livestock industry) and 10 percent from cutthroat plates supports non-motorized boat access.
Incidentally, in 2014, the Idaho Legislature denied the Department of Fish and Game the ability to add new plates or even to change the name of the elk and cutthroat plates (very specific) to wildlife and fish plates, a move that would have allowed for changing images occasionally and generating more revenue. It would seem that they believe that we Idahoans don't want a well funded wildlife program. Go figure.