Yellowstone Adventure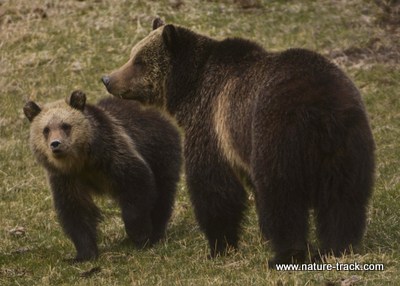 A sow grizzly and her cub were the crown jewels of a quick visit to Yellowstone.
Despite Saturday's forecast of almost guaranteed unsettled weather, I headed to Yellowstone Friday night. My schedule was full for the next four consecutive weekends, pretty much eliminating another pre-season trip.
I drove through almost steady rain and snow from Ashton to Mammoth and steeled myself for a cold wet camp. But when I pulled into Yellowstone's Mammoth campground, open year-round and the only campground open before May, I found the Campground Full sign at the entrance.
 With no options, I headed for our old standby, the Yellowstone Motel in Gardiner. This shoestring trip just got expensive but it was nice to have someplace warm and dry to sleep.
By 5:20 a.m. I was on the road, headed toward the Lamar Valley. I planned to just cruise up and down the road and look for wildlife. If the weather cooperated better than expected, I might take a short hike to Trout Lake.
By Tower Junction I had already seen dozens of elk, hundreds of bison, including three brand new calves, several groups of mule deer, bighorn sheep and pronghorn antelope. It was an auspicious beginning for a gloomy weather day.
As I drove slowly up the valley, I scanned for grizzlies and wolves. April seems to be a good month to find both of these in Lamar Valley but despite several passes from the Yellowstone River Bridge to well past Pebble Creek, I couldn't find any to look at, much less photograph.
I stopped to glass and eat breakfast at the Lamar work station when someone tapped on my window. "Did you see the wolf?" he asked. Sheepishly, and with a mouth half full, I said, "Uh, what wolf?" He invited me to look through his spotting scope at a wolf nearly half a mile away. Then he pointed out two dots about a mile away in the opposite direction and assured me that they were grizzlies. Through my own scope I confirmed he was right. Technically, I had fulfilled the object of my trip, but what I really wanted was to photograph them and that required a much closer encounter.
Rain and snow squalls pelted the valley for most of the day. Each time I gathered courage to brave the elements and take a walk, rain would begin to dance on the roof of the truck or snow would obscure the windshield and dampen my resolve.
After several more uneventful passes through the valley, I gave up and decided to try my luck elsewhere. Several miles south of Gibbon Meadows, the day came together in a grand fashion. On the far side of the Gibbon River, a sow grizzly and her yearling cub worked along the bank. They grazed, dug for insects and earthworms and posed beautifully.
                As I enjoyed the scene with dozens of other enthralled visitors, one man remarked, "Well that is something you don't see every day in Central Illinois." I replied, "Feel fortunate. It isn't something you see every day in Yellowstone either."
---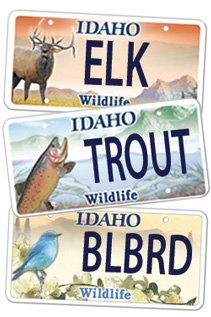 Wildlife License Plates
Idaho Wildlife license plates provide essential funding that benefits the great diversity of native plants and wildlife that are not hunted, fished or trapped—over 10,000 species or 98% of Idaho's species diversity. Game species that share the same habitats (such as elk, deer, antelope, sage-grouse, salmon, trout) also benefit from these specialty plates.
No state tax dollars are provided for wildlife diversity, conservation education and recreation programs. Neither are any revenues from the sale of hunting or fishing licenses spent on nongame species. Instead, these species depend on direct donations, federal grants, fundraising initiatives—and the Idaho Wildlife license plates.
Both my vehicles have Bluebird Plates. I prefer the bluebird because the nongame program gets 70 percent of the money from bluebird plates, but only 60 percent of the money from elk and trout plates - 10 percent of the money from elk plates supports wildlife disease monitoring and testing programs (to benefit the livestock industry) and 10 percent from cutthroat plates supports non-motorized boat access.
Incidentally, in 2014, the Idaho Legislature denied the Department of Fish and Game the ability to add new plates or even to change the name of the elk and cutthroat plates (very specific) to wildlife and fish plates, a move that would have allowed for changing images occasionally and generating more revenue. It would seem that they believe that we Idahoans don't want a well funded wildlife program. Go figure.