Bear River Migratory Bird Refuge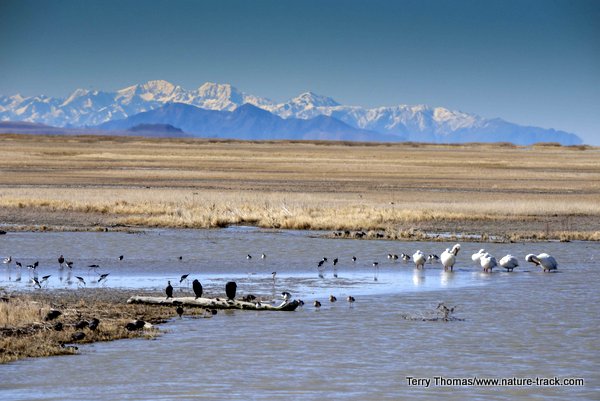 There are a least six different species in this image taken last week at Bear River Migratory Bird Refuge near Brigham City, Utah. That only leaves 244 species left to see there.
---
The summers of 1981 and 1982 were cool and wet in Northern Utah. When those two summers were followed by the record-setting winter of 1982-83 and a delayed (May), then accelerated (temperatures spiked almost overnight to over 80 degrees F) spring runoff, it caused mudslides, floods and even State Street in Salt Lake City became a fishable and navigable river. All the water had to go somewhere and disaster loomed in the Great Salt Lake. From September 1982 through June 1983, the lake rose 5.2 feet, the greatest seasonal rise ever recorded.
There were, of course, consequences. Besides flooding out many structures and roads surrounding the lake and causing the governor of Utah to approve a probably less-than-thought-out plan to install huge pumps, create a canal and try and pump the excess lake water out into the desert land to the south, wildlife suffered too. Dikes failed at Bear River Migratory Bird Refuge west of Brigham City, flooding the entire 60,000-acre refuge with salt water. Overnight, the salt killed virtually all the vegetation and insect life. There was plenty of water for birds to land on, but there was now nothing to eat, a critical factor for birds in migration.
Bear River Migratory Bird Refuge was created by presidential decree in 1928 in response to citizen outcry over the damage to wildlife in the area, particularly waterfowl. The losses occurred from a one-two punch as the Bear River Delta dwindled from 45,000 acres of prime wetland habitat to less than 3,000 acres in about a score of years, and the resulting disease outbreaks this caused as fresh water levels decreased and wildlife crowding increased. In 1910 and again in 1920, outbreaks of avian botulism killed a total of about 3.5 million birds. Over time, 50 miles of dikes created five large freshwater lagoons and increased wildlife use many fold creating a premier refuge.
It took until 1989 for the lake to recede enough for restoration to begin. A four-million-dollar grant from the federal government allowed managers to rebuild the dike system with dikes that could withstand high water and to add an additional 28,000 acres to the refuge. Native plants were re-established and over time, insects returned in abundance. In 2006, the James V. Hansen Wildlife Education Center/Visitor Center was completed just off Interstate 15's exit 363 and the refuge was back in business.
If you are looking for a great springtime birding destination, you can't do much better than Bear River Migratory Bird Refuge. It is just a little over two hours south of Idaho Falls to exit 363. Then it is another nine miles, about 15 minutes, from the visitor center to the 12-mile one-way auto-tour route around Unit 2 along the top of several dikes. How long does it take to drive the tour route? As long as you like. When we visited on April 17th, our first trip around took about 3.5 hours. Our second run that day took about 1.5 hours. With over 250 potential species to see, it can take a while. We identified at least 52 species there and another 20 at nearby Willard Bay State Park.
On the auto-tour route there are not many places where you can get out and hike around. However, there is a nature trail at the visitor center. This trail is concrete and handicap accessible for a half mile loop that starts in the parking area and loops behind the visitor center where it exits. Be aware that during Covid, the visitor center is not open and that makes this trail an in-and-out affair rather than a loop. An earthen path extends this trail for about a mile.
For the next month or so, waterfowl, shorebirds and more should be pouring through Bear River Migratory Bird Refuge. Don't miss your chance to go see them.
---
Help Idaho Wildlife
When we traveled across the state in October 2017, most of the vehicles we saw using the wildlife management areas did not have wildlife plates. Buying wildlife plates is a great way for non-hunters and hunters alike to support wildlife-based recreation like birding.
C'mon folks, let's help Idaho's wildlife by proudly buying and displaying a wildlife license plate on each of our vehicles! 
See below for information on Idaho plates. Most states have wildlife plates so if you live outside Idaho, check with your state's wildlife department or vehicle licensing division for availability of state wildlife plates where you live. 
And tell them that you heard about it from Nature-track.com!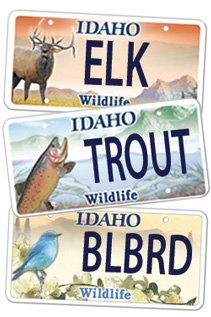 Wildlife License Plates
Idaho Wildlife license plates provide essential funding that benefits the great diversity of native plants and wildlife that are not hunted, fished or trapped—over 10,000 species or 98% of Idaho's species diversity. Game species that share the same habitats (such as elk, deer, antelope, sage-grouse, salmon, trout) also benefit from these specialty plates.
No state tax dollars are provided for wildlife diversity, conservation education and recreation programs. Neither are any revenues from the sale of hunting or fishing licenses spent on nongame species. Instead, these species depend on direct donations, federal grants, fundraising initiatives—and the Idaho Wildlife license plates.
Both my vehicles have Bluebird Plates. I prefer the bluebird because the nongame program gets 70 percent of the money from bluebird plates, but only 60 percent of the money from elk and trout plates - 10 percent of the money from elk plates supports wildlife disease monitoring and testing programs (to benefit the livestock industry) and 10 percent from cutthroat plates supports non-motorized boat access.
Incidentally, in 2014, the Idaho Legislature denied the Department of Fish and Game the ability to add new plates or even to change the name of the elk and cutthroat plates (very specific) to wildlife and fish plates, a move that would have allowed for changing images occasionally and generating more revenue. It would seem that they believe that we Idahoans don't want a well funded wildlife program. Go figure.