Idaho Wildflowers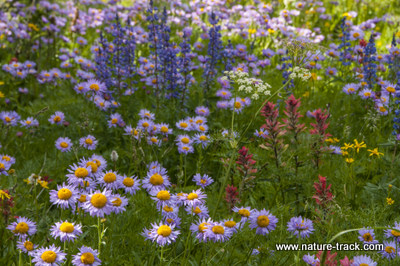 Wildflowers bring color and variety to Idaho's landscapes and joy to our souls. A good guidebook will help you get on a first name basis with many of Idaho's wildflowers.
---
After completing an automotive repair course, a friend remarked, "Now I know just enough to be dangerous." I thought about that as I thumbed through the latest addition to my library, Idaho Mountain Wildflowers, by A. Scott Earle and Jane Lundin (I bought mine at Sam's Club for under $13). Although plants, particularly wildflowers, have fascinated me since childhood and were a big part of my career, after perusing this book I discovered that I too actually know just enough to be dangerous.
I found I have been gleefully misidentifying wildflowers for years, ignorant, until now, in my sins. To a degree, that's on me. I could have studied harder and paid more attention to detail when in the field in order to properly identify species. But I probably would have forgotten them anyway. Despite the fact that I once memorized 170 fish specimens and their scientific and common names, my memory has never been great and age hasn't improved it.
This book, which the authors quickly recognized as incomplete when they stated in the introduction: "This edition of Idaho Mountain Wildflowers, with the addition of new photographs and descriptive text, is large enough to provide a meaningful cross section of Idaho's wildflowers. It includes almost all the ones that hikers and other visitors to our mountains are likely to encounter." In those four wiggle words: cross section, almost and likely, are buried a wide number of species. To prove my point, the introduction continues: "...as well as extensive coverage of the aster family, including plants growing at higher elevations. This family now occupies 40 of the book's nearly 250 pages (In truth, given time and space, the number of plants in this huge family could have been doubled.)"  Considering that this book covers mountain plants, not desert, sagebrush, or foothills habitats, there are a whole host of other plants left to learn.
 Although Idaho doesn't have the variety of the tropics or even the eastern or southern U.S., our diversity of native wildflowers is still dazzling. From the asters to the violets, this book covers 54 families. With an average of two species per page, it includes around 500 species. Each is well documented with one or more clear photographs and a short, written description as well as an account of each family. Flowering shrubs, especially of the family Rosaceae, are included but trees and grasses are not.
As I carefully leafed through the pages, I recognized many of the flowers there. Some were personal favorites such as monkshood, elephanthead, columbine and prairie smoke. I have a large file containing many unidentified flower photos though and I was gratified to find many of them in this book.
The wildflower season is already here as evidenced by the Oregon grape flowers I saw near Heise last weekend. I look forward to wandering this summer with this new companion in my pack. Although it is specific to Idaho, it should be equally useful for western Wyoming and western Montana and northern Utah.
I realize that only a nerd could sit down with a guide book on wildflowers and essentially read it from cover to cover. There is a particular satisfaction in being on a first name basis with as much of our wild world as possible though, so I am comfortable with that moniker.
---
---
Help Idaho Wildlife
When we traveled across the state in October 2017, most of the vehicles we saw using the wildlife management areas did not have wildlife plates. Buying wildlife plates is a great way for non-hunters and hunters alike to support wildlife-based recreation like birding.
C'mon folks, let's help Idaho's wildlife by proudly buying and displaying a wildlife license plate on each of our vehicles! 
See below for information on Idaho plates. Most states have wildlife plates so if you live outside Idaho, check with your state's wildlife department or vehicle licensing division for availability of state wildlife plates where you live. 
And tell them that you heard about it from Nature-track.com!
Wildlife License Plates
Idaho Wildlife license plates provide essential funding that benefits the great diversity of native plants and wildlife that are not hunted, fished or trapped—over 10,000 species or 98% of Idaho's species diversity. Game species that share the same habitats (such as elk, deer, antelope, sage-grouse, salmon, trout) also benefit from these specialty plates.
No state tax dollars are provided for wildlife diversity, conservation education and recreation programs. Neither are any revenues from the sale of hunting or fishing licenses spent on nongame species. Instead, these species depend on direct donations, federal grants, fundraising initiatives—and the Idaho Wildlife license plates.
Both my vehicles have Bluebird Plates. I prefer the bluebird because the nongame program gets 70 percent of the money from bluebird plates, but only 60 percent of the money from elk and trout plates - 10 percent of the money from elk plates supports wildlife disease monitoring and testing programs (to benefit the livestock industry) and 10 percent from cutthroat plates supports non-motorized boat access.
Incidentally, in 2014, the Idaho Legislature denied the Department of Fish and Game the ability to add new plates or even to change the name of the elk and cutthroat plates (very specific) to wildlife and fish plates, a move that would have allowed for changing images occasionally and generating more revenue. It would seem that they believe that we Idahoans don't want a well funded wildlife program. Go figure.