Geology is Basic to Life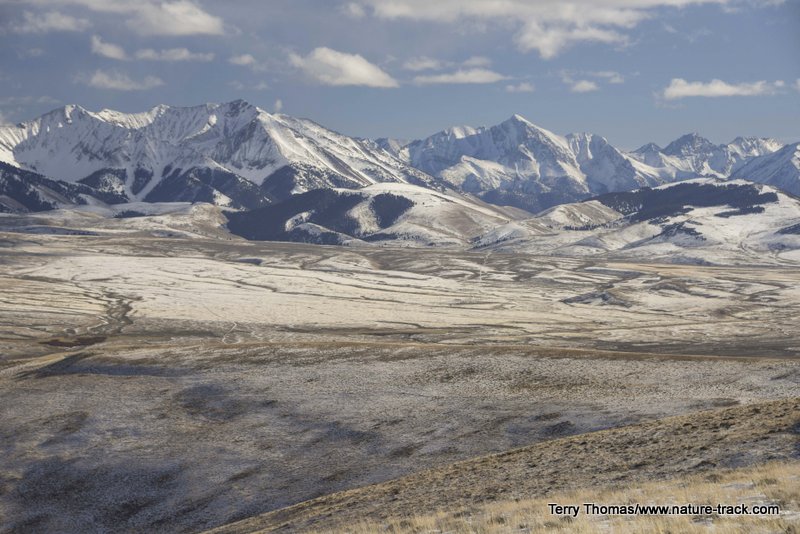 Rugged mountains, such as these near Challis, and other geologic features are the underpinning to life on earth. The sciences of geology and biology are intertwined.
---
When I was in college studying wildlife management, inanimate things like rocks didn't have much appeal to me. I was enthralled by beautiful gems and minerals as much as the next guy, but I just didn't see the need to fully understand the science of geology to do my job. I liked living things.
Over time, I began to realize that understanding biology requires a solid education in geology.
Rock and the formation of at least the skin of this boulder we call Earth and the processes that created that skin, are important underpinnings to the why's of biology.
Here is a dictionary definition of geology: "the science that deals with the physical history of the earth, the rocks of which it is composed, and the physical changes which the earth has undergone and is currently undergoing."
In Idaho there are 13 Geologic Regions with names such as, Challis Volcanics, Snake River Plain and Idaho Batholith. These are broad regions that fit together like puzzle pieces, and of course aren't restricted by political boundaries. The geology of the state is far more complex than these 13 regions might suggest, but these are the basis of the rest.
One of the most fascinating things about geology is the manner in which these different areas formed.  Because of tectonic plate collisions millions of years ago, we have the Rocky Mountains and other mountain chains. Through a stretching of the Earth's crust along fault lines, repeating valleys with parallel mountain ranges, called basin and range (Big Lost, Little Lost and Birch Creek drainages are part of the Basin and Range Geologic Region) were created when the stretching crust caused the valley portions to fall, leaving the mountain portions. In Idaho in particular, volcanism played a huge role. Craters of the Moon National Monument is a current example of what much of Idaho looked like long ago.
I suppose you could say that function—biology—follows form—geology. The form of the earth determines climate on local scales. It dictates or blocks migration pathways. Soils are built from weathering rock and determine to a degree what will and will not grow in an area. New mountains such as the Tetons support a much different type of animal and plant life than mountains, such as the Great Smoky Mountains of Tennessee, that are millions of years older.
Life in turn, also changes the geology in substantial ways. For instance, plant roots accelerate the weathering of rock into finer pieces and eventually into soil. Plant roots also slow the process of erosion, influencing how and where land changes occur. The production of oxygen and the carbon dioxide change the atmosphere which changes climate and influences the entire cycle.
The recognition that biology is dramatically influenced by geology is being recognized on the university level. Brown University offers a degree, Geology-Biology, that, "involves study of the interactions of the Earth and its hydrosphere and atmosphere with the great diversity of life forms, and how they have evolved and influenced one another over the entire history of the Earth."
Geology and the life sciences are intertwined, with life depending far more on geology than geology on life. The better biologists understand geologic processes, the better they will understand biology.
---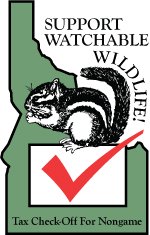 TAX DAY is coming! Here is a chance to do something good with a bit of your tax return and make the day less painful.
Donate part of your tax return to support wildlife in Idaho!
On the second page of the Idaho Individual Tax form 40 you have the opportunity to donate to the "Nongame Wildlife Conservation Fund".
Check-off this box on your next return or ask your tax preparer to mark the Nongame check-off on your behalf.
If you are not from Idaho, check with your own state wildlife agency about how you can help. Many states have a similar program.
---
Help Idaho Wildlife
When we traveled across the state in October, most of the vehicles we saw using the wildlife management areas did not have wildlife plates.
C'mon folks, let's help Idaho's wildlife by proudly buying and displaying a wildlife license plate on each of our vehicles! 
See below for information on Idaho plates. Most states have wildlife plates so if you live outside Idaho, check with your state's wildlife department or vehicle licensing division for availability of state wildlife plates where you live.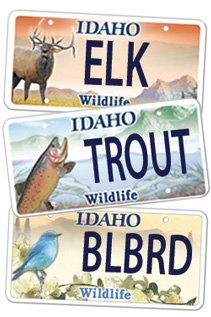 Wildlife License Plates
Idaho Wildlife license plates provide essential funding that benefits the great diversity of native plants and wildlife that are not hunted, fished or trapped—over 10,000 species or 98% of Idaho's species diversity. Game species that share the same habitats (such as elk, deer, antelope, sage-grouse, salmon, trout) also benefit from these specialty plates.
No state tax dollars are provided for wildlife diversity, conservation education and recreation programs. Neither are any revenues from the sale of hunting or fishing licenses spent on nongame species. Instead, these species depend on direct donations, federal grants, fundraising initiatives—and the Idaho Wildlife license plates.
Both my vehicles have Bluebird Plates. I prefer the bluebird because the nongame program gets 70 percent of the money from bluebird plates, but only 60 percent of the money from elk and trout plates - 10 percent of the money from elk plates supports wildlife disease monitoring and testing programs (to benefit the livestock industry) and 10 percent from cutthroat plates supports non-motorized boat access.
Incidentally, in 2014, the Idaho Legislature denied the Department of Fish and Game the ability to add new plates or even to change the name of the elk and cutthroat plates (very specific) to wildlife and fish plates, a move that would have allowed for changing images occasionally and generating more revenue. It would seem that they believe that we Idahoans don't want a well funded wildlife program. Go figure.