Thrill Killing puts Non-game Wildlife at Risk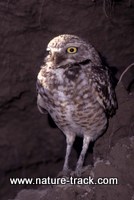 Burrowing owls are favorite targets of thrill killers. Numbers of many animals killed indiscriminately are declining and poaching has real impacts.
---
The salesman at the gun counter just laughed when I asked for .22 caliber rimfire ammunition. If I wanted .22 long rifle ammo, he said, I needed to be waiting in line when the shipment arrives because it never even makes it to the shelf.
While other ammunition has become reasonably available again, .22 caliber rimfire ammunition has remained a scarce commodity. And sadly, that may be the best news some wildlife species could have.
Twenty-two caliber rimfire firearms are a mainstay for teaching kids to shoot, general target practice and hunting small game such as rabbits and squirrels. Unfortunately, they are also the weapon of choice for killing protected non-game as well.
Consider the story of Larry, the long-billed curlew. Larry lived in the Long-billed Curlew Area of Critical Environmental Concern (ACEC) in southwest Idaho. Once a curlew stronghold, habitat degradation had severely impacted curlew populations. To better understand curlews and their needs, biologists had fitted Larry with a radio transmitter.
Technicians watched Larry as he protected his nest from all comers, boldly prancing in the grass to distract predators and bravely attacking anything that came within range. His antics were easy to see and the technicians were concerned that ground squirrel hunters 100 yards away would find Larry an irresistible target. Two days later, the technicians' fears were justified. Larry was dead.
And this wasn't an isolated case. In an email to me, study leader, Dr. Jay Carlisle, reported that besides Larry, four to five other curlews have been shot in the ACEC. He also found a Swainson's hawk shot off her nest in the same area.
Biologists around the state report similar stories for a myriad of protected non-game species. From Salmon come reports that majestic golden eagles are "sitting ducks" when they perch on power poles. A biologist at Mud Lake Wildlife Management Area thwarted a truckload of high school kids on a lunch break attempting to shoot a red-tailed hawk. Four long-eared owls were gunned down last year at Market Lake Wildlife Management Area.
I have been monitoring four burrowing owl nests for the past five years. All are now vacant. While I can't definitively conclude that they all succumbed to poachers, it is significant to note all these nests are along roadways. One is in the same area where the kids were attempting to shoot the red-tailed hawk.
It doesn't end with birds either. Northern Idaho ground squirrels, a federally threatened species, and pygmy rabbits, designated as a species of greatest conservation need, have both been victims of indiscriminant shooting.
Don't confuse this with legitimate hunting where ethics and careful selection of, and respect for, the animals all play an integral role. This is thrill killing of hapless targets of opportunity. It isn't ethical and it isn't hunting.
Springtime seems to bring an epidemic of indiscriminant non-game wildlife killing. Since spring is also the season for raising families, indiscriminant killing now kills pregnant moms and leaves orphaned babies and eggs to perish.
Many of these protected species are declining and need all the help they can get so please report any incident you witness to Idaho's Citizens Against Poaching at 1-800-632-5999.